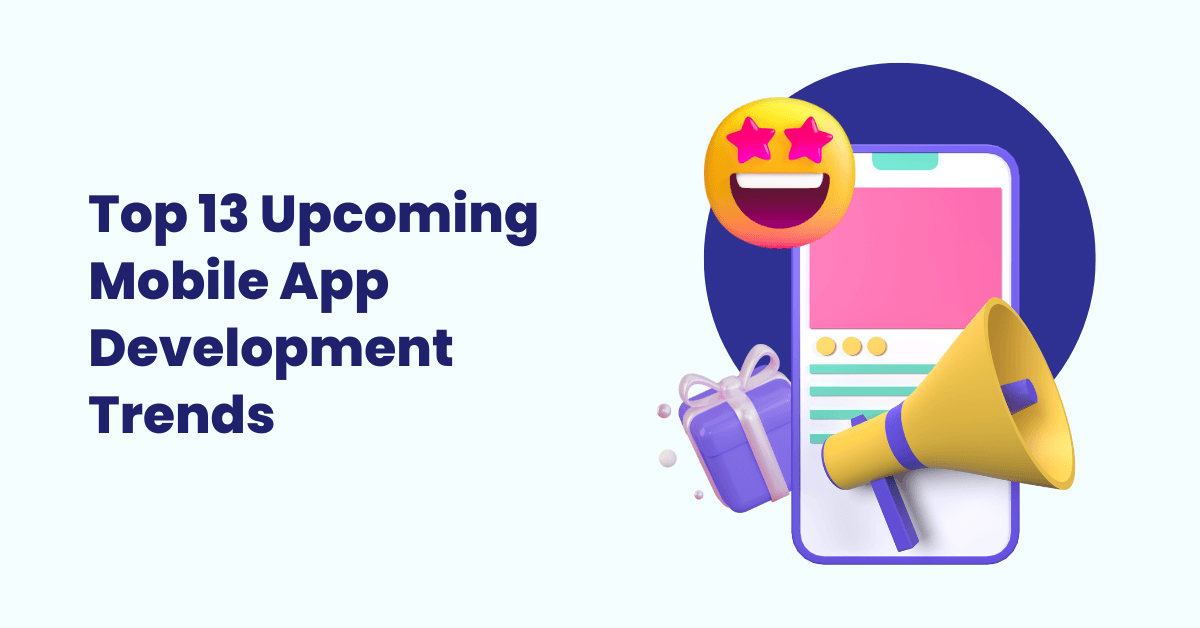 The mobile application development industry is evolving rapidly. With the advent of modern technologies and new approaches, developers are launching highly functional and robust based applications to the users. In the last couple of years, a continuous shift is witnessed in the trends that ensure to deliver interactive user experience and truly engage users.
As a result, several mobile app trends are dramatically dominating the app development industry. It helps app developers to increase productivity and stay ahead in the competitive edge. In order to be successful in the enterprise app development business, it's important to keep track of emerging trends and innovations that are sure to shape the future of this field. Here are 13 mobile app development trends that you should keep an eye on in 2023 and beyond.
Can't Miss Out: 13 Mobile App Development Trends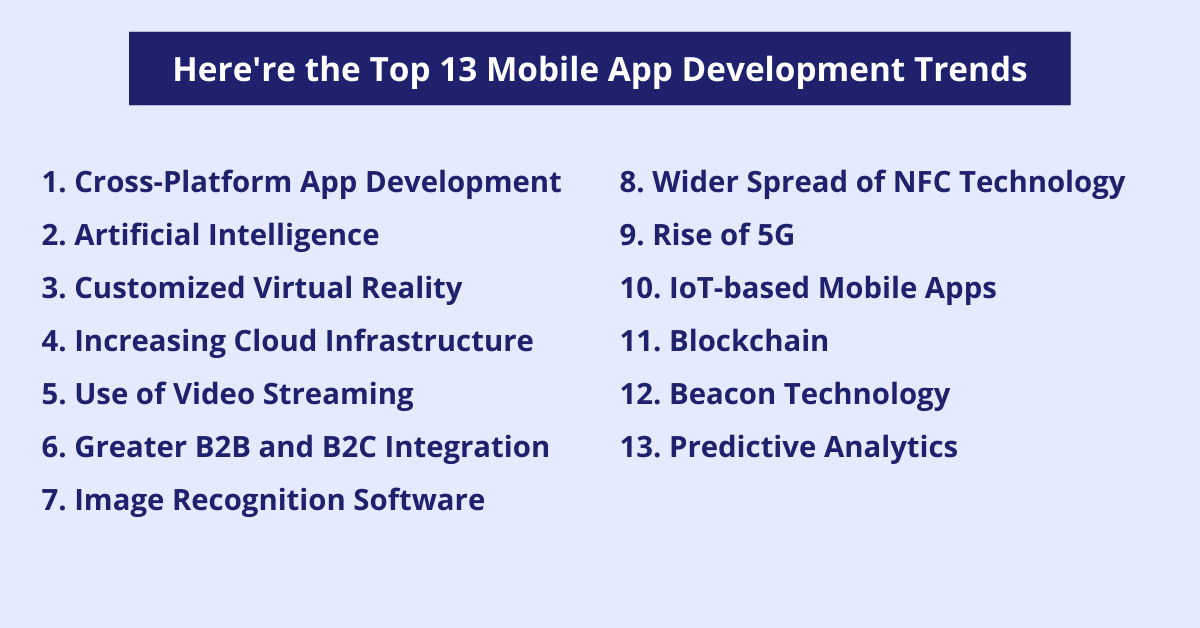 1. Cross-Platform App Development
Cross-platform apps allow developers to create an app that can run on various platforms (Android, iOS, Windows Phone, etc.). Rather than trying to code multiple versions of your app from scratch for different devices, you can use cross-platform tools to build out a single version that will function across multiple operating systems.
The rise of cross-platform frameworks has made creating multi-device applications easier and faster. Agile software development enables seamless cross-platform app development.
2. Artificial Intelligence
Artificial intelligence is gradually becoming a major trend in apps. Some tech companies are already starting to use artificial intelligence for their apps. It will only become more prevalent as more developers adopt it into their own products. Though AI isn't a new concept, its application within an app is and that opens up a whole new world of possibilities for developers and users alike.
With AI, you can bring natural language processing and machine learning into your apps to help make them smarter than ever before. Just imagine how simple your favorite shopping or news apps could be if they knew exactly what you were looking for and served up results accordingly! There are even ways to use artificial intelligence to detect emotions, which is great news for those using customer-service tools.
3. Customized Virtual Reality
Virtual reality is a rapidly developing field that can open up entirely new possibilities for businesses. Today, virtual reality is already being used to provide new levels of customer service and an unprecedented level of personalization; imagine how it could be leveraged in your industry.
Since virtual reality is a relatively new innovation, companies that develop applications that provide unique levels of interaction between users and brands will have a significant advantage over their competitors as VR develops and becomes more widely accepted.

When creating virtual trending technology, there are a few limitations, so don't be afraid to think outside the box when designing your application for maximum efficiency and effectiveness. With all-new technologies comes great opportunity and it is important to match the industry trends.
4. Increasing Cloud Infrastructure
With companies moving more and more of their servers to cloud-based infrastructure, it's important for developers to become familiar with how to work with these new platforms. Cloud technology can offer a wide range of capabilities, but developers must keep up with how quickly it is changing in order to take advantage of all of its benefits. Cloud infrastructure is projected to continue growing as a trend in 2023.
5. Use of Video Streaming
Video streaming is becoming more and more popular. This popularity comes from as it is easy, fast, and allows you to have unlimited access to a range of TV shows and movies without having to download or own anything. Streaming content is gaining attention constantly. If you are able to stream your content onto an App, your audience will definitely be much larger than if they had to download your app first.
It will also be a lot easier for you as a developer because users won't need any additional storage space on their phones and it ensures to use of your App easily without any hassle.
6. Greater B2B and B2C Integration
With consumers relying more on their mobile devices than ever before, companies are looking to reach customers where they spend most of their time. Businesses need to capitalize on emerging tech in order to create innovative solutions that not only optimize business processes but also maximize revenue.
Undoubtedly, this year, we'll continue to see an increased focus on creating solutions that connect B2B and B2C platforms.
7. Image Recognition Software
With image recognition software, it's possible to scan a photo for data. Such technologies are already in use by companies such as Pinterest, which allows users to tag photos with terms and hashtags.
As more consumers grow accustomed to interacting with their devices through images for example, scanning an item at a grocery store and having that item delivered to their homes via Amazon image recognition software will likely become increasingly widespread.
It's no secret that there are way too many people using social media platforms, and it can be overwhelming to navigate through all of them. That's why more and more apps are turning to image recognition software to help users find content faster. It allows users to look at a photo or video and gives them relevant search results based on what they saw.
8. Wider Spread of NFC Technology
Near Field Communication (NFC) is a technology used to create communications between two devices via tapping them together or bringing them into close proximity, usually no more than a few centimeters. NFC allows wireless data exchange and is similar to Bluetooth technology.
NFC-equipped mobile phones can be read by most point of sale terminals today, which means consumers will eventually be able to use their phone as a credit card in lieu of, or in addition to using traditional payment methods. This trend will undoubtedly grow as NFC becomes more ubiquitous and convenient for both businesses and consumers alike.
9. Rise of 5G
5G is expected to be 10 times faster than 4G, with download speeds of up to 5 gigabits per second. This ultra-fast data transfer speed will make 5G a game-changer for connected apps and IoT devices.
More than just an improvement in speed, we are also expecting huge improvements in latency, and these improvements will support things like virtual reality and augmented reality experiences on our smartphones.
10. IoT-based Mobile Apps
The Internet of Things is also known as IoT. It includes interconnected devices (home appliances, vehicles, even wearable technology) and smart devices that can connect to each other through applications or networks. It's an area of rapid innovation and consumer adoption. Businesses looking to engage with customers should consider a smart solution.
Moreover, the next big trend in application development will be building applications and devices that can connect to other devices and applications. Instead of developing a new application, you'll build on top of existing networks. This is known as the Internet of Things (IoT).
Developers can develop an IoT-enabled device, or connect your smartphone or wearable to an existing network.
11. Blockchain
The blockchain trend is one of many decentralized technologies that promises to shake up how develop software is and deployed. The concept of creating a distributed ledger for all sorts of transactions has applications beyond digital currencies it could change how businesses interact with each other, or how users can access services.
Blockchain platforms like Ethereum are already being used in some app development projects and companies are exploring what they can do with them. Stay tuned: blockchain-related developments will likely become mainstream in 2023
12. Beacon Technology
Beacons are a rapidly developing technology, and as of now, they're mostly being used for indoor marketing. Beacons use Bluetooth Low Energy to send information to mobile devices. They can track a customer's location throughout an entire store or venue and deliver personalized deals, specials, information, and more. But over time these little beepers will become smarter and they could even replace QR codes.
Now that several major companies have adopted beacon technology, it's going to spread like wildfire throughout other businesses. The technology is likely to bring some big changes in 2023.
13. Predictive Analytics
Mobile apps don't need to be a guessing game. Predictive analytics uses historical data to predict future trends and behavior and enables companies to optimize their operations with their app. The result is more relevant content, more engaged users, and better overall performance. In 2023, predictive analytics will become increasingly popular in mobile apps because of its power to improve user engagement and create loyal brand advocates.

Conclusion
Mobile apps are going to keep getting better and better. With improved processing power, advancements in battery life, new functionality from Apple Watch, wearables, and beyond will all fuel greater adoption. The world is becoming more connected and users have more demands on their time, making seamless experiences with native apps even more crucial.
No matter what device you're using or where you are in the world we live in now, a well-designed mobile experience can make your life easier with these trends are expected in the future of mobile app development.