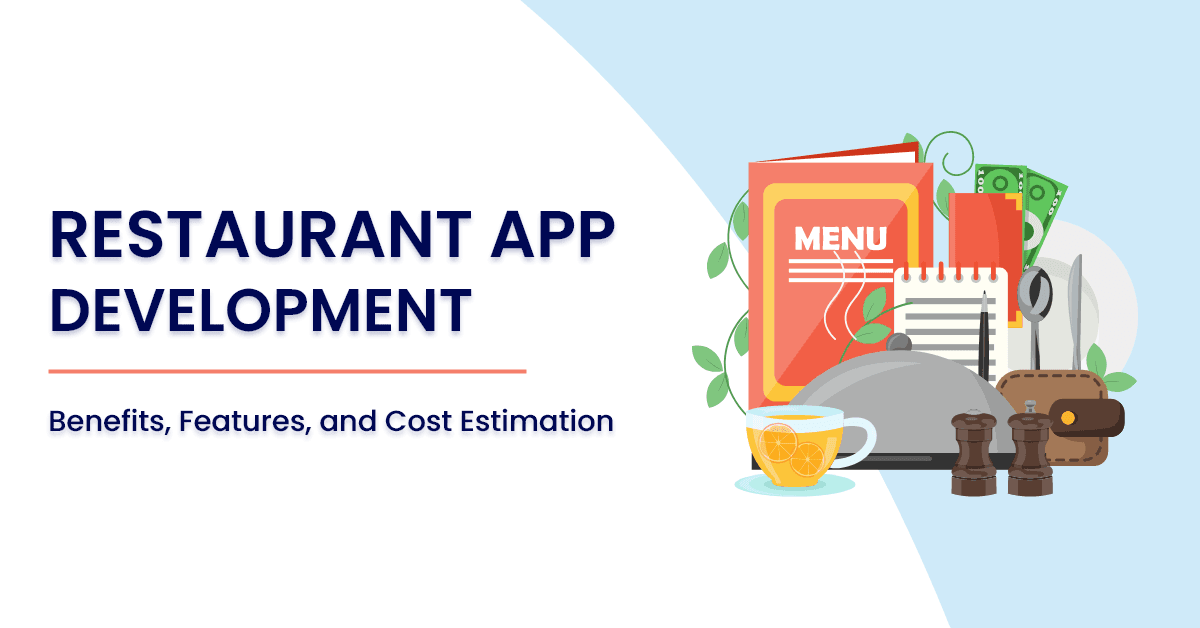 Technology has drastically changed the eyesight of various businesses. Before a decade, Have you thought that you will get food at your doorstep?
In India, the first company that came for the food delivery app was "FoodPanda" a decade ago. Somehow the company was not able to make revenue. People were not able to accept the concept because of a lack of understanding and accepting the new trend in the restaurant & food delivery industry.
A recent study showed that 2023 is going to witness the food industry at a US$0.91tn valuation. The reason behind this growth is the active contribution of food delivery mobile applications.
Statista shows that online food delivery is segmented to reach 2.64bn users by 2027.
In this article, we are going to share the upgraded benefits, reasons, trending features, and cost of restaurant app development.
Effective Reasons to Build Restaurant or Food Delivery Application:
1. Your Audience Reach will Increase
The primary reason to build a restaurant mobile application is to reach your targeted audience at their location for marketing benefits. Restaurant app development will nail your business to reach local users to highlight your new business.
2. Expand Restaurant Brand Awareness
One of the biggest advantage of developing a restaurant application is, you can increase the scope of your brand. Because the mobile application is always there on the screen of your customer and they will always remember about your brand.
Add on to this, You can send surprising emails to your customer, you also get an option of push notification to the users highlighting special day offers. Ultimately this will convert into a popular food ordering system by using a mobile phone.

3. Add Reviews on Ranking Section
Take advantage of digitalization, ask your customer to add the review of your restaurant in the application. There are a few restaurant app development companies which can help you to improve ratings and reviews on divergent sites like Yelp, etc.
4. Brush your Service
By adding review and feedback sections in your app, you get microscale access to all the opinions your customers are indicating for not just your mobile app but also for your business.
Benefits of Developing Restaurant Application:
As per the survey, 83% of people use smart gadgets and find restaurant locations and directions nearby them. The customers get their selected food at their doorstep and they get the benefits of discounts and coupons.
Moreover, there are various benefits for the restaurant industry to enhance their restaurant business:

– Book your Table Online
In the past few years, when one used to first visit the restaurant and reserve the family table of your choice in advance. Now the same thing you can do from your mobile phone and can save your precious time.
The restaurant owner can also arrange the sitting arrangement as per the number of people visiting the restaurant. One advantage you get is if you tie up with some taxi app service that can provide a pick-drop facility for your guest.
– Perks of Placing Online Order
Restaurant applications are providing more flexibility to the customer and the owner both.
Customers can place the order comfortably from anywhere.

Reduces the queue & helps in improving the efficiency as well the service of the restaurant.
The best example you can take of PVR in some of the cities they develop the tech in theatres itself. Customers can order the snacks with just one click on the menu and one click on the payment button. How can we forget Starbucks, they started the chain of taking online orders and reduced the waiting time of the customers.
– Menu Display on Screen
Nowadays, Every restaurant owner provides an online menu to the customers. This helps the customer place the order online within a fraction of a second.
Some owners give a description of the specific dish so that the customer gets the exact idea about the dish. Additionally, prices are also listed which makes it easier for the customer to place the order according to their choice and budget.
– In-Built Payment Facilities
The contactless payment you can say. You can avail the facility to your customer of in-built payment so that they can pay their bills using the app provided by you and don't have to open any other app.
This is not only beneficial to customers but the restaurant owners are also benefited. How? When a customer processes the payment they get an option like internet banking, debit/credit cards, Google Pay, etc. in all those payment methods the bank details are of the owner so within a fraction of a second the restaurant owner directly receives the amount in his account.
– Give Rewards to your Customers
Benefits don't end here, customer loyalty is the key to sustainability in the market. Providing high-quality food and amazing customer service is not enough to earn, increase and maintain customers.
Customers want to be rewarded by various special offers, discounts and lucky draws. You can do such things by redeeming their points and avail them of discounts from their selected menu.
This will win your customers and they will always remain special to you.
Features You can Include in Your Restaurant App
Below are the key features you can add to your restaurant app development.

– Set your Main Screen
The main screen is the first look of your app. Your customer will first see the main screen of your app, so it should be well designed + informative + Geo-Location + easy to pick a cuisine and lastly testimonials for the better experience of your customers.
– Main Menu
The most important feature for any restaurant app is the menu section. A list of food, drinks, beverages, etc. are listed on the app with images and the price is the basic need of any restaurant app. You can design it as per your creativity but the standard is the same.
– Customized Menu
There are some customers who have food allergies or some special demands e.g: add extra cheese or add the extra topping in cold coffee. Customers will appreciate this kind of customized menu section to order their favourite food.
– Log-in through Social Media or Email
There are two stages while it comes to taking customers information:
When the user downloads the application for the first time.

When the user book a table in your restaurant.
Our food delivery application developers suggest you choose second because of the timeliness factor. You ensure your customers log in via email or social media platforms.
– Push Notifications
This is the way best to communicate with your customers. Push notification helps them to find out an exclusive offer, special discounts, new menu items, and any upcoming events without opening the application. This will attract customers to your restaurant.
One interesting thing you can do while any of your customers walks near to your restaurant is send them an alert and encourage them to visit the restaurant or café. The best example you can take is Starbucks.
Cost of Developing Restaurant Mobile App
To say the exact figures for the cost of restaurant mobile apps is not possible. As the cost depends on various factors like
Features

Team size

Location of the agency

Final Thoughts
In our journey, we have worked with various companies for their digitalization solutions for application development, software development, and so on. Our mobile app development experts deal with new technology and with iOS and Android too.
We would like to serve you for restaurant mobile app development. Here is the easiest way to contact our domain expert and know more about our services and costs.
Based on our 09+ years of experience in software development we would recommend you to quote your estimated cost with the help of our experts.