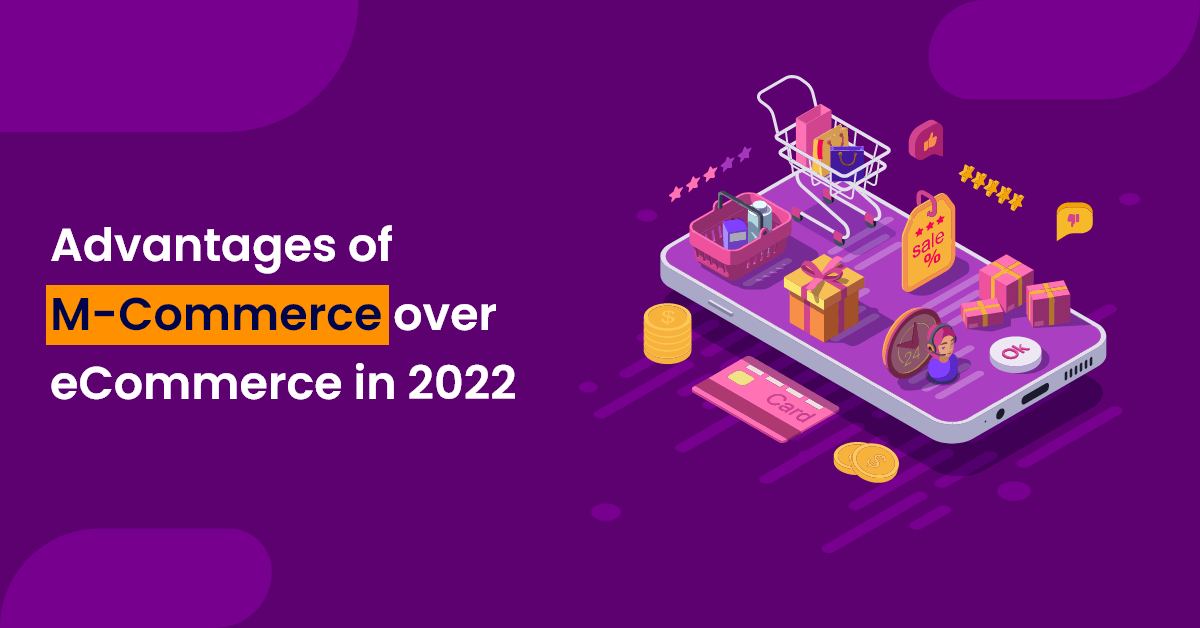 Introduction of M-Commerce
Mobile commerce is booming and showing no signs of slowing down. In the next two years, the majority of internet purchases are expected to be made on mobile devices.
The cost of developing mobile apps has come down and even local businesses have started to realize the benefits of selling their products on a custom app versus a website. The market is now filled with all kinds of mobile M-Commerce services – including apps for individuals, businesses, banks, and more.
The COVID-19 pandemic is also a hotspot in the world of mobile e-commerce: for online retailers, there appear to be two main ways to view this opportunity:
The first is to stop investing in marketing, e-commerce, and social media altogether.

The second is to invest more in online services to help mobile consumers get what they need and want online safely and efficiently, and take this opportunity to take advantage over competitors who take less risk and are savvier online.
The 2020 vacation is not over and COVID-19 security measures are here to stay. This means that there will be a major opportunity to serve consumers online since most people are still reluctant to shop in crowded spaces such as malls or department stores.
Even if the government decides to lift the protocols, all industry experts agree that the shift from physical to digital stores is a reality. Smart retailers are investing in their online positioning to reap the most benefits possible in the months and years to come and enhance their business with m-Commerce.
What is Mobile Commerce (M-Commerce)?
M-Commerce encompasses any monetary transaction made on a mobile device such as a smartphone or tablet.
This is basically the next level of electronic commerce (E-Commerce), which allows anyone to buy and sell products or services from almost anywhere, simply by using a smartphone or tablet.
The Different Types of Mobile Commerce Opportunities:
Search for specific products online using a mobile device

Read product reviews or view product comparisons on a mobile device

Purchase of app-saving services (such as ridesharing or food delivery apps)

Purchase or rental of digital content (paid apps, video, music, etc.) on a mobile device

Interact with branded apps (such as the Amazon shopping app) on a mobile device

Mobile banking

Retail mobile payments (such as Samsung Pay or Apple Pay)

Person-to-person mobile payments (such as Venmo or the Cash App)

Mobile Commerce is the new standard for online shopping, as it offers many advantages over ordinary e-commerce from a PC or web browser, mainly because mobile devices are connected to the internet and are generally faster, richer in features, and more convenient to use.
With the constant increase in the number of smartphone and tablet owners, mobile commerce is becoming more and more popular. Thanks to its wide range of practical applications, the benefits of M-Commerce for E-Commerce are umpteen. It has already started establishing itself as a leading marketing and sales method among innovative companies.
The emergence of the process of purchasing, paying, and delivering products has become transparent and fluid thanks to m-commerce.
8 in 10 Americans shop on their mobile devices (Pew Research Center)

Experts predict that by 2021, mobile commerce sales will account for more than half of total e-commerce sales.

More than half of retailers already have a mobile app, and more than 50% of the rest will be creating one soon.
The many benefits offered by mobile commerce applications can be leveraged by local and global brands and businesses.
If you are a business owner or someone who makes decisions in an organization who is wondering if investing in a mobile commerce app is the right decision for your business, this article is for you.
We'll cover both the pros and cons of M-commerce and the context in which it makes sense to invest in such an app for your business.
Advantage of M-Commerce Over eCommerce in 2023
For many small and mid-sized retailers, a native app has been under discussion for some time.
When well designed, a mobile app offers a more personal connection to the user and can convert sales two to six times better than a traditional website or a mobile website.
Customers Can Access Your Store and Services 24/7!
M-Commerce makes it easier for customers to see your latest products, offers, and coupons because it gives them quick one-click access to your store. No need to know the opening hours, or to visit your store.
Your customers can now buy from your store anytime! This makes the shopping experience easier, simpler, and less time-consuming.
Another way that m-commerce apps help your customers access your store is by using "push notifications" to remind them of promotions at any time of the day. The ability to establish such a direct line of communication with customers is one of the main reasons why so many businesses today choose to build e-commerce applications.
Push notifications are instantaneous and, at the same time, they are discreet. Direct alerts on updates, new products, and promotions offer a new level of personal engagement and enhance your business with M-commerce. And 70% of users actually find them useful, so you don't risk users getting annoyed by your branded communications.
Provide a Better and More Personalized User Experience
User experience is the number one priority for e-commerce. Today, most people are used to using tablets and smartphones. Therefore, a mobile commerce store makes your products and services more accessible and easier to find for potential customers.
In addition, there are many features of mobile commerce apps that a regular online store does not have, which further enhances user engagement and satisfaction, such as social media integration and personalized promotions through push notifications.
In short, a smooth mobile e-commerce experience means better conversion rates and revenue for your business. Hence, businesses must explore M-commerce and mobile marketing opportunities further.
To be successful in your e-commerce business, your mobile application must be:
Intuitive and easy to use

Well organized and fast

Interactive and engaging

Exclusive and tailored to your customers' needs

Reach a much larger audience: new potential customers
According to the latest statistics, by 2021 the number of people owning a smartphone will increase to 3.8 billion. That's about half of the world's population today, and everyone with a mobile device is a potential customer.
Access to your offer will be much easier for users if it is enough to download your app from the App Store. Compared to buying products the traditional way where the customer has to drive, walk and then browse the items in the store, standing in line to pay. An M-Commerce app allows customers to browse your offers from anywhere, even when they're in the comfort of their sofa.
Gather Valuable Customer Data to Improve Marketing
In a traditional retail store, a customer walks in, makes a purchase, and then leaves, making it difficult to know why they bought a specific product and what factors influenced their choice.
With M-commerce, you can get answers to these questions and more. This is because mobile analytics can track consumer data from the moment of product discovery to the moment of purchase, which can help you better understand the psychology and purchasing habits of your customers.
The accuracy of mobile analytics depends on your business strategy and the resources you can allocate to mobile app development.
Custom Content
The more specific and personal your M-commerce and mobile marketing offers are, the better your customers will respond to them. Personalized content helps broaden your reach and increase engagement with your brand, which ultimately drives customer loyalty and improves conversion rates.
And this is another of advantage of M-Commerce. By analyzing the behaviour patterns and individual preferences of app users, you can easily deliver personalized content. These could be, for example, special promotions or offers based on the user's purchase history.
Some m-commerce apps are designed to track user behaviors and offer real-time product recommendations. This results in higher conversion rates and increases customer loyalty.

Should Your Business Invest in M-Commerce?
A well-designed M-commerce mobile application is a major investment that can take several weeks to complete. But for most businesses that have already harnessed the power of the internet and social media, this is the next logical step to take.
Customers now expect a digital option to shop more than ever, and it is clear that even after the pandemic is resolved, we are going to see the lasting effects. Apps have a much better sales conversion rate than mobile websites and offer deeper engagement when it's needed most.
The pandemic will eventually stop at some point, and at that point, there will be obvious winners and losers. Retailers who have taken risks to adapt and shape their offering around a customer base looking for deeper engagement and easier, smoother ways to checkout will have a head start on the competition.
It is clear that the emerging new standard will have mobile commerce as a priority.
If you're running a business that could advantage of m-commerce app, investing in it now is a good thing. Contact our team for a FREE demo for m-commerce apps and get a quote to develop your m-commerce app.