Introduction
Travel is one of the most popular industries in the world and mobile apps are a great way to cater to this market. Mobile users can now book their flights or make hotel reservations right from their smartphones. Mobile apps have also made it easier for people to plan trips, share with each other and make travel safer by tracking information such as weather conditions, road closures, and other travel-related news. If you're thinking about travel mobile app development, there are a few things you should know before you get started.
Whether you're looking for flights or hotels, a good travel app will make it easy for users to find what they need by giving them accurate information about prices, availability, and more. The best travel apps also offer up recommendations based on user preferences as well as helpful tips and tricks for making sure that their trip goes off without a hitch!
What is Travel App Development?
Travel mobile app development is a process of creating a mobile application for travelers. It involves designing, developing and deploying the mobile app on multiple platforms like iOS, Android and Windows Phone.
A travel app is a product developed to help you with your trip planning. It allows you to do everything from finding the best deals on hotels and flights to locating restaurants and attractions in the area.
The main purpose of travel apps is to make traveling easier for people. They provide information about various destinations so that people can choose their destinations wisely. They also help you in booking tickets and finding the best itinerary for your trip. You can even check reviews about hotels and restaurants before visiting them.
Statistics of Travel Mobile Apps in 2022
The travel industry is witnessing tremendous growth in the number of travelers and travel-related apps. The global travel app market is expected to reach 86.46 billion by 2027. This growth, among other things, can be attributed to the way people use their smartphones.
Travel app usage has increased by 5% since last year and there are now almost 2 billion travelers who use travel apps each month. That's a lot of people! And those numbers are only expected to increase by 2022 end.
The average user spends more than 1 hour per day using travel apps on their mobile phone or tablet.
Top Features of Travel App Development
One of the most important things a travel app can do is make you feel like you've never left home. That's why it's so important to get the details right when you're creating your app. Here are some of the features that will make your customers feel at ease and help them use your travel app with ease.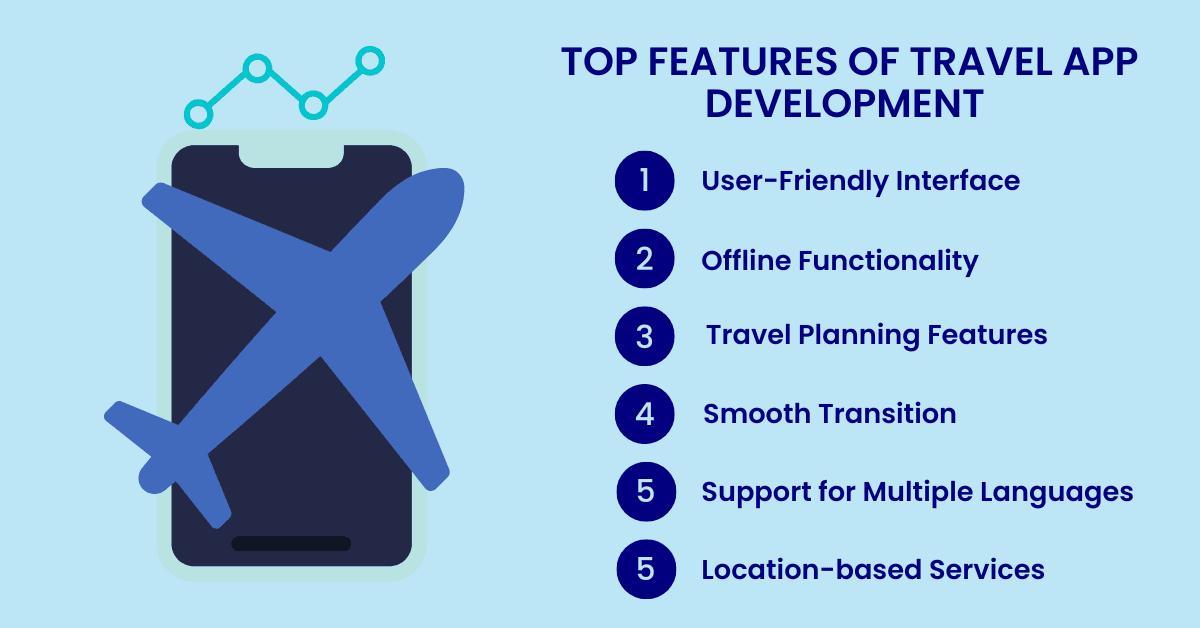 1. User-Friendly Interface
A travel app is built for a specific audience, so it needs to be designed in a way that's intuitive and easy for them to use. The interface should be designed to accommodate for any screen size and any device, with an intuitive layout that makes it simple for users to navigate through the app.
2. Offline Functionality
A travel app should allow users to access the same information without an internet connection. This means that the app will cache data and store it locally on the device so that when you're offline, you can still view everything you need while traveling!
3. Travel Planning Features
The purpose of a travel app is to help you plan your trip by providing information about destinations, attractions, accommodations and other activities in one place. This kind of planning tool can give you peace of mind before going on a trip because it allows you to make sure everything has been taken care of before leaving home!
4. Smooth Transition Between Devices
If someone gets halfway through booking their flight on their phone but then switches over to their laptop, they shouldn't have to start all over again! Make sure your app will remember where they left off, even if they switch devices in the middle of using the app.
5. Support for Multiple Languages
Many companies will only offer support for one language or another, but you may need to have your app translated into multiple languages to reach your target audience. The best companies will be able to offer support for multiple languages at once.
6. Location-based Services
The first thing that you should do when developing a travel app is make sure that it includes location-based services. This will allow users to find nearby attractions and activities that they can participate in while they're on vacation. It can also help them find places to eat and drink as well as hotels where they can stay overnight if needed!
Top Benefits of Travel App Development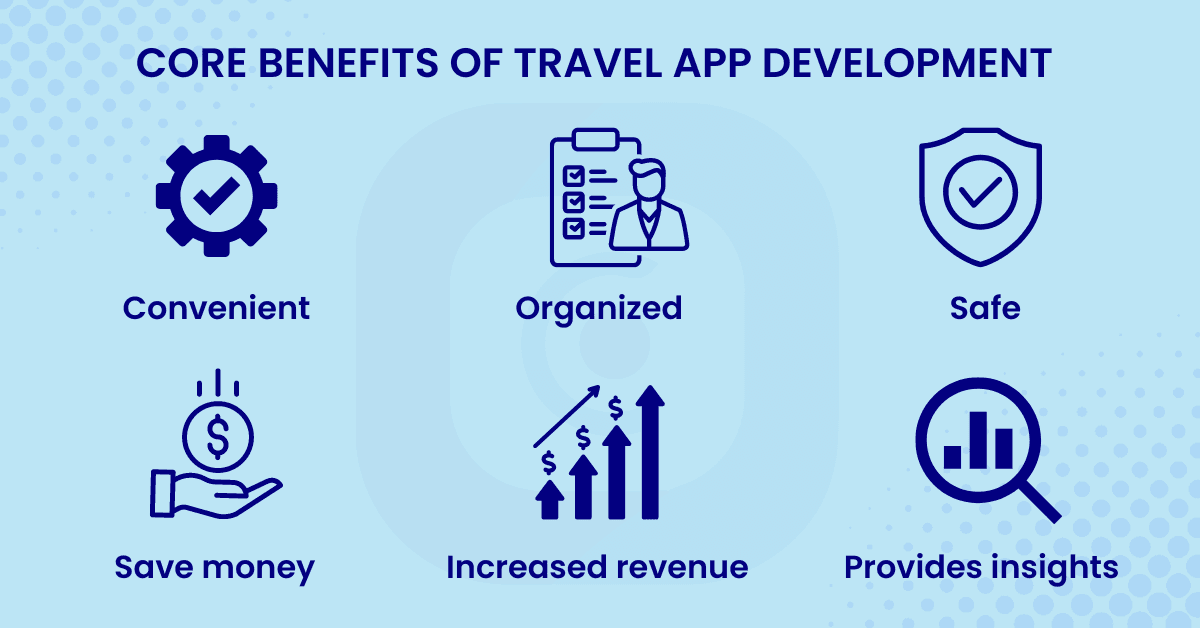 Travel apps are the new black. If you're not using one, you are missing out. They are the best way to stay organized, plan your trip, and even save money on flights and hotels. Here are 6 benefits of developing a travel app.
1. Convenient
Travel apps are convenient because they can be accessed anywhere and at any time. You won't have to worry about losing your itinerary or forgetting what hotel you booked.
2. Organized
With a travel app, your itinerary and all the details of your trip will be organized in one place so it's easy for you to find them when you need them.
3. Safe
Having all your details in one place makes it easier for friends and family members to help out in an emergency situation if something happens while you're away from home on vacation or business travel.
4. Save money
Travel apps allow users to find cheap flights or hotels by comparing prices from multiple sources so they don't have to go through each site individually when looking for deals online; this saves time which means money saved on salaries/salaries paid out each year.
5. Increased revenue
Travel app users spend more money on average than non-travelers do on their vacations and that's a big deal for any business owner! Travel app users also tend to book more trips than non-travelers, which means that investing in travel app development can really boost your bottom line over time if you're looking for ways to grow your business.
6. Provides valuable insights
Know what works and what doesn't from a customer perspective so that you can make improvements over time and continually optimize your app's performance.

Travel App Development for Travel and Tourism Businesses
Are you a travel and tourism business? Then you need a travel app! Building a travel app can help your business stay ahead of the game, gain new customers, and improve your brand's image.
But building a successful app is more than just slapping together some screens in Xcode—there are countless details to consider, from the design process to user interface elements and back-end functions.
But what if your customers have a lot of questions and concerns about traveling, or about any aspect of your business?
They can't just come and ask them in person—you don't have a storefront! And even if they could, it would be so much more convenient for them to get the answers they need from an app on their phone instead of making a trip all the way over to your office.
That's where OneClick comes in. We'll take care of everything from design to development, so you can focus on running your business while we take care of keeping your customers happy.
You can trust us to create an app that's completely unique to who you are as an organization and fits seamlessly into the lives of your clients.
From booking travel reservations, to finding out what's going on in town during their visit—and even contacting customer service while they're away—we've got you covered!
Cost of Travel Mobile App Development

The cost of travel mobile app development varies depending on the features you want in your app and the costs of labor, design and coding. The following are some factors that affect the overall price,
1. Platforms
Mobile apps are typically developed for either Android or iOS platforms, but there are other options as well. If you need an app for both platforms, it will cost more than one designed for only one platform.
2. Features
What features do you need in your app? Are they simple or complex? The more complicated the feature, the more time it will take to develop and test them out before launching them into production mode.
3. Design
Do you need a custom-designed app or can a pre-existing template be modified to meet your needs? A custom design will cost more than a template-based design because it requires more time to create from scratch or modify existing graphics into something unique looking but still functional enough for purpose intended (e.g., booking flights, hotels etc).
4. Experience of Developers
How long have they been developing mobile apps? Are they experts in their field or just learning how things work behind-the-scenes? When working with someone new to this industry who has no previous experience working with clients.
Mobile app development is a very competitive field with many different paths to success. The cost of developing an app will depend on many factors including what type of application you are creating, how complex it is and how much time you want to spend on it.
(Note: The average cost of developing a simple mobile app could range from $10,000 – $50,000 depending on the size of your company and how much experience you have working with developers before now.)

Future of Travel App Development
With the advent of new technologies, travel app development is also undergoing a drastic change. The future of travel app development is all about making it easier for the users to book their flights, hotels and other services.
The concept of booking a flight or hotel room from your mobile phone is not new. However, there has been a big leap in this regard with the introduction of new technologies like Artificial Intelligence (AI) and Machine Learning (ML).
This has made it possible for developers to provide better user experience by providing suggestions for places to visit based on preferences, location etc.
Travel apps have been around for a while now, but they are still evolving.
This is because mobile devices are evolving and becoming more widespread, and people's needs are changing as well.
As more people use their phones to access the internet, they want things to be faster and easier—and they also want their apps to be able to do more than before.
The future of travel app development will focus on making sure that all of these things can happen smoothly and efficiently.
To Conclude
The travel industry is witnessing tremendous growth in the number of travelers and travel-related apps. Travel apps have become a part of our daily life, since we use them every day for various purposes like booking tickets, finding hotels or restaurants nearby, tracking our flight status etc.
In addition to this, there are many other benefits that are associated with these travel mobile applications such as real-time information access, 24/7 customer support etc., which make them unique from other forms of media channels such as websites or print advertisements etc.
FAQs
What is the difference between a Travel App and a Mobile App?
A mobile app is an application that can be downloaded from your phone's app store, which means it's available on your phone. A travel app, on the other hand, usually has to be built for a specific operating system (iOS or Android), which means it's only available on one type of device.
What do you mean by Travel apps?
We're talking about apps that help you plan your trips and manage them while you're away. They can include travel advice, maps, itineraries, information about cities and sights along your route basically anything that helps you plan or enjoy your trip.
What kind of features should my travel app have?
That depends on what kind of traveler you are! If you like to plan ahead and have all the details in one place before leaving home, then maybe an itinerary feature would be helpful. If you like spontaneity and flexibility during your trip, then maybe some good weather forecasts would be useful to help with planning outdoor activities. And if you like sharing photos with family members back home (or even posting them online), then maybe photo sharing would make sense for you.
How long does it take to build a travel app?
It can take anywhere from 3-6 months to build a basic travel app, but if you want something more complex, it may take longer than that. If you're looking for something custom-made and unique, expect it to take even longer.
Will my travel app be secure?
Yes! We use the latest encryption methods to ensure that your data remains secure at all times.
Do you do web development as well?
We do! In fact, we often build websites and apps together as part of our package deals. We also offer ongoing maintenance services if needed—we'll make sure everything stays running smoothly so that you don't have to worry about anything technical happening behind the scenes!