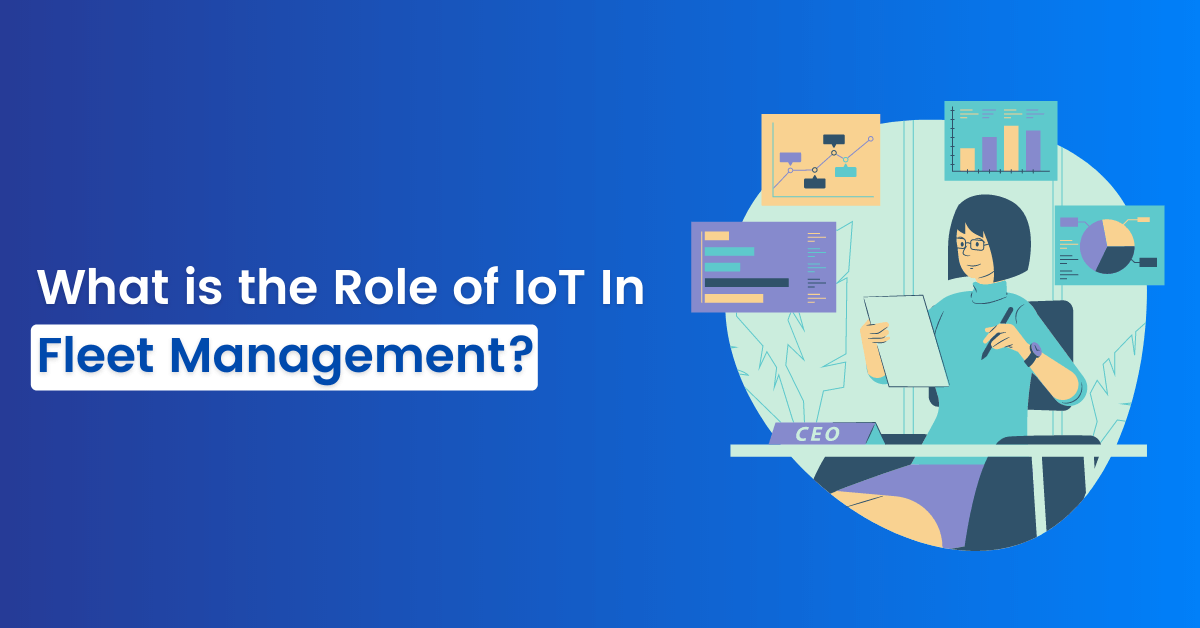 Introduction
The Internet of Things (IoT) is considered the third great revolution of the Internet. Based on cutting-edge technologies such as artificial intelligence, IoT in fleet management has contributed to the rise of Big Data and the emergence of current needs relating to the management and protection of digital data.
A study conducted by the Swiss Federal Institute of Technology in Zurich further suggested that by 2025, more than 150 billion objects should be interconnected via the internet, thus linking several billion people together and also generating billions of data and information.
This phenomenon, which continues to transform our daily habits, has a strong impact on many sectors and in particular on fleet management. Discover in this article how IoT can help revolutionize fleet management and transportation for companies!
5 Major Challenges in Fleet Management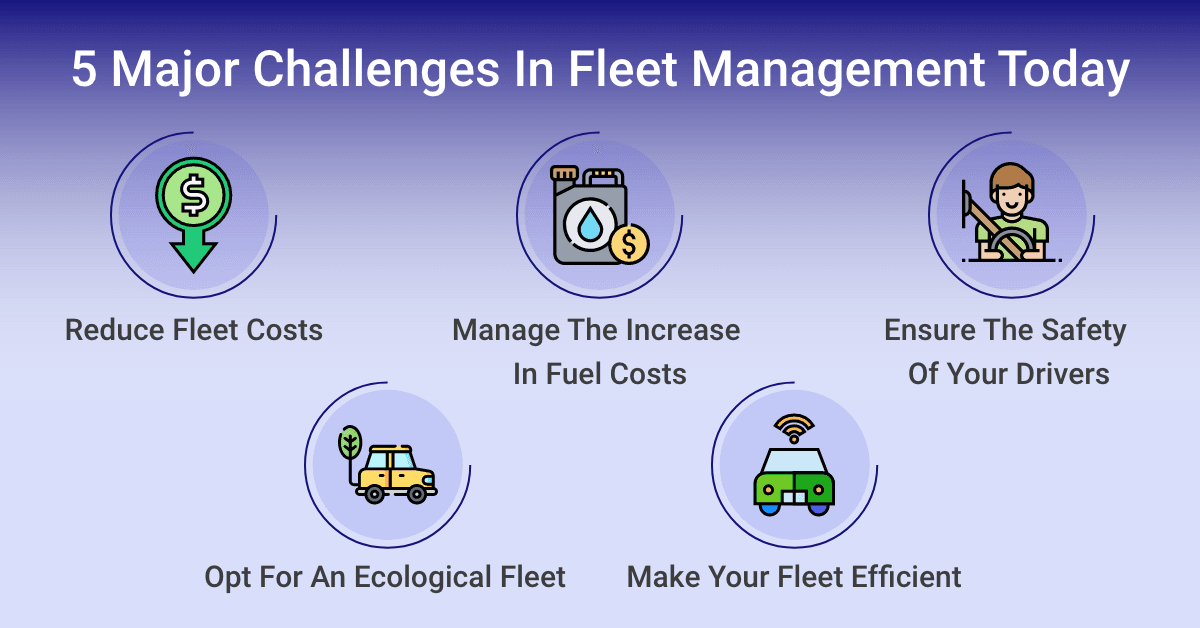 1. ReduceFleet Costs
The reduction in costs related to the fleet is a constant and endless struggle for all directors. As a fleet manager, you are asked to realize a return on investment every year. For many, a percentage reduction in these costs is given at the start of the year and must be achieved.
However, it is difficult for all of you to reduce expenses as these tend to increase. It, therefore, seems logical to turn to low-consumption vehicles, except that these are vehicles with a high acquisition cost. We'll tell you how fleet management software can resolve this problem in this blog.
2. Manage the Increase in Fuel Costs
One of the major costs in an automobile fleet is, logically, fuel. The problem with fuel is that it is, on the one hand, expensive but also difficult to budget since the price of a barrel varies from year to year and even from month to month. Faced with this increase, managers have different options:
Invest in low-consumption vehicles
Invest in fleet management software
3. Ensure the Safety of Your Drivers
Driver safety is very important to corporate responsibility. In fact, this is why many companies are instituting compulsory training in order to raise awareness and train their drivers in the dangers of the road. In addition, an accident can generate many harmful consequences for the company: work stoppage, immobilization of the vehicle, repair, and therefore additional costs once again. With the best fleet management software, you can track and control this too.
4. Opt for an Ecological Fleet
Obtaining a 'green fleet' means one that respects the environment and consumes little fuel, for that, you have to invest and therefore have the capital and a substantial budget. This appears complicated for fleet managers who have a very tight budget for their equipment.
The fleet management software solution is therefore relevant since it will make it possible to save fuel, modify the driver's behavior, and therefore have a more environmentally friendly fleet at a lower cost.
5. Make Your Fleet Efficient
As we have understood, the cost of a vehicle fleet is significant, so you need productive and efficient drivers. For this, many companies opt for a fleet vehicle management application to optimize their fleet and to measure the efficiency of its drivers. Once the reports are made by this software, the company will be able to modify the behavior of its drivers and therefore become more productive.

How to Cope with a Demand for Increasing Efficiency?
The fleet manager must now face a growing demand for efficiency: any delay or setback has an impact on the performance and overall profitability of the company. It is therefore essential for this mobility professional to optimize the travel and break times of his employees, to anticipate breakdowns and vehicle maintenance needs (oil changes, tires, technical inspections, etc.), and to be able to reassign to the faster its resources in the event of unforeseen events or peaks of activity.
However, it is sometimes complicated to ensure such a complete follow-up of its fleet of vehicles, knowing that it is necessary to have the following data available in real-time:
Geolocation and availability of vehicles
Running time / stationary time
Indicators of maintenance needs
Observation and nature of unforeseen events (accident, traffic jams, meteorological events)
The fleet manager, therefore, needs to equip himself with a tool allowing him to monitor the deployment of his vehicles in real-time and to communicate easily with his drivers if he wishes to remain competitive.
IoT in Transportation for Fleet Management Software
With the advent of onboard telematics, there are now revolutionary devices to help fleet managers on a daily basis. High-performance monitoring tools or vehicle tracking solutions can thus be set up in order to monitor the evolution of the fleet in real time throughout the day via an interactive dashboard.
The fleet manager can thus easily manage the performance of his vehicle fleet, both in terms of route optimization, maintenance, carbon footprint, and energy efficiency.
IoT Mobile App Development for Fleet Management Software
Like many industries, fleet management has undergone a profound transformation with the introduction of IoT technologies.
The vehicles are thus equipped with sensors (in the form of onboard boxes ) connected to the Internet and which enable precise information on the fleet to be collected in real-time. This can be data as varied as the geolocation of vehicles, their condition (running or stopped), their maintenance (anticipation of breakdowns or problems related to wear), fuel consumption, or even vehicle availability.
This data is then processed via dashboards which are a part of the fleet vehicle management application and analyzed to allow the fleet manager to better manage his teams and resources.
IoT Fleet Management: Bet on More Efficiency and Profitability
Today, the Internet of Things (IoT) offers multiple advantages for company fleet managers. This technology allows them in particular to:
Geolocate vehicles and identify available resources in real-time
Optimize the monitoring of their vehicle fleet
Track the actions performed by each vehicle (delivery, intervention at the customer, etc.)
Plan daily routes
Control costs and time invested
Receive and process field information efficiently
Facilitate communication between teams and with the fleet manager
Increase efficiency and responsiveness
Improve customer satisfaction
4 Advantages of IoT in Fleet Management Software
1. Data Helps You Improve the Safety of Your Fleet
Real information can make your fleet more secure. Fleet management software tells you the different driving styles of your drivers and therefore those being dangerous, the idling of the vehicle, the abusive use of the vehicle, and finally the driving styles. Vehicle tracking solutions can also prevent theft. The data from this software can help you identify behaviors that need to be corrected and avoided in order to improve the safety of your fleet.
2. Faster Solutions to Problems
Even the smallest issue to deal with, if not dealt with on time, can become a big problem. This is the same for bad habits (air conditioning, vehicle overloading) and driving style (repeated acceleration, braking) which can quickly become expensive for a fleet if this is not changed in time. An alert system, such as the one offered by fleet management software, guarantees that these problems are resolved quickly.
3. Optimization of Your Fleet
If you manage a fleet, you can lose track of your vehicles very quickly. That is, without data, you will not be able to know how much your vehicles are costing you or how they are used. But if you get precise points, you can be sure that your vehicles are used optimally. Some vehicles are not used to their maximum, with vehicle tracking solutions you can control all vehicles and therefore return them more productive than they were.
In addition, with the data returned by the fleet vehicle management application, you can make the decision to replace a vehicle if it costs you more than it earns you. This decision is only possible with fleet management software since you need to have precise data.
4. These Elements Help You Make the Right Decision
If you have detailed data on fuel consumption, vehicle safety, and use as well as maintenance costs, this will allow you, when renewing your fleet, to buy the vehicles most suited to your fleet.

To Conclude
With the increase in the number of connections and the openness of data, the cyber risk becomes very real and that of the reporting of bad data increases, as do those linked to potential malfunctions of the communication chain. The thoughtful implementation of a robust architecture adapted to business needs is therefore necessary for any transport company wishing to take full advantage of the potential of IoT in Fleet Management.
To do this, technical issues must be analyzed upstream and the organizational and human impacts and needs must be methodically integrated into your fleet management software in order to guarantee maximum adherence to the human resources inherent in the various projects launched.
By connecting all of your vehicles, a fleet vehicle management application supports you in the more efficient management of your fleet of cars, utility vehicles, weights, or construction machinery. You have metrics that allow you to accurately assess the activity of each vehicle in your fleet.
So if you have not already invested in robust fleet management software, the time is now. OneClick IT Solutions is a leading IoT mobile app development company across the USA and Europe. We have helped many transportation businesses to scale up and achieve maximum efficiency with our IoT in Fleet Management Software solutions. Contact our experts today for a DEMO.