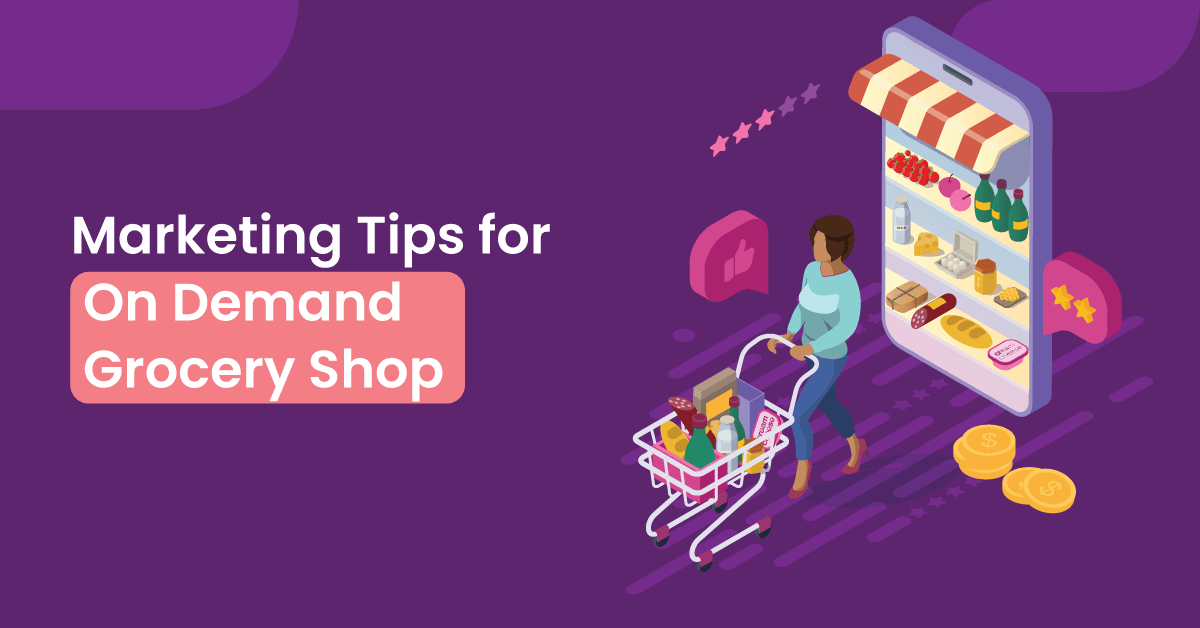 In the current pandemic situation, this service is in great demand. Make sure you make wise and optimal use of this opportunity and carve out a niche for yourself in the eCommerce business world. To help you in the space, here are some marketing tips for on-demand Online grocery shops:
Launch a Survey to Study Your Market and Make Yourself Known
A good way to market yourself while learning interesting things about the local market is to run an Online Grocery Shop survey. It can be carried out with free technology (Google Forms) or with specific (and paid) market tools like SurveyMonkey.
By activating your local network, using Facebook and a little word of mouth, even door to door, it is easy to get at least 100 or more responses, in a few days.
In the practical case of our founder Mathieu, more than 300 quality responses were collected in about 2 weeks, with 250 people have agreed to leave their emails in order to be kept informed of the project.
Many ideas and suggestions, some original ones, were offered by the respondents.
Use your website as a value-generating marketing channel
According to a recent Ascend2 study, a brand's website is its most effective marketing channel.
Like all other B2C businesses, you also have a website. But when was the last time you thought about how you actually operate your website as a strategic, personalized marketing channel?
Using modal overlays to obtain entry or exit intent inscriptions;
Incorporating personalized messages into your website; and
By offering personalized incentives to known contacts on the CRM Database

To unleash the full potential of a personalized website, it is essential to use AI-powered marketing automation technology to connect real-time session data and historical CRM customer data to create content. hyper-personalized.
1. Select Your Target Audience
It is one of the crucial elements in the growth of your business. Knowing who your product is right for is crucial.
Researching and knowing their lifestyle, demographics, and interests will help you design and develop your marketing plan targeting these areas.
This helps put in place good content marketing strategies, opens up strong communication channels, and creates a better representation of the brand message.
2. Social Media Marketing
Social media has become a huge platform that connects people all over the world and it is one of those platforms that provide international visibility.
If used correctly, this platform can also be used to drive traffic to your Online Grocery Shop's website.
Among the most used social media platforms are Facebook, Instagram, and Twitter. Create an account and make yourself visible to the family on social media.
Create unique content, and eye-catching graphics, and aim to grab the audience's attention. It is proven to be one of the most effective ways to increase your customer base.
3. Influencer Marketing
Right now, people are doing more research on a product through reviews, ratings, and studying other people's experiences.
Leveraging social media influencers is a great way to create a digital marketing strategy.
Getting your app's website talked about or demonstrated to an influencer will certainly grab the attention of their followers and thus help convert those viewers into potential customers.
The "trust factor" plays a big role in influencer marketing strategy, which directly impacts customer conversion rates.
4. Email Marketing
It's a great way to reach a particular niche of the audience. Email marketing is one of the best strategies for user engagement on your website.
The catch being, the right content. If the content is not appropriate or if it is not pleasing to the eye and to the point, there is a good chance that you will be categorized as spam.
On average, people don't spend more than 3 minutes on a single email. That is why, keeping this short duration in mind, you should format your content accordingly.
Providing deals and coupons is one way to attract an audience through email marketing.
5. SEO Optimization
Google is the most consulted search engine.
This is where Search Engine Optimization (SEO) kicks in. Appropriate keyword usage, good content, creative but effective website design, and faster loading speed play a role. essential.
This will help you get the required rankings on your search engine and therefore grab the attention of the public. This will increase traffic to your website.
How to Monetize Your Online Grocery Shop?
1. Commission-Based Monetization
For each order that your partners receive, you can set a certain percentage as a commission. This monetization model will also help you accelerate your growth.
2. Subscription-Based Monetization
This is a model in which you charge your customers a fixed, periodic subscription amount. To make this plan more appealing to your customers, you can also add a few coupons, free delivery access for a few orders, and many other innovative offers.
3. The Hybrid Solution
The best of both worlds above. You can charge the commission to your partners and a subscription amount to your customers.
These are the effective eCommerce marketing tactics used by most successful Online Grocery Shop.
The launch of your on-demand grocery application is the final and most important step. You will need to incorporate eye-catching offers in order to attract a crowd. And personalization is the key to a successful launch.

Here Are Some Tips You Can Work On
Offer innovative recipes
Add additional discounts and offers if there are referrals from friends or family members
Enable an option allowing them to download a list and automate it to be delivered periodically
Add a function allowing them to share a basket with other customers
Hope you have now gained some knowledge on how to set up your Online Grocery Shop. Don't worry if you run into any obstacles. We're just a click away from helping you meet all of your business needs!
And there you have it, you now have all the resources to successfully launch your organic or bulk grocery store. If you have any questions, we are of course at your disposal to help you in all stages of this long road to independence!