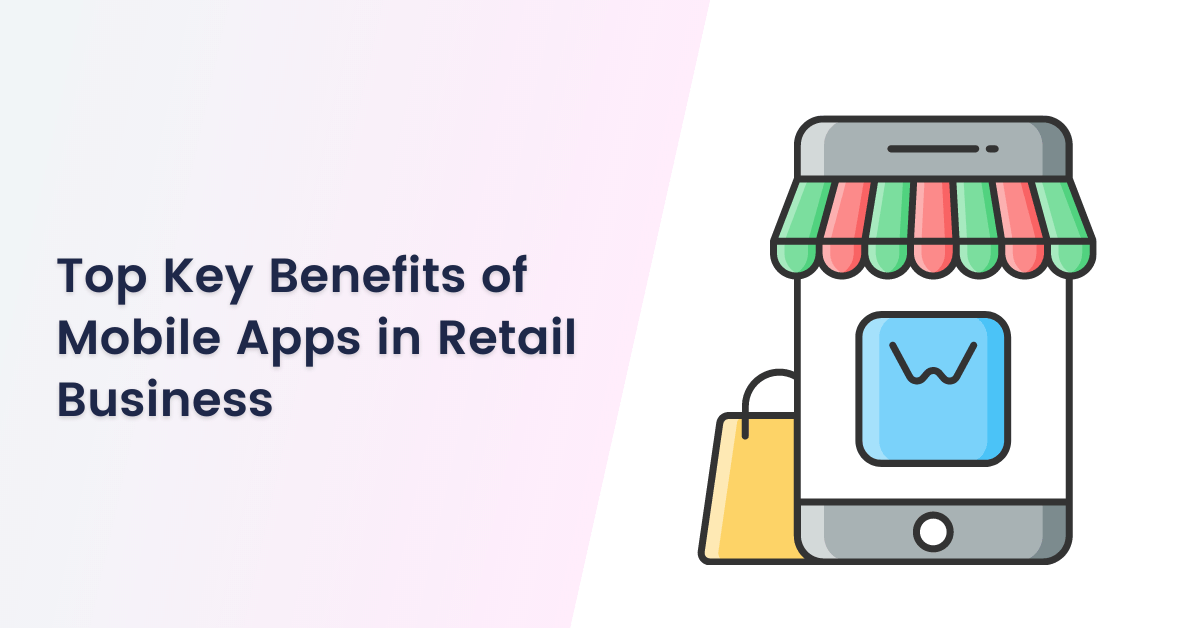 Introduction
With the development of Smartphones, companies are increasingly tending to turn to mobile solutions in order to reach as many prospects as possible. For retail professionals, applications are a real turning point in their activity. It is a first step in the world of Smartphones with sites that are now optimized for mobiles. Today, download platforms like the App Store and Google Play are fully benefiting companies wishing to increase their visibility. One of the biggest benefits of mobile apps is that they help support your business.
Thanks to features such as push notifications, internal advertising, and statistics, they make it possible to inform your customers about the various evolutions of the company. This blog will help you assess how you can boost your retail business with the help of mobile application development.

What is a Retail Business?
Retail businesses sell products or services to consumers through multiple delivery channels to earn a profit. The delivery channel can be online or offline. Let's understand a little about the retail supply chain. There are majorly 4 players in this chain: Manufacturer, Distributor or wholesaler, Retailer, and Consumer. A manufacturer will produce the goods and sell to distributors, distributors will resell them to retailers and lastly, retailers will resell them to consumers or end-users. In this whole process, there is a markup value added to the original price at each stage and this way each player earns a profit. So, a product that actually costs $50, can cost up to $80 to consumers all the way long.
Global retail sales were projected to amount to around 31.7 trillion U.S. dollars by 2025. Have a look at these statistics: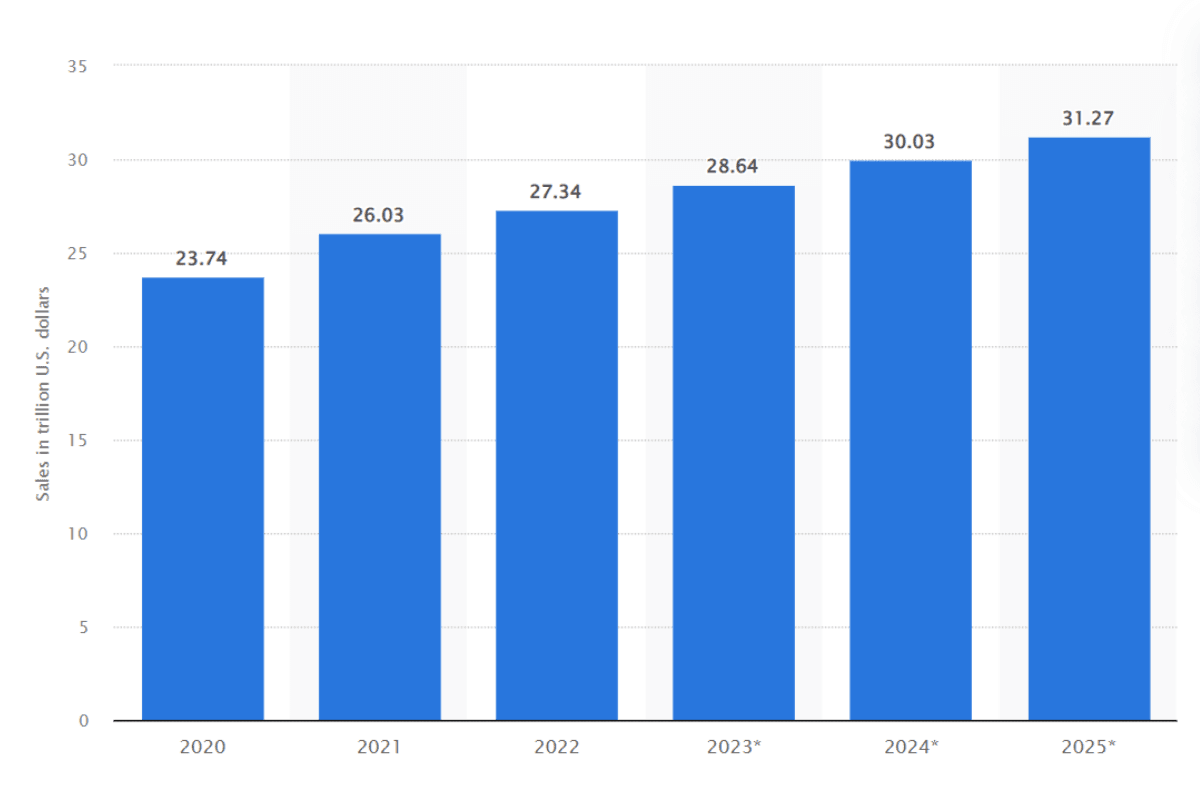 What is a Retail App?
A retail app is simply an application that enables retailers and consumers to transact their business online. The main goal of the application is to help shop owners or retailers manage all the business processes with a click. It can help you keep track of customers buying patterns, and transactions, manage marketing & campaigns, manage staff, and more.
It doesn't matter if your store is online, offline, or both. All you need is to decide what type of retail app you need to run your business. The best retail apps available in the market today are Shopify POS, MailChimp, Xero, RetailNext, and more. Let's see what the existing retail apps have to offer:
1. Shopify POS
Shopify POS is an application for Android and iOS devices that can be used for transactions in a physical store or online. It allows you to add products, process orders, take payments, swipe cards, and generate receipts. It doesn't require your store to be online. Now Shopify POS allows you to download your store products directly if you already have a Shopify account and if not, it enables you to add products and create a store. The app also has a barcode scanner, receipt printer, cash drawer, and even a credit card reader.
2. MailChimp
Mailchimp is an all-rounder marketing application that helps you manage your marketing strategies. It gives your the ability to create mailing lists, newsletters, automated campaigns, and has a powerful data analysis module. It allows you to connect your online store with simple API integration. It's has an easy drag and drops feature for you to design email templates. It obviously requires you to have an online store! MailChimp is available in app stores as well as on the web and it runs on a wide range of devices.
3. Xero
If you want all your numbers to be accurate, then Xero is the app. It will keep you updated on your financial performance and cash flows. The app allows you to design invoices, automate order exports, manage your accounts, and more. Xero is an accounting app that will help you maintain transparency in your revenue.
4. When I Work
You might have multiple stores and N number of staff. "When I Work" is an app that helps you keep track of your staff! Yes, it helps you set up scheduled staff, track if your staff checked in or not, send alerts, and more. Your staff members can see their schedule, swap shifts if any, set up, receive important alerts, and can check-in and out from the store. It will basically save your time, track staff attendance, and grow your business.
Why Mobile Apps in Retail Business?
Let's See the Pros and Cons of Mobile Apps in Retail Business.
Pros:
The amount of time people spend on smartphones is undoubtedly increasing, which means that you can utilize this time to actually grow your business.
Apps help keep your brand notable in the market.
Apps will help you increase customer satisfaction.
Apps will help you strengthen your marketing strategies.
If done in the right way, retail apps will amplify your customer base.
Mobile apps are faster than websites.
Apps will let you manage everything from anywhere and anytime.
Importantly, apps will help you collect more data from customers and hence give you the opportunity to analyze it and deeply understand customer buying patterns. Also, let you understand your business's strong and weak areas.
Cons:
The app will require constant monitoring and support.
If you want to have smart features in your app, it is going to cost you. The more the features, the more the cost!
You won't be able to stand out from your competitors.
The Opportunity
Now, that you have understood some of the options available to you in the market and the pros and cons of retail apps, it's time to grab the opportunity. Build an app!! Start listing out your requirements, picture different verticals to grow your business, and vote on what type of app you want for your store. Your app will make your daily tasks easier to manage, irrespective of the nature of the business you are in. The opportunity is to stand out from your competitors and give an edge to your business.

Conclusion
Mobile apps are becoming more and more common in the retail business and if you want your retail business to keep growing and be up to date, then you should definitely consider developing a custom retail mobile app or using a 3rd party solution.
If you are in the retail business and looking to develop an app according to your requirements or want to use a 3rd party solution then check us out. Contact us today to know more.