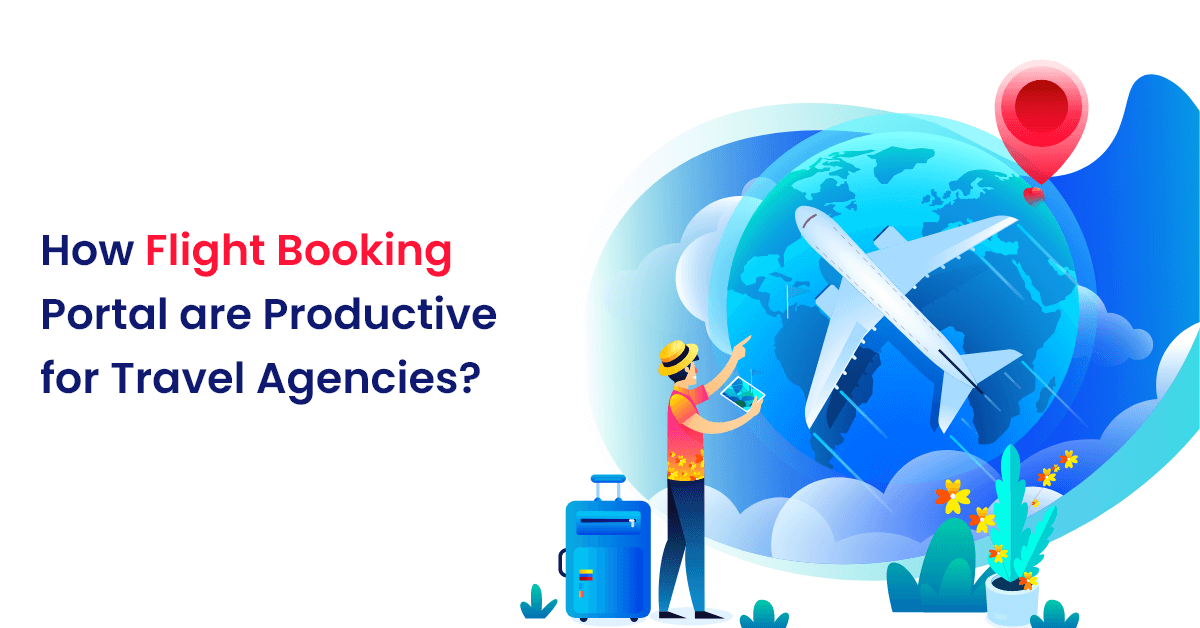 What is a Flight Booking Portal?
The main function is to book, manage and control the reservation of air tickets. It provides complete information about available dates, several airlines and airports around the globe. It also needs to calculate fare (fare difference, taxes applicable etc).
There are numerous business opportunities available globally. But the most interesting and amazing industry is travel worldwide. This is the only industry growing globally. There is good news for travel business owners who are already there in this industry and for those who are planning to start this business.
We are in a world where technology is more advanced than at any time in history. There was a time when people used to do things manually but now, we've software and computer systems with us, and this change might have made the travel industry popular.
Flight booking portal is designed to boost your online sales with client management and monitoring capabilities across multiple users. Modern travelers prefer an online flight reservation system as it takes a fraction of seconds to book their destination with flight tickets and hotel rooms instantly at a low price.
Nowadays, travelers are looking to book flight tickets independently, rather than giving travel agencies the commission. Moreover, travel agencies offer various discounts on booking rates and add on to other benefits.
This blog post discusses how flight booking portals can be incredibly productive for travel agencies, especially when designed correctly. The agents involved barely require any customer interaction.

Top Features of Flight Booking Portal
Flight Analysis Module.
Travel API (Application Programming Interface) booking solution.
Allow passengers to choose their seats.
Trustworthy and reliable in all aspects.
Online payment facility is available.
You can generate a financial report and reservation report.
Online bookings support flyers programs.
All the rules and baggage information is available in the flight booking system.
There are multiple options available like booking multi-city flights with all the mentioned details.
Push notifications via email regarding confirmation of ticket bookings.
Benefits of Flight Booking Portal
There are various benefits of using a flight booking portal. The market will continue to expand and flourish as online flight booking provides more and more travel content, options and varieties.

Let us discuss few benefits of flight booking portal:
1. Marketing & Selling Tools
Every transaction made at an airline booking portal is automatically relayed to an agency's or company's marketing platform. This means that all the travel agents need to do is promote their services through the booking portal itself, and they will have an easy time selling products.
The transactions are also useful for understanding what kind of customer the agency works best with. These two reasons are just a few of the many reasons why agencies should use airline booking portals.
2. Reduced Costs Associated with Travel Agencies
Most travel agencies are still using systems that are just too old to be used in today's market, not to mention they are also extremely high maintenance, requiring high levels of IT support. This means that most agencies are spending a lot of money on maintaining their booking systems, which means lower profits.
Instead of spending so much money on maintenance, agencies should consider using airline booking portals to reduce costs. There are no contracts to sign with these portals, and they don't require any IT support at all.
03. Increase In Productivity for Travel Agents
Agencies need to focus on increasing employee productivity in this day and age. Productivity can be increased when the workflow is streamlined; one way to do this is through the use of airline booking portals. These portals have features that can be utilized to increase sales.
These features let travel agents answer flight queries faster, provide better customer service, and save time. All of these features also enable agencies to improve their customer acquisition rate.
04. Immediate Bookings
Travel agencies can receive immediate confirmations on bookings through this system. The reason why confirmations are received immediately is that these reservations do not go through third parties.
When you use a travel agency's booking portal, the confirmation goes directly to your office. This means that you know whether you have received travel payment or not right away.
How Does the Flight Booking Portal Work?

The flight booking portal is a platform for travel agencies to book airline tickets. It offers an interface where the agent can make selections for all aspects of the booking process. The airline's site allows agents to search fares, validate passenger details, choose seats, select extras and make payments. By becoming IATA certified and leveraging the power of Airline Retailing Maturity (ARM), you can gain valuable insights into an airline's retailing excellence. This knowledge will enable you to partner with airlines that align with your travel business goals and maximize your investment potential.
When selecting the flight, it will display them in ascending order according to fare type (Economy/Business) and departure time (earliest first). Agents may then choose seats by passenger number or name (depending on how data has been uploaded), then confirm their choice. Extras should be selected at this time too; for example, selecting meals or baggage charges.
The portal will ensure that the correct passenger data is populated and also the correct fare class and seat assignments. It will then generate a booking reference and pass this information to an approval gateway.
This approval gateway will query the agency's master database to confirm that the details provided match those of existing customers or fit into a suitable category of new customers e.g. GDS (Global Distribution System). If there is any discrepancy, such as duplicate booking numbers for one passenger, it may ask for further information from the agent's staff or log fraud reports.

Why Choose OneClick as a Top Flight Booking Portal Development company?
OneClick is premium travel technology company offering outstanding flight booking portal solution. Our flight booking portal software provides overall tours and travel admin panel that help you advance with the changing demand of the current travel on-going business. Also, We connected with top travel aggregators and travel API providers so that we can expand and deliver world-class flight booking portal solution to global travel agents, we are not focusing only in flight booking portal where as we take care of complete travel portal development, travel technology solution, travel booking engine development, travel booking software, top class B2B, B2C travel portals, API/XML Integration and much more.