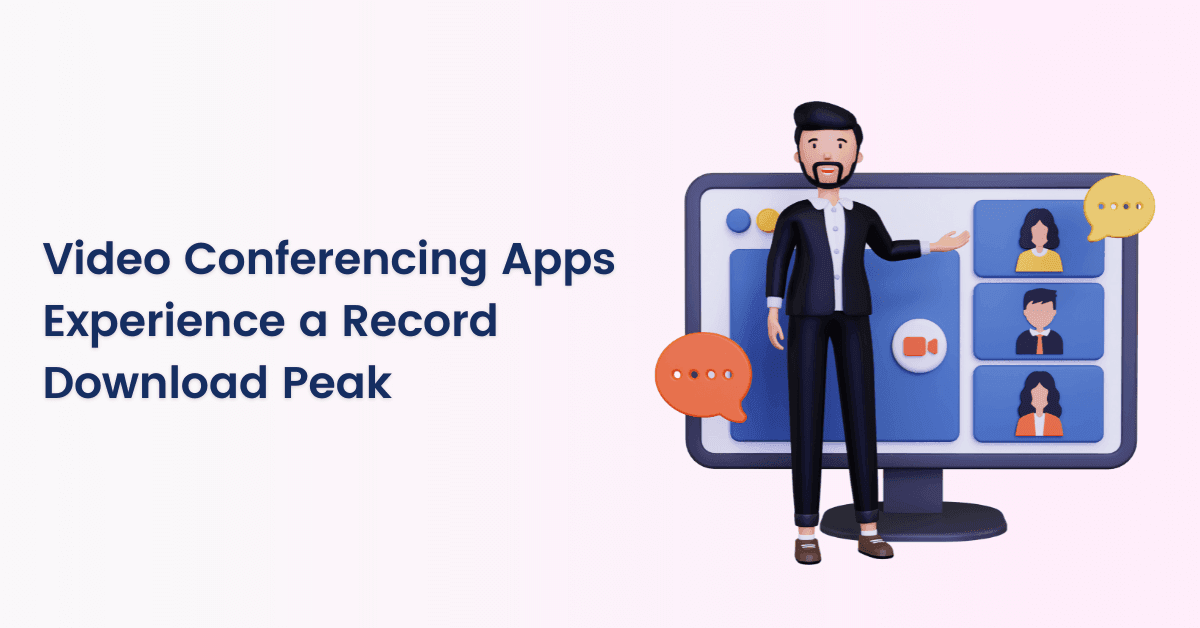 Video conferencing apps are the big winners of this dark period. Since teleworking is essential and social distancing is now part of our daily lives, video conferencing applications have become essential so that we can continue to work.
According to Berstein Research, Zoom, one of the most popular video conferencing apps, witnessed 2.22 million monthly active users in the first quarter of 2020, compared to 1.99 million in all of 2019.
62 Million Downloads in Just One Week
It can be termed as the Golden era for companies in this sector. Among the video conferencing apps that work best and which are the most popular, we find Zoom, Teams (from Microsoft), HouseParty, or Hangouts Meet. These four apps were downloaded 62 million times in just one week. Such growth was foreseeable, but today we have precise figures which prove it to us.
The week of March 14-21 saw a 45% increase in downloads compared to the previous week. This week corresponds to the time when France was placed in quarantine.
Note that these are the video conferencing apps that have experienced the strongest growth since the start of confinement. The number of downloads increased by 90% compared to the weekly average of downloads of professional applications in 2019.

Zoom in on Everybody's Phone and Also on News!
This is the Zoom application that stands out this year, to the point of worrying Microsoft Teams. This application is particularly popular in the United Kingdom, the United States and Europe.
However, Vice's revelations almost ruined everything. It claimed that Zoom was transmitting our data to Facebook. Fortunately, a few days after this discovery, the application updated the iOS version of its app to resolve this problem.
If the application has been downloaded by a lot of new users, it is worth considering the mechanics of these downloads. The reflex is not to go to the App Store or the Play Store to download the application. The number of users has increased because you have probably received an invitation to a video conference meeting.
The video conferencing application Zoom, whose popularity has exploded with the increase in teleworking, has announced measures to improve its security in response to questions from the American justice system, concerned about the increase in hacking attempts.
Exchange volumes exploded on all video messaging, but none stood out like Zoom. The platform allows you to call up to 100 people simultaneously, for 40 minutes, free of charge.
Its design is basic but we choose a background to hide our poorly arranged room or share our screen with the other participants. But above all, in March, Zoom removed the 40-minute limit for teachers in around twenty countries.
Zoom Bombing
Amidst Global Pandemic Corona Virus, you are also vulnerable to Zoom-Bombing, if Zoom is not used with adequate security and precautions. How does this happen – Zoom Bombing is hijacking videos, which us usually of conferences hosted on public channels shared over the internet.
Zoom-bombings have occurred in school classroom training, Board meetings, public conferences, and many more places.
The hijackers can sneak peeking into your important meetings or can share pornographic images or content into the meeting as a disturbance.
The Popularity of Google Meet
According to C Net, officials from Google have indicated this week, that Google Meet is currently adding 2 million users a day. This clearly indicates the strong growth of this video conferencing app.
Google, since early March, has offered the premium features of this app to all G Suite and G Suite for Education users. This is to ensure that work from home is smooth and social distancing is practiced to fight the pandemic.
The recent news about security breach with Zoom data has encouraged users to explore more options. Recently, Zoom has apologized and indicated that its priority will now be to resolve these issues. The company has suspended the development of new features so that its employees are focused on short-term goals.
According to Zoom officials the company didn't foresee such a spike in demand – old and new users alike. This resulted in data being routed from other data centers and raised concerns amongst users about security breaches or privacy issues.

HouseParty
Another application, HouseParty, is also very successful in this period of confinement. This time it is an application intended for individuals who wish to maintain a link with their loved ones. It allows conversations up to 8 people but also to launch games with its contacts.
The demand for video conferencing apps is going to increase now that the teleworking option has been explored. With controversies around the giants in the industry, it is an opportunity for businesses to explore this tool.
Developing a video conferencing app can reduce travel costs, improve co-ordination between teams and thus boost productivity.
Do you have a video conferencing app development idea? Let's discuss it to today so that you can leverage on the increasing demand and stay ahead of the game. With nearly a decade of experience in app development, OneClick can help you design and develop user-friendly, ergonomic, and robust video conferencing apps to match your business requirement.