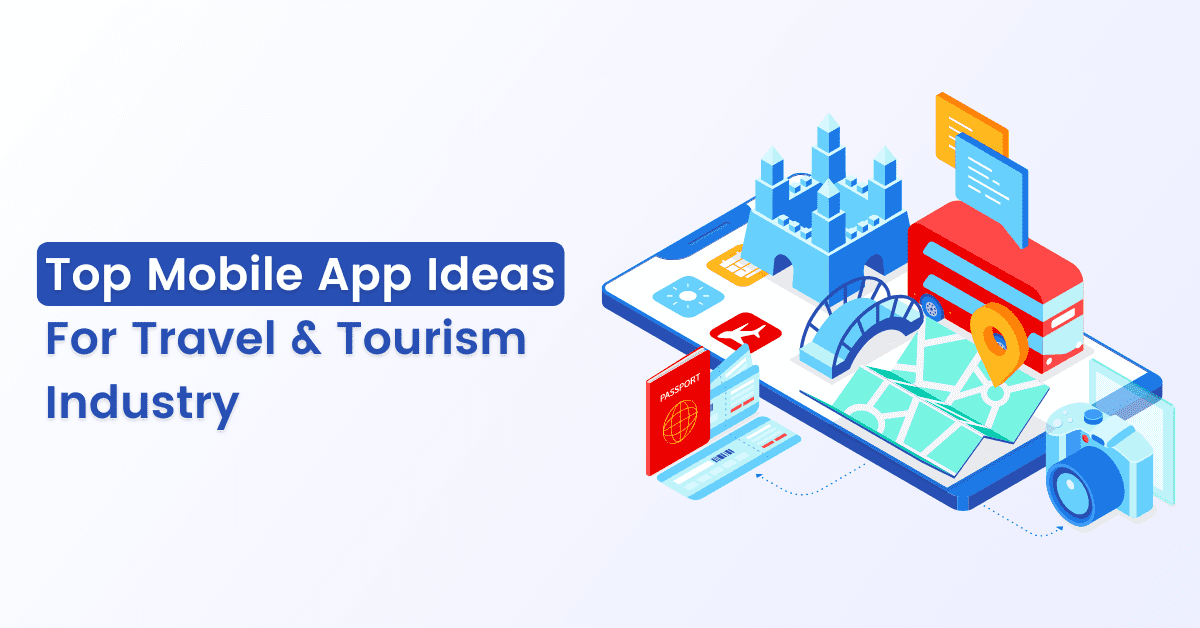 The travel and tourism industry is one of the most explosive industries in the world. It has shown tremendous growth in recent years and has become an integral part of every individual's life. With this rapid growth, people are now opting for travel as a source to earn their livelihood. Here are the best mobile app ideas for travel and tourism industry which will help you to make better decisions & stay ahead of the game!
The mobile app development for the travel & tourism industry requires extensive research about various aspects related to this business such as mobile payments, booking & reservation systems, transportation systems, etc. However, we have already done that part for you by creating some of the best mobile app ideas for the travel & tourism industry.
Top Mobile App Ideas to Boost your Travel & Tourism Business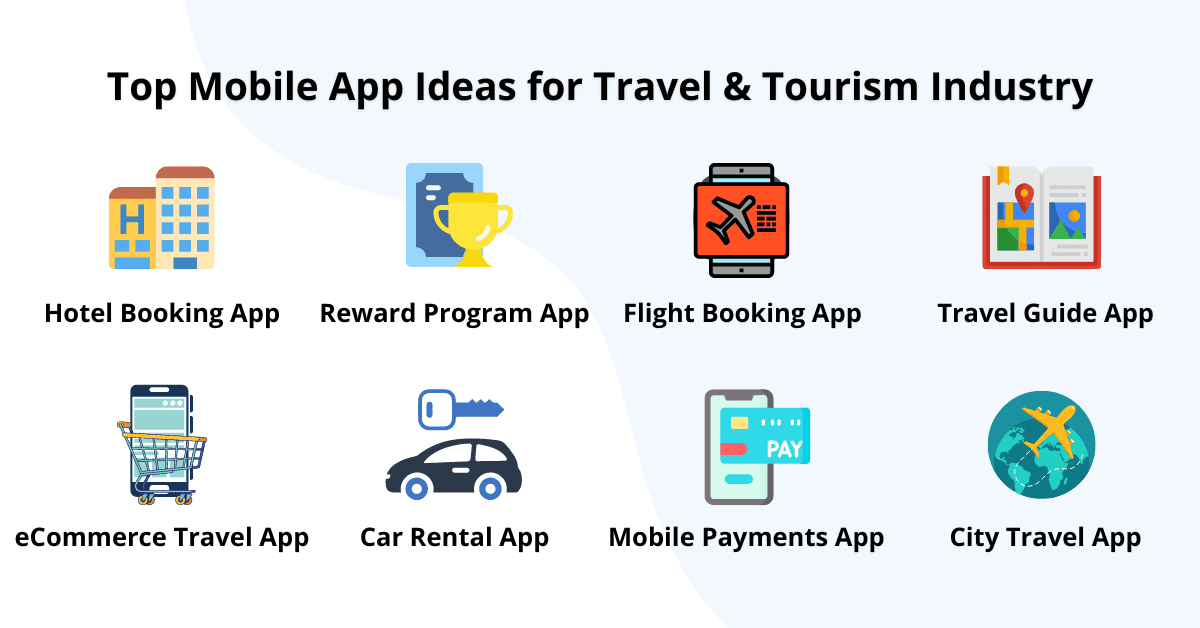 1. Hotel Booking App
A hotel booking app can be used to book hotels in a few minutes. This feature is especially useful for the travel industry, as it allows travelers to book their accommodations with ease at any time of the day or night.
Travelers can find hotels that match their preferences and budget, then book them quickly and easily, oftentimes even right from the app. In addition to this functionality, many apps allow users to browse through photos of each property and read reviews left by other travelers who have stayed there before them.
2. Booking & Reservation App
Booking and reservation app development is the best way to get more customers to your hotel. It helps you have direct communication with your customers, creates a good impression on them, makes it easy for them to book rooms at any time, and provides all the information about the hotel along with some additional features like the weather forecast of the destination.
The booking process will become easier if you have an app that offers various services related to hotels like booking rooms, finding restaurants nearby, etc. The users can even get directions from their current location to your hotel by using the navigation function.
You can also provide other information such as how much time it takes to reach your place from different parts of town using the traffic updates feature while providing details on availability at certain hours during peak seasons or holiday seasons.

3. Reward Program App
Reward Program App is a useful mobile app that allows you to earn rewards and redeem them. It can be used by hotels, airlines, restaurants, and other businesses that offer rewards points. The app can also be used by customers to redeem their rewards.
Reward programs are a great way for companies to encourage customers to use their services more frequently by rewarding them with discounts or free products when they spend money at the business' location (such as a hotel) or online store.
This is especially effective because it encourages repeat visits from each person who uses the company's services regularly, rather than just being able to attract new customers over time through ads like TV commercials or magazine ads in print publications.
4. Flight Booking App
To provide information on flights, schedules, and prices.
To provide real-time flight status.
To provide flight tracking.
To provide information on airport facilities (e.g., check-in counters).
To provide information on airport parking (e.g., rates).
To provide information on airport lounges (e.g., membership details).
To provide information on airport hotels (e.g., location details).
5. Travel Guide App
These apps are the best ways to explore a city. With the help of travel guide apps, you can find all the interesting places to visit, eat and shop. The most important thing is that you do not need to carry any guidebook or map with you. These travel guide apps readily provide all this information for travelers like you.
Where should I go?
What should I see?
How is it better than other cities or countries?
6. eCommerce Travel App
The travel industry is growing rapidly and it is an exciting sector to be in. In this scenario, you can create a brand new app that will enable users to book their travel tickets and other services through your application.
This mobile app idea will enable people to book hotels, flights, and more directly from your site. You can also provide exclusive benefits for the customers who buy tickets from your online using mobile apps as well as desktop computers.
7. Car Rental App
A car rental app is a convenient and easy online tool for car owners, which can be used to find and book cars in an instant. It will help you save time, money, and effort by allowing you to make your reservations from the comfort of your home or office. A car rental app can be developed for both mobile platforms such as iOS and Android as well as desktop computers.
Car Rental Apps are an ideal solution for travelers who wish to drive around in a foreign country without having to worry about renting a vehicle at all. The user can simply log onto the website from their smartphone, choose a suitable type of car based on their needs and requirements, fill out some basic information like driver's license number, etc., and pay the required amount through debit/credit card or net banking options available and avail their keys within few minutes!
8. Mobile Payments App
The mobile payments app is a must-have for any travel & tourism company. The future of this industry is mobile payments, and companies that are not yet on board should consider making it their priority. Mobile payments apps can help you attract new customers and increase revenue, reduce costs and improve customer experience.
9. City Travel App
City travel apps are a great way to make your city stand out. These apps provide information on the best places to visit, which restaurants and bars are hot, and how to get around town with ease. By providing this type of information in one place, it makes your city more accessible and easier for people to find what they're looking for. The more accessible a place is, the more likely tourists will visit it!
People who use these city travel apps have found them extremely helpful when planning their trips. They're able to see what's available as well as where things are located within walking distance or on public transportation if applicable.

Do you have mobile app ideas? We can help.
We are a leading mobile app development company and help businesses create custom mobile apps for the travel & tourism industry. Our extensive experience has helped us build some of the best apps in this domain, including hotel booking and flight booking apps, car rental apps, etc. 
With a team comprising of software engineers and designers who are highly skilled at developing native or hybrid mobile apps according to your requirements, we can build an Android App or iOS app for you that will help you achieve greater customer engagement and revenue share! 
Rounding Up
If you are planning to build a travel and tourism app, then contact us today. We are one of the top mobile app development companies in USA and India and have been working on creating bespoke travel apps for clients across the globe.