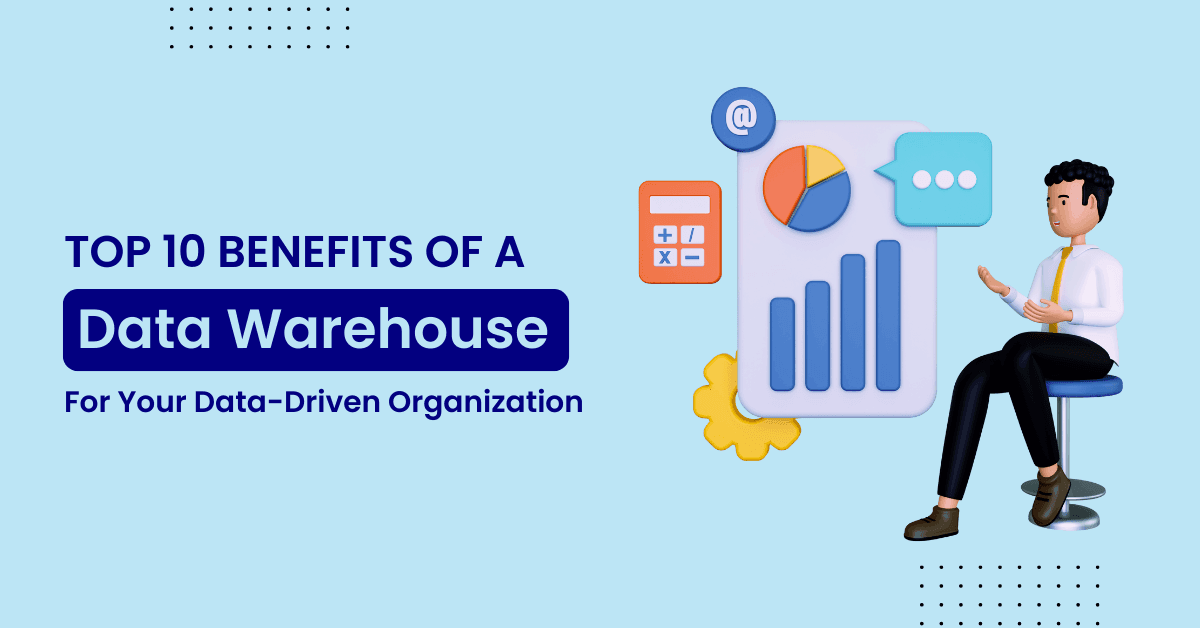 Introduction
Big Data certainly occupies the top of the bill, but data warehousing benefits companies even today, whatever their size.
The data warehouse has been a key part of many companies' data architectures and IT infrastructure for more than 3 decades. Despite this heritage, confusion surrounds the concept and data warehousing benefits today. With the introduction of Big Data and other data structuring and analysis tools, organizations are wondering why use the data warehouse. Does data warehousing still have advantages? It does.
In this blog, we explain the enterprise data warehouse benefits and why you need it.
Companies in all industries are still using data warehouses to provide Business Intelligence that heads of departments and executives can rely on in their decision-making. Data warehouse platforms provide businesses with a history of their activities. Even if Big Data and analytics have their place, the importance of data warehouse is proving to be a practical and proven tool for analyzing structured business data and for implementing data-centric decision-making policies.
What is Data Warehouse?
Data warehouse is a database designed to store information in a structured way. It collects and stores both historical and current or real time data that can be used by teams for better decision making. Benefits of Enterprise Data warehouses are that they are valuable tools for the development of a business. It is a large relational database and hence we stress on the importance of data warehousing.

The information stored in enterprise data warehouses provides a chronological overview in order to be able to offer the best possible data analysis capability. Requests are made there and the information is aggregated in order to give users the possibility of accessing it easily and quickly thus enhancing the importance of data warehouses.
Data Warehouse will allow you to have an overview of various transactions. Most of the time, the stored data is categorized by subject. One of the main data warehouse benefits is that a distinction will be made here between customer information and product information. This will make it easier for you to find the information you are looking for or to carry out a precise analysis.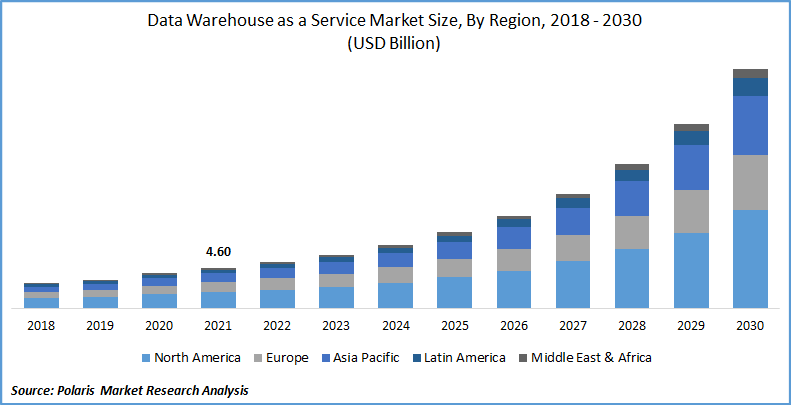 Top Core Benefits of a Data Warehouse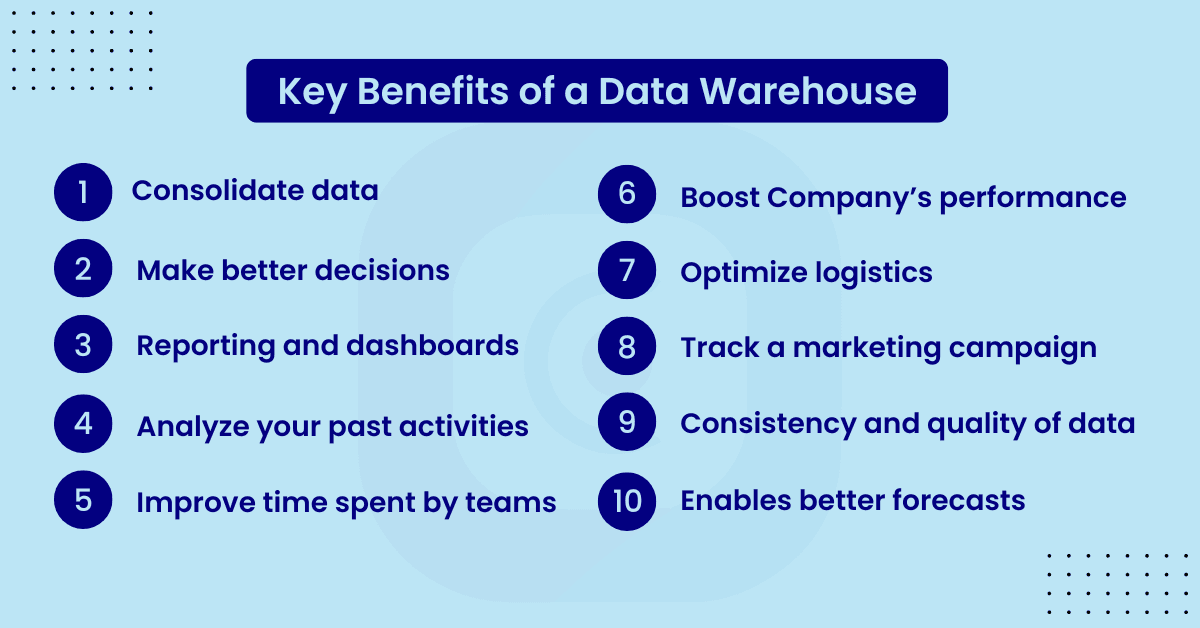 1. Consolidate data from many different sources
Working time, customer satisfaction, brand awareness, clicks on your online advertisements, manufacturing and delivery times. These are just a few of the multiple benefits of data warehouse. It allows you to store, organize, and analyze all forms of data, while a database is often limited to a single application.
2. Make better decisions
One of the significant benefits of a data warehouse is that it is a key element of business intelligence (BI). The objective is to provide managers with a basis for decision support. By collecting and analyzing data on the company's past activities, a data warehouse facilitates decision-making. You will not only have access to all the history of the company when it comes to making decisions, but also will be able to consult this data in real time, at any time of the year.
3. Reporting and dashboards
Most often, marketing and other data is presented in the form of analytical reports or dashboards; customer lifespan, Monthly Recurring Revenue (MRR), loss of customers, etc. Using these data points you can identify any anomalies in the tools that measure these metrics and extract more benefits of data warehouse.
4. Analyze your past activities
Would you like to know how your manufacturing lead times have changed over the past years? Would you like to compare the customer satisfaction rate over the last 3 years? Or get insights on the working time of your teams compared to the previous month?
One of the benefits of a data warehouse is that it knows the answers to all these questions.
5. Improve the time spent by your teams
A data warehouse provides, stores and standardizes data for the organization. This historical and real-time data is critical and easily accessible to all users across teams. Users can themselves extract this data without the intervention of the support team to make decisions, thus saving time and money. This is another crucial benefit of data warehouses.
6. Boost Company's performance
To maximize the efficiency and benefits of your data warehouse, one solution is to integrate other business insights tools into it. In fact, creating bridges between your Data Warehouse and the software that your teams use on a daily basis will allow you to collect more data, obtain more in-depth analyses, and ultimately improve the company's performance.
7. Optimize logistics
The volume of data collected throughout the supply chain is considerable. Thanks to this data, a company will be able to better predict load volumes, anticipate stock shortages, reduce delivery times or even optimize transport routes. Tangible benefits of data warehouse for the company, its customers and even its suppliers!
8. Track a marketing campaign
By crossing the marketing data with other insights you can assess the impact of all campaigns on your company's activity. What is the contribution of the campaign in new orders? How many visitors arrived on the site from the advertisements? Which types of customers were particularly sensitive to the campaign? Finally, how much additional revenue did it generate? With the benefits of data warehouse and insights, you can optimize your campaigns better.
9. Consistency and quality of data
Another key benefits of data warehouse is that it serves data in a standardized and consistent format. While the data is collected from multiple sources, this consistency in the presentation of data improves accuracy of reports across teams.
10. Enables better forecasts
With high-quality and standardized data – both current and past, companies are in a better position to define KPIs, make market forecasts, and even gauge or predict outcomes. This benefit of data warehouse eases the planning and forecast process for the management.

Data Warehouses Are The Future of Data Storage
The way organizations today are leveraging the data warehouse advantages is an eye-opener. Customers want unique and personalized experiences. Management and decision makers want to draw better insights to forecast outcomes. Data warehouses make these activities simple and efficient.
eCommerce and B2C organizations can utilize the data to enhance marketing campaigns and target them to the right users. Pharma and insurance companies can analyse patient data and plan their products and offerings based on it. Travel companies can use the data to optimize flight/bus timings, zones, routes and save costs. Factories can leverage the data warehouse advantages to keep a track of the maintenance cycle, health of tools and machinery and optimize their usage to prevent breakdowns.
The avenues are unlimited and investing in data warehouses will ensure optimization and enhanced ROIs at all levels in organizations across all industries.
Conclusion
The advantages of data warehouse have been comprehensively addressed above for companies, from very small businesses to large groups. By storing data in a structured and readable way, the data warehouse saves you valuable time!
There are many advantages of a Data Warehouse in your business. Ultimately, this tool will allow you to improve your business and your relationship with your partners or customers. This will allow you to increase your income and therefore your profits!
FAQs
What data is stored and analyzed in data warehouses?
Depending on your activity, you will obviously not collect or analyze the same types of data. The advantage of data warehousing is that it is completely customizable according to your needs. Collect data; store, sort and organize your data the way you want; analyze isolated groups of data or cross-reference different types of data; track your data using dashboards and export reports to discuss with your collaborators. The possibilities and advantages of enterprise data warehousing are endless.
What are the top Data Warehouse management tools?
Data warehouses are the future of every business. Therefore, before choosing the final and best data warehouse management tool, you must ensure that it is capable of meeting the overall requirements of the organization. Some of the popular Data Warehouse management tools are:
– Amazon Redshift
– Microsoft Azure
– Google BigQuery
– Micro Focus Vertica
– Snowflake
– PostgreSQL
– Teradata
– Oracle Autonomous Warehouse
Why do we need a Data Warehouse?
There are umpteen benefits of an enterprise data warehouse. It can help make operations easier and more efficient when compared to other data storage solutions. Data can be replicated from multiple sources in business units to a central and standardized repository for analytics and Business Intelligence purposes. This helps resolve communication bottlenecks and helps every user get access to relevant data faster.