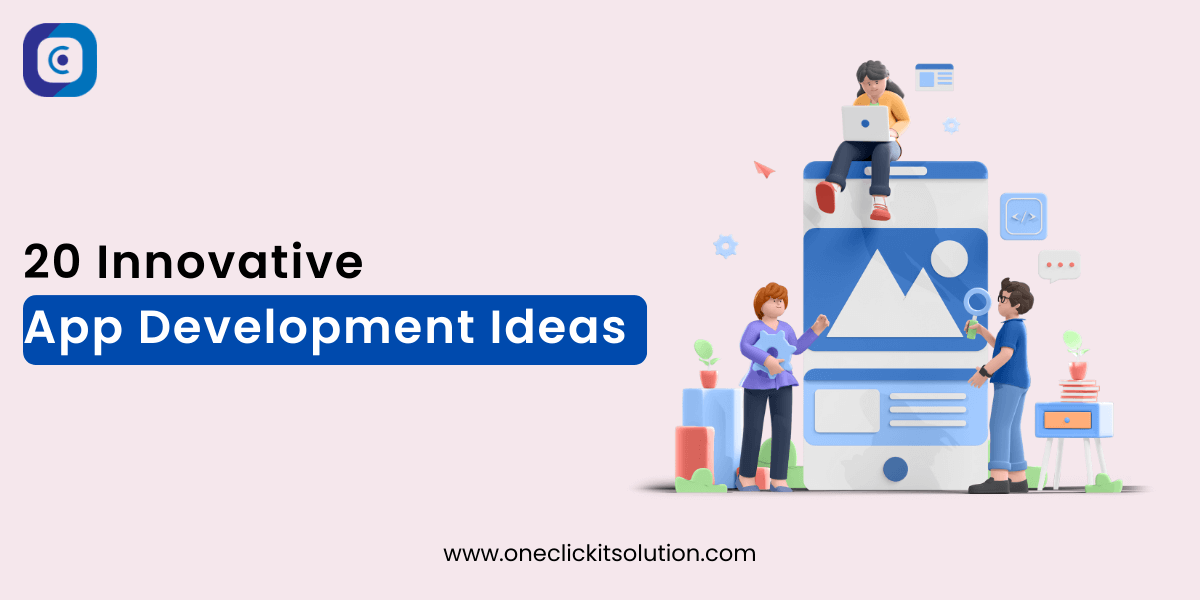 Mobile app development is a multibillion-dollar industry thanks to its promising growth and strong revenue potential, making it a great idea for future entrepreneurs. And application ideas are hard to come by. But, due to fierce competition, only a small fraction of the apps created are truly successful in the long term in this growing industry.
The year is 2023, and the world is a different place. The planet has changed under our feet and we're on the brink of new technologies that will change our lives forever. In this new digital age, there are many app development ideas that could make your business thrive in 2023.
It is, therefore, essential to learning how to create a successful application that generates long-term interest. The good news is, you don't have to come up with these app development ideas on your own if you don't already have one.
The Process of Getting an Idea for an App That Works
Many successful apps are not the result of a single idea, but different parts of an existing idea (like Uber vs Lyft) or just a similar app with better market knowledge or better marketing. Competition is always a good thing! If there isn't, it is always a bad sign.
We have helped many of our clients develop and conceptualize their ideas to bring them to reality.
From Idea to Success, Step by Step
We start by consulting service them on how to differentiate and build a successful apps business. A mobile app prototype is then created to validate the idea (not to spend thousands of dollars to build it right away). We call it an "MVP".
Thus, they are ready to implement their idea and we help them understand the feedback of their first visitors/users. We even help them develop marketing strategies and gain visibility too.

Here are Some Application Ideas That will Allow You to Unleash Your Creativity:
1. Dating App
People meet more and more online and are constantly looking for partners. You can help them achieve this by creating a dating app that uses geo-positioning, social media integration, and profiles so they can find the best match. An idea for an application that still has a lot of potential!
2. Billing Application
With the increase in the number of people working from home or in the field, the ability to create, manage, and adjust invoices on the go is essential. This is why launching with your start-up the creation of an invoicing application is an ideal choice. An invoicing application will allow users to generate invoices for customers and track overdue notices for years to come.
3. Planning/Calendar Application
Every year, more and more people swap their old-fashioned paper diaries for a mobile application that allows them to keep track of their daily schedule and schedule with their smartphone. To meet this need, you can create an online planning app that instantly syncs with other platforms.
4. Tour Guide/Travel App
People have been traveling for thousands of years, and it's not going to end anytime soon. If you can build a travel app that helps people connect better with others and explore the places they visit, you can set up your start-up for long-term success.
5. Party Planner App
People will always have something to celebrate, including birthdays and holidays. You can create a party planner app that helps them organize events and provides them with features, such as meal planning and a guest management list. Consider including notifications so that party planners can notify guests of delays or other important updates to the event in question.
6. Kitchen Application
Passing on recipes is an old-age hobby that spans several generations. But today, in this digital world, people are looking for apps that deliver great cooking recipes, on-demand. These apps are in high demand and provide those who love to cook with inspiring recipes; they can create new dishes or improve existing dishes.
7. Interior Design Application
People are always looking for inspiration to improve the look of their homes, and you can create a home decor app to help them with that process. Consider offering features that help them quickly come up with ideas for transforming their space. For example, the app may offer a mock-up to help users decide on the best position to place their beds.
8. Photo Storage App
The more popular mobile devices with cameras are, the more people need to store photos. You can create a photo storage app to help users manage their photos so that they can keep their memories. Consider including features for editing photos in the app.
9. Application for Job Search
Job search apps have constantly replaced the classified sections of newspapers and companies now use them extensively as their primary source of employment. Consider creating an app that helps connect job seekers and employers to help them find a job that best matches their skills.
10. Tutoring Application
Unless the need to go to school ends, students will still need help understanding what they have learned in class. It is a good idea to consider making an on-demand tutoring app that helps students get tutoring when they need it.
11. Fitness Tracker App
Many people use apps to stay fit and track their progress. Consider creating a fitness tracker app to help runners track their training habits. These apps also offer great cross-selling possibilities based on user preferences and needs through data collection capabilities.
12. Personal Budget Management
Personal budget apps are a great solution to help people manage their finances. Individuals will always need a way of knowing how much they are spending on a particular item. You can create an app that helps solve this problem so that they can see how they can save money.
13. Online Marketplace Application
As online shopping continues to grow, there is a need to make things easier for buyers and sellers. Building an online marketplace helps buyers and sellers meet this need. You can create one that allows individuals to sell new or used items for a small fee and connect them with interested buyers so they can sell their items faster.
14. Healthcare App
As people need guidance to understand their symptoms or health issues, healthcare apps are viable app ideas that can stand the test of time. There are tons of options you can try, including an app that helps people identify symptoms quickly or one that helps people find the best medical help in their area.
15. Translation Application
Travelers from all over the world can easily avoid taking foreign language courses with a translator app. People will always travel and need a way to translate languages ​​they cannot speak. You can create an app to help translate words and signs to help travelers understand what they listen to or read when exploring new places.
16. Bike servicing app
It helps you to keep your bike in good condition and avoid accidents.
You can get advice on how to maintain your bike by experts.
In future, there would be many people who want to buy a new bike but they don't know how much maintenance is needed for the bikes they want to buy. So if there's any service provider who provides all kinds of maintenance services at home or office then it will be very helpful for them because they don't have time go outside every day.
17. Education App
Education apps are an excellent way to help students learn. Students can use these educational apps in their classrooms or at home, as they can be accessed on mobile devices and tablets. There are many different types of educational apps available, including those that teach languages, math skills and general knowledge.
Educational apps are also available for people who want to learn a new skill or hobby such as playing an instrument or cooking food from another country's cuisine.
18. Pet Care App
A pet care app can help you find vets, pet sitters and groomers near you. You can also use it to find places to stay that are pet friendly. The app will also show you activities in the area that allow dogs or cats and restaurants that have special menus for animals.
19. Taxi Booking App
In today's fast-paced world, people often have busy schedules and need to be able to travel quickly and conveniently. A taxi booking app can provide this convenience by allowing users to quickly and easily book a ride with a few taps on their smartphone. These apps also provide users with real-time information about their ride, including the estimated time of arrival, the driver's name and photo, and the cost of the ride.
20. Real Estate App
The real estate industry is one of the most lucrative and popular industries in the world. It spans from buying and selling homes, renting them out or managing them for landlords, to even becoming an agent yourself! If you're looking for an app idea that can help people find their dream homes or start their careers as real estate agents then this is it!

In Conclusion
Building an app is a great idea for making money, but you also want to make sure that your app can stand the test of time. You don't need to reinvent the wheel. By taking any of these ideas to create a mobile or web app and customizing it to become your own, you can get your start-up on the path to success.
If you already have an idea for an app, connect with us and we'll help you build it. OneClick IT Solutions is a leading mobile app development company in USA and India. We have helped our clients across the globe convert a concept into a billion-dollar business.