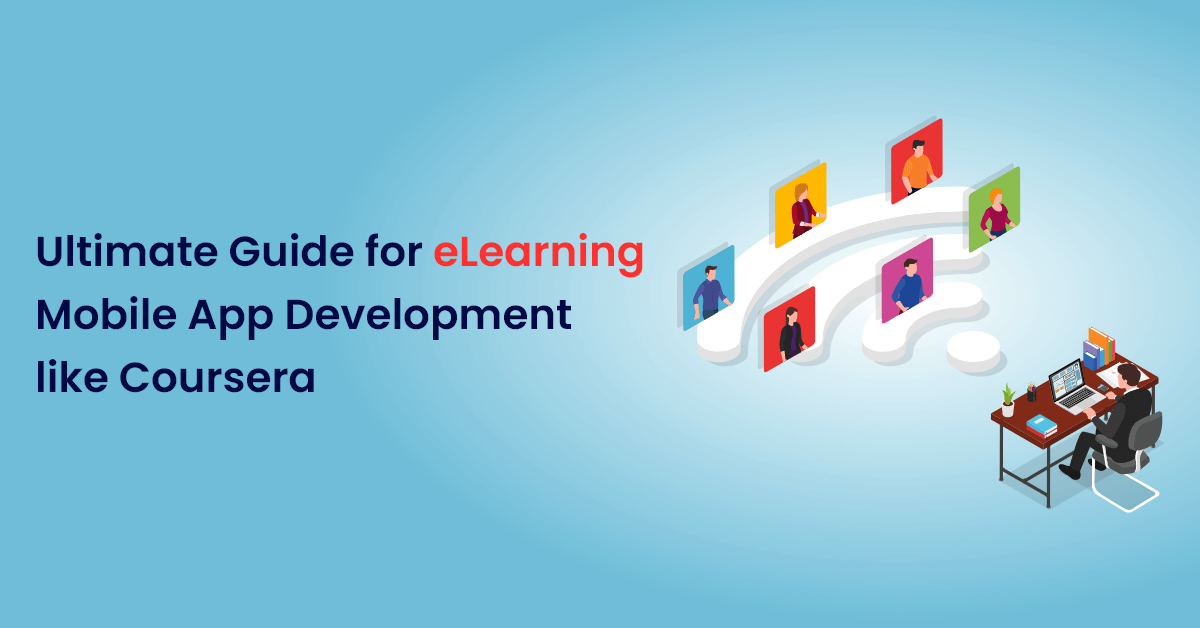 We are living in the 21st century where traditional education is no longer mandatory. The whole world is packed in a box called "technology". Nowadays, eLearning app are in trend and digital education has approached top universities and schools to adopt education through various applications.
When we talk about digital education through eLearning app, some of the names that come to our mind are Udemy, Edureka, Coursera, etc. All these belong to MOCC i.e. Massive Open Online Courses apps like Coursera.
Whether they are students or professionals, They prefer using eLearning apps like Coursera to gain knowledge on any particular topics from the best professors across the world. These platforms provide courses from top universities and schools to learners and professionals respectively.
Numerous startups and entrepreneurs are investing their valuable time and money in developing educational applications to offer a wide range of courses to students.
Let us look into the whole system of Massive Open Online Courses that includes the present and the expected future, funding they are getting and the top players of the MOOC market.
MOOC Present and Future Market
Top players for MOOC market – Coursera, Udemy, eDX, Udacity and Lynda
All the best players have contributed to the success of MOOC. Let us know in detail about their contribution:
Applications are developed for not only attracting universities and schools in terms of delivering the knowledge but they have also retained them by offering a control panel which can easily edit, upload and delivers courses.

They have not targeted any specific country, state or city. eLearning app allow students from across the globe to register, to learn and can also share certificates.
The names which we have mentioned above are not restricted. The MOOC domain has a never-ending list.
We know you are having many questions like what are the features, the cost of app development, and much more. You will find all the answers to your questions in this blog.

Mandatory Features of MOOC Apps like Coursera
Have a quick look on the list of features and it will give you a complete idea on what features you need to add in the Coursera Application Development:
1. User Registration
You are developing an application which is based on eLearning. It is mandatory that all eLearning applications have a user registration before students can start their learning journey. Nowadays, the majority of application developers have adopted this feature by asking for a user phone number/email id with a password.
There are platforms which will ask you to register through your Gmail, Facebook, LinkedIn, etc. to make sure that the user's data is secured as they are sharing their personal details with you.
2. Filter Option
All eLearning applications should include search filters. That will attract the students and will make their work easier.
Search filter must include:
Search bar with keyword

Filters like price, language, level, etc.

Recommendation course

Categories for individual
These are the filters which students and professionals are looking for.
3. Digital Payment & Subscription
Make sure that the payment page works smoothly. Most students drop out the funnel because of the payment gateway. The reason is they find limited options or bugs in the payment page.
It should include more options of payment rather than one or two. The purchase process of the course should be shorter.
Features from Admin Panel:

1. Dashboard
Dashboard and Admin panel are the access for Entrepreneurs. Also, Admin can use multiple user access for the dashboard of the eLearning app. The users profile can smoothly manage your application from the app itself. The dashboard can track and manage all the activities on the app is predominant for smooth business functioning.
2. Search Bar and Filtration
This feature is mandatory in the eLearning app building process. This will show the catalogue of courses on the website and application. Which requires a proper outlayed search and filter options. These include multiple ways for users by searching keywords in the search bar, with primary and secondary categories, filters and sorting last but not the least recommendations.
3. Detailing Page
eLearning platforms are the most competitive industry. Make sure that the pages you develop should have a dedicated page where all types of feeder are included.
Like – Course description, instructions related to usage, creators information is must, which material is used for the course, timings of the course and review rating.
This was about the course detail page, while the courses itself have –videos priory recorded, quiz, assignments and much more.
4. Alert Notifications
Notifications are the most important mobile app design. Developers should integrate the mechanism of notification in the app in a way that users always have updates about the topics they are interested in and they get the similar recommendation.
How Much Does it Cost to Develop a MOOC App like Coursera?
There is no fixed answer for this question. That means the cost completely depends on what you wish to add in the application and how you want to launch, whether a MVP model or a fully-developed model.
But when you pay for the app development, you pay for various services that includes: Mobile App design, mobile and website development, frontend and backend development.
We will give you the estimated cost of the simple to complex MOOC app range.
Simple app will cost – $20,500 to $36,000

Complex app usually cost – $56,000 to $ 80,000

And on the hourly rate you can hire the developer rate is – $20 to $30
How should be the Revenue Model of eLearning Applications?
Everything is checked which includes all features of the app like Coursera, Udemy, along with that we also discussed the cost of Coursera like application. It is time to look at the different ways you can earn money from the application you develop.
We have helped several of our clients in generating revenue from the application. So we named it as a revenue model.
Top 5 Ways to Generate Revenue by Using eLearning Products

1. Free Certificate
This is the first step. Users can download the application from iOS and Android. Users can read the detailing of the app, they can operate but the limited features can be seen in the free MOOC.
2. Paid Certificate
There is a mindset of students when it comes to purchasing the course. And why do they need to pay in eLearning platforms? Will it be valid in the future too? As we know the offline institutions and universities already have the build trust factor among the students. Give them a strong reason like Udemy and Coursera do. Students are attracted towards them because of the certified courses.
3. Micro-Credentials
This is the most common way of earning. Here we are not mentioning the admin panel credentials. In simple language, students will subscribe to the course and you will get the payment. There is limited time for the free usage after that it is mandatory to subscribe to the application and get micro credentials.
4. Online Degrees
The trend of online degrees has started a long way back. But still there are people who don't allow their kids to study online due to many reasons. Here you have to break the chain like Udemy and Coursera. You need to figure out why they will trust you? Are you giving them something different from Coursera?
5. Corporate Training
This is the way which will showcase your application brand once your app is live in the market. Corporate training is part of your business objectives. Coursera and Udemy already have separate corporate training places, where the course creators have to go and take training before live their eLearning application.

Final Wordings
We survive in the competitive world. There is tough competition in the eLearning industry too. We all know that Coursera is the leading eLearning platform for students. But to create an app like Coursera is a smart decision.
With this, you might get your answers. How it's possible to create your own eLearning application like Coursera. Don't hesitate, You're at the right place where you will get your eLearning app developer in OneClick IT Consultancy. We have experts to guide you and developers who can help you in developing and designing your app like Coursera. To know more you can contact our team.