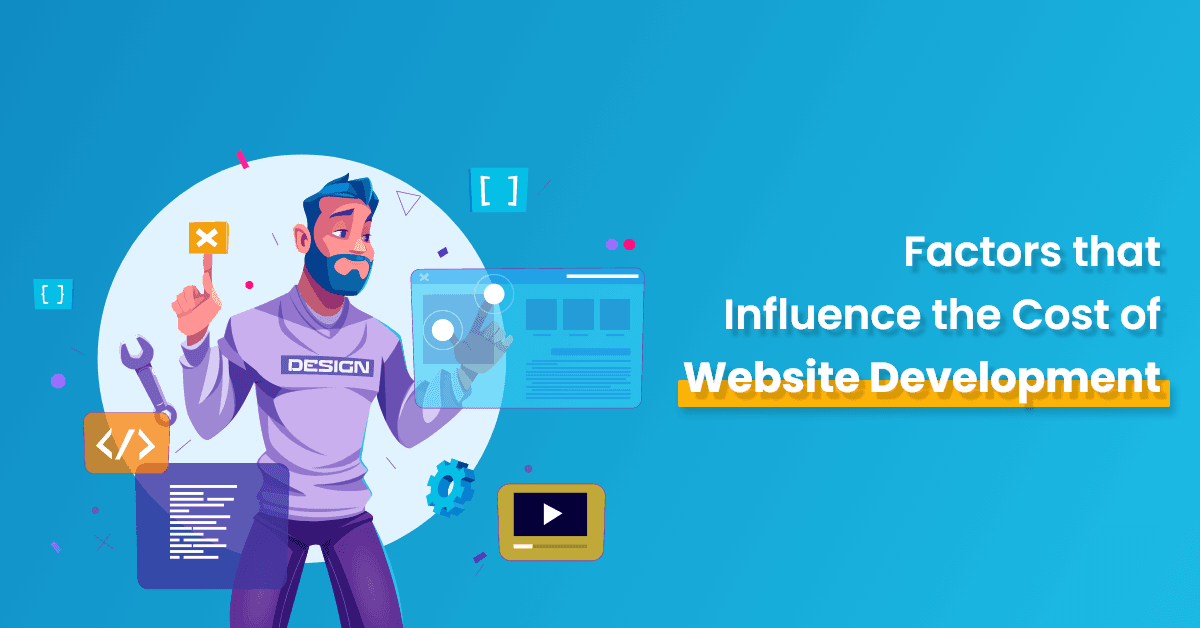 Overview of Website Development
Those who have ever asked about the cost of a website or mobile app development or done some research know that the price can range from a few hundred to a hundred thousand dollars or more. If you don't know much about web app development, this price difference can be puzzling. To explain it as simply as possible, we could compare a website to a car: we know that prices vary greatly depending on a number of factors such as the desired quality, the model, the options, or the size.
Thus, it seems logical that an all-terrain 4 × 4 with GPS and voice control costs more than a classic model. In the case of websites, too, the principle remains the same, because instead of paying for the material, we pay for the time necessary to carry out the project. In fact, while a simple website can be created in 15 hours, another might require 200 hours of work. Everything will depend on your specifications.
Here are the 9 Factors that Influence the Cost of Website Development
1. Website Type
There are many solutions in web development. The solutions we use for an e-commerce website or app development are not the same as those we use, for example, to create a personal blog. For a blog project, you will probably need an expert in WordPress, which is the most popular content management system, but for an eCommerce site, a PrestaShop or Magento expert will better meet your expectations. Finally, your company may, due to its unique business model, need a custom website development. The developer will then have to code everything from scratch.

2. Design
This is one of the steps that have the most impact on the cost of website development. In the event that you have templates ready, the developer will design the website according to your instructions while making sure to optimize its user experience. Otherwise, it might be better to hire a web UI/UX designer, especially if you want to have a unique design. The cost of your website or mobile app development project will therefore be higher than if you opt for a website template already ready, albeit personalized. Indeed, the realization of a design of excellent quality can double or even triple the cost of creating a website.
3. Cost of Website Pages
A website can have a single page or 500 different ones. Not surprisingly, the cost of website development increases with the number of pages. Remember that in the case of an e-commerce website, each product requires a page.
4. Integrated Payment Systems
Your website will need to be secure to allow payments with trust. Most of the security mechanisms are set up and managed by the payment service provider, but you are still responsible for entering the user's personal data. You will therefore need to secure your website with SSL or, in other words, transform the address from HTTP to HTTPS.
5. Integration of the Site with Another Site, Mobile Application, or Management Software
Suppose you have an app and a website that offer the same service. If the two are not linked, the user may update his profile from the application, the changes will not appear on the site. The developer can set up a single administration panel between the site and the application to facilitate their management. However, this custom integration might affect the cost of mobile app development.
6. User Registration
There are websites where the user can register and create his profile. This makes it possible, for example, to personalize the content according to individual preferences or to facilitate sales. However, to have such a site, it is necessary, among other things, to set up an administration panel and a database, add an SSL security certificate and find a developer who knows how to make dynamic websites.
7. Language Versions
To offer a good user experience, all your pages must be translated into each of the languages ​​chosen for your site. In other words, your website will have as many home pages, contact pages, and product pages as there are languages. This will increase its number of pages, make its structure more complex and impact the cost of website development.
8. Setting Up a Directory or an Internal Search Engine
Although internal search engines are not always used, or even necessary, they have the advantage of improving the user experience. A two- or three-page website is fine, but an eCommerce website should always have a search engine to allow the visitor to search for the desired product.
9. Natural Referencing (SEO)
Natural referencing refers to all the techniques that make it possible to improve the visibility of a website so that it attracts visitors through search engines. An expert in natural referencing will optimize some technical and editorial aspects of your site so that it is well-positioned in the query results of Google and other search engines.

To Conclude
The cost of a website or mobile app development depends on multiple factors, but you will also need to budget for maintenance, especially if the website is vital to your business model. The content of the site and from time to time its design should be updated.
Let us also remember, without wishing to be in bad faith, that breakdowns sometimes happen. Hackers, meanwhile, are always finding new ways to pass security measures. Make sure you have a developer on your side who can help you with any issues.
We are a leading software development company, specializing in creating innovative solutions tailored to meet your business needs and drive growth.
If you wish to get a customized quote for developing your website or mobile app, or hire dedicated developers, contact our team.