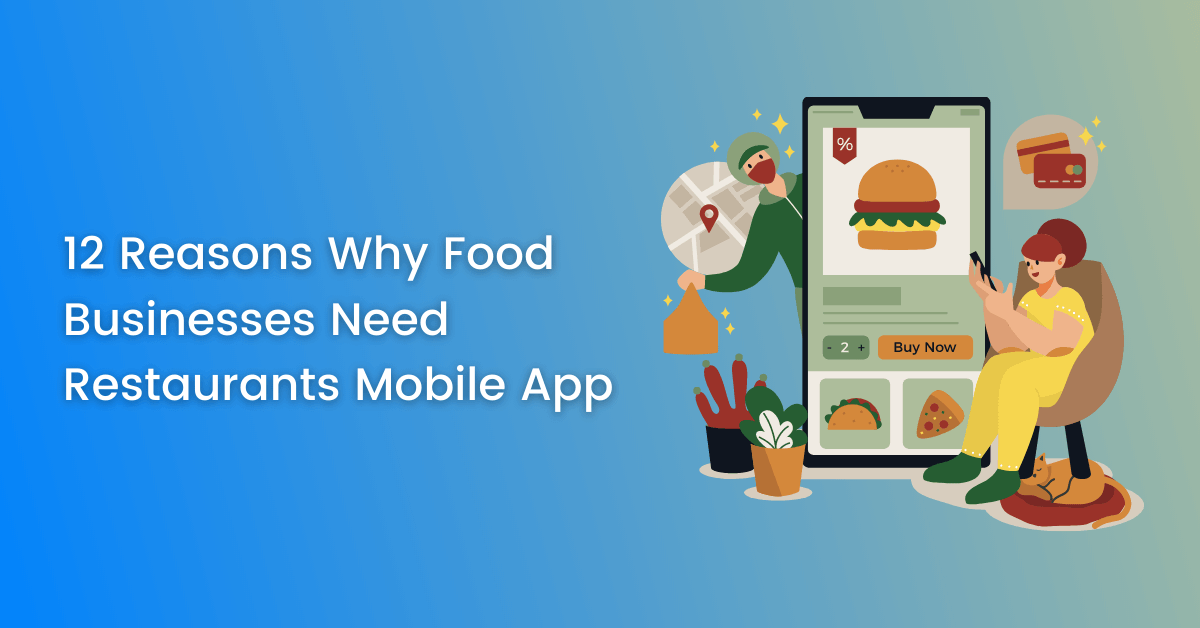 Overview and Statistics
Any accredited restaurant is aware of the importance of its mandatory mobile presence in the current scenario.
And it is not pure chance that gives restaurant mobile apps a key position in the constant competition between competitors in the restaurant business.
But an eternal struggle to keep pace with the latest industry and market trends for an online food ordering app for restaurants.
And gaining new competitive advantages can take a long time and become a very difficult task to achieve in practice.
Assumptions about the complexity of developing a restaurant mobile app can become a critical factor in discouraging a large portion of restaurant owners from investing in On-Demand Food Delivery App Development.
So, most of them prefer to pay extra sums for outdated methods of communicating with their customers.
But far-sighted business leaders understand that it is vital and inevitable for any 21st-century business to be plugged into the latest technology.
Food delivery application development can help you gain an edge over your competitors.
Here're some of the statistics for understanding the market value and users for On-Demand Food Delivery App like UberEats and Swiggy.
Forecast of Food Delivery App Users Worldwide 2017 and 2024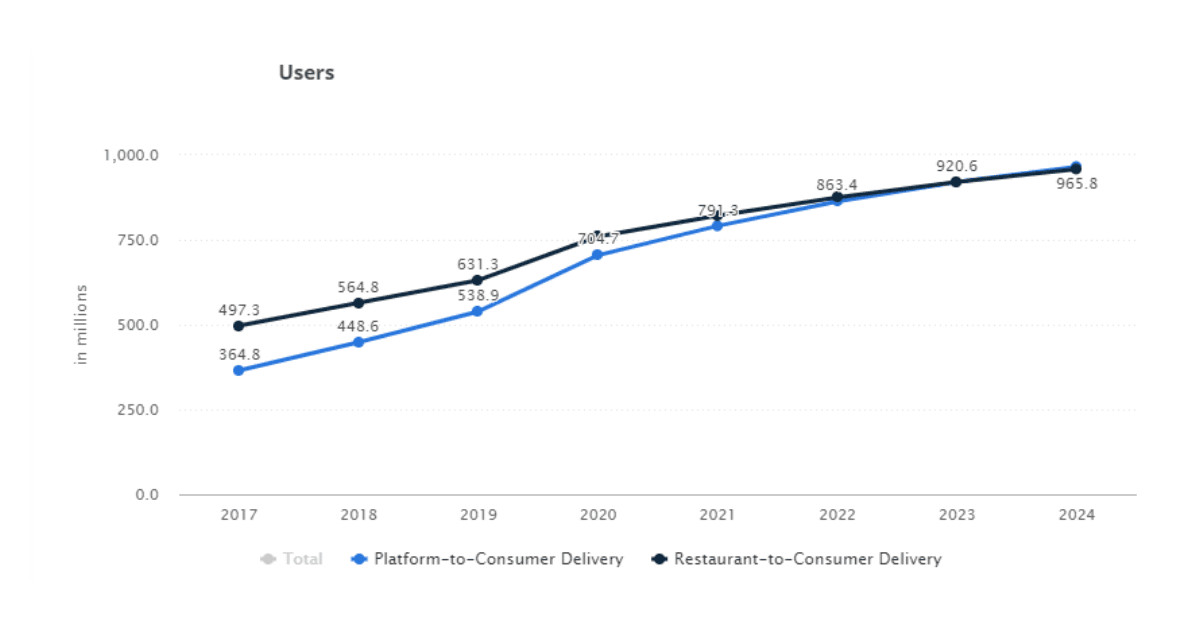 Source: Statista
Revenue of Food Delivery App Worldwide 2017 and 2024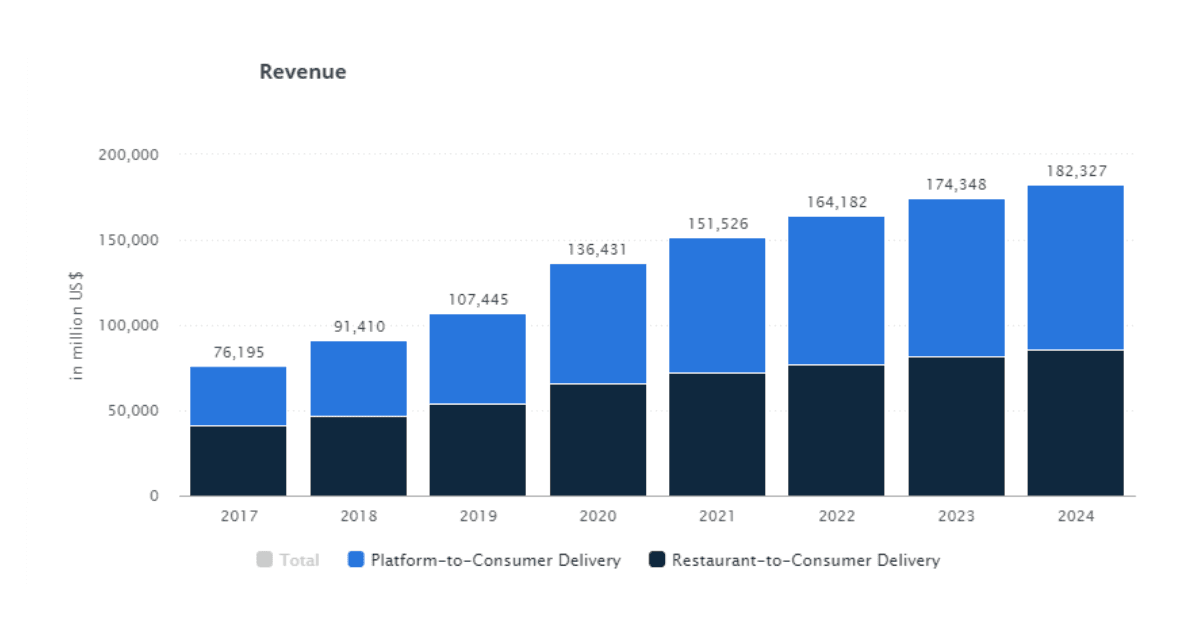 Source: Statista
This is why they have discovered an effective way to save their time and face the challenge of maintaining mobile ubiquity by reaching out to professional restaurant mobile app developers.
A competent application developer will gradually guide the restaurateur through the process of On-Demand Food Delivery App Development essential to a catering business.
In this case, there is a possibility to create a functional restaurant mobile app that is easy to use.
A food delivery app for a restaurant business can include a full set of features and additional capabilities in order to expand the breadth of a restaurant's potential.

This tool provides the restaurateur with a wide range of benefits, below is the list of the main benefits for restaurants, cafes, restaurant chains, bars, and clubs:
1. Instant Communication
A well-thought-out and well-designed restaurant mobile app will undoubtedly find its place in your customers' smartphones.
Making your restaurant accessible to mobile users is a useful recipe for lasting cooperation and constant communication with customers as well as with partners.
One can intensify the process with the help of built-in features such as One Touch Calling.
2. Customer Loyalty
Allowing customers to "carry your business in their pocket" wherever they are, educate them and provide them with a positive user experience – these are the elements of a good restaurant mobile app that will keep them coming back.
A mobile application for your restaurant is one of the marketing tools that will help increase customer loyalty and attract new consumers.
Using mobile geolocation apps, you can help customers find your restaurant in a specified location and provide directions with GPS.
So, location-based marketing technology is used to promote a certain restaurant and get your customers there as long as they are mobile.
4. The Whole Menu at the Fingertips of Mobile Users
Be prepared to share your restaurant menu with the world.
By integrating the full menu into a restaurant mobile app, the restaurateur will be able to present the restaurant's entire range of dishes and drinks in the best possible way.
Let your customers reserve a table or order the meal remotely using their portable devices.
5. Sending Notifications
Organize the automatic sending of notifications to customers in your base, providing them with information on special offers and upcoming events.
Small information messages posted in your online food ordering app for restaurants will remind you of your restaurant and improve customer service.
6. Mobile Coupons for Restaurants
To ensure seats are taken and customer visits are frequent, use your restaurant mobile app to distribute coupons to regular visitors.
No doubt, mobile coupons will intensify the growth of your online restaurant business by grabbing the attention of mobile users.
7. Additional Source to Promote the Brand
The term mobile application has become very fashionable in the language of modern consumers.
So, companies that have not yet "become mobile" are stepping back in the development of their business.
So, a food delivery app for the restaurant business can be used as a marketing tool to get it talked about and outrun the competition.
8. Meal Order Chain
The ability to order food through a restaurant mobile app can effectively improve the level of service in your restaurant.
Contemporary customers choose restaurants by surfing the mobile space of their laptops.
So, if you have a food delivery app for the restaurant business, your customers will be able to order the meal or reserve a table on the way.
9. Mobile Search
Mobile search is another way to find your restaurant.
Multiple studies show that when customers find out your restaurant doesn't have a mobile app, at least 40% of them prefer to choose your competitor's mobile service.
In addition, according to a recent study by ComScore, half of the mobile searches are done with local intent.
10. Informative Value of Your Restaurant
Increase the popularity of your restaurant by providing customers with useful information about your restaurant's special dishes, the usefulness of spices or herbs, and the ingredients used during preparation.
Now, clients prefer to deal with real experts in their profession and choose unique proposals through food delivery application development.
11. Modern Cookbook
If you are ready to give your customers more than they can hope for, your business will take it to a new, higher level.
Whether it's general recommendations for making a delicious meal or special recipes from your chef, share them with your regular customers via a mobile app.
12. QR Codes
The popularity of the famous QR Code has grown tremendously and immediately around the world.
Connect with your customers through QR codes to provide them with discounts and special offers.
This innovative approach will improve your communication with customers in their modern language.

To Conclude
All of this shows that there is no reason why your restaurant should be deprived of the mobile application.
Tech-savvy customers love to download and enjoy the benefits of restaurant mobile apps.
If you're willing to follow your customers wherever they are, you definitely need to profit from it.
OneClick is a leading on-demand food delivery app development company that helps clients across the USA to go digital with their business.
Contact our team of experts in restaurant mobile app development to boost your food delivery business.