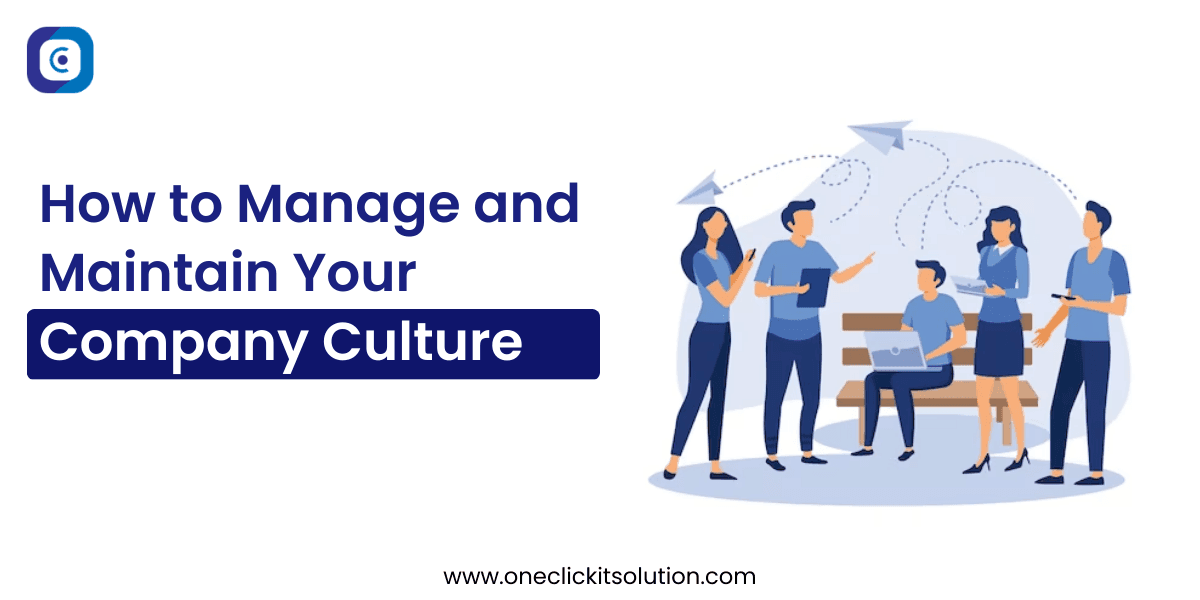 Introduction
One of the most common questions candidates have during an interview is "How do you define your organizational culture"? And your answer creates the base for employee engagement right from that day. Today, many companies rely on good company culture, maintain company culture and an interesting mission in order to arouse the interest of potential candidates and better retain the talents they hire.
We at OneClick strongly believe that healthy and positive work culture is a source of cohesion and motivation for employees. This is because it brings employees together around common values, rites, or dress codes, among others. However, the definition of a good workplace culture remains subjective. Some employees favor a good team spirit and regular activities rather than family business values.
There are so many different perspectives on this concept of work culture. However, is it the company that makes its culture or the culture that makes the company? Our answer is clear – our values, spirit and work environment is that makes us one of the top software development organization.
The corporate culture corresponds to the elements that make up its identity, its spirit, its values, it's functioning, and everything that makes it unique. A healthy work culture not only allows an organization to differentiate itself from its competitors but also to develop the feeling of belonging in employees. If you succeed in developing a positive organizational culture it will guarantee team cohesion and motivation. We at OneClick believe that positive and maintain a company culture work.
1. All for One and One for All
We strongly believe in this principle and our organizational culture nurtures a spirit of teamwork at all stages.
When the forest burns, everyone has to do their part to put out the fire. This is the story of the hummingbird and deer who see their forest burn.
As the deer flees from the threat, the hummingbird goes to fetch water to try to put out the fire.
The deer asks the hummingbird what it is doing, and it simply replies "I am doing my part". We are proud to have hummingbirds on our team.
2. Rewards and Recognition
The concept of company culture is not new, but it seems to take on a higher dimension in the collective consciousness. If in companies, culture starts from the top, everyone also has a role to play to strengthen it and be an actor of their well-being and that of others.
Our Management team and leaders believe in transparency and celebrating innovation no matter from which level it comes. We have often gathered and implemented the best of ideas from our new or junior employees. Efficient rewards and recognition system is in place to highlight the efforts of our team.
3. Work and Play Balance
Today, a satisfied employee is one who enjoys a work-life balance. With flexible working hours, we ensure that our employees spend quality time with family and friends.
We break the monotony with events and activities so that our team can make memories and establish bonds at their workplace too. Being a travel app development company, we encourage our employees to take that holiday they deserve and explore new destinations. Thus, at OneClick, as a part of our organizational culture, we promote Play, Purpose, and Potential.
When employees enjoy their work (play), identify with the values and goals of the job (purpose) and when it contributes to their own professional goals (potential), performance levels skyrocket. It is, thus, a win-win situation for both the company and employees.
4. Focus On Employees
It's important to keep employees at the forefront of your mind. The small things that take up your time could be detrimental to them and their happiness. If you can't focus on the big picture, then it will be impossible for you to see what really matters in your company culture.
The best way to avoid this is by spending time with each employee individually every week or so (or whatever works best for you). This will allow them an opportunity to voice any concerns they may have about work or their lives outside of work, which will help build stronger relationships between managers/employees overall
5. Make sure you're creating a culture of trust
Trust is the foundation of any good relationship. If you don't trust someone, it's hard to have a meaningful connection with them. And when it comes to your employees, trust is essential for building a healthy company culture.
6. Talk About Your Values
When it comes to building and maintain a company culture, talking about your values is an important part of the process. To start with, you need to discuss your company's values with employees on a regular basis. This can be done by sharing information about the company's mission statement and vision as well as its core values during new hire orientation sessions or annual reviews.
7. Create Opportunities for Employees to Learn from Each Other
One of the best ways to maintain a company culture is by creating opportunities for employees to learn from each other.
This can be done by encouraging employees to share their knowledge and expertise with one another, as well as sharing ideas, best practices and lessons learned within the organization. Sharing knowledge is essential in building a positive workplace environment because it allows everyone on your team to grow together as individuals while also improving how they work together as a group.
8. Recognize Employee Achievements and Contributions
Recognizing employee achievements and contributions is an important part of building a culture of recognition. You can do this in many different ways, but it's important that you recognize your employees for their hard work, dedication and commitment to the company.
To recognize an employee as like say thank you, celebrate success and give small gift or certificate for them hard work.
Conclusion
It's important to remember that maintain a company culture is not something that you can control, but rather something that you create. You can't force employees to work together or collaborate on projects. However, by fostering an environment of trust and respect, you will be able to encourage them to do so naturally.
We invite you to be a part of one of the top software development companies and utilize your potential in an atmosphere of trust, free will, and transparency.