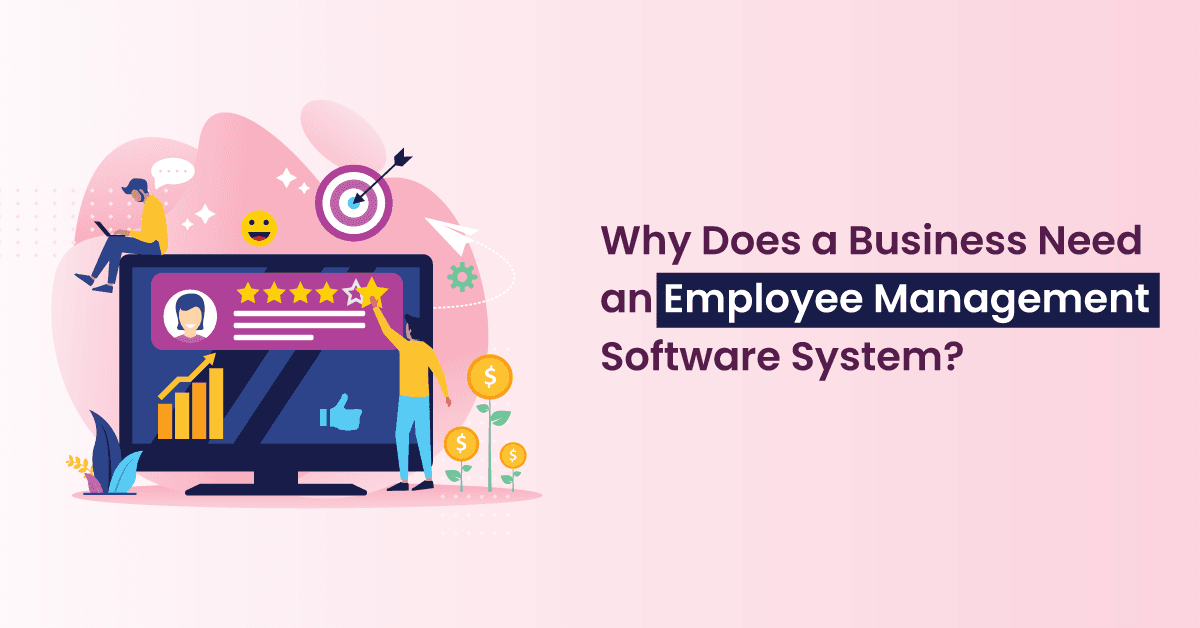 Introduction of Employee Management Software
Here we discuss top benefits of employee management software that will empower HR and employees to self-service common organization tasks. Employee management is a method of assisting your employees in achieving their full potential and your company's objectives.
It's a comprehensive process that encompasses practically all aspects of human resources, including new hire recruitment, payroll management, performance management, and more.
An employee management system keeps track of both work-related and personal data. In a nutshell, it's an online database of all an organization's personnel. Employees are the foundation of any organization, and this is especially true for a growing business. It is critical that you manage this aspect of your business properly.
A strong employee management system may make or destroy a company, especially in the case of startups and small firms, when growth should be the primary goal.
On-Going Statistics for Human Resource Industry
Statistica reports that in 2019, 47% of major firms said they have a licensed/on-premises Human Resources Management System (HRMS).
Firms based in Europe, the Middle East, and Africa reported using an average of 3.56 distinct communication modalities within their organizations throughout the survey.
According to the latest HR software market research, the worldwide HR market is expected to grow to $38.17 billion by 2027.
Analytics, mobile apps, and suppliers' increasing interest in team-focused management are expected to drive this rise.
HR platforms have developed from their origins as personnel management tools to what they are now.
However, the upgrade train shows no signs of slowing down, so expect more strong systems to enter the fray soon.
As a result, the HR market research industry is expected to expand in the coming years. Here are some other employee management software data for you to consider.
Top Core Benefits of Employee Management Software
EMS relieves the stress on your company's HR department. It simplifies your chores and allows you to complete them more quickly.
OneClick's Employee Management Software improves your company's profitability, employee performance, efficiency, and accuracy.
1. HR Data Analytics and Metrics
HR departments are using data to uncover insights and solve business problems such as turnover, overtime, and headcount.
And the correct data can open the floodgates to critical insights that will help you and your team make better decisions.
You might discover, for example, that a particular department has a particularly high staff turnover rate.
What is the root of the problem?
Is there a problem with management? Is employee engagement at an all-time low?
These questions may be accessible, solutions generated, and results tracked using data analytics, which can not only impact your bottom line but also help you acquire more exposure with your C-Suite.
Executive meetings are a "show, don't tell" situation.
You must be able to attend these meetings armed with facts and action items to demonstrate the genuine value an HR department can provide.
2. Save Your Investment on Employee Cost
Employee Management Systems also provide novel approaches to promoting workplace motivation, which may have an impact on your company's growth.
With the help of OneClick's employee management tools, you can simply interact with your employees to set new goals and make them feel a part of your company's success.
With the same amount of people, companies that deploy effective EMS can get twice the results.
The cost of hiring new personnel will be reduced as a result of this.
Every organization should remember that inspired personnel is more productive because they present their best self.
3. Employee Information Security
HR databases have become a popular target for cybercriminals. Failure to preserve vital information, such as Social Security numbers, bank account information, check stubs, and personal information, can be costly.
Furthermore, if you rely on paper files and spreadsheets to store sensitive data, you risk the information falling into the wrong hands.
To keep your employees' information safe, the right human resources system should provide you with specific security measures, such as multi-factor authentication and data encryption, to name a few.
4. Increase Workflow Efficiency
Manual methods for recording and managing an employee's day-to-day attendance and activities are every employer's nightmare.
It is not only more time-consuming, but it also increases the chances of making a mistake.
To address this, OneClick's employee management platform not only provides accuracy but also increases your and your employees' productivity.
You will undoubtedly notice a positive attitude at your office because of more transparency with your co-workers.
5. Employee Engagement
Employee management systems also offer solutions to improve employee engagement and retention.
Modern technologies for measuring and analyzing employee growth include Performance Management and Pulse surveys, for example.
You may work with employees to develop goals, show them that they are appreciated, and chart a path to success.
Because 70% of American workers are disengaged, having a system in place to maintain a dynamic workplace is a must, not a "nice to have."
6. Boost Employee Productivity and Motivation
Every great organization is made up of a number of highly motivated and driven individuals.
What is the source of this motivation?
Why wouldn't they be motivated in a nice environment with a fair incentive system?
Workers that are motivated are more likely to realize their full potential, which increases their productivity and skills.
Employee mindsets must be understood and communicated appropriately by your company's HR department.
Clear and effective communication can also help to motivate employees and make things go more smoothly.
7. Mitigate Compliance Risk
Did you know that failing to produce a complete I-9 form during an audit might result in a $16,000 penalty per violation?
Compliance is never guaranteed, and with the growing number of laws and audits of businesses, it's more important than ever to understand what's necessary and how to manage rules properly so you can avoid litigation.
Because workforce management solutions are cloud-based technologies with the ability to document and access information from anywhere at any time, providing comprehensive I-9s, W-4s, and other compliance and tax paperwork to auditors can be as simple as a few clicks.
Proactive notifications for when papers are due to expire are included in these software solutions, allowing you to keep track of certificates and other important compliance documents.
Conclusion
Employee Management software is the exclusive solution for every small to large organization. we have share benefits of employee management software that will help you to improve your business.
Less having an exact HRMS application might create a lengthy process and because of this it will surely affect the performance of the enterprise and decrease the measurable work of the HR team and the management.
Our Dedicated HRMS Software Development team has a decade years of experience with various technologies and worked on 50+ online Employee Management software development.
If you're looking for the same solution for your firm or organization, Kindly contact us & Book a Free Demo for HR Software Development.