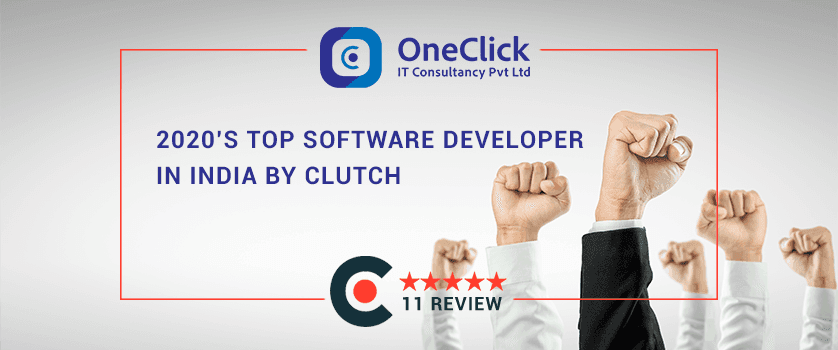 "OneClick is Excited to be Recognized by Clutch as One of the Top B2B Companies from India."
OneClick IT Solutions, your preferred software development company from Ahmedabad, is overwhelmed. We were recently named as 2020's Top Software Developer in India by Clutch! As a leader in the field of custom web application development for nearly a decade, we're grateful for this recognition. Given the competition from other deserving names, the OneClick team is very proud to have received this prestigious award.
Software development and its fast-changing trends can be difficult to keep up with. However, that's why we're here to help!
Our partnership with Clutch highlights our mission to assist you in the new technological challenges that your business runs into. We develop and implement innovative and customized digital solutions to support our clients in reaching their goals. To be named among the Top Software Development Companies in India is a great distinction.

"This recognition from Clutch is a real motivator for all of us. Over 8 years ago, we set ourselves the goal of implementing our avant-garde web development solutions across India and in International markets. We have focused on our growth, in particular by recruiting passionate and dedicated developers, project managers and marketing personnel. I am extremely proud of the work accomplished by our teams, without whom this result would not have been possible," exclaims our CEO and Founder, Romit Arora.
About Clutch
Located in Washington D.C., Clutch is a leader in connecting global service providers with corporate buyers from around the world. As a B2B ratings and reviews platform, they curate verified client interviews that present unbiased, truthful feedback. This research is organized and presented on the platform through a directory of top companies.
Every year, Clutch honors the highest-performing companies after conducting a thorough methodology-based evaluation. Receiving this award truly is an honor because it means our company meets its standards of excellence and can be trusted by potential B2B buyers.
What's more, this recognition is a reflection of the support and loyalty of our clients. We're grateful for your partnership and we sincerely thank you.
About OneClick IT Solutions
OneClick IT Solutions is an Ahmedabad based Software Development Company that helps companies of all sizes manage everything from design and development to Digital Marketing. We are also market leaders in travel portal development providing both custom and white-label solutions. Our customers and partners choose OneClick for many reasons, including the versatility of our technologies, our support for open standards, and the high degree of interoperability of our products. Whether you need a complete application, a modification to existing software, an audit or an on-site developer to fill a heavy workload, we put our resources at your service to find solutions to your issues.
To find out how web development can accelerate the growth of your business, Connect with us .