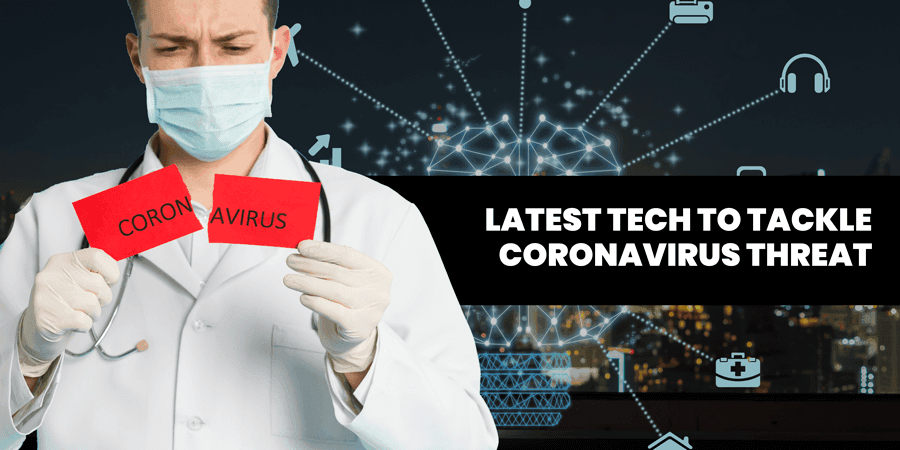 To contain the Coronavirus, which has already infected more than 30,000 people, China is taking resort to large-scale data analysis and the all-out deployment of artificial intelligence technologies. The latest technologies are multiplying in an attempt to stop this global epidemic. Among them, emerging technologies in healthcare like chatbots, robots, IoT, AI, telemedicine and Big Data are notably deployed to help gather information, reassure the population, treat patients or even prepare future vaccines.
From web applications that allow travelers to check whether they were on the same flight as a person tested COVID-19 positive to thermal detectors at public transport places, Governments across the globe are leveraging on technology to mitigate the impact of Coronavirus.
COVID-19 is the first major epidemic in recent years. It, therefore, represents an excellent opportunity for many healthcare businesses and digital health technologies to see what they can do to help counteract this threat. This is particularly the case in China, home of the virus. According to CNN, the Chinese tech giants have thus responded to the epidemic by deploying autonomous vehicles to supply medical personnel, by equipping drones with thermal cameras to improve virus detection or by lending their computing power to help develop a vaccine.
Role of Artificial Intelligence (AI)
Baidu, the Chinese equivalent of Google, has developed an artificial intelligence (AI) model to detect people who are not wearing protective masks. Another problem with masks is when half of the face is hidden, traditional facial recognition solutions no longer work properly. Consequently, citizens are forced to take off their masks to pay for their shopping or access a building, which poses hygiene problems. SenseTime, a Hong Kong company specializing in automatic crowd monitoring, has thus developed an identification system that works despite wearing a protective mask.
Public transport services are testing sophisticated systems for detecting passengers with abnormal temperatures in the crowd, using thermal cameras and intelligent software.
Chatbots for Mitigating the Threat
In the USA, chatbots are widely used in the detection of the disease. These conversational robots help reassure people and help them get treatment while keeping them away from waiting rooms in clinics and emergency care centers. And if the coronavirus spreads more widely in the United States, these companies could play a greater role in the screening of suspected cases.
The Seattle-based start-up 98point6 offers virtual tours through its application. Patients start chatting with artificial intelligence (AI) powered chatbots before being transferred to a doctor who continues the conversation by SMS.
Remote monitoring of treatment protocols, medical examinations without the presence of medical personnel and robot-controlled remotely by doctors (with a screen, camera, and medical equipment) were deployed on-site.
Remote medical monitoring allows healthcare professionals to monitor patients' vital signs and assess their physiological reactions to treatment without meeting them physically. It collects the desired data and instantly sends them to a database for storage and to the doctor for analysis and intervention in real-time in the event of an anomaly. Patient monitoring devices collect medical information such as vital statistics, adherence to medication, and even breathing tests during sleep. These connected objects considerably reduce the number of hospital visits and the risk of readmission, since any problems are detected and dealt with upstream. Thanks to the use of remote sensors on these devices, establishments can reduce or even completely eliminate manual checks, with more time for more urgent questions.
Another benefit of IoT is that remote monitoring technology can connect to other systems, transferring data seamlessly through the cloud. This helps local and rural area doctors to connect with more experienced health professionals in the lesser time frame. The data transfer also eliminates the effort of manually entering patient details so that staff can be used for other preventive activities.
Digital technology makes it possible to avoid the slowness of the usual processes, during which medical information is brought from the field to health agencies, before communication to the general public.