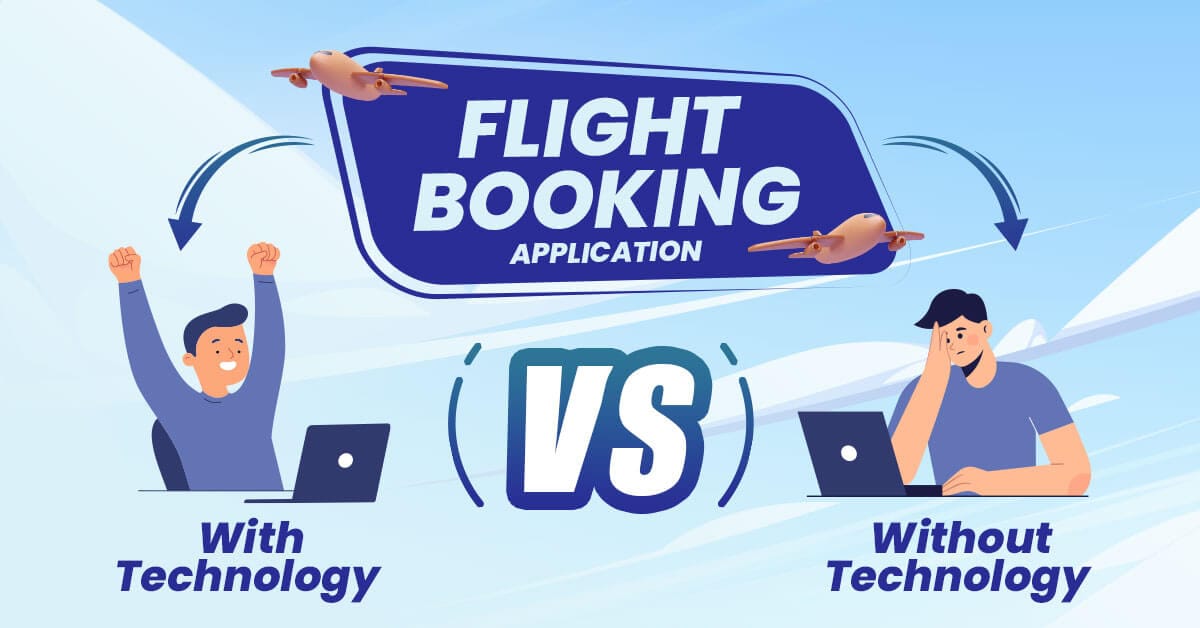 As technology continues to revolutionize every aspect of our lives, it is evident that a maximum number of travelers spend their time researching holidays, while the rest of them book their flights – hotels – and nearby places at least three months before their travel date. Airlines' digital shift is at its peak. The potential to transform airline operations and airports enables robust collaboration concepts like integrating user-centric flight booking solutions via flight booking engines is an exquisite example of today's trend. 
Custom Flight Booking Apps for Faster & Better Travel
With on-demand flight booking systems or solutions, users can book flights on the go, making it easier for them to book and check-in for flights. Personalized flight booking apps are developed with instant flight search, download PDFs – tickets, check and edit booking details, one-tap check-in, and many more. In advanced flight booking solutions, users can compare prices from different airline platforms and make informed decisions.
Empower your business to make informed investment decisions and partner with airlines that excel in retailing. By becoming IATA certified and leveraging the Airline Retailing Maturity (ARM) index, you can unlock valuable insights into an airline's retailing capabilities, aligning your business goals with their strengths.

To Conclude
When it comes to custom flight booking application development, it can be a great opportunity for your travel business expansion. Furthermore, it provides a single platform for each user to gain access to a real-time online flight booking solution with less effort. The total cost to develop a flight booking engine is determined by the number of state-of-art features that are incorporated into the app.

FAQs of Flight Booking Application
1. How to develop a flight booking app like MakeMyTrip (MMT)? Do you build such apps?
Being one of the leading app development companies across India and overseas, we strive to offer groundbreaking app development solutions for all industry verticals. Over the years, we have built easy, custom to complex mobile and web apps with a proven approach to bettering the business ROI of our esteemed clients. To build a custom flight booking app like MMT, we follow the below steps.
1. Brainstorm an app idea.
2. Study market trends & needs.
3. Filter important features for your app.
4. Make wireframes of your app.
5. Create a final graphic design.
6. Merge with an app your marketing plan. 
7. Develop an app. 
8. Submit it on the App store 
9. 24×7 support & maintenance
2. How much time would it take to build a custom flight booking app?
Building an app depends on different factors such as,
– The nature of an app 
– The complexity of its design and screens
– App development process
– Overall app performance & quality 
– Features and specifications 
– Database complexity
– Third-party integrations if any
– Security protocols implementation
– Size of the app development team
3. Do you have dedicated mobile app developers for app development? Or do you outsource it?
We have in-house dedicated app developers for each client. You can hire an app developer hourly, weekly and monthly basis as per your requirements and budget. Moreover, we have flexible hiring models with business-specific benefits. If you want to know about it, then drop an email to us. Our experts will get back to you.
4. What is the cost to develop a flight booking app?
It's uncertain to determine the final app development cost. However the approximate numbers are,
– Up to $90,000 for an easy app with basic features
– Up to $160,000 for a better app with custom features
– Up to $240,000 and over for a complex with advanced features