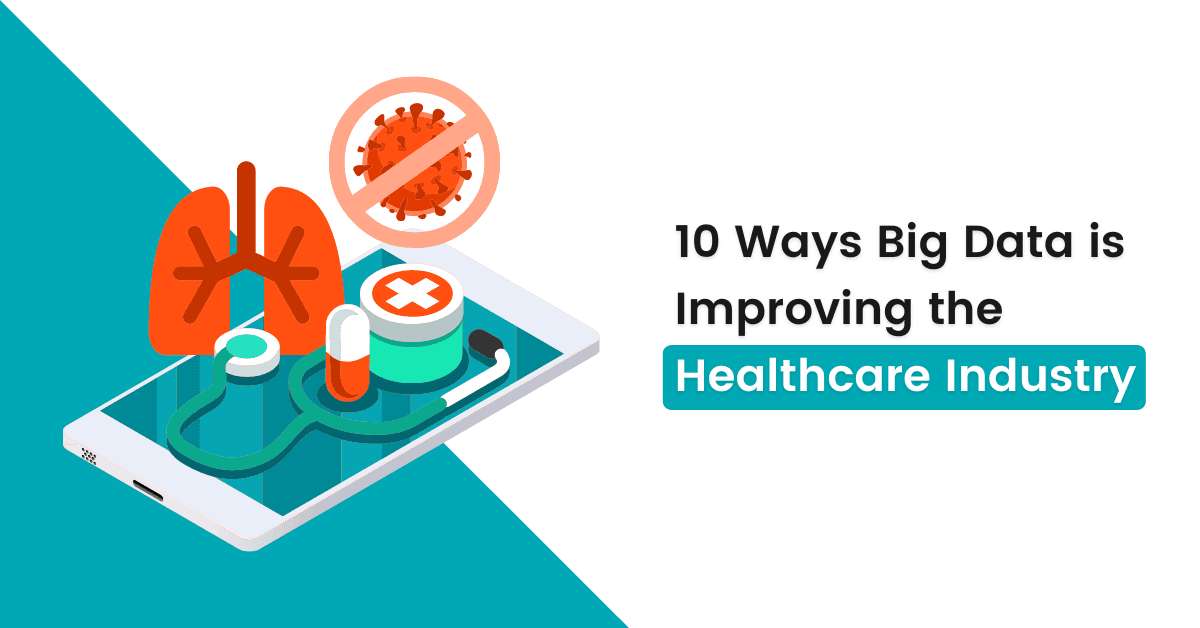 The health sector is not only an important sector but one of the most complex sectors. With the growing demand for better healthcare, the industry is advancing rapidly. More advanced technologies are appearing every day as healthcare professionals seek more effective solutions. Big Data is gradually making its mark on the health server. here is the complete guide on big data is improving the healthcare industry.
Here's How It's Transforming the Healthcare Industry:
1. Cost Reduction
Various medical establishments, hospitals, and clinics are facing great financial difficulties due to inefficient financial management. The over-staffing or under-recruiting of staff is the main cause of losses in the medical world.
However, predictive analytics can help physicians solve specific problems that cripple the industry. Healthcare facilities are now using predictive analytics to reduce their investment rate when necessary to optimize their investments.
The insurance industry will also benefit greatly from big data by relying on wearable technologies and health tracking systems to ensure that their customers do not stay in hospitals for too long.
Patients are also likely to benefit from big data, as it will reduce their wait times and make it easier to access medical care. Predictive analytics will also reduce bed shortages and staffing needs, and improve the healthcare sector as a whole.

2. Health Monitoring
One of the overarching goals of all healthcare organizations is to identify potential complications before they turn into aggravating problems. Lack of data prevents medical systems from avoiding preventable situations.
However, an advantage associated with the Internet of Things (or Connected Objects) and Big Data is the monitoring of patient health. Healthcare facilities are now using these technologies to track a patient's vital statistics and records.
Advanced medical innovations allow physicians to monitor characteristics such as a patient's sleep patterns, heart rate, glucose levels, and blood pressure. Medical institutions can now use these controlled results to keep patients out of the hospital.
Monitoring a patient's condition will also help prevent the onset of chronic illnesses and conditions, as patients will receive optimal care at the right time.
With the help of health tracking technologies, doctors can prevent various unpleasant situations, which of course is one of the primary goals of all practitioners. It's easy to revolutionize the way things work now, and experts say things may continue to change for the better in the future.
3. Increased Patient Engagement
The healthcare industry may soon see an increase in patient engagement once it embraces analytics and big data. Attracting the interests of clients to various health trackers and wearable technologies could bring positive change to the medical industry.
It could also lead to a noticeable decrease in the number of emergencies and therefore reduce the death rate. As more and more patients continue to use these devices, the work of treating physicians could be simplified and give their engagement a boost.
4. Care of High-Risk Patients
Complications and the cost of healthcare often increase when large numbers of patients require emergency care. Medical facilities that used predictive analytics had fewer emergency room visits than their counterparts.
Big Data has contributed to the development of corrective treatment strategies and the diagnosis of chronic health problems. Healthcare facilities can now facilitate personalized treatment approaches and monitor patients with high-risk problems.
It is difficult to create patient-centered programs with inadequate data. This is why the use of data initiatives is crucial in the healthcare sector.
5. Reduce Personal Injuries and Manage Fraud
Over time, the efficiency and accuracy of personal injury cases have increased across the claims industry and somewhat in the health sector. Organizations that use big data and analytics now experience less fraud than before. Data collected and generated on millions of cases has also enabled medical facilities to build their claim flow profiles through the identification of behavior patterns.
Personal injury attorneys can now work with family physicians to obtain the information needed to prosecute personal injury cases. As a result, patients are now honest and provide details of the incident.
6. Advancement in the Health Sector
The healthcare sector has many improvements to be made through technological innovations. Of course, being able to access patient records and databases in seconds will make it easier to quickly find practical solutions.
Health issues could be treated, and healthcare professionals could soon get personalized solutions for less complicated health issues.
With the continued evolution of technological tools, everything seems to be on the right track, and any breakthrough in healthcare is worth it.
Big Data also plays a crucial role in other industries and its impact on the healthcare sector cannot be overlooked. Healthcare organizations have already understood the full benefits of adopting data initiatives.
While much remains to be done before healthcare facilities begin to use these technological resources globally, multinational corporations have already begun to focus their resources and efforts on big data and analytics.
Healthcare professionals are now using Big Data and analytics for optimal management of clinics, hospitals, and other similar institutions.
7. Eliminate Medical Errors
Various human factors can cause medical errors that can have a significant impact on the sector. Of course, every industry strives for 100% accuracy, but the healthcare industry faces such critical issues that a doctor doesn't want to make any mistakes.
Big Data is improving treatments and helping healthcare professionals avoid ending up with the wrong medicine. Another way in which big data empowers family physicians to make decisions is by making meaningful decisions based on the data available.
Research has shown that big data could save the entire medical industry up to $21 billion a year.
8. Improved Services
Thanks to predictive analytics and big data, healthcare professionals now achieve more accurate results than ever before. The algorithms now use existing information to provide personalized treatment.
Personalized treatment could include developing drugs based on factors such as lifestyle and environment and matching them to a patient's genetics.
Using predictive analytics, healthcare systems will be able to assimilate and analyze patient records.
9. Advanced Analyzes
Doctors can now use data from patients with the same conditions to develop more effective solutions than ever before. Organizations like IBM and Apple have already set up healthcare platforms that allow practitioners to explore new perspectives from real-time activities and biometric data.
After tracking health-related data, healthcare professionals can now use advanced systems to suggest appropriate treatment to their patients. These medical devices correspond to the conditions, age, and past habits of each patient.
One of the consequences of these platforms for the health sector is to allow people with constraints to obtain consultations at home or on the move. Physicians can now use information captured from connected objects to set automated reminders, communicate with their patients, and track their progress.
Research says spending on connected objects could soon reach $120 billion. Oncologists are now using smart devices to capture facts from scanned records and to identify conditions that require special attention.
In this way, healthcare professionals can review the proposed treatment and match the patient with the appropriate treatment method.
10. Prevent Fraudulent Billing
Hospitals and insurance companies can now connect various datasets to gain a wealth of information that could help them reduce millions of dollars in abusive, wasteful, and fraudulent behavior in the healthcare industry.
As with health insurance fraud, healthcare professionals can use big data to target health campaigns and identify drugs, treatments, and conditions in specific demographic or geographic areas.

To Conclude
If you are looking to develop cutting-edge healthcare apps or teleconsultation apps, this is the right time. By incorporating Big Data, AI, and ML into these apps, your idea can bring a revolutionary change in teleconsultation.
At OneClick It Solutions, our team has developed robust apps for the healthcare industry. We specialize in chatbot development and using innovation to fuel your ideas into million-dollar projects. Connect with us for a demo or quote for your next project.