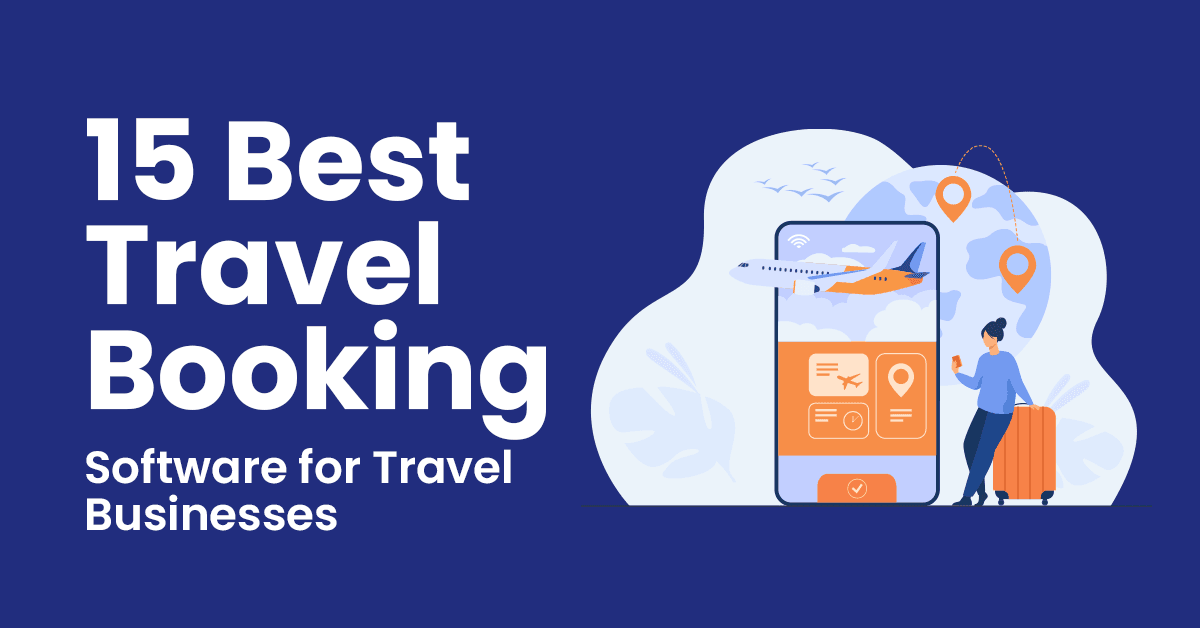 Introduction
The travel industry is a dynamic and competitive landscape where businesses strive to deliver seamless, memorable experiences for their customers. Businesses are constantly seeking ways to outshine their competitors while offering unparalleled services. In this pursuit of excellence, leveraging technology becomes paramount. Travel booking software, in this context, has emerged as a game-changer for businesses providing travel-related services. It streamlines processes, enhances efficiency, and ultimately contributes to a more profitable bottom line.
As a tourism-focused company, you must understand the significance of harnessing the power of cutting-edge travel booking software to streamline your operations and enhance your brand reputation. But with a myriad of options available, how do you pinpoint the ideal solution for your specific needs? In this article, we've listed down the best 15 travel booking solutions that you can capitalize on to leverage your business and escalate your revenue figures, while also ensuring customer satisfaction and streamlined service quality.
Travel Booking Software and its Benefits for Travel Businesses
Let's delve into five key benefits that top travel booking software offers to businesses like yours.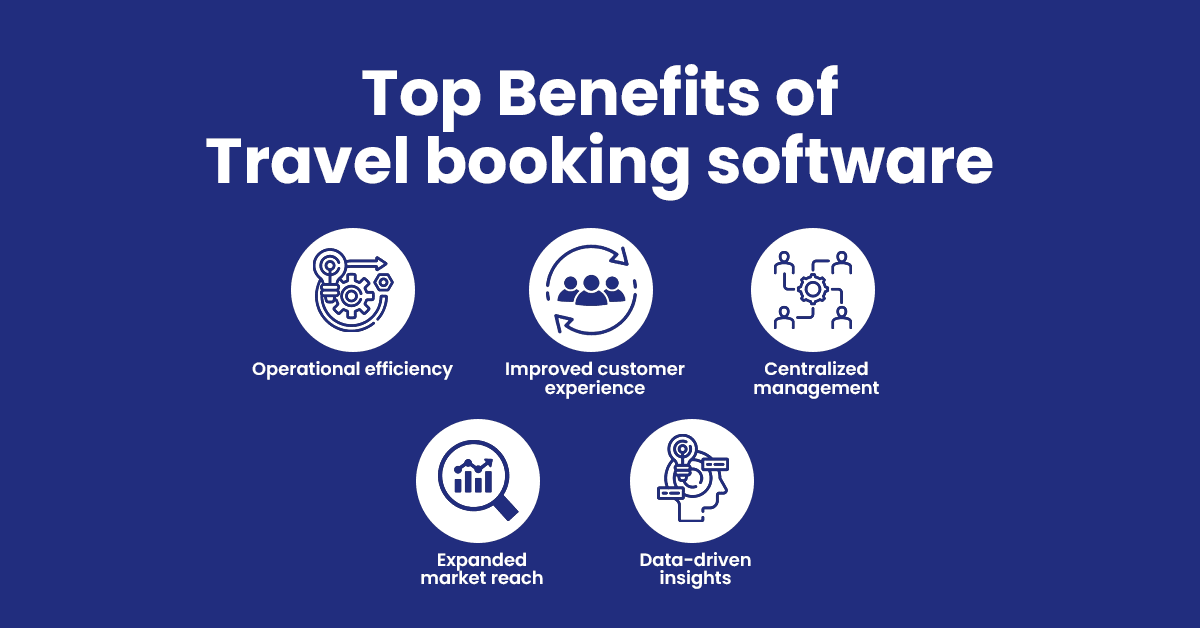 Operational Efficiency
Travel booking software automates many manual and time-consuming tasks, such as reservation management, invoicing, and inventory tracking. This results in streamlined workflows, reduced human errors, and increased productivity for your team, allowing them to focus on more strategic and customer-centric tasks.
Improved Customer Experience
By offering a user-friendly interface and real-time booking capabilities, travel booking software enhances the overall customer experience. It enables clients to access a wide range of options, check availability, and make reservations with ease. Moreover, travel booking software often includes integrated customer support and communication tools that help you provide prompt assistance and nurture long-term relationships.
Centralized Management
Travel booking software consolidates all your bookings, customer data, and vendor information into one central platform. This not only simplifies data management but also makes it easier to keep track of your business's performance, make informed decisions, and maintain consistent service quality across all touchpoints.
Expanded Market Reach
Top travel booking software solutions come with built-in marketing and distribution tools, such as integration with online travel agencies (OTAs) and social media platforms. These features help you extend your market reach, attract new customers, and increase visibility in a cost-effective manner.
Data-driven Insights
With comprehensive reporting and analytics capabilities, travel booking software equips you with valuable insights into your business's performance. By analyzing booking patterns, customer preferences, and revenue trends, you can make data-driven decisions that optimize your offerings, improve your marketing strategy, and maximize profitability.
Factors to Consider When Choosing Travel Booking Software
We've distilled five essential factors to consider when choosing top travel booking software that will elevate your business to new heights.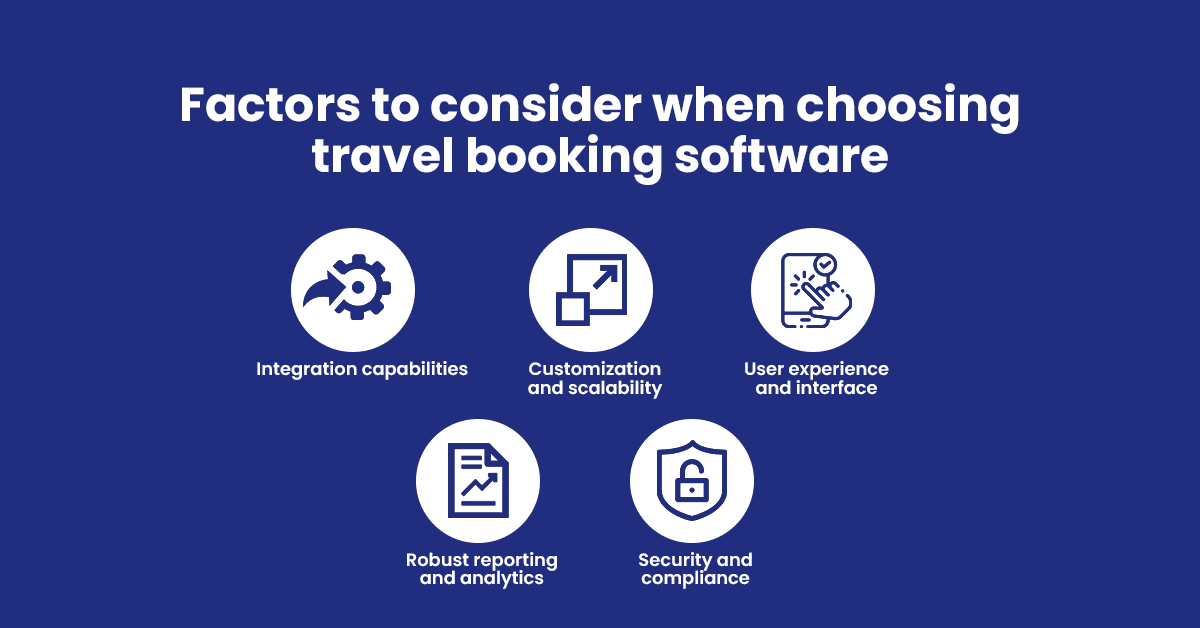 Integration Capabilities
When searching for the top travel booking software, it's crucial to ensure that it can seamlessly integrate with your existing systems and third-party service providers. This may include integration with GDSs (Global Distribution Systems), payment gateways, CRM systems, and accounting software. Integration capabilities will help streamline your business processes, minimize manual intervention, and enhance the overall efficiency of your operations.

Customization and Scalability
Choose a travel booking software that is customizable to accommodate your specific business requirements and preferences. The software should be able to adapt to your unique workflows, branding, and features. Additionally, it must be scalable to cater to your business's growth, allowing you to add more services, customers, and partners without compromising on performance or user experience.
User Experience and Interface
The top travel booking software should provide an intuitive user interface and a positive user experience for both your team and your partners. Easy-to-use navigation, clear instructions, and quick access to essential features will ensure that users can efficiently manage bookings, make changes, and access necessary information without frustration. A good user experience will also help in reducing the learning curve for new employees and partners.
Robust Reporting and Analytics
Data-driven decision-making is essential in the travel industry. Your chosen travel booking software should offer comprehensive reporting and analytics features to help you track key performance indicators (KPIs), identify trends, and optimize your operations. These features should allow you to generate customizable reports, visualize data, and gain actionable insights to drive your business forward.
Security and Compliance
Safeguarding sensitive customer and partner data is a top priority for any travel business. The travel booking software you choose must adhere to industry standards for data security and privacy. This includes secure data storage, encryption, and strong access controls. Additionally, the travel booking software should be compliant with relevant data protection regulations such as GDPR and PCI-DSS, ensuring that your business avoids potential legal issues and maintains a strong reputation for trustworthiness.
At OneClick, we understand the importance of a smooth and efficient booking experience for your travel partners, and our cutting-edge business travel booking software solution has been meticulously crafted to cater to all your business needs.
15 Top Travel Booking Software For 2023
1. Ezus
Ezus travel booking software is dedicated to helping travel agents and DMCs increase their sales efficiency by providing them with the tools they need to create customized trips quickly. This travel booking software includes an easy-to-use platform for constructing budgets and programs, as well as a library of personalized templates for generating travel documents. In addition, all customer and supplier information is centralized within a single collaborative tool that includes an internal CRM and catalog. With Ezus corporate travel booking software, travel agents and DMCs can efficiently manage supplier reservations, availability, and disbursements, as well as customer payments. The platform is designed to simplify the process of building and managing travel itineraries, allowing businesses to focus on providing exceptional experiences to their clients.
2. Hero
Hero is a travel booking software solution that provides travel agencies and activity resellers with a one-stop-shop for all their booking and payment needs. It's an all-in-one travel booking software solution that combines ticketing, payment, and booking into a single system, allowing businesses to save time and resources. Hero travel booking software for companies offers a wide range of features, such as a global product marketplace, customizable digital quotes, supplier management, itinerary builder, and more. The platform is designed to help travel agents personalize travel itineraries and set custom rates for activities. Creating tailored travel plans has never been easier, thanks to their integrated itinerary builder. With Hero travel booking software, businesses can say goodbye to the hassle of multiple systems and say hello to a streamlined reservation process.
3. Travel Ibex
Travel Ibex is a comprehensive travel booking software designed for small to medium-sized companies in the Travel Industry. It offers a range of features that enable users to create and manage quotations, bookings, vouchers, invoices, and final itineraries with ease. The travel booking software for travel agents includes an integrated CRM that allows users to communicate with customers via email, WhatsApp, Skype, or phone calls. It also has a powerful API that enables integration with other systems for e-commerce, currency conversion, booking engines, and more. With Ibex travel booking software, users can generate various reports on sales, commissions, profit, and payments due, helping them to keep track of their finances and make informed business decisions.
4. Rezdy
Rezdy travel booking software is a prominent booking and distribution platform catering to tours and attractions around the world. With Rezdy, tour, and attraction businesses can exercise full control of their operations by enabling instant online bookings, managing resources with a single click, and connecting with some of the most extensive travel networks including TripAdvisor and Expedia. Besides, you can receive excellent support from a dedicated customer success specialist who assists with setting up your products, calendars, and pricing. Whether you're an established enterprise or just starting, Rezdy travel booking software can help you streamline your business and increase your bookings.
5. TrekkSoft
TrekkSoft travel booking software is a reliable and popular booking and management platform that has earned the trust of tour and activity companies from over 130 countries worldwide. With TrekkSoft travel booking software for companies, businesses can increase their bookings by converting website visitors to paying guests, while also benefiting from a payment gateway specifically designed for the tour and activity industry. The platform also allows businesses to distribute their offerings through various channels, such as online travel agencies like Expedia, or local resellers such as destination marketing organizations. Additionally, TrekkSoft travel booking software offers an all-in-one solution for managing bookings, tours, schedules, resources, and teams, streamlining operations, and improving efficiency.
6. WeTravel
WeTravel aims to help travel businesses by simplifying and automating their operations with its user-friendly platform. By using this ticket booking software for travel agents, businesses can enhance their sales conversion rate and revenue, minimize administrative work, and streamline processes. The platform offers a range of features beyond setting up trip pages, including marketing tours, managing traveler administration, and providing a variety of payment solutions to control how travelers pay for their trips. In essence, WeTravel's comprehensive travel booking software kit can help travel businesses grow and succeed by providing a one-stop solution to all of their operational needs.
7. OneClick IT Consultancy
OneClick is revolutionizing the travel industry with their travel booking software designed to automate sales, operations and finances for tour operators and travel agencies. The travel booking management software boasts an array of distinctive functionalities, including support for multiple languages and currencies, seamless integration with external providers, a specialized CRM for travel, administrative oversight, QR code recognition, accommodation agreements, streamlined payment processing, and a responsive layout for mobile devices. Their travel booking software can be easily integrated into any travel system and accessed from both desktop and mobile devices, allowing travel businesses to stay connected and efficient no matter where they are.
8. Regiondo
Regiondo is a comprehensive B2B travel booking software that simplifies ticket sales, booking management, and availability display. It offers seamless integration with your website to enable your customers to book your offers quickly and efficiently. The travel agent booking software is user-friendly and allows you to create and customize unique product offerings without requiring the help of an IT developer. Regiondo offers an extensive network that enables you to list your offers automatically on your website, local resellers, and well-known travel agencies like Viator and GetYourGuide. The travel booking software is compatible with commonly used payment methods, such as direct transfer, PayPal, and credit card payments. In addition, Regiondo travel booking software provides detailed reports and analytics to help you monitor website traffic and customer engagement, allowing for streamlined business growth.
9. BizAway
BizAway is a comprehensive travel booking software solution designed to simplify business travel management. With a user-friendly interface, the ticket booking software for travel agents streamlines billing and expense tracking, while also providing access to customizable travel policies and automated approval processes. As a result, businesses can save both time and money, and maintain greater control over their travel budgets. Additionally, the travel booking software offers a multilingual support team available 24/7 to help resolve any issues that may arise. Whether you're an old hand at business travel or a newcomer to the scene, BizAway travel booking software provides everything you need to hit the ground running. As the saying goes, time is money, and BizAway's efficient and user-friendly travel booking software can help businesses save both!
10. aReservation
aReservation is a travel booking software for business that offers a range of tools designed to help travel agencies streamline processes related to ticket sales and rental reservations. The travel agency booking software provides centralized management of employee scheduling, equipment rentals, and check-in/out processes, making it easier to stay on top of all bookings and reservations. This corporate travel booking software offers a range of features designed to help businesses automate cancellation and rescheduling processes, manage access control, improve communications, send reminders, and generate reports. Overall, aReservation travel agent booking software is an excellent option for tour operators looking to streamline their booking and reservation processes while providing a more efficient and customer-friendly experience.
11. TourWriter
Tourwriter is a travel agency booking software solution crafted by travel specialists and destination marketing professionals. It provides an end-to-end solution for planning and experiencing, ensuring a seamless relationship between travel businesses and their customers. Tourwriter's travel booking software  streamlines the relationship between travel agents and customers by generating stunning, modern itinerary proposals with just one click. These itineraries are mobile-responsive, printable, rich with information, and easy to navigate. The itinerary builder offers the freedom to create memorable journeys with an at-a-glance view of booking statuses thanks to the helpful color coding. The pricing functionality is clean and agile, making the costing process refreshingly simple while ensuring attention to detail.
12. OTRAMS
OTRAMS is a cloud-based travel booking software solution that streamlines the travel booking and management process for businesses of any size. It simplifies booking travel-related services like hotels, flights, and car rentals and allows businesses to manage MICE requests from a single platform that is easily accessible from any device. The software's customization options allow travel agents to tailor their settings and manage offline services, and its advanced reporting system generates comprehensive client-by-client reports. OTRAMS travel booking engine software also offers social media integration and map views with extended filters, giving users greater visibility and control. With OTRAMS travel booking software, businesses can purchase outright and access comprehensive online training to familiarize themselves with the system.
13. Toogo
Toogo is an innovative travel booking software for business that offers cloud-based functionalities to assist travel agencies in creating and marketing their products online. With a trip builder, sales management, logistics management, and financial reporting tools, Toogo travel booking engine software helps businesses to build new travel packages, send travel information, vouchers, and invoices to customers, and track payments. Toogo's admin console provides businesses with a comprehensive view of all financial transactions, allowing them to create and manage databases of their products and suppliers. Moreover, Toogo travel booking software offers businesses an option to create and manage their own websites to market their products. By leveraging Toogo's cutting-edge functionalities, businesses can streamline their operations, reduce costs, and increase their revenue potential.
14. ITILITE
ITILITE travel booking software is a smart, comprehensive solution for managing corporate travel and expenses that utilizes AI technology. It automates travel and expense processes for companies, resulting in greater efficiency and cost savings. The integrated platform offers a range of features, including customized flight booking, hotel booking, and rental car booking options that comply with policy guidelines, granular configuration options for different departments and employee levels, and integration with other systems like ERP, HRMS, and CRM for easy data sharing and reimbursement. The travel booking system software also provides a customizable dashboard for consolidating all travel-related data and streamlines approval workflows for trip requests. With ITILITE travel ticket booking software, businesses can enjoy smooth sailing and have everything under control. As the idiom goes, it's like having all your ducks in a row.
15. TravelPerk
TravelPerk streamlines the business trip booking process while prioritizing traveler safety and satisfaction. This all-in-one travel booking software solution gives businesses complete control and can save up to 30% with a wide range of options and prices. Managing travel policies, invoices, and expenses is effortless, making budgeting simple. Their intuitive design, exceptional 7-star Customer Care team (answering within 15 seconds), and real-time trip updates ensure travelers are always in good hands. With the ability to cancel or reschedule a trip with ease, changes to plans are stress-free. Many renowned behemoths in the corporate world, such as Glovo, FarFetch, and Uber make use of TravelPerk travel booking software to maximize their business travel and accelerate growth.
Harness OneClick's Know How to Scale up Our Travel Business!
OneClick's travel booking software is the ultimate co-pilot for your B2B operations, offering a seamless integration with your existing systems and third-party service providers. Our travel booking management software solution is customizable and scalable, ensuring that your unique business requirements are met with finesse. With a user-friendly interface and a focus on providing exceptional user experiences, our travel booking software makes managing bookings a breeze. Our robust reporting and analytics capabilities empower you with data-driven insights to optimize your strategies, while our unwavering commitment to security and compliance ensures that your sensitive data remains protected.

Embracing our travel booking software will not only simplify your operations but also empower you to build lasting partnerships, foster growth, and maintain a competitive edge in the ever-evolving travel industry. Take the reins of your travel business and navigate towards success with OneClick's travel booking system software – your trusted partner in delivering top-notch B2B services. Together, let's redefine the way the travel industry soars.
Final Thoughts
In conclusion, travel booking software is an indispensable asset for businesses providing travel-related services. By enhancing operational efficiency, improving customer experience, centralizing management, expanding market reach, and delivering data-driven insights, it empowers your business to thrive in a competitive market. Navigating the complex landscape of business travel booking software can be a challenging endeavor, but by considering the key factors of integration capabilities, customization and scalability, user experience and interface, robust reporting and analytics, and security and compliance, you can confidently select a solution that aligns with your business objectives.
By taking the time to carefully evaluate travel booking software price and features, you can make an informed decision that aligns with your business goals and budget. Investing in the right travel booking software will undoubtedly propel your business towards success, paving the way for sustainable growth and exceptional service delivery.