What is the Vacation Rental Software?
Vacation rental software is a comprehensive program that automates all aspects of any holiday rental, regardless of size or type.
It automates tasks such as online distribution, reservation management, housekeeping, guest participation, and a variety of others. It also helps you provide your guests with a remarkable experience.
Vacation rental management software provides several options for organizing and managing your income, maintenance, and tenants, allowing you to stay on top of things without having to hire someone else to look after your property.
Vacation rental package solutions and Airbnb clones from well-known companies like OneClick include tools like online software travel booking, third-party integration, and reporting to help you shape your vacation rental management.
Features of Vacation Rental Software Development
When looking for best vacation rental software, it's crucial to look for key features that will help you run your business smoothly. Some features to look for in vacation rental software are listed below.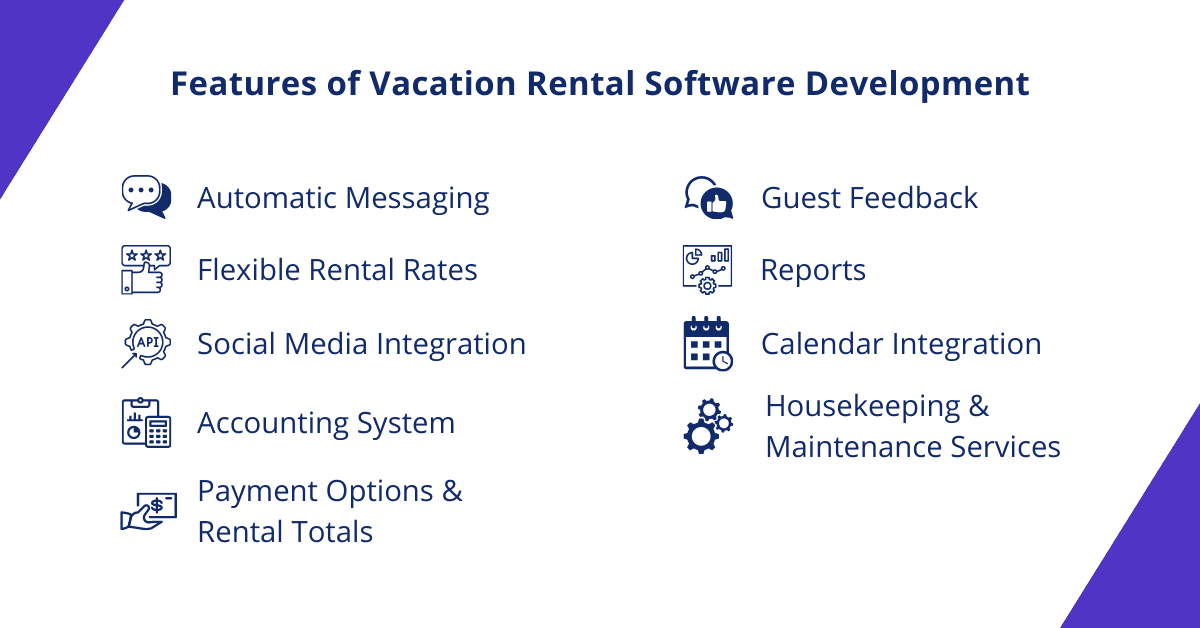 Flexible Rental Rates
By including a pricing mechanism into your vacation rental software, you'll be able to modify your property's rental charge based on the time of year. Guests who can travel during the week are more likely to choose a home that offers a cheaper weekday rental fee than one that offers the same pricing on both weekdays and weekends. On the other hand, you should factor in high travel dates and seasons when determining your rental fee.
If you're traveling at a busy time of year, such as a holiday weekend or a season, increase your nightly fee to obtain the best return on your investment.
Payment Options & Rental Totals
While it is important that the rental rate is realistic and competitive, you must also account for taxes, fees, and deposits that are applicable.
You should be able to apply all necessary additional fees for the visitor to review using the vacation rental management software you chose. Guests hate being surprised at checkout with costs that were not originally estimated.
You should provide guests with the option of making a partial or split payment arrangement in addition to correct rental totals. A minor feature like this will boost the chances of a guest booking your house.
Non-refundable deposits or the complete reservation amount due at a specific time can assist you in maintaining control of the process.
Automatic Messaging
The more details you can provide to your visitors, the better. A guest does not want to wait for a confirmation email or arrival instructions after making a rental reservation.
You can send automatic emails to guests who have placed a reservation using best vacation rental software.
Confirmation emails, arrival directions, departure information, and polite reminders about their impending vacation are all examples of emails that may be sent. A reminder to leave a review of the resort is another automated message you can send to guests. This automated email can be set to go out a day or two after the guest has checked out it allows the guest to return home and write a review while their experience is still fresh in their mind.
Housekeeping and Maintenance Services Scheduling
Every guest's stay at your rental property will necessitate housekeeping. To know when and where to clean, the cleaning business you hire will need to be scheduled.
You should choose best vacation rental software that allows you to schedule housekeeping services around reservations. You may also need to schedule weekly or monthly pool service if the rental property has a hot tub or swimming pool.
A vacationing guest does not want to be bothered by a cleaning company servicing the property's amenities and a calendar system that displays current availability allows you to schedule housekeeping and maintenance without disturbing guests.
Social Media Integration
Visitors of all ages enjoy using social media. Similar to word of mouth, a social media advertisement presenting your property can pique a potential guest's interest.
Users' favorite social media platforms include Facebook, Instagram, and Twitter.
Having a digital presence on these platforms can help you reach a wider audience and boost the likelihood of your property being booked.
Calendar Integration
It is absolutely necessary that you incorporate a calendar organization system into your vacation rental business. Understanding availability and scheduled reservations are critical to running a successful business. If your property's availability is incorrect, you may lose potential revenue while also frustrating guests.
Guests don't want to find out that the vacation rental they've reserved has previously been reserved by another guest but isn't showing up on the internet. Your vacation rental software's calendar system will help you keep track of your reservations and availability. Listing your vacation property on numerous sites increases the likelihood of it getting booked, but it also means extra calendars to keep track of.
Vacation rental software should synchronize the calendars of different listings so you can see the property's real-time availability in one spot.
Accounting System
A good accounting system is required for any firm that sells a product or provides a service.
Whether you're receiving payments or planning a budget, you'll need to know how much money your company makes and whether it's in red, green, or black.
Automatic Messaging
It's good if you can provide your visitors with as much information as possible.
A guest does not want to have to wait for a confirmation email or arrival instructions after doing their part by booking the accommodation. You can send automated emails to guests who have booked reservations using vacation rental software.
Confirmation emails, arrival directions, departure information, and polite reminders about their impending vacation are all examples of emails that may be sent.
Guest Feedback
Guest reviews allow word of mouth, even if it is virtual, to influence the frequency with which your property is booked. A guest with a large number of positive reviews to read could be the determining factor in choosing your resort.
Use best vacation rental software that lets you add a review section to your website where guests can provide feedback.
Reports
Running a successful business necessitates a thorough examination of each department to see if it is operating at peak efficiency.
You can check all sections of your rental property using reporting options in your vacation rental software to see if any changes need to be done.

How Vacation Rental Software Works?
Vacation rental software is a complex tool with numerous benefits. It will allow hosts to develop their businesses by increasing efficiency.
Hosts and property managers can save a substantial amount of time by using automated guest messaging and review automation. In addition, it can help you protect your property and prevent human error in a variety of ways. By automating important daily procedures such as calendar synchronization and cleaning services, you can avoid costly double-bookings and unpleasant slip-ups. Owners and managers have held a range of positions.
Following the delivery of the confirmation email with check-in instructions, a slew of actions must be done at specific times. There were also a few additional items that needed to be completed before the booking could be verified.
Vacation rental software allows you to keep one step ahead of what has to happen next as you, your guests and your personnel communicate often.
Benefits Vacation Rental Software Development
If you own a rental business and haven't yet implemented a rental solution. Here are a few benefits of using high-quality rental software for your organization.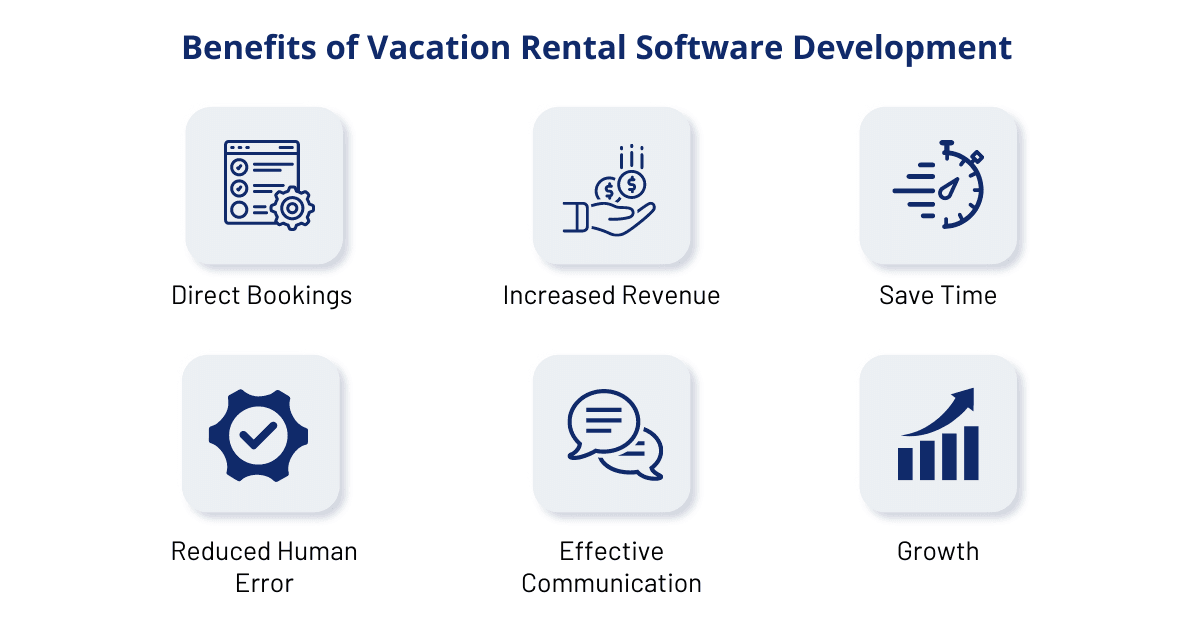 Direct Bookings
It goes without saying that rental solutions aid in the diversification of bookings. A significant number of guests shop before booking their stay. They look through various resources to find the best deal on the same property.
The majority of the time, direct bookings will save you money because you will not be charged a listing fee. When selecting a software provider, it is critical to select one that allows direct bookings from the website.
Booking a flight is made simple by using your social media login information, such as Facebook or Gmail. Furthermore, because the majority of guests prefer to pay with credit cards, having a variety of payment options is essential.
Increased Revenue
Beginning your B2C vacation rental business with dependable software helps automate business processes and enhance money flow through various revenue modules.
Save Time
Vacation rental software also allows owners to save a significant amount of time when managing their property. The software can assist you in automating activities and establishing systems that will save you hours of time and make running a business much easier.
With all of this automation, you are improving the overall guest experience. Instead of having to wait for the guest to respond, travelers will receive a prompt response. When it comes to booking, a faster response leads to a higher conversion rate.
Reduced Human Error
While a human mistake is inevitable in every business, vacation rental managers can dramatically reduce the chance of human error by utilizing vacation management software.
It not only enhances job efficiency but also ensures that vital duties are not overlooked.
Effective Communication
Property owners must always be accessible to respond to inquiries or provide bids. This procedure is always made easier by software, which converts inquiries into bookings. The ability to auto-respond makes communication easier.
Growth
Vacation rental platform solutions can help businesses grow in the following ways. Provides a simple framework for bookings, which improves the guest experience. Aside from providing users with a world-class experience, having excellent rental software can assist you in launching a sustainable and standard platform under your own brand name. It is aimed at business owners who desire to grow their operations into the worldwide market.

Why Choose OneClick As a Best Vacation Rental Software Development Company?
OneClick is the best vacation rental software solution provider for business growth for those who already have a rental business and want to expand it globally.
Our Home and Vacation Rental software Solution is designed in a timely manner, allowing us to meet all of our customers' needs.
Vacation Rental Software solution includes an Android app, an iOS app, and a web portal with an administration panel.
Our best Vacation Rental Software is built with the most cutting-edge technologies for exceptional performance. Please contact us at contact@itoneclick.com to receive a free estimate quote for your next travel portal.