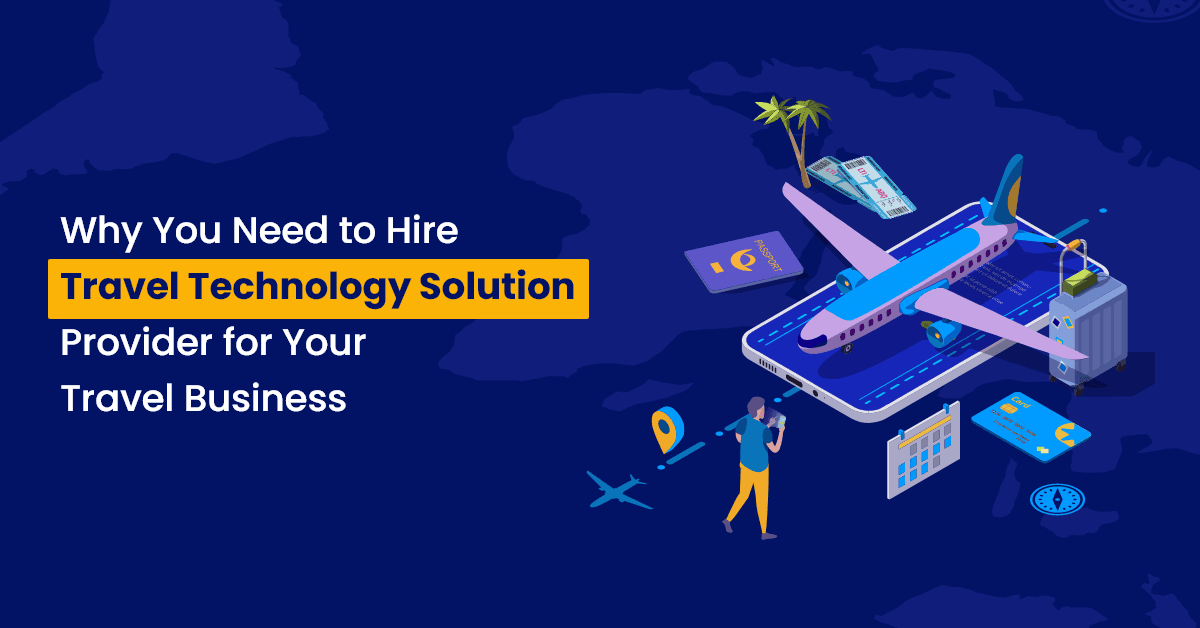 Overview of Selecting Travel Technology Solution Provider
If you're searching for an internet solution for your travel business, you generally have three choices:
Build it in-house

Outsource it to a services-based IT company

Outsource it to a travel technology solution
You're able to work out the first option only when you've got an in-house travel technology expert. Even then, it may be a problematic undertaking based on the kind of application/solution of the travel portal that you are searching to develop.
Your in-house travel portal development team is very likely to lack the skills and experience necessary to plan and develop a solution that may match what is available from technology vendors out there concerning features and quality.
Should you employ outside consultants to help your staff, it is likely to charge you a whole lot of money. So unless you're a huge organization, this alternative isn't workable.
So far as the next alternative is concerned, although it's a more viable alternative, it's its very own set of challenges. E.g., A generalist IT company that caters to each domain under the sunlight does not have in-depth knowledge and experience in any one field, such as travel. This is fine when you've got fundamental requirements, such as a white label travel website/mobile program.
But if you would like something more complicated like an end-to-end travel portal solution with numerous providers 3rd party API Integrations, business rules management, contracted stock management, payment distribution, and platform management, you're better off using a trustworthy travel technology solution company with a history of delivering these types of solutions to a wide collection of travel businesses.

Domain Expertise of Travel Technology Solution
Domain experience is the most crucial benefit of working with a travel technology solution provider company for travel portal software development needs experiences in the travel domain. As travel technology businesses build solutions exclusively for the travel industry, they have more technical domain knowledge than companies that work with customers in numerous fields.
Their team is educated on industry-specific procedures. They know the market language, how travel businesses function, the particular requirements, and the challenges of travel companies of different types and dimensions in each region, etc.
They're conscious of the most recent trends in online travel and will consult you on other areas to help you construct your digital plan and achieve your company's purposes. They can also help you resolve technical challenges you will face when you get on the internet. They can even preempt potential problems that could occur in various business situations, which may save a great deal of disturbance in the future.
This domain experience reflects in their products constructed to coincide with the functionalities and workflows required by several organizations in the travel domain.
Ready to Use Solutions – White Label Travel Platform Development
Another benefit of working with a travel technology solution provider company is They Have ready-to-use travel portal solutions for different regions of the company covering:
Your Brand, Your Way –

You have complete control over the look and feel of your travel portal website and travel mobile apps.

API Integration –

Seamlessly integrate with industry-leading travel APIs to run your business and better serve your customers.

A large Number of Options –

Book through 1M+ hotels, 500+ LCCS and GDS Airlines, 1.5 million car rental locations.

Accept Payment Online –

Complete access to 25+ domestic and international payment getaways across the globe.

Highly Secure –

Robust security layer integrated to make sure every transaction made on the platform is highly secure and safe.

Mobile App Platform –

Give your customers access through mobile applications as well as syncing with cloud websites for improved business in the global market.
So all of your requirements, it is likely that they have a solution for this. You will also need to devote much more time explaining exactly what you want.
Their employees won't have the same degree of domain and product knowledge as those in a top travel technology company.
Accessibility to standard solutions signifies briefer time-to-market and the capacity to integrate technology into your everyday workflow faster to keep up with the requirements of this traveling marketplace.
Solutions for Various Travel Business Types
Travel Agency

Travel /Tour Agents

Tour Operator

Travel Wholesaler

Travel Distributors
Every niche of business has particular challenges and demands a solution that suits its specific needs. So based on the character of your company, a top travel technology solution provider company may supply you with a travel portal solution that will fulfill your needs.
They're also able to create customizations for you in accordance with the support arrangements you have together.
Inside the travel technology marketplace, travel Technology solution providers offer solutions to several kinds of travel companies under a single roof and vendors that focus on a particular section within the business, e.g., leisure travel bureaus, even DMCs, or even TMCs.
You can compare unique sellers, their offerings, and their expertise to choose who's the best match for you.
Strong Connections with XML Suppliers
Should you operate with GDSs or alternative third-party API providers and want to incorporate them into your site to market livestock, a top travel technology solution provider company is your very best option.
They have strong connections with XML API providers, having worked on behalf of the customers for several decades. They know the proper people inside these organizations and will allow you to get things done faster.
They also have a comprehensive comprehension of the processes which are involved with yearly contracting, certification, and development. Through this understanding, they could look after the technical challenges which may arise pre or post-integration. With no travel technology solution provider company, this could become quite tricky for customers.
Another essential issue to notice here is that the wide-ranging supplier integration encounter that travels technology businesses have allows them to advocate the proper providers in each area to acquire the best possible stock to their B2C and B2B Travel clients.
Additionally, they've prepared connections for all significant XML providers and can incorporate their APIs to your site in a few days.

Conclusion
OneClick IT Consultancy is one of the world's leading travel technology solution providers, with more than 10+ years of expertise and various customers in travel and hospitality. We've got a wide variety of online travel software solutions that will assist you in reinforcing your online presence and handling a variety of facets of your company on a single platform.