Travel Development
Why OneClick is Featured Top Travel Portal Development Company in Clutch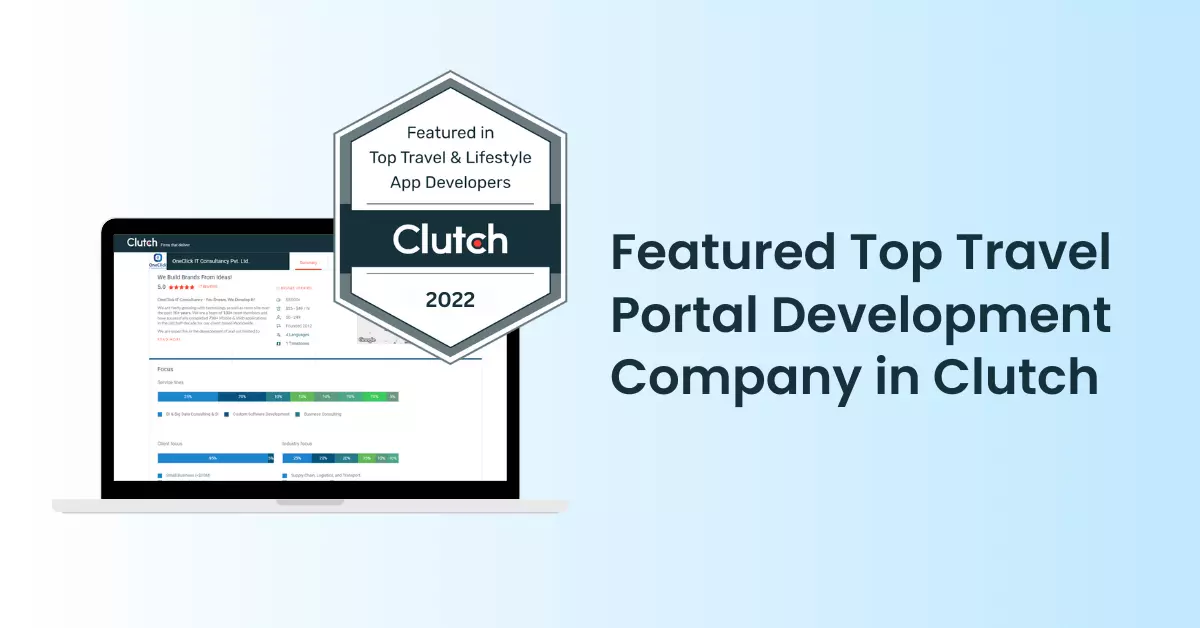 OneClick is a travel portal development company based in India, USA & UK. We build next-generation technologies for travel and enterprise apps. We are an expert team of dedicated developers who love building innovative products that help our customers grow their travel businesses through digital transformation. We have been enlisted in a list of the top Travel Portal Development Companies published on Clutch, a renowned B2B review platform.
What is a Clutch?
Clutch is a B2B review platform. It offers insights, reviews, and ratings for top companies in the industry. You can use this information to find the best company for your business needs.
Why Choose OneClick for Travel Portal Development?
We have a proven track record of delivering high-quality solutions to our clients. We have a dedicated team of skilled UI/UX designers who create stunning user interfaces that help you to improve your conversion rates and get more leads.
Our team of experts has built over 200+ travel portals for leading travel brands across the globe, which are listed on Clutch as one of the top travel portal development companies globally.
Our Travel Technology Solutions help travel companies build their standalone websites or integrate travel booking into existing sites to increase sales and grow customer base.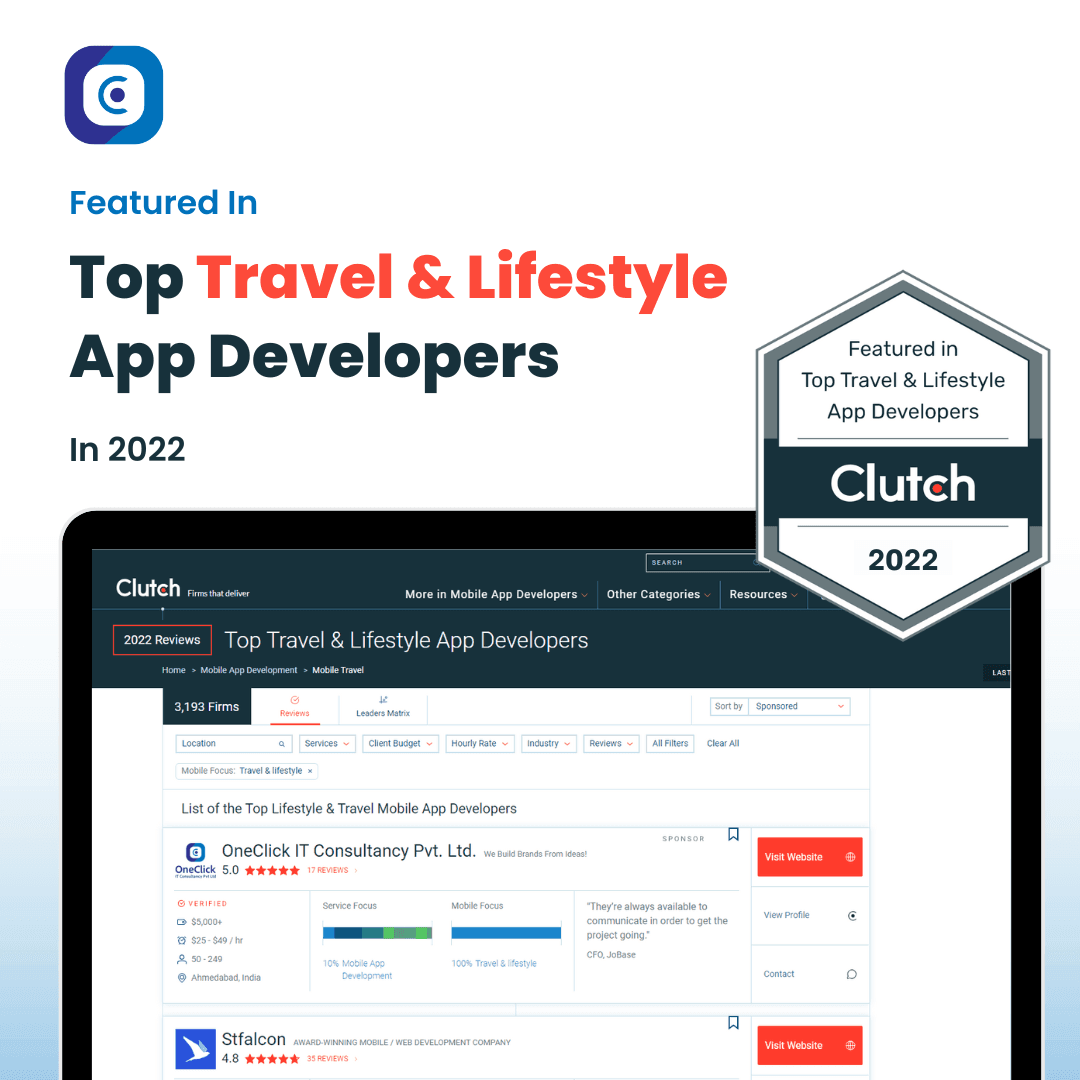 We are a company that provides affordable and reliable technology solutions and Managed IT Services for the travel industry. We help companies build their online presence by leveraging the latest technologies to create a robust and scalable platform for the travel business. 
OneClick initially assesses the project requirements and prepares a detailed project plan. The team will also prepare a detailed project plan for your travel portal. The project plan will include the Project scope, budget, timeline, and other details.
Once the project plan is prepared, we will initiate the development process by employing our expertise in custom website designing services. We will perform a thorough assessment of your business requirements.
We will prepare a detailed project plan and initiate the development process by employing our expertise in custom website designing services. We will develop a high-performing front-end of your travel portal, which is visually appealing and provides users with a great experience on their first visit to the site.
Our skilled UX/UI designers create wireframes and mockups to ensure that usability is not compromised during the travel portal development process.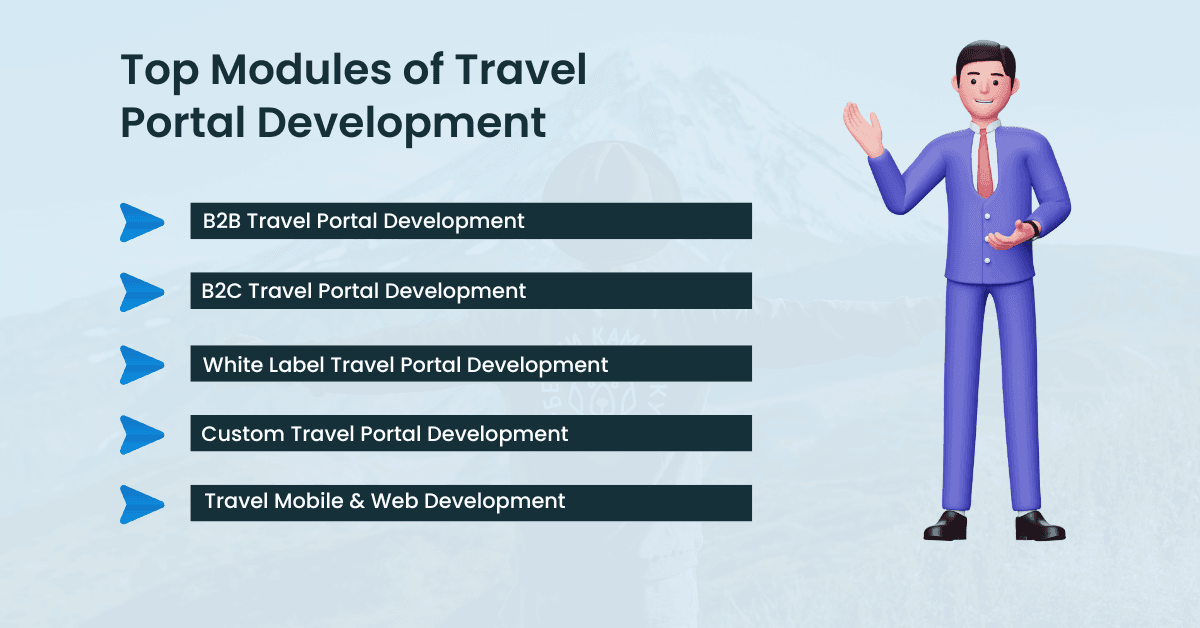 Wireframes are a visual representation of the layout of your website. They help you test out different layouts and design ideas before implementation, helping everyone involved visualize how the website will work. Wireframes also help developers understand how the website will function, which helps them create an accurate development roadmap.
Clients can use wireframes to get an idea of how their travel portal will look before it's finished this means that changes can be made at any time during the development process without having to go back and redo large swaths of code or content. 
When you hire OneClick, our skilled developers will develop a robust back-end of your travel portal using the latest technologies.
It means that when the time comes to add new features like a blog or a booking engine to your site, you won't need to spend hours altering code. And if there are any bugs in our work or security issues that need fixing down the road (we hope not!), our team will be able to fix them quickly because they built it from scratch.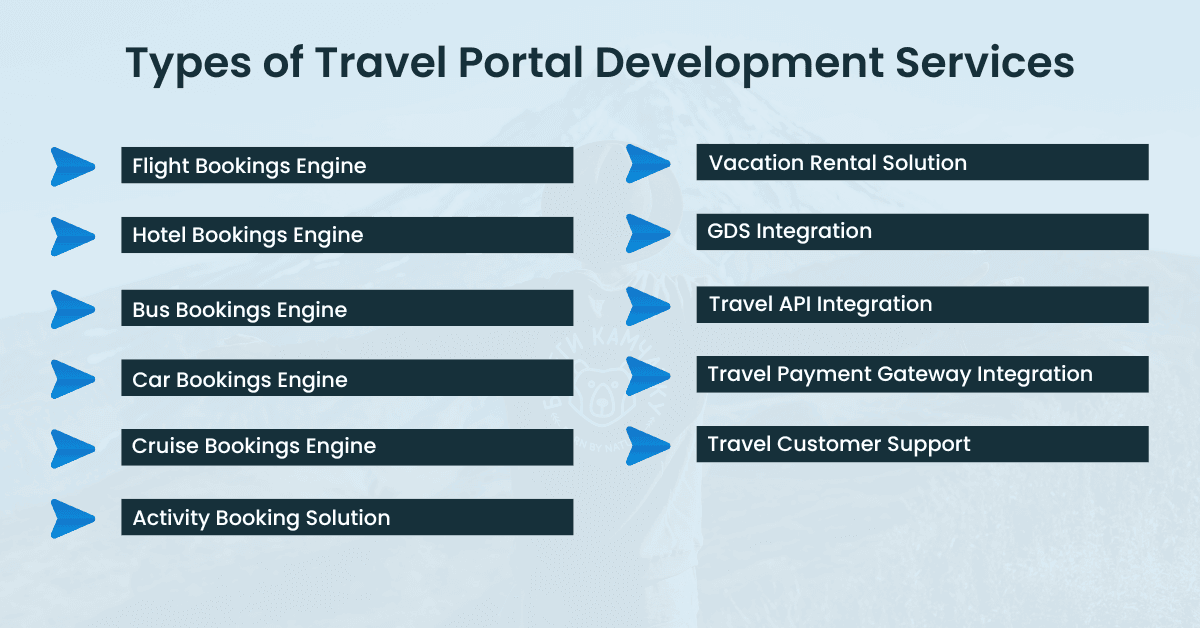 We will also be integrating payment gateways into our travel portal development services. Payment gateway integration is the process of connecting a travel booking website with the payment gateway for making online payments. This way, customers can pay for their bookings online through debit/credit cards, net banking, etc., and have their bookings processed immediately without any hassle.
We ensure that all our websites are developed using the latest web technologies such as HTML5 and CSS3 so that they support multiple browsers and devices without any issues. We also incorporate advanced features such as API integration into your travel portal so that you are able to access data from other applications or websites directly via an API link provided by us.
We will also perform extensive testing to ensure that our final website output meets all your standards and requirements.
Testing is an essential part of any website development project. It ensures that the final output meets all your standards and requirements.
We perform extensive testing to ensure that our final website output meets all your standards and requirements.
Testing can be manual or automatic, but it's always important to find out what works best for you.
Our expert team will conduct thorough testing on your chosen template before deploying it onto your hosting account so that you can rest assured that the final product works as expected.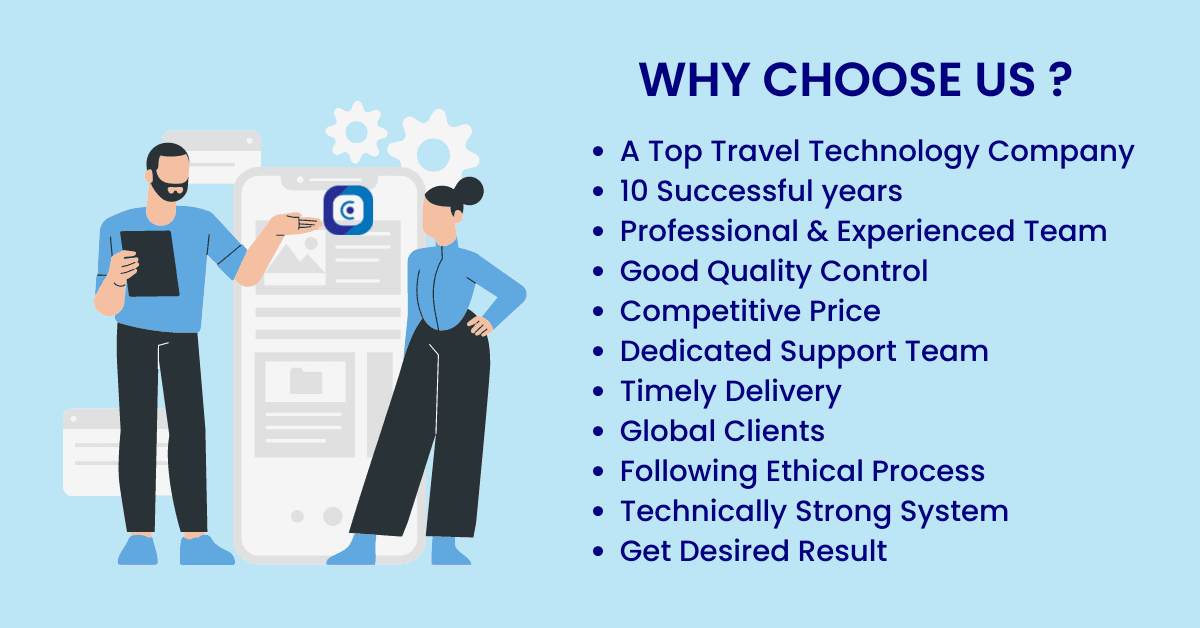 Once the travel website is ready for deployment, we will launch it on a server of your choice for real-time access. However, if you prefer to host the travel website yourself, we can provide you with information about setting up your own hosting account. OneClick's team of experts offers maintenance services for your websites, including:
Website maintenance – we will keep a check on your content, design, and functionality at regular intervals
Bug fixes – we fix errors if they arise on your site as well as add new features based on feedback from clients
Technical support – we offer 24×7 guidance in case any problems arise related to hosting or coding
To Conclude
OneClick is a premier Travel Portal Development Company located in India, USA and UK. We specialize in developing effective travel portals that are compatible with all devices and can be accessed from anywhere across the globe. We have a team of skilled web developers who create responsive websites that load quickly on all types of internet browsers.