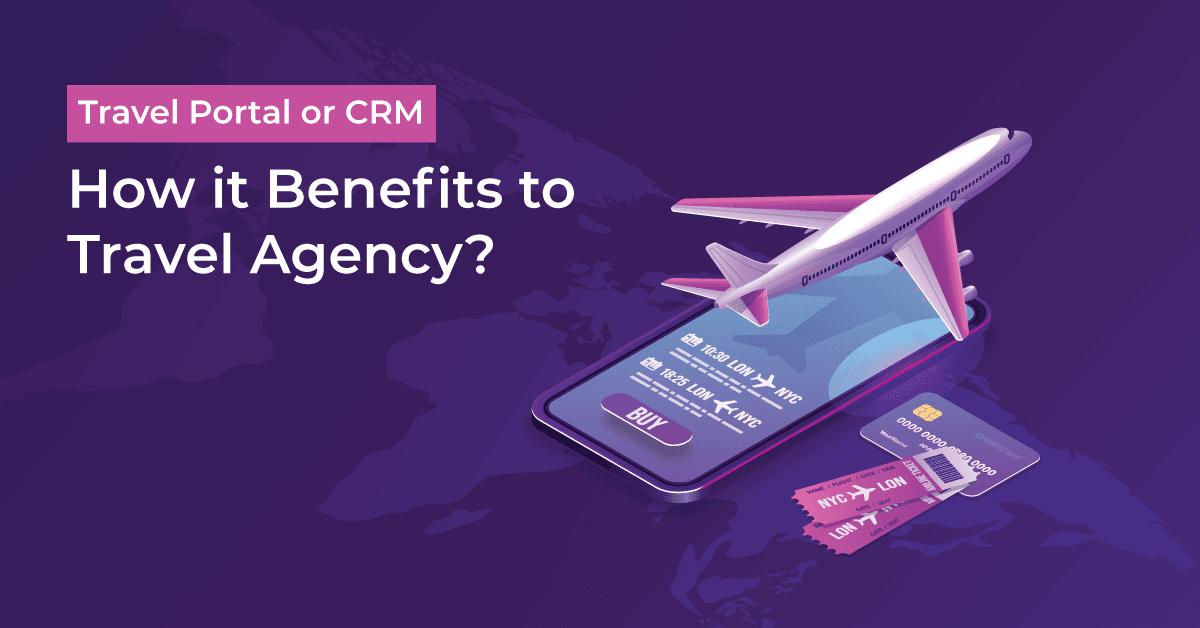 Introduction of Travel Portal Development
As an online tour and travel agency, you want to provide more than just a happy holiday. You want to give each of your traveller's magical experiences through custom Travel Portal CRM in exotic locations that will keep them coming back for more. This aspiration, however, comes with obstacles that must be overcome before it can be realized.
Travel is a seasonal industry, despite its rapid growth. Therefore, it is critical to capitalize on the trend and keep travelers aware of the whole year in front of the competition. There are also many other challenges – particularly those of well-informed millennia. There is growth in travel aggregators and the changing expectations of travelers. It would be best to create a trusted online presence in this context to prevent your company from slowing down.
What is Travel Portal?
Travel portal is an online booking engine designed for both B2B and B2C. It also offers a wide range of required features all in one place. E.g.
Booking domestic and international air tickets
Booking a wide range of hotels
If you want to experience an exclusive travel and destination holiday package, you can also book a cruise.
They also have the option of car rental.

Here are a few Best Travel Portal or CRM Development Company's which can help you develop your portal.
Freshsales CRM
SugarCRM
Salesforce Sales Cloud
Kapture CRM
Elinext
Tutterfly
Top Advance Features of Travel Portal Development
Features of Flight Booking Engine Development
The ability to book multi-stop/multi-city flights with a complete fare summary is available.
Show the fare rules and baggage information.
The data will be reflected on the website.
Users can make online payments in addition to receiving invoices and tickets.
Allow passengers to select their seats.
PNR and its details can be retrieved, and traveler data can be saved.
Features of Car Booking Engine Development
Various payment methods are available, e.g., credit-debit cards or COD.
Vehicle's Real-Time Availability
Reports and search tools for advanced bookings.
Fleet management of car rental
Effortless Rental Vehicle Booking Engine.
Payment Gateway Integration
Features of Hotel Booking Engine Development
Informative Content
Optimized User Experiences
Customer-friendly multiple booking options
Multi-Language & currency options
Offer Loyalty Program Membership
Add several photos and a short video
Top 3 Benefits of Advance Travel Portal CRM

1. Key Customer Insights at Your Fingertips
If you have a large number of clients, it can be challenging to keep track of them all using antiquated approaches like spreadsheets or, worse, physical files and directories!
To ensure smooth and effective customer management, you must have every customer's personal information, interests, itineraries, and booking history at your fingertips.
Your workers will enter an inquiry into the system as soon as it comes through, look up customer information on the spot, and take the necessary action with a Travel CRM.
Essential data is spread around various files and directories in the absence of a Travel CRM, and there are bound to be delays and mistakes, mainly if the staff-to-client ratio is poor.
Furthermore, a cloud-based Travel CRM allows the team to access all customer data from any device, anywhere, and anytime. It is beneficial now that several groups are working remotely.
2. Capacity to Come Up with Personalized Customer Experience
The fact that travel agencies have personalized service and attention is one reason why so many people still want to use them. As a result, your customers demand a highly personalized customer experience from you every time they visit.
You must know more about them and their interests to provide them with a personalized experience to their preferences.
All of this information is crucial for any travel agent, and it accumulates over time as you gain more clients. Established travel agencies must have easy access to this data to create highly customized vacations for their clients.
Personalization isn't just for vacationers. Corporate account managers must also be aware of their clients' travel preferences, especially in flight and lodging. They will need easy access to employee travel policies so that they can book within the policy structure.
All of this information can be saved in the CRM and retrieved quickly at the time of booking.
3. Marketing is Essential
Outbound marketing strategies that keep your customers and clients connected with relevant deals and news are more critical than ever. You need specific consumer data in one location to feed into the marketing tools you use if you want to run campaigns via email, SMS, or social media.
A Travel CRM simplifies this process by centralizing client data, which can then be exported into an Excel file for marketing purposes. You can use this data to run customized campaigns even if you don't use marketing tools, and only you can send emails via Outlook, Gmail, or another email app. Marketing feature is built-in to the best travel CRMs, making it even more straightforward.
Top Travel Portal & B2B Travel Development Company in the USA
One of the Top travel portal CRM Web and Mobile App development companies that we come across in the USA.
OneClick IT Consultancy is a leading travel portal and travel app development firm in the USA with a global customer base.
OneClick IT Consultancy is an all-inclusive software development company with nearly a decade of experience and expertise in travel portal CMS. The team deploys web testing and designing facilities to its clients and digital marketing of your platform.
They offer a wide range of travel bookings ranging from flights, hotels, cars, resorts, cruises to even adventure activities through the Global Distribution System. All these searches are based on the APIs of renowned booking services. They also have a client retention rate of over 97% and a high return users rate. Everything seems to be a matter of one tap with OneClick.
The global distribution System (GDS) of the flight booking engine is typically connected with APIs to fetch the online inventory of flight tickets – from the backend and publish it in the front-end system via GUI.
On the other hand, it is focused on CRS and APIs of well-known hotels, which offer the best rates to potential customers. Car rentals and bus reservations use the same system. Following the client's pick, the client is directed to a secure payment gateway.

Why You Choose Us as a Top Travel Portal Development Company?
To get the success of your travel business, you required a travel portal development company with expertise in B2B travel portal development /B2C travel portal development web and mobile app portal development experience, Graphic UI, and customer experience. You can easily manage APIs for flight booking and hotels.
OneClick has experts in developing travel portals for SMEs as well as large travel businesses. Whether it is an advanced customized solution or a leading B2B white label travel portal development, our team can help you with services that match your requirements.
Final Words
You must have realized by now how critical CRM is in the development of a travel portal. Don't waste your time if you haven't yet introduced a Travel portal for your travel business. Reach Best travel portal development company in the USA for your company that will be suitable for all of your requirements.