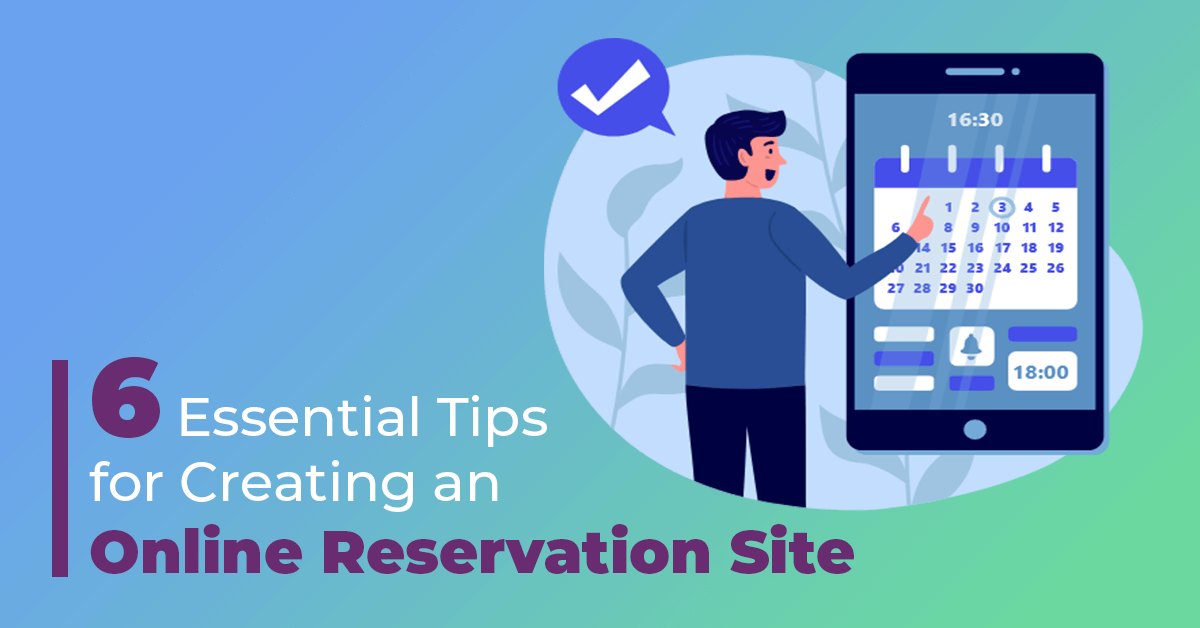 Online reservation website development has literally exploded over the last couple of decades, the businesses most affected by this change are hotels, restaurants, and the liberal professions who are all doing it.
Online reservation website design and development involve many digital business projects: vacation rentals, travel, hotels, or shopping online, doctor appointment apps, hospital management apps, and more. These platforms can integrate web services, subject to eligibility with your project, compliance with the GDPR, and your wishes, as well as your budget.
You can also choose to have the appropriate functionalities developed directly on your website, entrusting the mission to an experienced webmaster. There are indeed commercial issues, knowing the expectations of Internet users, the user experience, and data security.
If you work on reservations or appointments, Online Reservation System Development can also be an excellent way to digitize your day-to-day management by creating a reservation site that will allow your customers to make an appointment or book your services online. So, we will see together how you can easily create your website.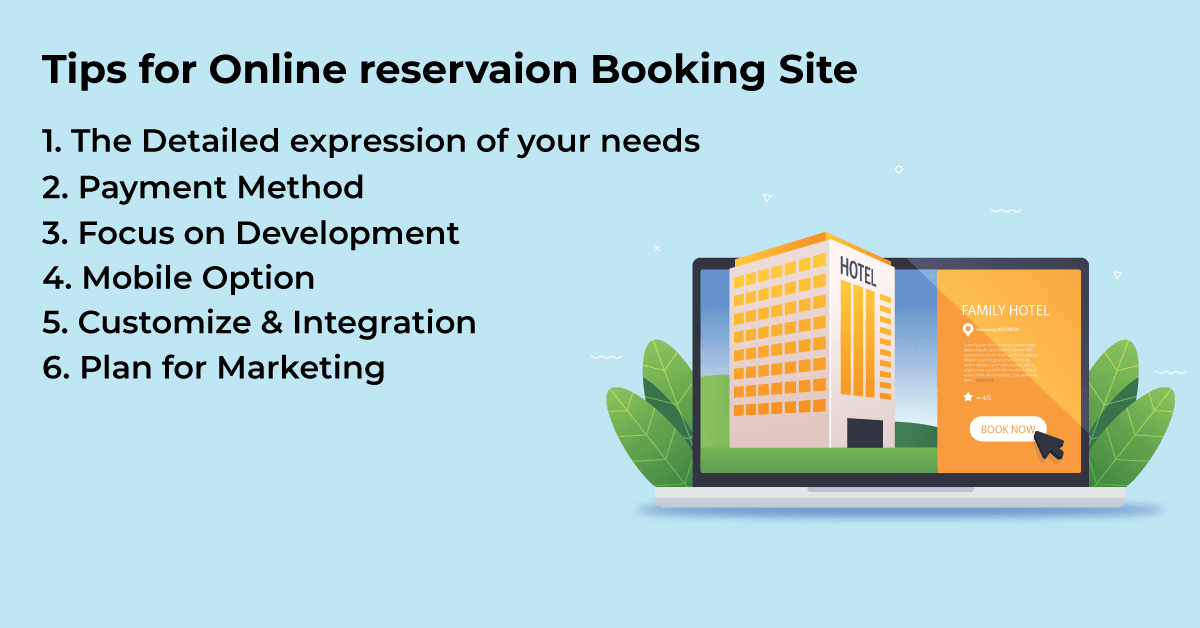 1. The Detailed Expression of Your Needs
Online Booking and Reservation site Development requires at a minimum that you know how it should work. A developer needs to know these technical details, as well as your business rules. State your needs as best you can but in detail. You don't need to be a coder for this. As you put your thoughts down on paper, you will find that there are countless small and large things to think about. Take the time to design how the site works, even if you have to spend more than 5 weeks doing it! This information is necessary if you wish to be delivered from a properly functioning Online Booking and Reservation System.
2. Plan Online Reservation and Payment System Features
Whether you want to book a hotel, bed and breakfast, city apartment, or beachfront bungalow, you need an all-in-one online booking system. You can integrate the following features with your site and access them:
Manage your Reservations: easily follow your reservations online.
Accept Payments: Receive payments online and keep 100% of your earnings (Wix does not take any commission).
Create Flexible Pricing Options: Set different prices depending on the season so the amounts match demand.
Take Reservations From any Device: Provide the best possible experience by allowing your visitors to book from a computer or mobile.
Allow Customers to Book in their own Language: Offer multilingual options so that each visitor can easily book in their own language.
Send Automatic Confirmation Emails: your guests instantly receive an email when they reserve a room.
3. Focus on your Online Booking and Reservation System Development
It is important to do things right because your website reflects the image of your business. So, if you feel you don't have enough time to devote to your site creation project, it is surely better to delegate this work to an experienced development company.
A. Open-Source Software
You can also opt for the use of an open-source CMS like WordPress, Joomla, or Drupal.
The open-source CMS is among the most used tools for Online reservation website development, because they are greatly facilitated since there is nothing to encode (or at least not much in most cases). Since with this type of solution, we focus on the installation (domain name, hosting, database, etc.) and the configuration of the theme (a visual aspect of the site), and the functionalities of the site (via what are called "Plugins"), it saves a lot of time.
Be careful, however, creating a customized Online Reservation System using an open-source CMS requires a certain mastery of the subject. In fact, if you know absolutely nothing about it and you don't have the time to train (or don't want to), this solution is certainly not possible.
B. Opt for the Use of an Online Site Creation Software
There are alternatives to the open-source CMS, dedicated specifically to those who have no web design skills. These are online site creation software.
Compared to open-source CMS, online website builder software is arguably the easiest solution to learn. You can manage everything easily: the creation of pages, text areas or forms, adding images, etc. Having said that, you should be prepared to spend some time on it.
C. Entrust the Creation of your Site to an Online Booking & Reservation Site Development
If you know absolutely nothing about online reservation website design and development and/or you don't have the time to devote to creating your website, then it is better to outsource your project. This will save you a lot of inconveniences and will guarantee the best quality. So, educate yourself around you, you will always find someone to recommend a reliable provider.
4. Be Mobile
With more and more traffic coming from smartphones, it is imperative that your Booking Software Solution be mobile-friendly. OneClick is one of the leading mobile app development companies who can help you convert your online reservation website to an app with rich functionality. Delivering an enjoyable experience on all devices not only ensures that you are on the cutting edge, but it can also have a positive impact on your SEO.
5. Select a Customized Online Reservation System to Integrate it into Your Site
In parallel with the creation of your site, take an interest in the different solutions that will allow you to associate a reservation system with your website.
If you have opted for an open-source CMS, for example, you can find plugins to display a booking module on your site. Most often, these plugins remain fairly basic and are not suitable for all situations, for all needs.
You can also find an  Online Reservation System Development on the market (accessible via a simple browser such as Mozilla or Chrome) which generally offers more advanced features. It can therefore meet more complex needs, both in terms of booking parameters and additional features such as sending reminders by SMS, and using gift certificates when booking or invoicing.
6. Think about Natural Referencing (or SEO) during Online Reservation Website Design and Development
In order for your business and your services to be visible on search engines like Google or Bing, it is crucial to design a natural referencing strategy upstream of the online reservation website design and development. This will prevent you from having to come back to certain things afterward, such as the titles or URLs of your pages. It would indeed be unfortunate not to include the keywords essential to your activity, those that Internet users are likely to type to find you. This is why it is important to think about these keywords, among others, upstream of the creation.

To Conclude
Either way, keep in mind what you expect from an Online Reservation Site Development System so that you can make the best choice. It is important that you entrust the project in trusted hands whether you are planning to build an appointment booking site, a hotel or flight booking engine, or any other reservation system.
At OneClick, we have nearly a decade of experience in customized Online Reservation Website Development. We also offer white label solutions to reduce custom booking engine costs. Contact us today for a demo for your project.