UI/Ux Design
Creative Hotel Websites Designs: 15 Beautiful Examples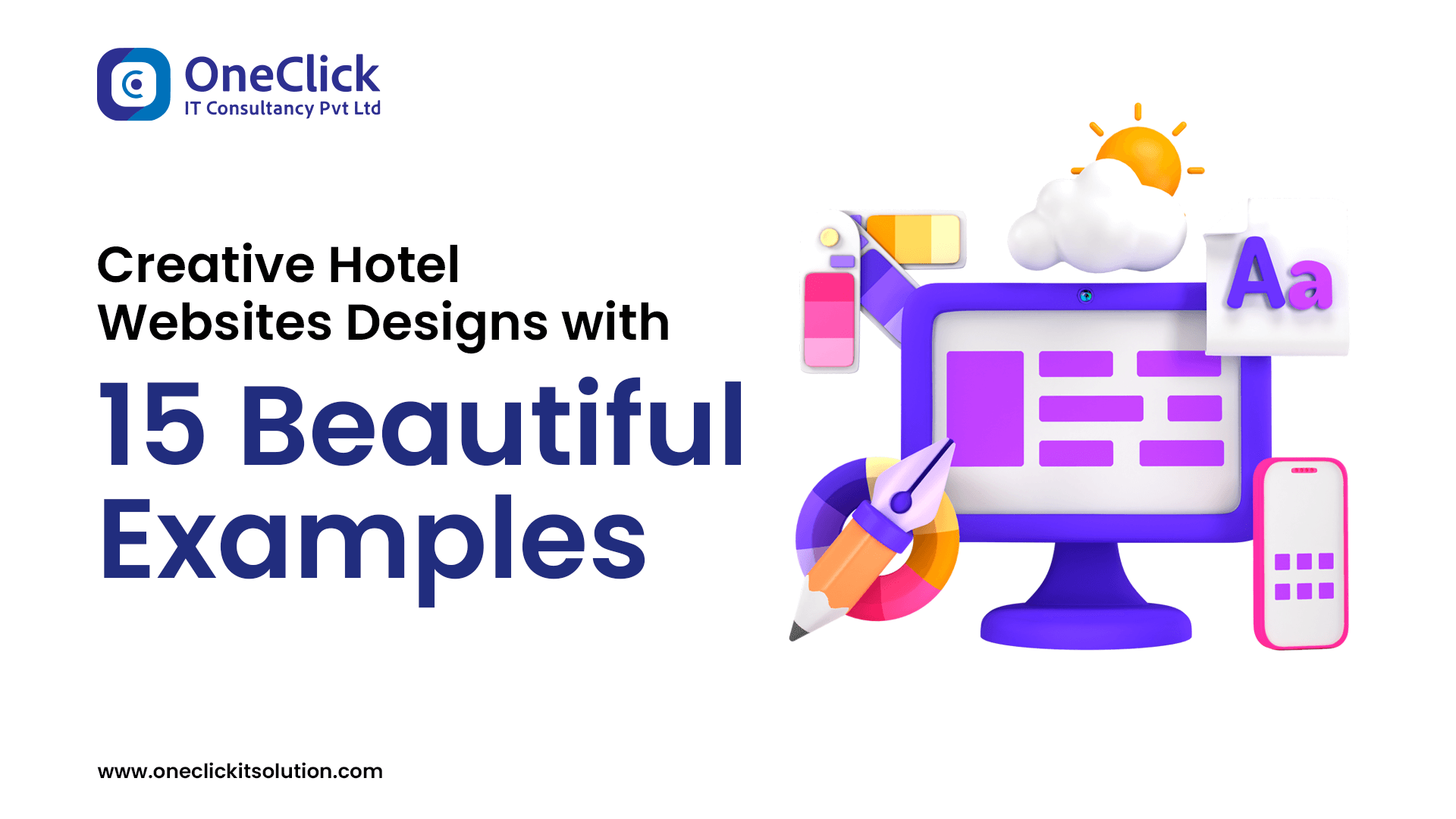 Introduction
Hotels and resorts need websites just like any e-commerce store, and share the same ultimate goal – to sell a product, and sell it well. So, what makes the best hotel website stand out from the crowd?
A top-notch hotel web design with a flawless e-commerce experience can be a game-changer for any hotel business. It can help establish a strong brand identity and showcase the services and vibe of the property. The ideal hotel website is a blend of aesthetics and functionality. It must be mobile-friendly, search engine optimized, and have a user-friendly booking process that attracts guests to complete their bookings.
In this article, we'll show you 15 mind-blowing hotel web designs that best hotel websites use to attract guests and stand out in crowded online space. Trust us, these designs are the real deal – they'll have you on cloud nine faster than a greased lightning!
How Responsive Hotel Website Design can Impact the User Experience
Achieving a satisfying visitor experience is essential for any business seeking success and customer loyalty. When executed well, a pleasant customer journey results in increased sales, word-of-mouth referrals, and increased conversions. By the usage of responsive hotel web design, you can ensure that visitors to your site may do so without any difficulties, regardless of the device they're using to access the internet. In case you need more convincing, here are some of the benefits of using a responsive hotel web design the next time you create a website:
1. Cost-effective Approach
The expenses associated with maintaining two sites, one for mobile users and a second for all users, may quickly add up. If you choose a responsive hotel website design, you won't need to pay for a separate mobile website, which translated into more money in your pocket. You can save time and money by developing a single site layout that works well on all browsers and devices.
2. Enhances Flexibility
With a responsive hotel website design, editing your site is effortless and efficient. No need to worry about making modifications on two separate websites. This level of flexibility is a massive advantage when you need to make quick design tweaks or fix errors on your site, saving you time and effort.
3. Improves User Experience
Great hotel websites always prioritize user experience. The aim is to create a hotel web design that visitors will like and find easy to use so that they come back. For instance, if someone tries to access your website on their mobile device and it takes an eternity to load, or the images are distorted and of low quality, it gives an unprofessional impression of your business. Therefore, it is vital to ensure that your website has a seamless user experience on all devices to prevent potential customers from being deterred by a poor first impression of your brand.

4. Boosts SEO Rankings
Search engine optimization (SEO) is a technique used to enhance the visibility of websites in search engines. Higher rankings in Google's search engine can increase the chances of potential customers discovering and visiting your website. Generally, Google prefers websites that are mobile-friendly, which is why responsive hotel web design can play a significant role in boosting your website's overall search engine ranking.
5. Unifies Web Traffic Analytics
A major plus point of having a responsive hotel web design is that it consolidates all web traffic into a single place, regardless of the device used. This allows you to view what devices your audience is using to access your website without needing to switch between multiple dashboards. This simplifies the data collection process and keeps your analytics organized, ultimately saving you time and effort.
6. Key Selling Points of Best Hotel Websites
When designing your hotel website, prioritize authenticity. Make sure your website accurately represents your property and its amenities. Misleading information can lead to guest dissatisfaction and damage your reputation. To build a hotel web design that effectively converts visitors into guests, follow these recommended practices.
7. Images
Compelling visuals capture interest. It is important to steer clear of unnatural stock images or blurry pictures of your hotel. Visitors should be able to view a carousel or slideshow that offers a summary of each lodging type. Lastly, honesty is critical, and the usage of high-resolution images in your hotel web design give travelers an exact idea of what they can expect from their accommodations while on their trip.
8. Videos
It's important not to go overboard with videos, as they can slow down a website's loading time. However, it's videos are still worth considering as they can have a significant influence on your hotel web design. Incorporate videos that feature stunning visuals, animations, and transitions to make a lasting impression. For instance, drone footage can be an excellent way to showcase the entirety of your property.
9. Reviews
Incorporating transparency into your hotel website design involves not only displaying visually appealing images of your property but also disclosing information about the guest experience. Including reviews from previous guests on your website can foster a sense of trust and connection with potential customers. The more positive reviews you have, the greater the influence on the pricing power of your hotel.
10. Mobile-friendly Interface
As mobile devices become increasingly important in travel planning, it's crucial to have a mobile-friendly hotel web design. A poor mobile experience can harm your brand's image and give an impression of being outdated or lacking focus on guests' needs. A fully responsive hotel web design for your mobile site is essential for a good user experience and to maintain a positive brand reputation.
11. Up-to-date Content
In digital marketing, content is a dynamic element that requires constant updates. The good news is that fresh content can be used creatively and in various forms. Consider starting a blog to generate organic traffic to your website, and feature a local guide on your destination that travelers can refer to when researching things to do in the area. By providing useful and engaging content, you can potentially attract visitors to your blog and convert them into your customers.
Best Trends: 15 Stunning Hotel Website Examples in 2023
Finding the right hotel website inspiration can be tough, but it's essential to create a website that entices potential guests and drives bookings. Take some hotel website inspiration from the following best resort websites and create a unique design that reflects your brand.
1. One&Only Cape Town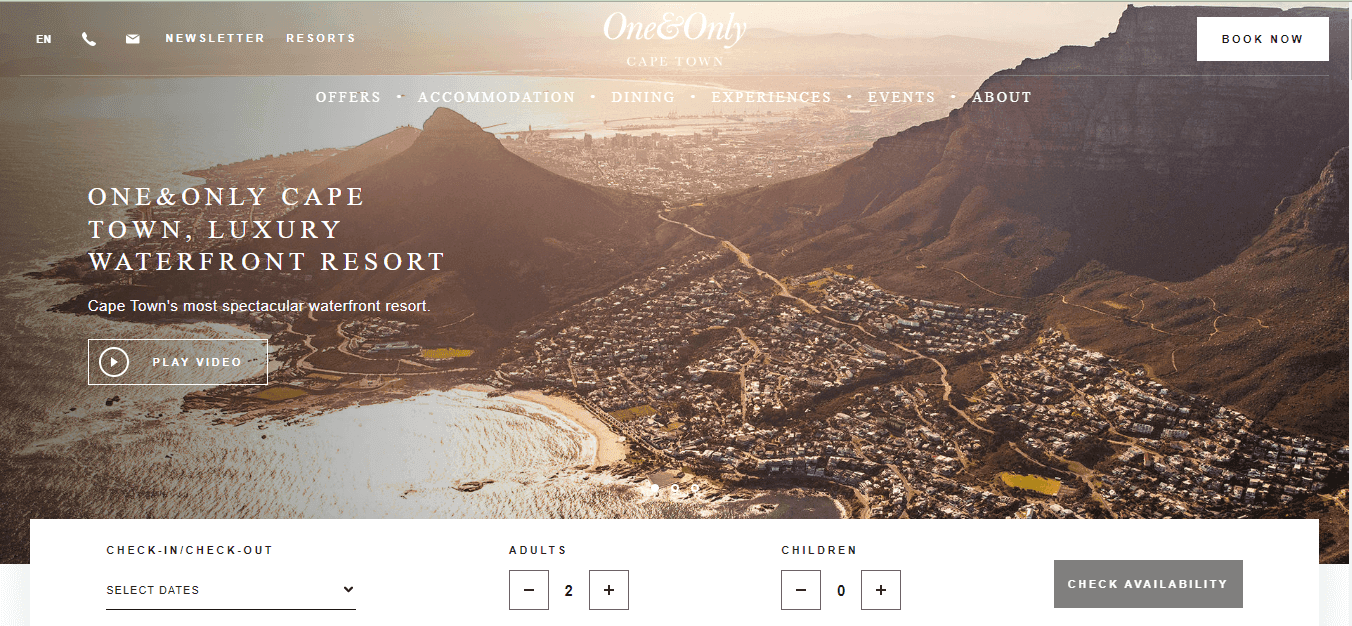 The One&Only Cape Town hotel is an exquisite property that exudes prestige, luxury, and elegance, and its website effectively conveys these qualities. The hotel web design is straightforward, but visually impressive, and the site is user-friendly. As you navigate through the different site elements, a floating "book now" widget stays with you, making it easy to reserve a room.
2. Hotel Particulier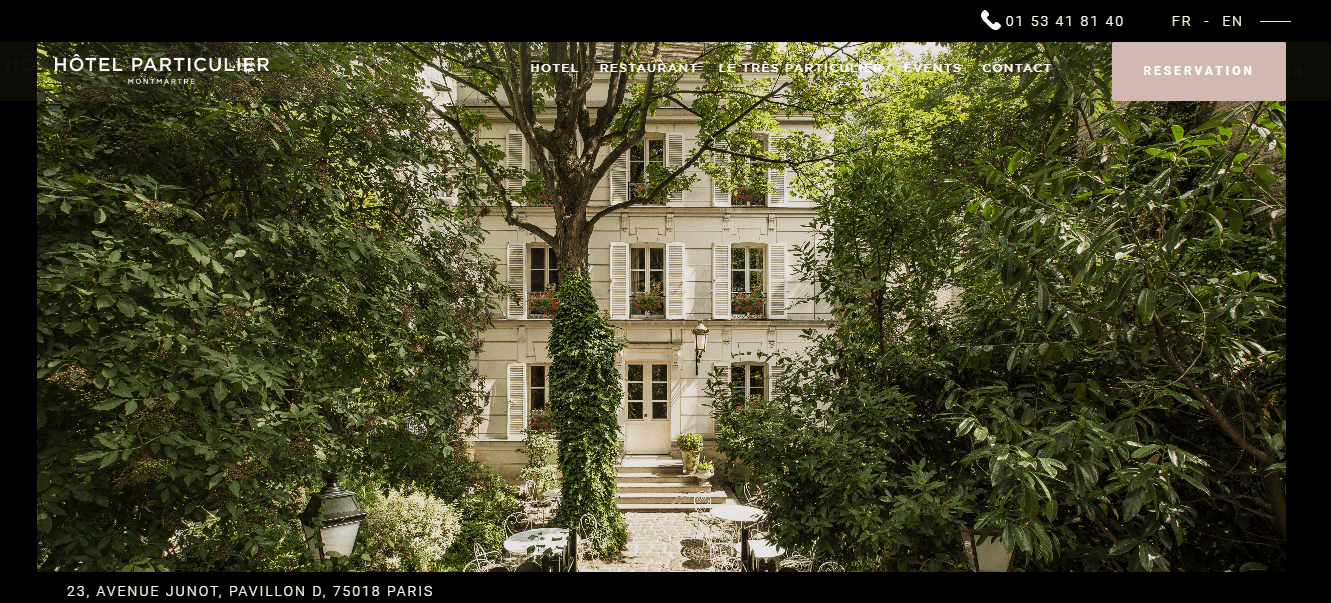 The Hotel Particulier is a charming Parisian hotel and its luxury hotel website design captures the essence of its exclusivity and uniqueness. With its captivating visuals, the site gives off an air of discovery and intrigue. Stunning photos are accompanied by scrolling text and animations that complement the experience. As you navigate through the award winning hotel website, it feels like a seamless journey, with nothing feeling out of place or too overwhelming. Overall, the Hotel Particulier's hospitality website design does an excellent job of showcasing the hotel's personality and inviting guests to come and experience its charm.
3. Casa Angelina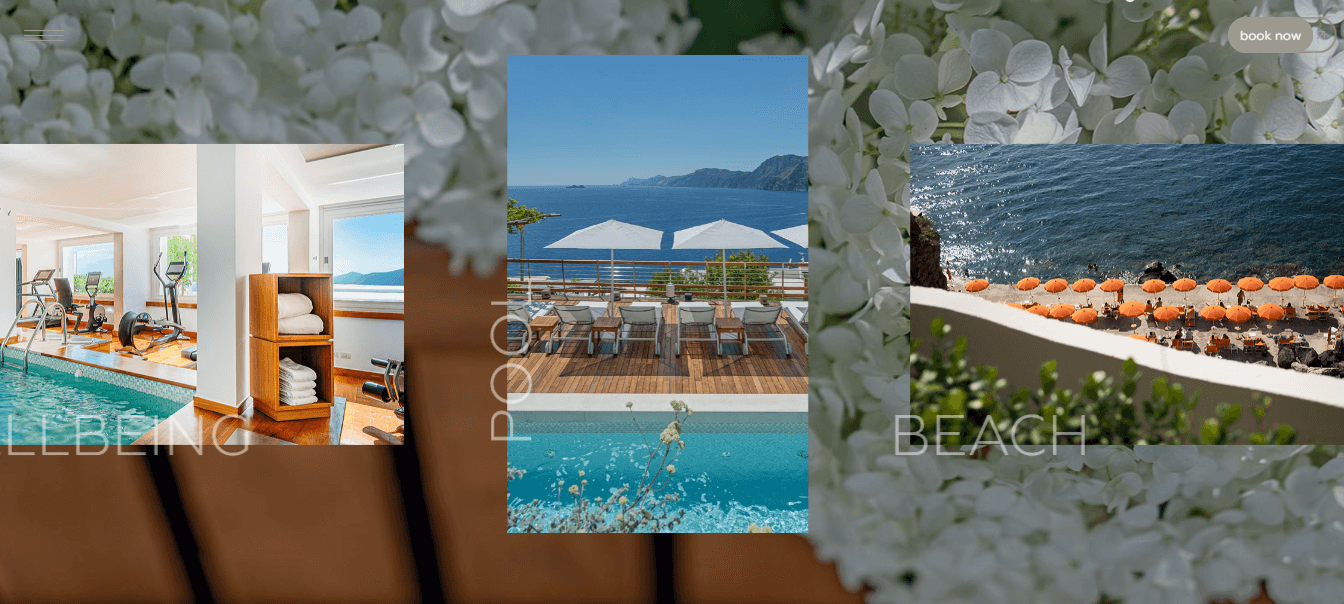 Casa Angelina's hotel web design resembles a magazine cover rather than a typical hotel booking engine, with stunning visuals and a prominent call-to-action that entices visitors to book. Despite deviating from traditional hotel web site design , Casa Angelina's site is intuitive and functional for both desktop and mobile users. The hotel web page consists of a dynamic array of movable pieces that come together to create a visually captivating whole, encouraging users to explore the site further and ultimately book a stay.
4. Vesper Hotel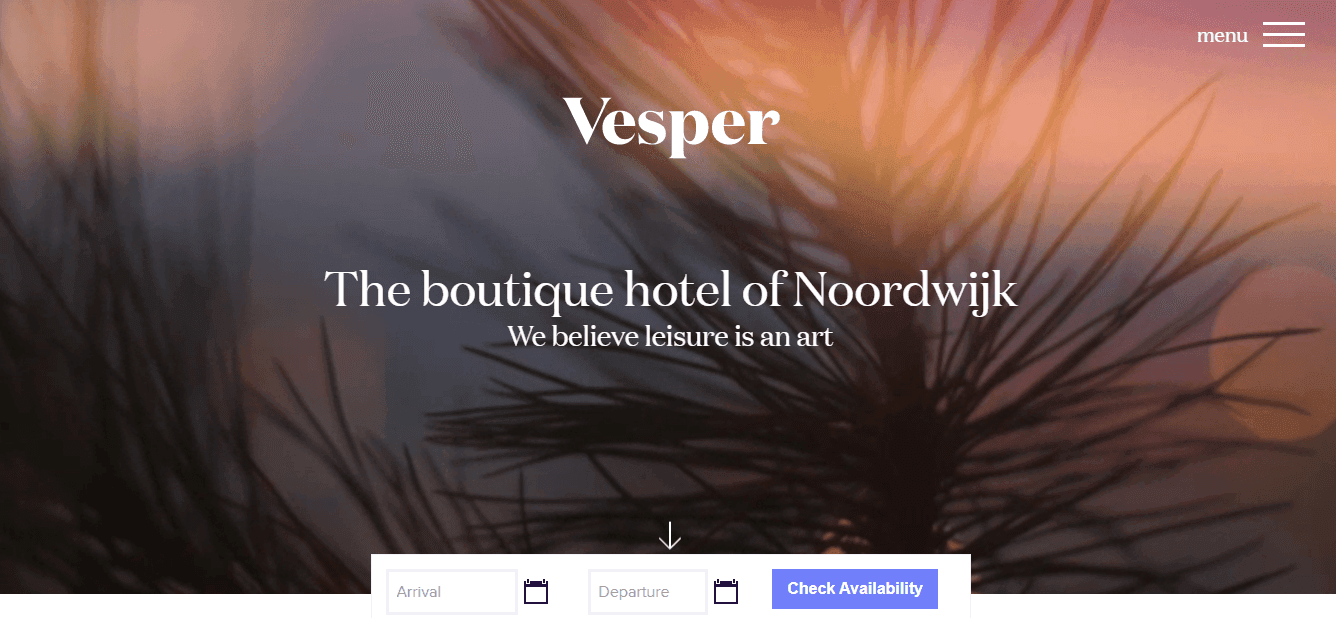 The Vesper hotel web page employs a minimalistic design approach with a cozy color scheme and modern font to create an inviting atmosphere. The use of clean white space and aspirational vacation photos creates a visually appealing experience. Vesper's standout features, such as a 100% rating on TripAdvisor and complimentary breakfast, are prominently displayed alongside colorful images of the hotel's other facilities.
5. Maritime Hotel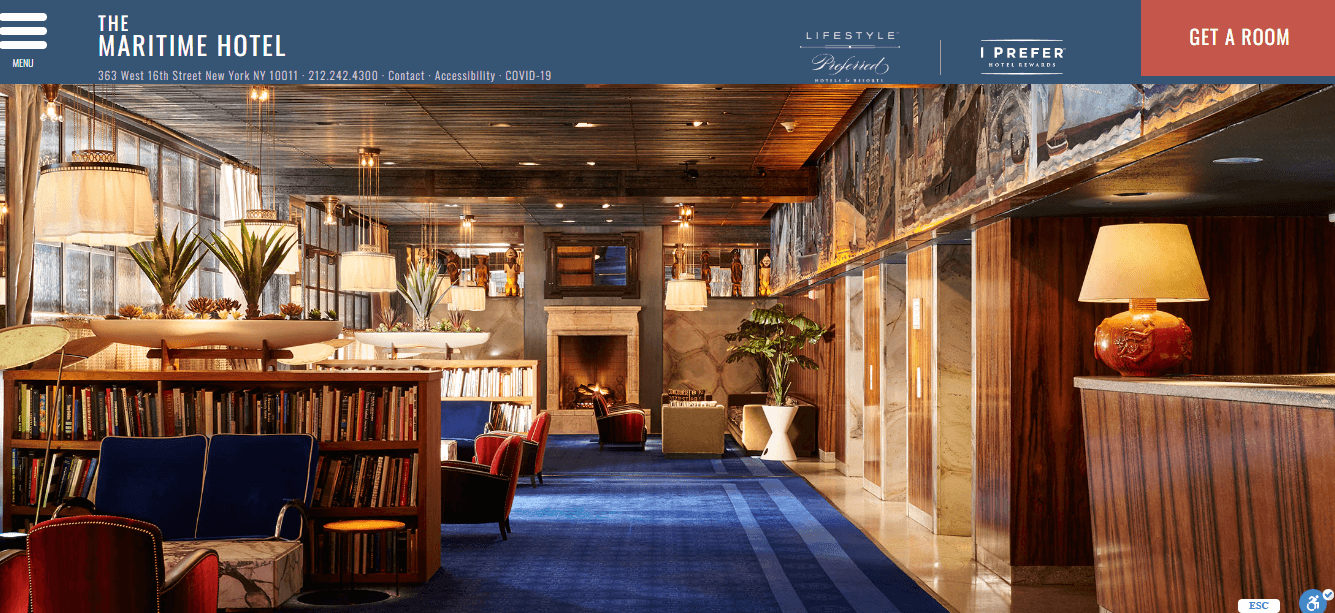 The Maritime hotel web design is a single, uncluttered page that showcases the cozy atmosphere of the hotel lobby. The best hospitality website design is meticulously crafted to keep the user focused on the hotel's offerings, with a prominent "book" button and separate pages for each room type. The menu offers detailed room descriptions along with photo galleries. The hotel web design is sleek and uncomplicated, which emphasizes the hotel's elegance and sophistication.
6. The Drifter Hotel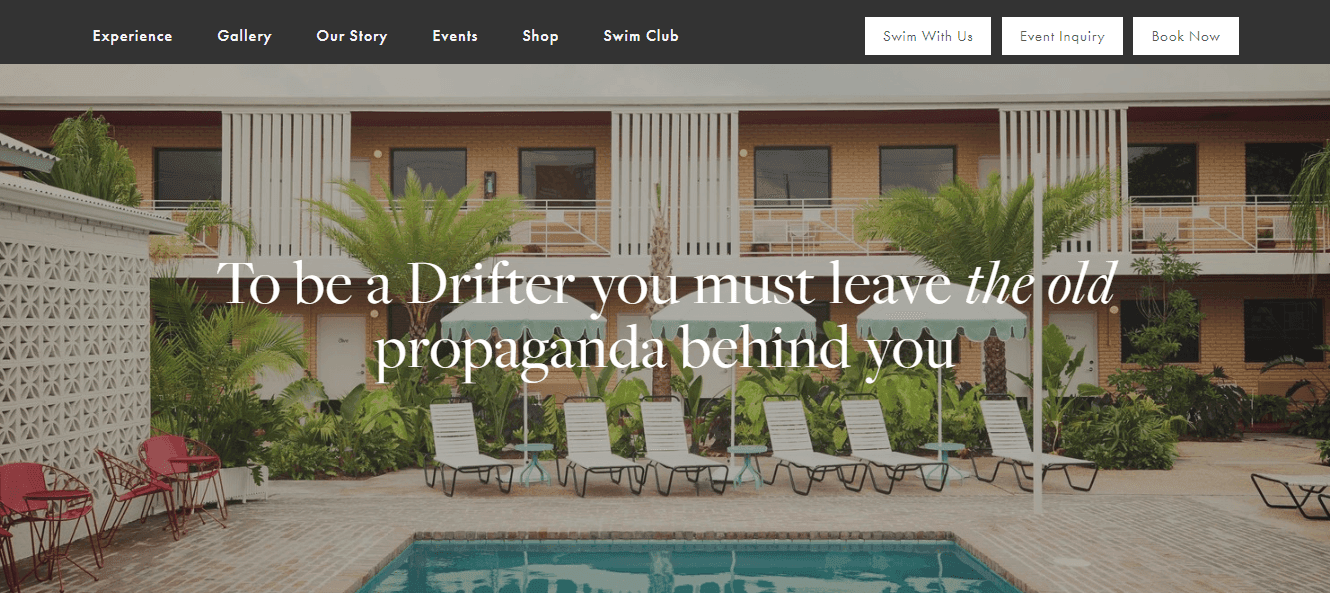 The resort website design of The Drifter Motel in New Orleans, which was renovated to reflect a retro-tropical resort aesthetic, emphasizes the experiential aspect of staying there. Although the rooms are quite minimalistic, the hotel web page showcases the unique scenes at the motel, highlighting what makes a stay there never to be forgotten. Overall, The Amigo Motor Lodge's hotel web design effectively communicates its unique offerings and laid-back, contemporary vibe, making it a popular choice for travelers seeking a one-of-a-kind lodging experience.
7. Amigo Motor Lodge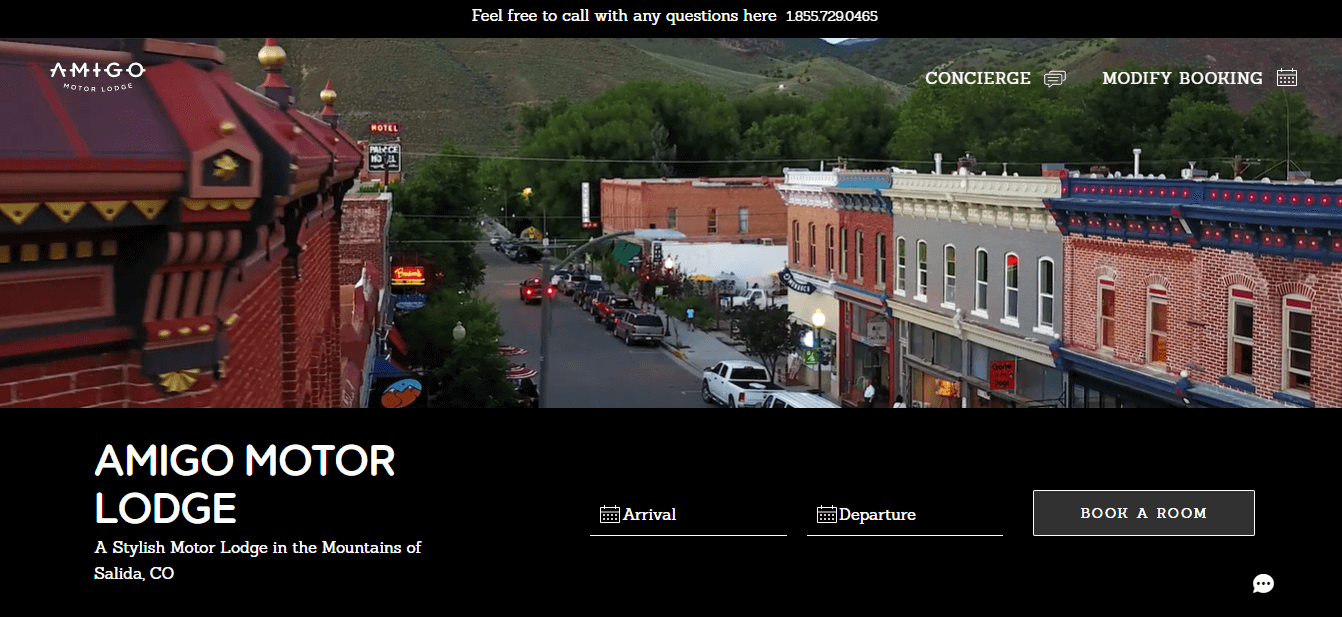 The property is located in Salida, Colorado, and its website showcases a minimalist hotel web design with plenty of white space and clean, modern fonts. The homepage features high-quality photos of the property's amenities, including the Airstreams, hot tub, and teepee, alongside a simple call-to-action button encouraging visitors to book a stay. The hotel web page also includes detailed information about the different room types available, as well as local attractions and activities for guests to enjoy during their stay.
8. Knaibang Chatt Hotel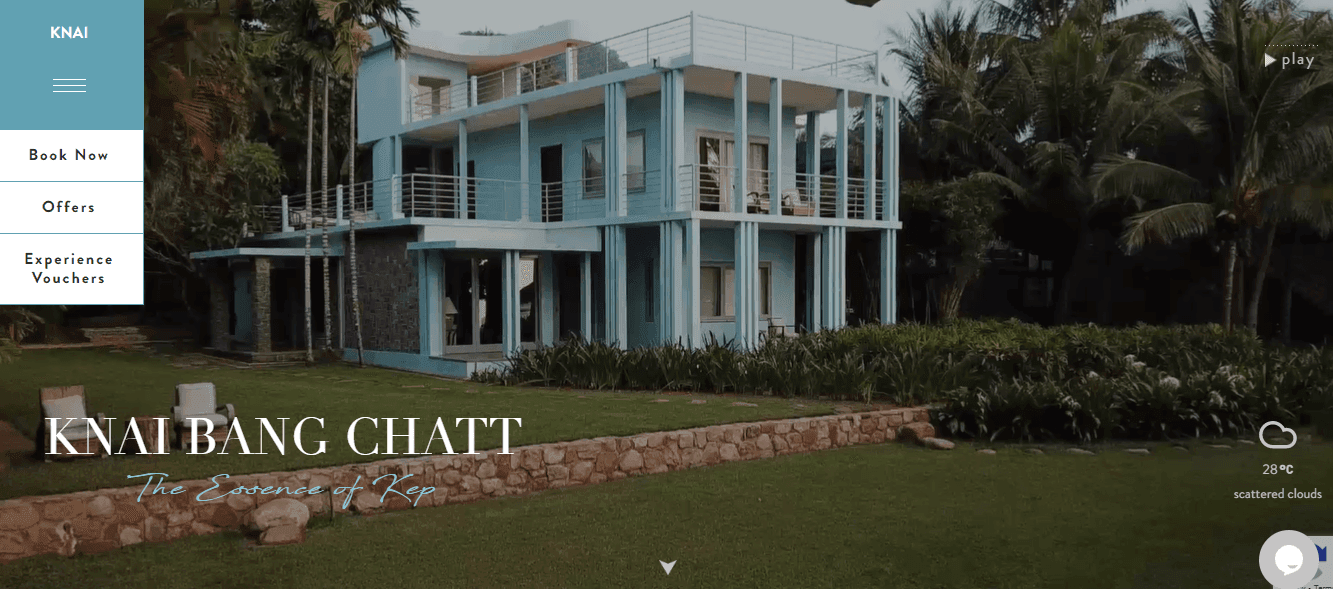 Knaibang Chatt is a luxurious coastal resort that boasts a range of plush rooms, exquisite cuisine, and a stunning infinity pool that provides breathtaking views of the Thailand Gulf. Knaibang Chatt's website design is particularly noteworthy. With their unique and elegant fonts catch the user's eye, creating an instant impression of their services' quality. Furthermore, the hotel's website features a full-screen video that provides comprehensive and convenient information about the hotel, eliminating the need to scroll through the webpage. Overall, Knaibang Chatt has focused on simplicity and convenience, creating a unique website that captivates its visitors and highlights its exceptional services.
9. Tourists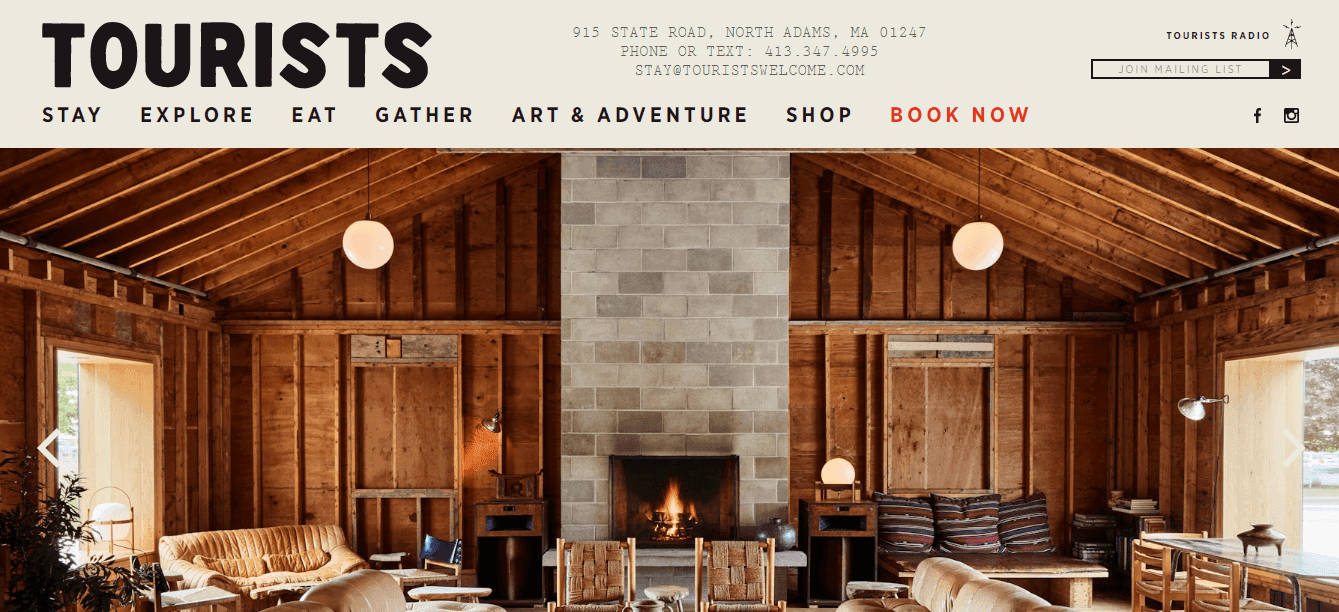 The website for Tourists in North Adams, Massachusetts uses a combination of vintage photos, colorful illustrations, and rustic design elements to create a retro vibe that complements the property's rustic decor. The hotel web design mixes sepia-toned photos with illustrations and vibrant images to create a nostalgic feel. The website is user-friendly and evokes the feel of travel from the past.
10. Adriatic Luxury Hotels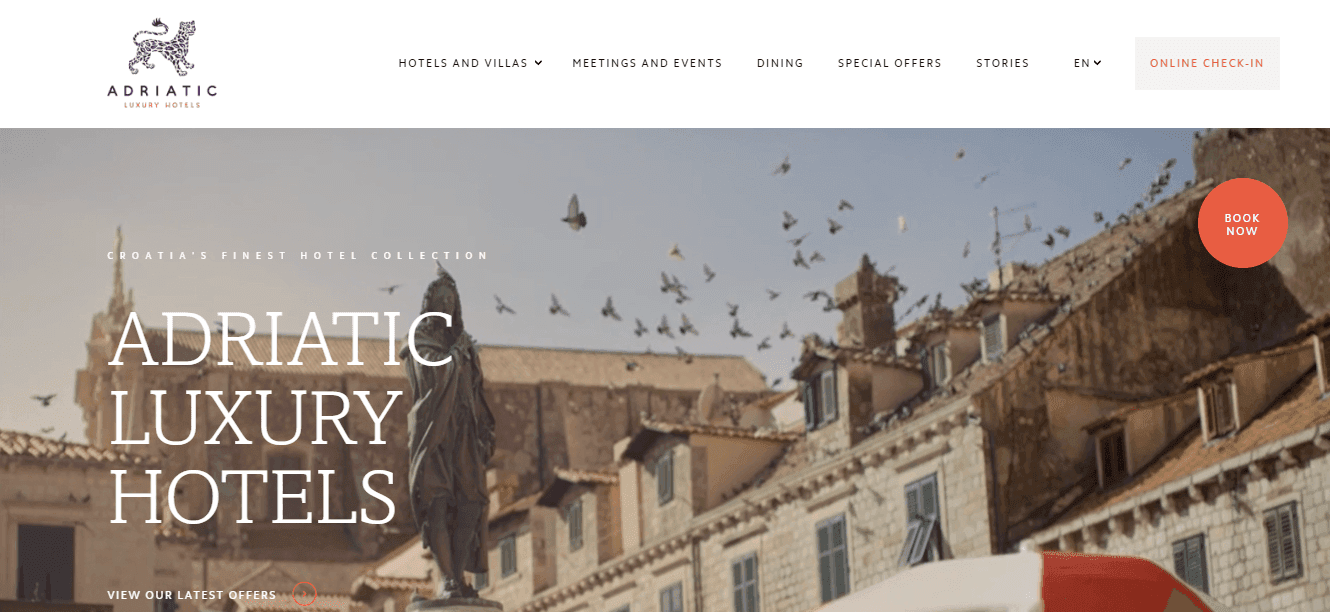 Adriatic Website Design has created a stunning website that truly captures the essence of Dubrovnik city as a desirable destination. The site stands out with its sleek design and unique features, including expertly shot video sequences on the homepage that convey the premium experience of their diverse portfolio of hotels. Every detail of the layout and design has been crafted with care to give the site a polished feel, making it easy for visitors to navigate and engage with. With background music and engaging visuals, Adriatic Website Design has effectively set the tone for an unforgettable experience.
11. Le Mirabeau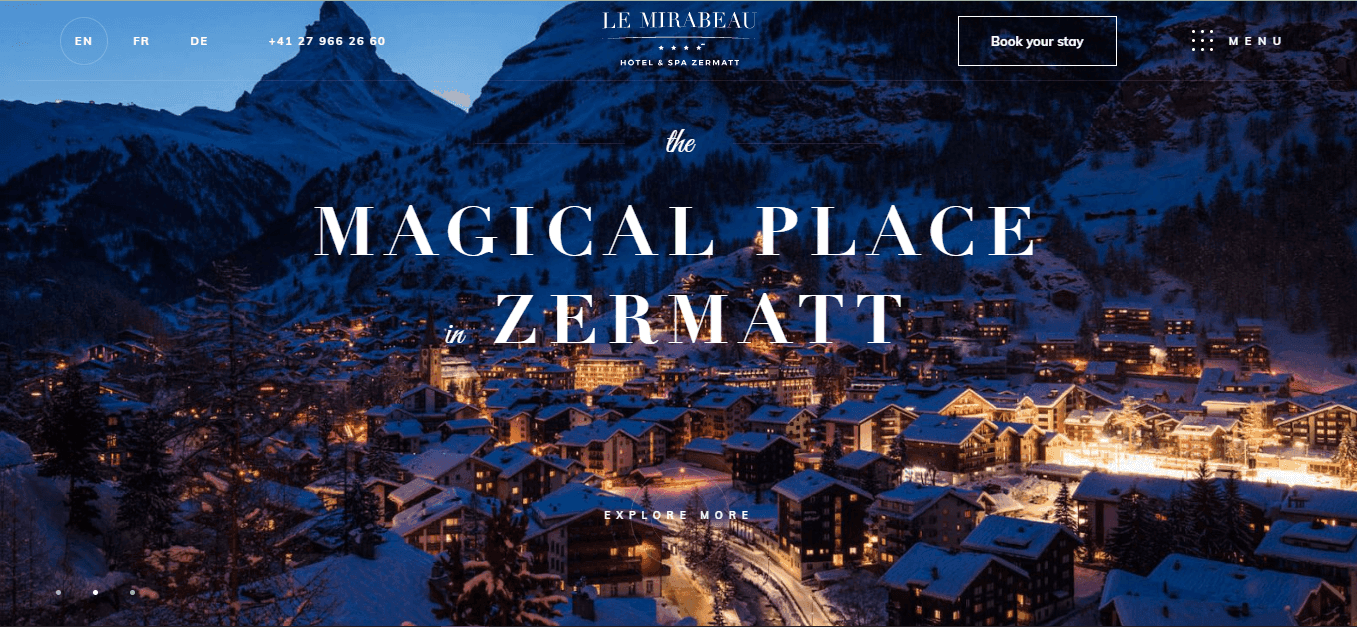 The Le Mirabeau website offers a unique browsing experience that sets it apart from other hotel websites. The cursor on the website is transformed into a spotlight that illuminates the different elements on the page, giving the impression of shining a torch on glassy water at night. This adds a touch of enchantment to hotel web design to further explore the luxurious amenities, including the spa, gourmet restaurant, packages, and rooms, making the browsing experience more engaging and memorable.
12. Samsara Ubud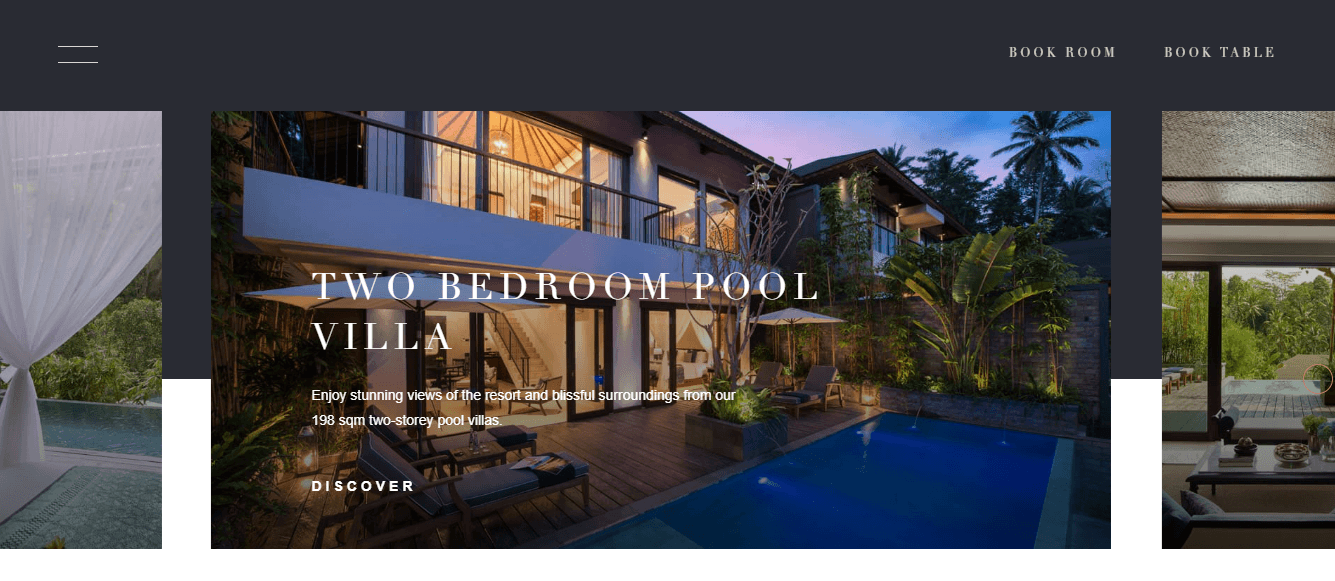 Samsara Ubud's hotel website design effectively captures the essence of the high-end retreat experience that awaits guests in the heart of Bali's stunning natural surroundings. The use of a minimalist circle cursor icon not only adds a touch of elegance to the browsing experience but also encourages visitors to explore the site's beautiful video content, which showcases the property's lush surroundings shot by drone. Overall, the hotel website design succeeds in conveying the tranquil and serene atmosphere of Samsara Ubud, enticing potential guests to book a stay and experience it for themselves.
13. Donkey Bay Inn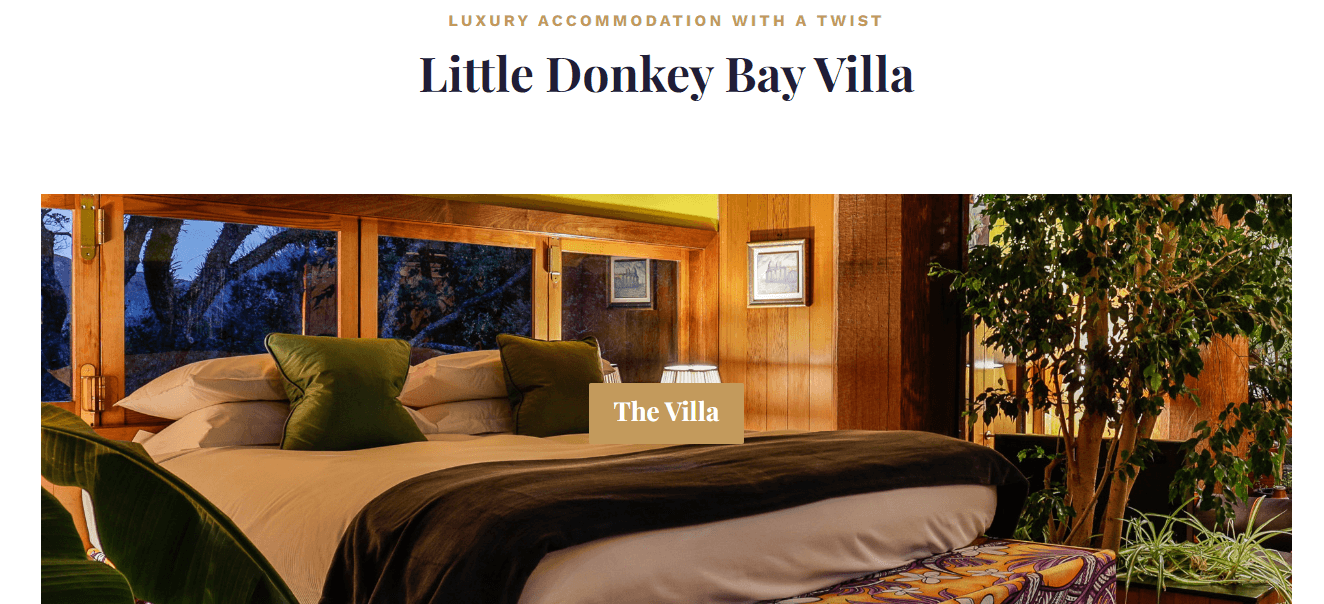 The website of Donkey Bay Inn, one of the award winning hotel websites in New Zealand, features a minimalist sidebar menu that contrasts beautifully with the bright and tropical color scheme of the hotel web design. The best hotel website greets visitors with a video showcasing the property's stunning amenities and views, making it even more enticing to book a stay. The overall design of the website reflects the eclectic and vibrant personality of the hotel.
14. 18 Micon Street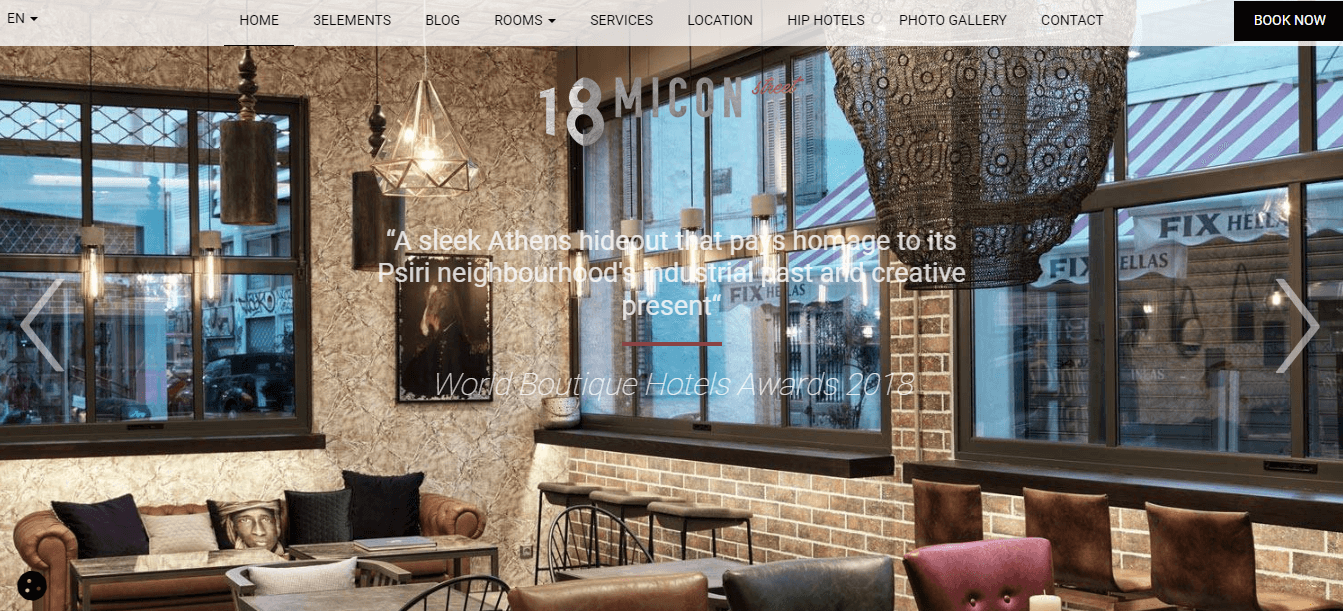 By showcasing reviews from prominent review sites and news outlets, Athens' 18 Micon Street is able to use its hotel webdesign to effectively capture word of mouth and build trust with potential guests. The reviews are paired with photos of the property, creating an impactful visual experience that highlights the unique features of the hotel. This strategy ultimately makes it easier to convert casual browsers into paying customers.
15. LeCrans
LeCrans's website design effectively captures the essence of a luxurious mountain vacation with its warm and inviting design. The site features a top navigation bar with a prominent "Book Now" button, which remains visible as you scroll through the stunning carousel of full-screen photos and videos showcasing the hotel's scenic surroundings. The mesmerizing photos and videos of the LeCrans grounds on the carousel add to the charm of the website. Despite the abundance of visual elements, the website's clean design ensures a seamless user experience without overwhelming the viewer.
Why you should Trust OneClick to Design a Mesmerizing Hotel Website for your Business

Are you looking to boost your hotel business with the best hotel websites design? Look no further than OneClick! Our team of expert designers understands the importance of creating an online presence that captures the essence of your property and entices potential guests.
We specialize in designing best luxury hotel websites for hotels, resorts, and vacation rentals, with a focus on clean, user-friendly layouts and visually striking imagery. Our services go beyond just hotel websites design – we also offer booking systems, reservation management, and marketing services to ensure that your business is able to expand successfully.
Don't settle for a generic hotel web design template – let us create custom, award winning hotel websites that truly showcases the unique features and amenities of your property. Contact us today to get started!
Final Thoughts
To maximize revenue and capture direct sales, having the best hotel website design is essential. The good news is that there are various options available to suit different types of properties, from luxury hotels to hostels. It's up to you to choose the best website builder and hotel website template that fits your business. You can opt for a full DIY approach or seek professional help to build your website.
Remember, the hotel web design is the first point of contact with your guests, so it's essential to create an appealing and user-friendly website that showcases your property's unique selling points. With our best hotel web design services, we offer hotel businesses customized and visually stunning best hotel website designs that not only attract visitors but also provide essential functionalities such as booking systems, reservation management, and marketing services to expand your business successfully.