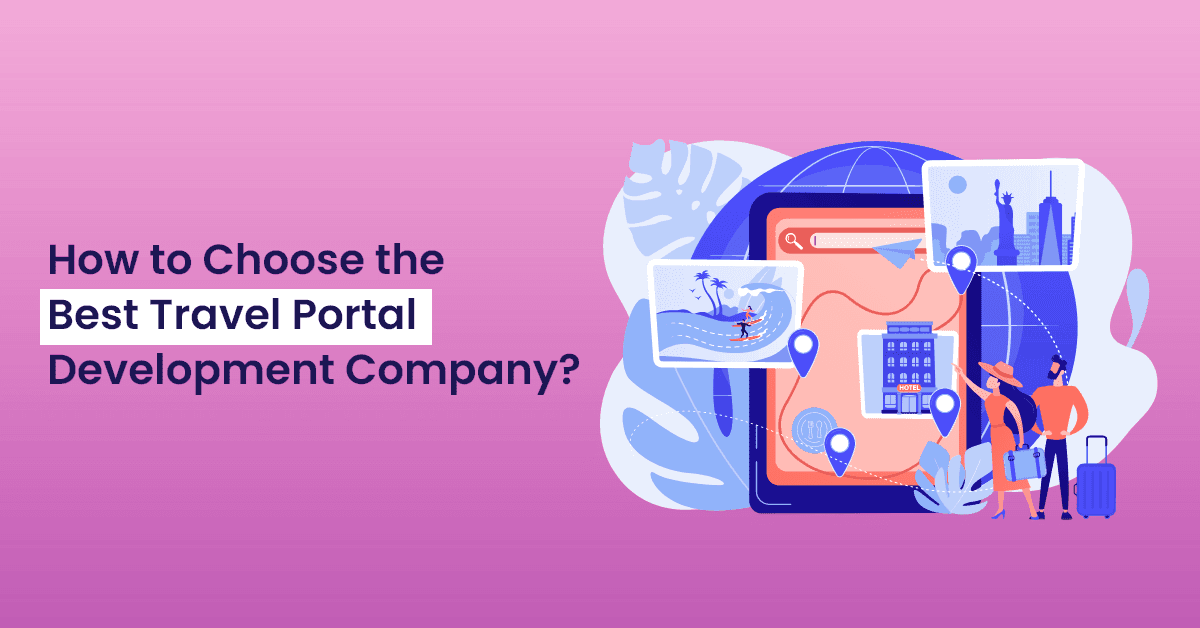 Introduction of Travel Portal Development
Since our earliest years, we have traveled between the Intracity, Intercity, Intrastate, Interstate or foreign countries using one or other means of transport. We also had various processes, not to mention just to get a valid travel ticket. In the past, they were on counters or in the way of a pre-purchase or a journey.
In recent years, however, the whole of the mechanisms used to buy and sell travel tickets have been entirely different.
With the progress of the Internet and digital devices, booking tickets for all kinds of travel requirements has become a piece of cake.
In terms of human behavioural changes, there are drivers of change such as first movers and pioneers in the industry who set examples and urge other industry players to take the path.
Booking, Expedia, and TripAdvisor were the early technology adopters in the OTA space for B2C customers and they have provided masses with value with their initial introduction of the B2C Travel portals.
Given the current state of the travel industry, digital transformation is critical for all travel businesses, large and small, including but not limited to web and mobile booking engines, process automation, and digital marketing.
We've been able to understand and understand the technical implementation of travel companies more quickly, and we have worked with Travel businesses, Travel Management Companies, OTAs, and Tour Operators to provide them with our expertise and knowledge with an enormous background of working in the travel domain.

Here's How to Choose the Best Travel Portal Development Company
1. Secure Time
The assigned task will certainly be completed within the specified time frame by an experienced travel portal development company.
They will never go over the agreed-upon deadline or keep deferring project data delivery.
When you're working on a project as a travel agent and want to take your business online, communicate with the travel portal agency.
A simple travel portal will take no more than two weeks to develop and integrate for an experienced travel agency.
Project development for a more technical website should take no more than one to one and a half months.
2. Effective Project Communication
You will not hire the company to communicate with the best website designer. Instead, communication improves knowledge.
Therefore, you can ask any B2B travel portal development company for a free quote and then enter into a contract for the best.
Do They Work with Infinite Travel Products?
A good travel website development company should have experience working with a wide range of travel products.
A travel portal developer knows the right way to connect the website with Galileo GDS, Amadeus, Mystifly and much more prominent APIs.
3. Bleisure (Business + Leisure) Application
When it comes to travel portal development, an authentic travel portal agency will know how to engage visitors or clients with business and leisure.
The creation of the b2c travel portal always means that the website has features that keep its customers connected to the website.
The website is supposed to be informed by engaging blogs and articles in which travellers or someone planning the next trip can read or get to know the tourist attractions of your portal and plan their next visit.
All of these characteristics will certainly be included in a travel portal by a qualified travel portals company, which will not only simplify the travel booking process but also attract many travel enthusiasts or somebody planning to travel.
4. Global Recognition
Global ATP or XML suppliers will very definitely have partnerships with any company that produces travel portals.
Any travel portal that integrates with ATP receives universal credentials as well as the opportunity to grow its business and generate more sales.
Amadeus, Room XML, Travelport, and other companies are among the companies that use this Global API Integration software.
5. Design the Travel Gateway to Your Needs
As a travel agency, you can book hotels or your company is all about transportation, or perhaps you are a guide to tourism.
Therefore, your services should all be emphasised on your website. Choose a company that can simply interpret and meets your requirements.
6. Payment Gateway Integrations
Every trustworthy travel agency uses a secure payment portal.
With the support of protected payments on the travel portal, more and more travellers will be inspired to use your services because they are confident about the misuse of information.
Paypal, 2 checkouts, Wepay, BlueSnap, American Express, Authorize.Net and more gateway payment fees are available.
7. Budget
The more complex the feature of your portal is, the more you have to pay, the more budget will always play an important role.
Therefore, ensure that the development costs of travel portals are clarified before shaking hands with a company specialised in travel portal solutions.
Another key is to keep a close eye on the website's features.
It is critical to conduct research in order to understand market rates. The provision of a specific budget is a sign of expertise and professionalism.
8. Using Appropriate Keywords and Content
Any travel website must have appealing content as well as a wealth of tour-related information.
Any travel portal development company with expertise will offer you the correct on-site methods for increased visibility regarding top search engines and for organic sales.
9. Take a Look at Their Portfolios
The greatest travel technology companies will almost certainly have a portfolio of their work. As a result, it's up to you to look at their portfolio, the technologies they've utilised, and their work history.
You Can Always Talk to them About your Project
The company does not imply that you have chosen to collaborate with the best Travel websites.
Contact yourself. It makes knowledge better rather than communicating.
Therefore, ask B2B development companies for free quotes and then conclude the contract with the best of them.

Why Choose Us As the Best Travel Portal Development Company?
We OneClick develop Web sites for customers, based on their demands, being a B2B and B2C travel portal development company and also offer top-notch managed IT services for your needs.Our booking software is simple to use and has the most advanced features. A striking call for actions, personalised search filters, live chats, multiple and secured payment gates, etc. For any of your travel portal development needs, contact us or request a free estimate!