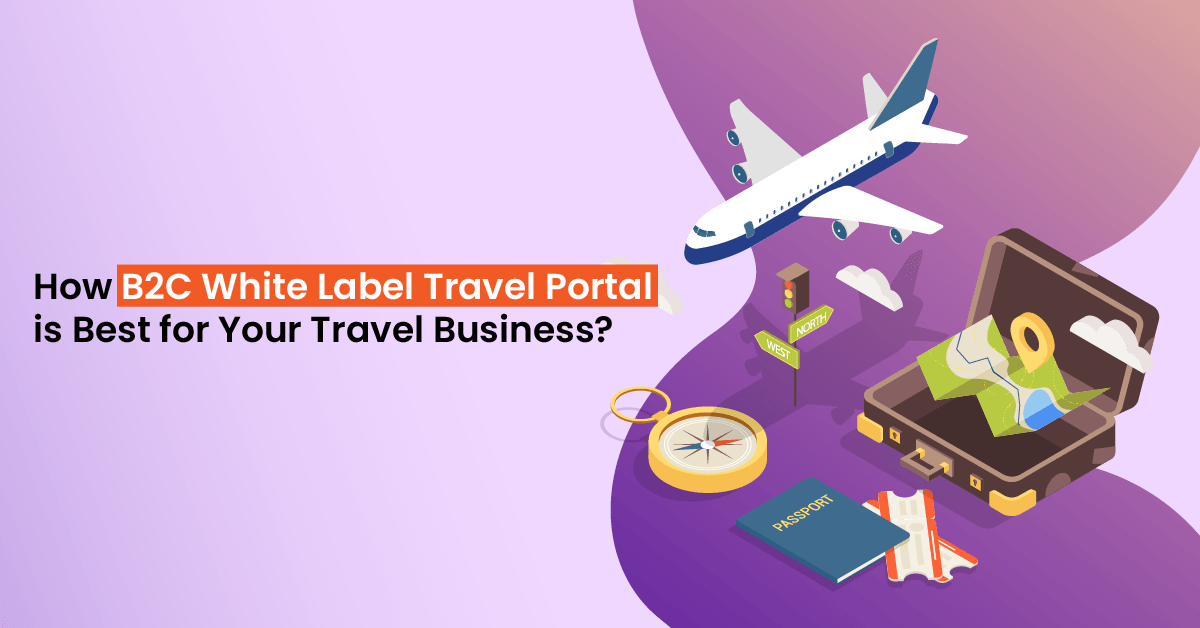 Introduction of B2C White Label Travel Portal
If you work in the travel, airline, or hotel sector, you're probably familiar with B2C white label travel portals.
The B2C white label travel portal, which is widely recognized as one of the best in the industry, has long been favored by travel agencies.
B2C stands for business to consumer, and its significance is self-explaining.
It aims to deliver items or services directly to customers, bridging the gap and allowing for improved connection between the seller and the customer.
The B2C travel portal is one example. This portal has aided the growth of the travel industry by providing users with features that they had never seen or used before.
B2C travel portal is a booking platform that has proven to be a boon to people in the travel sector.
It's essentially a travel booking gateway that lets travel businesses sell tour packages, hotels, plane tickets, transportation, and a variety of other travel items and services.
It has not only eased the strain of looking for these flights, hotels, and transportation services on their websites or having to contact them for every reservation made through travel agents, but it has also established new business avenues by upgrading the market's infrastructure as a whole.
While integrating a B2C white label travel portal with your business is a piece of cake for a travel agency, it can be a time and money drain.

While it is impossible to combine the B2C travel engine on one's own because it is a skilled activity that requires specialists, having it done by experts can be costly.
Many organizations offer these services, but they are either too expensive or do not include all of the features that the user desires.
OneClick IT Consultancy comes into play in this situation.
The OneClick Travel Portal solution integrates the white label travel portal seamlessly into your website, making it appear as if it were a travel portal.
It would enable your website to function as a professional travel gateway, complete with all of the services you need to provide your consumers, such as flights, hotels, and transportation.
We give excellent travel portal integration with your website because this will help your business grow quickly.
Not only is OneClick IT Consultancy a white-label gateway, but it's also a site where you can get answers to all of your travel technology questions.
We can assist you with both B2C and online travel agency software integration.
OneClick travel portal solutions have assisted over 2,000 customers with their travel technology needs, resulting in increased sales, more customers, and, ultimately, increased revenue.
It is an all-in-one solution that brings your B2C business online and expands its reach. Let's have a look at how it functions.
1. Flight Booking System
White-label Flight Booking System is an online airline booking system that increases revenue while making it easier to book online flight tickets for particular seats on various planes.
2. Hotel Booking System
White-label The Hotel Booking System is the comprehensive Hotel Booking Software Solution for a tour operators and hotel chains supplied by a hotel reservation system to collect hotel inventory from multiple sources to present the best price including channel managers and direct contracts for their customers.
A Wide Range of Services
Customers consider more than just price when making a reservation.
The construction of a travel portal gives a superior and personalized consumer experience.
Customers can be assisted throughout their travel, not just between departure and booking, but also during their stay.
To put it as simply as possible, to attract visitors to your site, you must supply them with what they desire or want, which is why you must transform your site into a useful travel resource.
1. Restaurant Booking System
White-label Restaurant Booking System is a restaurant reservation system that manages restaurant availability, and reservations, customizes the booking process, and allows a customer to book a table and receive lunch and dinner service.
2. Activities Booking System
The White Label Activities Booking System is an Activity Booking System that gives tour operators detailed schedules which help to coordinate the activity and guest feedback with the clients to improve the quality of their experiences and to improve bookings.
3. Aggregates and Distributes Travel Data
A web development firm can tailor a B2C Travel Software ERP solution to your specific needs.
Simply said, a travel website's advantage is all about establishing and enhancing business relationships for better flights, transfers, hotels, sightseeing, and package modules.
A B2C booking engine also collects and distributes flight, hotel, vehicle, and package information to global B2C clients so that they may quickly book their needs online.
4. Transfer Booking System
White-label Transfer Booking System (WBS) is an online transfer booking system that easily integrates XML transfer or transfers an API to manage transactions in real-time and allows travel agencies or drivers to verify assignment, vehicle details, and real-time operations with the whole customer reservation Transfer operations process.
5. Package Booking System
Our online package booking engine offers a simple and straightforward reservation process that involves no effort.
Our solution is designed to run on PCs, laptops, smartphones, and tablets.
The reservation package engine allows you to combine many holiday properties such as flights/hotels/cars/transfers/excursions.
6. Interactivity
Any B2C White label travel portal assists you in taking advantage of behaviors that are deeply ingrained in today's culture.
Travelers have a propensity of posting their thoughts and impressions on the internet. Consider the concept of interactivity.
If your customers express themselves online, you can encourage them to do so for the benefit of your company.
You may easily add an easy contact form, some room for testimonials, and a forum for recording consumer feedback on your website.
Around 80% of travelers spend 4 weeks or more on the TripAdvisor website reading other visitors' reviews and researching destinations.

Conclusion
To have comprehensive and robust B2C White Label travel portal development services, it is necessary to find the best travel booking engine Development Company.
OneClick specializes in developing ticket booking software for small and large businesses.
We can assist you with a custom-made solution or an important B2B travel portal by providing services that meet all of your needs.