What is a Travel Search Engine?
Get the best option for developing the Travel search engines that assist you in finding information about travel and destinations.
Travel engines give consumers more choices by showing travel possibilities and directing them to suppliers' and online travel agencies' websites and applications to book their trips.
Every startup's approach to launching a travel search engine website is unique, depending on its business strategies and objectives. The overall procedure entails creating the website before deciding on the sort of integration to implement, which is determined by money, license, or access, as well as the stage of development.
As a result, OneClick IT Consultancy provides a world-class solution for building Travel search engines that assist you in finding information about travel and destinations.
From every angle, tourism is a profitable industry. As a human, you most likely love going on excursions and viewing sights. As a digital entrepreneur, you may have pondered creating your own travel booking service. And you're not wrong with such a business concept.

Statistics of Travel Search Engine
Global travel, according to statistics, is a rapidly rising sector. As the security of online payments increases, customers are booking more and more online each year. According to the eMarketer research firm, global digital travel sales in 2018 are expected to be around $694.41 billion. Global revenue is expected to reach $755.94 billion this year.
It's a promising industry, but it's not uniform. As a result, you might want to concentrate on a specific segment.
Features of Travel Search Engine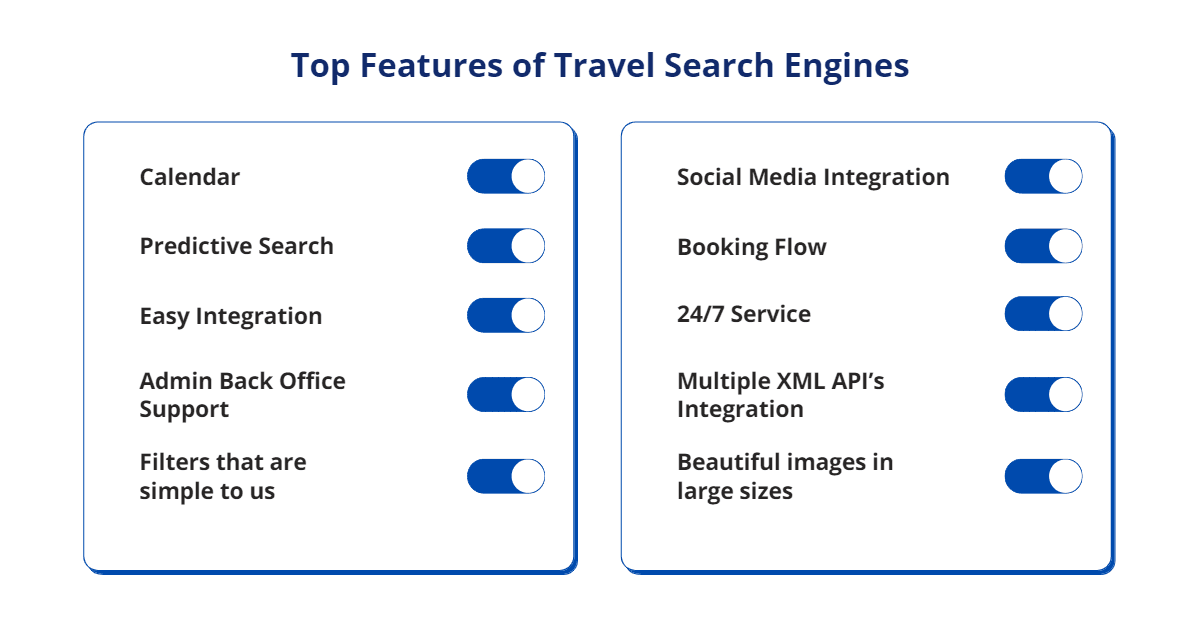 How To Build A Travel Search Engine?
Step 1: Pick a niche (Start with a Defined Niche Then Work Broad)
You'll need to know your direction and vision before you start building your website. You can utilize your authority on a certain sub-subject of travel to expand outwards on the overall topic of travel.
Begin by defining your target audience or consumers. If you're seeking untapped niches, you can use Google Trends to come up with ideas.
By building a travel website, you can target specific places that are thriving for tourism, such as New York, or communities that have undergone economic booms.
This is a fantastic method to profit from increased consumer demand.
Step 2: Choose a Platform
Now for some technical information. We're going to keep things simple.
Here's a simple way to think about what technologies you should use to develop your website:

For a Front-end, you can choose Angular7+, React, Vue, or simple HTML with PHP,
For a Back-end, you can choose Node.js (Next.js), PHP, ElectronJS
From the above languages, you can build a proper platform for your Travel Search Engine.
Step 3: Find Hosting
Unless you're developing software, hosting should be simple.
You'll need fast server speeds if you're building a SaaS product.
You'll probably have a lot of data and information streaming in real-time.
It's better to give this responsibility to a genuine IT company.
Step 4: Content creation
Whatever path you choose, you should begin producing content as soon as possible.
How will you sell your software if you are a SaaS product? You'll need useful content and pages that explain how to use your tool.
Content Is a King. It has to do with how people perceive and react to products.
When it comes to blogging, consider how you may use SEO to target low-competition keywords and get continuous organic traffic.
Step 5: Find Help
You can't accomplish everything by yourself. It would be insane to believe you could. It's also completely implausible.
Finding better people or a company to help you build your business is the greatest way to go.
It may sound tense and angry, but it is accurate.

Step 6: Make Money & Get Better
I appreciate the concept of knowing what/how you're going to monetize straight away, but not being fully optimized for it until later.
This allows you to fine-tune and improve your work as you go.
If you know you wish to monetize your site through monetizing your user base, for example. So, think about how you'll boost email conversions by creating content all over the place.
For the time being, that is your only goal.
You can turn on a switch of premium content or a freemium SaaS solution once you've reached a substantial scale with emails.
Why Choose Us As a Best Travel Search Engine Development Company?
OneClick improves your website and offers a user-friendly mobile experience with rapid detection and confirmation.
OneClick's multi-language feature allows the administrator to create a website that can be viewed in multiple languages.
OneClick allows the listing of customized travel deals and holiday packages, as well as the acceptance of payments online by tour operators. We assist in managing the vast and diverse world of package tour deals.
Details about your trip, such as the hotel's name and address. Fares, plan locations, arrival and departure points, and so forth can all be easily integrated into the website.
Conclusion
We've gone over a few different techniques to build a travel search engine.
You can now weigh the benefits and drawbacks of each option and make your decision.
Whether you plan to do the development yourself, hire a freelancer, or employ a web development agency, it's never too late to seek professional guidance on your project's MVP, functions, features, and sales funnel.