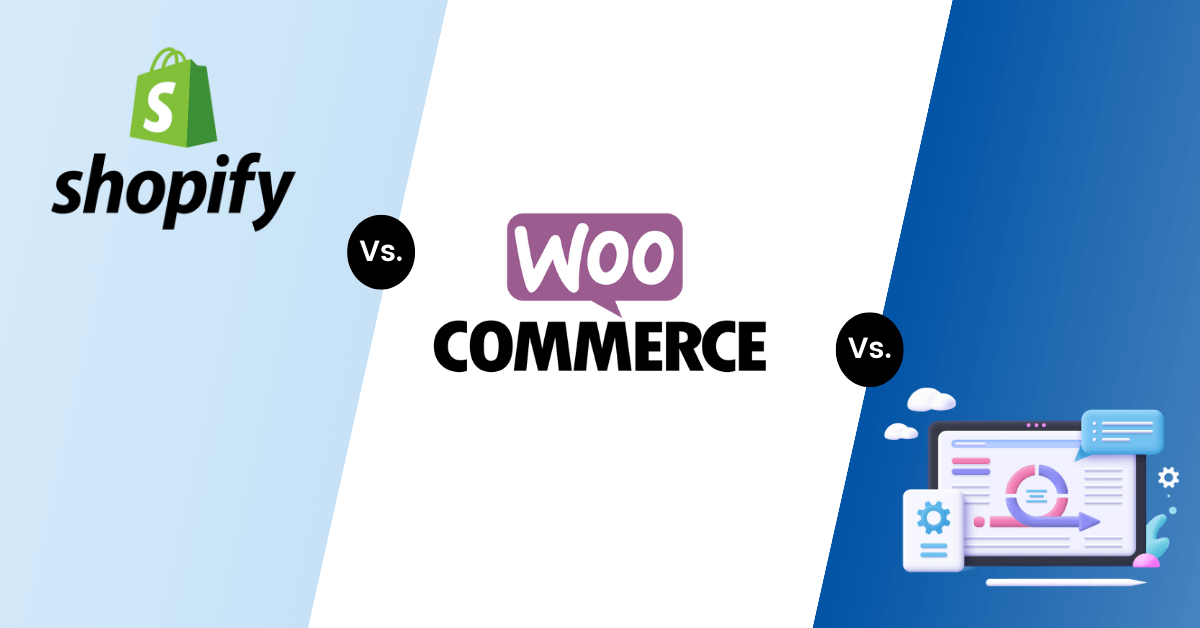 Introduction of eCommerce Platforms
WooCommerce and Shopify are popular eCommerce platforms as well as grabbed huge attention in the market. But, still, sometimes you might find yourself in need of an alternative solution. Many users prefer to opt for the custom storefronts, often because they don't have access to one of the three platforms discussed here or have unique project requirements that don't lend themselves well to one of these platforms. In this article, we compare WooCommerce vs Shopify vs Custom – so you can decide which option will work best for your needs and budget.
Before going ahead, let us have a brief about these three platforms –
What is Shopify?
Shopify is a leading eCommerce platform that offers a variety of tools and services to build, run, and grow your eCommerce business. With their customizable eCommerce platform, you can easily build an online store that looks professional and works perfectly on any device

What is WooCommerce?
WooCommerce is an open-source eCommerce plugin that can be used to power your own store. It's designed to be as flexible and user-friendly as possible so that you can easily set up an online shop, without having to deal with complex coding issues.
Rather than requiring developers and designers to create a fully functional eCommerce site from scratch, WooCommerce allows you to build on its functionality and customize it according to your needs.
What is a Custom eCommerce Platform?
Custom eCommerce development is an eCommerce development process where businesses engage eCommerce developers to develop custom software that's designed specifically for their business needs. With a custom platform, you can build your own eCommerce store from scratch and design it exactly how you want. It's a fantastic option if you have highly specific requirements.
Now, for in-depth understanding, know the major benefits of three of them.
Benefits Of Choosing Shopify For eCommerce

1. Easy to Set up & Use
Shopify's eCommerce platform offers a high level of customization and development with an easy-to-use interface. This means that you can spend more time doing what you love—making sales! It's also known as one of the most secure platforms in existence, which puts your mind at ease.
If you don't have programming experience, or if you just want to avoid it altogether, then Shopify is ideal for you.
2. Customizable
Shopify offers both eCommerce software and a platform for launching an online store with features like social media integration, mobile support, and integrations with other services. Shopify can be used with a custom domain name or Shopify's own domain names.
This platform is great if you already have marketing strategies in place because it's easy to set up and customize your website. It also includes a wide range of marketing tools that users can use free of charge.
Shopify Development involves creating and customizing online stores using Shopify's platform and its many features.
3. Secure & Reliable
Unlike other eCommerce platforms, Shopify is constantly being upgraded to ensure it's secure. They have a dedicated security team who are always working on protecting your information. The platform also allows you to accept payments online and via the app, so you don't have to worry about security when using it.
Benefits of Choosing WooCommerce For eCommerce

1. Full Control of your Data
WooCommerce takes a little more time to set up than other platforms, but it gives you full control of your data and site. Because it's self-hosted, you own all of your site's code, allowing you to make changes or implement new features as needed. Another pro of WooCommerce is its vast ecosystem of developers and extensions.
2. Fast Loading Speed
All platforms can easily be integrated with hosting providers that specialize in speedy sites, but WooCommerce offers faster loading speeds than both of its competitors. With custom caching rules and pages optimized to load quickly, you'll have a reliable platform that doesn't hold you back. Make sure to use WooCommerce with a powerful hosting service.
3. Free WordPress Plugin
WooCommerce, in particular, is one of our favorite WordPress plugins. WooCommerce eCommerce solution plugin offers numerous features and benefits; it comes with built-in support for payments (via PayPal), shipping options, product variations, and much more. It also provides a robust interface that lets you edit products without having to leave your dashboard or log into another area of your site.
Benefits of Choosing Custom eCommerce Development

1. Highly customizable
Flexibility, scalability, and functionality are just a few of its benefits. A custom eCommerce development platform allows you to be as unique as your products; you can tailor it to exactly what you need. It's also much more scalable than its competitors.
If your company grows or if you offer multiple products, making adjustments to your eCommerce platform is easy with custom development.
2. Increased Conversions & Profits
With a customized eCommerce development, approach developers develop the powerful stores as per their preference. It allows for the design of the website as per the business needs and excludes all limitations. Moreover, custom eCommerce development ensures increased conversions as well as profit margins.
3. Improved user experience
With a custom platform, you can choose how your eCommerce website will look. You'll also have more control over how it functions and what features are offered. One of these custom solutions might be right for you if your company relies on specific functionality that would be difficult to integrate with an off-the-shelf option, or if you want to take advantage of other marketing opportunities.
It's time to compare three platforms that will give you a clear understanding, here we have chosen the important points to focus on.
WooCommerce vs Shopify vs Custom: Which is the Best for You?

1. Ease of Use
Both WooCommerce and Shopify offer easy-to-use eCommerce platforms, making them popular choices for new businesses. However, there are pros and cons to each platform that make one better suited than the other depending on your circumstances.
The primary benefit of Shopify is its ease of use, with both customers and non-technical store owners alike able to create stunning online stores without any prior knowledge of web design or coding.
Apart from this, it comes with a drag and drops feature but when it is compared with WooCommerce, so it doesn't support the drag and drop functionality. Moreover, with Woocoommerce more managed hands are required which makes this platform little bit difficult to use for the users as compared to Shopify.
Now, when we compare both these platforms with Custom eCommerce development, so it is fully customized and developers. It depends on the technologies that developers prefer to opt for as per the project need and skills and expertise.
2. Support Options
three of these platforms offer extensive support options. But WooCommerce and Shopify are very similar in that they both offer email, video, phone, live chat, and even discussion boards.
But Shopify was offering for a long but WooCommerce has improved now a lot while witnessing the demand obviously, consultants who are managing clients have less experience than the Shopify team which might take some time to resolve.
Both WooCommerce and Shopify offer VIP support packages as well as a large number of free tutorials on their websites to help you get started with your storefronts.
However, with a custom eCommerce approach, it all depends on the partner that you choose and how they offer the services and it all varies from company to company.
3. Security
Security is a major concern and when it comes to security then Shopify offers high security to its users.
It offers Secure Sockets Layer (SSL). It is popular as a standard security technology for establishing an encrypted link between a server and a client. This technology is usually a web server (website) and a browser.
In other words, it keeps the information secure between you and your customers only.
SSL prevents eavesdropping on your customer's personal information during online transactions. SSL is an industry-standard protocol that adds an additional layer of security to sensitive online transactions on any website where users log in or enter credit card information.
But when it comes to WooCommerce, then users have to manage the security as it is mainly a self-hosted platform. Developers have to opt for third-party plugins and have to manage and update accordingly.
Lastly, when you compare it with custom online store development then again the custom developers have to follow the latest security trends and patterns as per the current market scenario.
Programmers have to follow strict security measures that include strong passwords, timely updations, scanning of changed files, and preventing platforms with different vulnerabilities.

Conclusion
If you are trying to decide between WooCommerce, Shopify, or a custom eCommerce platform, then there are a few things to consider. First, see what your needs are and whether they align with Shopify or Woo-commerce platforms. If they do not match perfectly, then it's worth looking into developing a custom eCommerce platform in which you can opt for platforms such as Magento that fulfill all of your needs and desires. Choosing one of these three platforms can be difficult but choose wisely as per project requirements.