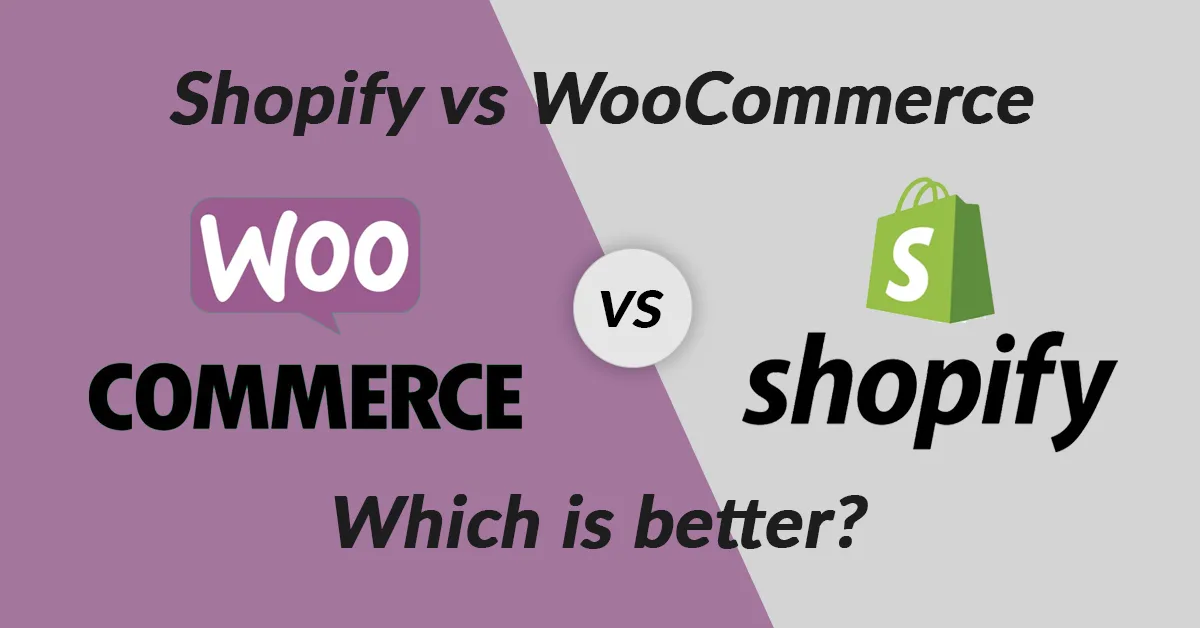 Ecommerce platform development solutions have multiplied in recent years, which makes the choice sometimes difficult for businesses. At OneClick, we had the opportunity to test most of the software currently on the market. Read on to know about Shopify vs WooCommerce Platform Comparison.
In our opinion, two solutions stand out: Shopify and WooCommerce. It should be noted that these are two fairly different solutions: Shopify is proprietary software that offers several subscription formulas (with commissions) while WooCommerce is a free WordPress plugin (an extension).
To help you make your choice, we offer an eCommerce platform comparison, followed by a detailed analysis of each platform.
Shopify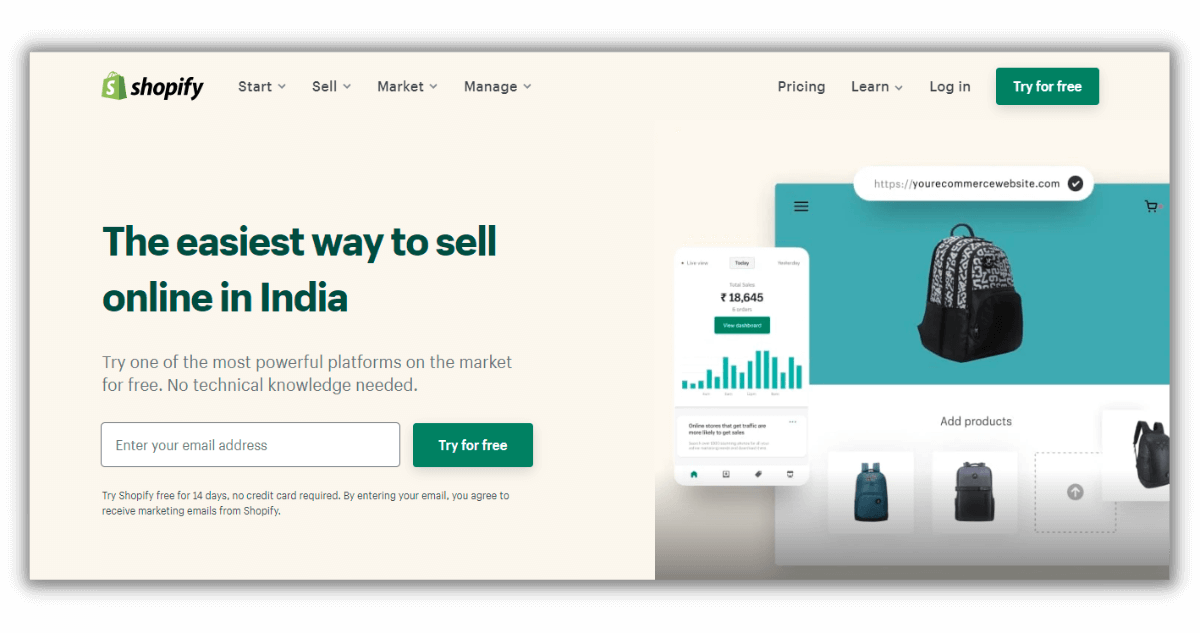 Shopify was created in 2004. The software, of Canadian origin, now has just over 800,000 users and has been the subject of many important updates since its launch. Shopify is a paid proprietary solution (monthly subscription + sales commission). Shopify is both very comprehensive and very easy to use, making it a benchmark in e-commerce today. Its functional richness is one of the reasons for its success.
Features of Shopify
This eCommerce platform comparison highlights that both Shopify and WooCommerce are easy to use. But this is particularly the case for Shopify which does not have this complex software image that sticks to open source solutions. The template store is very rich and has more than dozens of free themes and even more paid themes. The quality of the themes is really impressive and these can be personalized and exist in different color variants.
We provide expert Shopify development services to help businesses build scalable and high-performing e-commerce websites.
The editor of pages and product sheets is very simple. The interface, unlike most proprietary solutions, does not drag and drop but resembles the interface of WordPress and Prestashop. The possibilities in terms of content creation are quite limited. If you want to mix an eCommerce part and a blog part on your site, we advise you to choose another software.
Shopify focuses on the essentials, namely the creation of product sheets, the organization of the catalog, the management of means of payment, orders, delivery, and customers. And on all these points, there is not much to complain about.

All the major e-commerce features such as automatic updating of the catalog, inventory management, declination of items, creation of a customer profile, discount codes, and the possibility of creating a newsletter – all these make Shopify one of the best eCommerce platforms for your online store.
Shopify offers a wide variety of payment methods and allows you to configure and manage the entire delivery part very efficiently. Also note, that this is a real plus of Shopify, the ability to customize the templates and content of your automatic emails (confirmation emails for example). So that you can install new features on your store, Shopify offers you a pretty impressive App Store, including more than 500 applications, of which many are free.
Offers & Prices
Shopify offers three subscription plans. In addition to the subscription price, Shopify takes a commission on your sales. This commission is degressive. It is equal to 2% of your turnover in the basic formula, 1% of turnover in the intermediate formula, and is only 0.5% in the advanced version.
Top Advantages of Using Shopify
A great simplicity at the level of the creation of the pages and the management of the shop.
The quality of the templates.
Globally top e-commerce functionalities, particularly in terms of payment methods, delivery, reduction codes or configuration of automatic emails.
Very responsive support (but in English).
Top Disadvantages of Using Shopify
It's rather a high price (subscriptions, commissions, applications).
The rather disappointing quality of the tree structure (the articulation of the pages between them).
The possibilities in terms of content creation (other than eCommerce content).
WooCommerce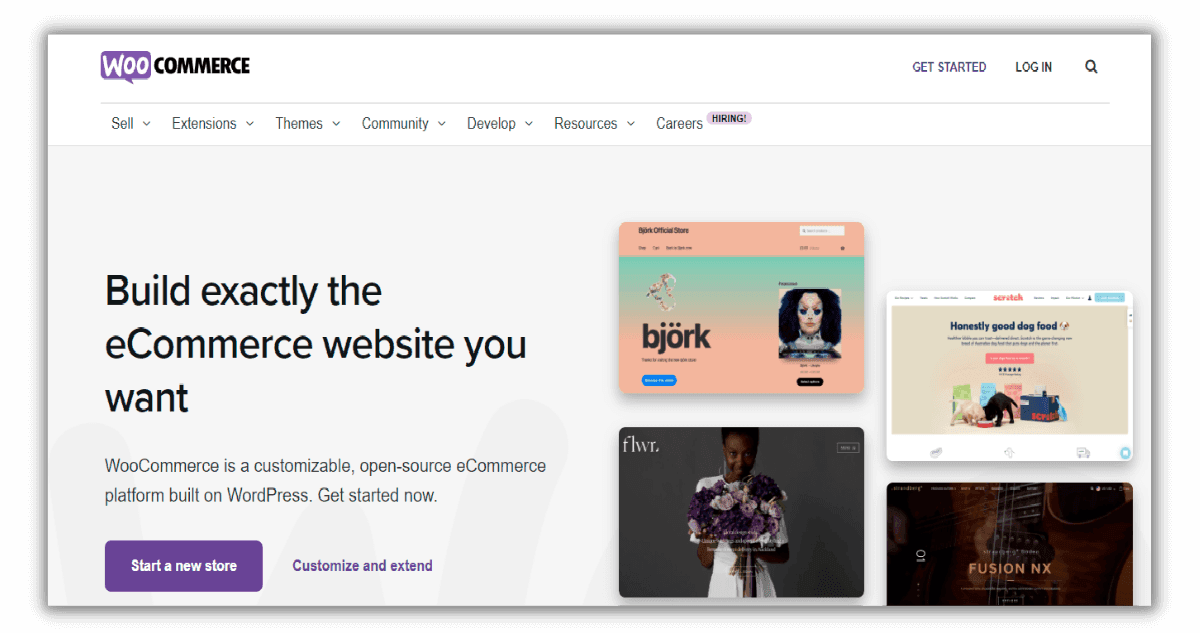 Recall that WordPress, as its name suggests, is originally an open-source software designed for editing content (creation of blogs). WooCommerce, launched in 2011, is a WordPress plugin, that is to say, an extension that allows you to add new features to WordPress and transform your WordPress into a powerful e-commerce store. WooCommerce is even THE WordPress eCommerce plugin, the benchmark extension used by 30% of e-commerce sites worldwide.
In 2016, 700,000 WordPress sites installed WooCommerce, making it the best solution for eCommerce platform design & development in the world. Success is due to the incredible functional richness of this extension.
Features of WooCommerce
As with all plugins, the installation of WooCommerce is done in a few seconds directly from the WordPress back office. Once WooCommerce is installed, two new menus appear – the "WooCommerce" menu, which allows you to configure your store and manage your business, and the "Product" menu, which allows you to create your product sheets and organize them within categories.
Catalog management on WooCommerce: All the essential e-commerce functionalities are present, concerning the management of orders, means of payment, delivery, and coupons. The statistics related to your eCommerce activity are very well presented and fairly complete. We are amazed by the level of configuration and detail of each of the eCommerce aspects. If we add the huge choice of add-ons, WooCommerce really meets all needs, including the most specific for the best eCommerce platform for your online store.
The interface for editing product sheets will appear familiar to those who are already used to WordPress. The only difference is the presence of the "Product data" block, which allows you to configure all the parameters of the product file, from the sale price to the variants, including color, size, weight, stock, and calculation. shipping costs. Everything is there.
WooCommerce is already very complete in native, but its functionality can be further increased thanks to addons. WooThemes, the publisher of WooCommerce, offers several hundred extensions, some of which are free, others for a fee. These addons will allow you to meet very specific business needs such as
configuration of flash sales,
addition of a countdown,
management of customer questionnaires,
management of subscriptions, etc.
Note: be careful to choose a WordPress theme compatible with WooCommerce. Not all WordPress themes (including eCommerce access themes) are.
Offers & Prices
WooCommerce is a free plugin. On the other hand, certain addons are chargeable and certain templates are chargeable. Also plan the cost of hosting (choose the best web hosting for eCommerce), the cost of the domain name possibly, and the cost of maintaining your site.
Top Advantages of Using WooCommerce
It is a plugin that works on WordPress, one of the most powerful open-source software in the world!
Unlimited customization possibilities.
Its functional richness can be increased endlessly (or almost) thanks to add-ons.
It is absolutely free.
Top Disadvantages of Using WooCommerce
The plugin is not compatible with all WordPress themes.
The fairly high price of some addons.
WooCommerce is less suitable for very large e-commerce sites.
Customizing your WooCommerce site, if it is potentially infinite, requires coding knowledge.

To Conclude
These are some of the main criteria for eCommerce platform comparison. Both Shopify and WooCommerce are among the best eCommerce platforms for your online stores. The final choice depends on your business requirement and the budget to develop a highly functional eCommerce website or app.
OneClick IT Consultancy is popular as the best eCommerce platform development company in India and USA. Our team of experts does not just offer development solutions but also the right Digital Marketing support to boost your sales. Contact us today to bring your business online.