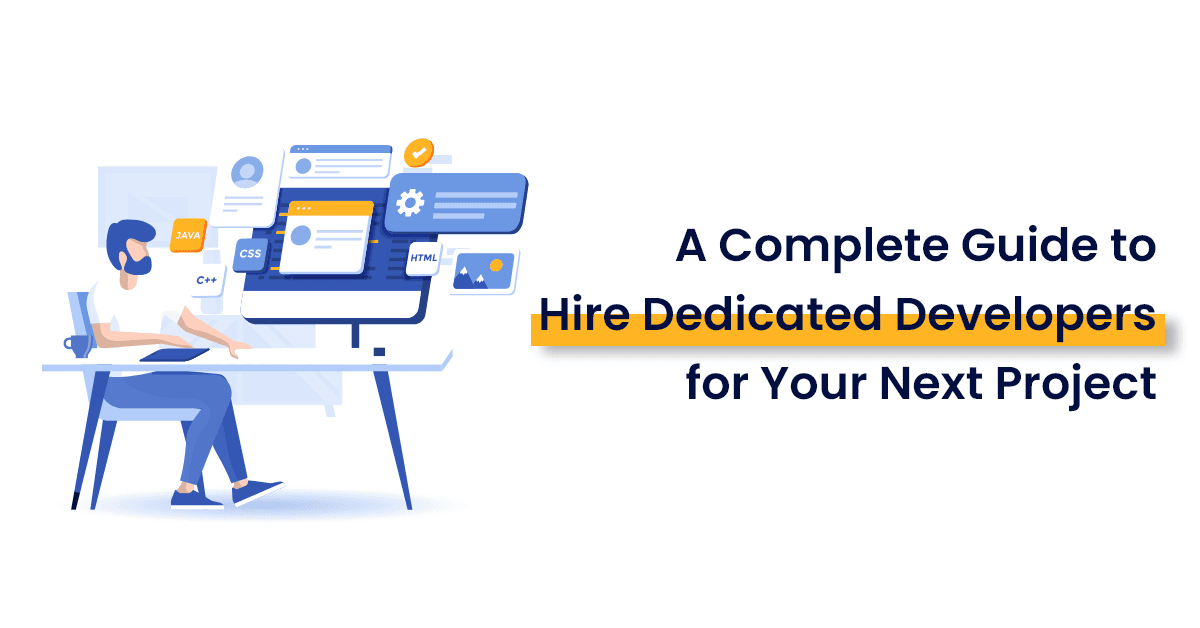 Overview
Welcome! to the world of developers. The demand for developers is growing immensely across the globe. To implement IT operations or for developing any website or application you need to hire dedicated developers who can operate your project and deliver it with detailed attention. There are various challenges you face at the time of hiring a dedicated developer. Question is, how to overcome these hiring challenges? This blog will educate you regarding how to hire a freelance developer who fits into your budget and will deliver a successful project with the expected performance.
Introduction
Post COVID -19, we have seen immense growth in virtual businesses. In 2021, the demand for software developers is high. Companies are switching their businesses to automation and digital platforms, and due to this change, the demand for software developers and platforms is increasing.
If you are planning to hire a dedicated developer team to complete your project the way you want and a team which suits your budget. To implement this, you need to have an expert who is capable of multitasking and completing the specific project according to the company's requirements.

Things to Consider When you Hire Dedicated Developers
Before hiring a dedicated developer, you should consider various factors that will help you to build a strong and dedicated full stack developer team.
1. Analyse their Portfolio
There are numerous companies offering dedicated developer services. But to choose a company and a developer you need to do a little research, read more about the developer and the company, check which products they have developed to date and ask for the results they have achieved. By doing such an analysis you will come to know whether the company and the developers are suitable for your project.
2. Arrange the Interview with the Developers
In today's competitive world, it is not mandatory that you hire an in-house developer. You can go for a freelancer or a part-time developer. Prior to hiring, conduct a virtual or face-to-face interview as it is essential to check the skills of developers.
3. Organize the Communication Process
Interactions are a major part of the development process, hence it's important that you communicate with the team regularly. During your interactions, you will be able to figure out if there are communication obstacles within the team or not and do the team members bond well with each other.
4. Prepare List of Necessary Documents
Think about preparing documents of the product you are looking to develop. This requirement brings in the need to hire a product manager. A product manager will help you with the functional structure of the product, main project leads, etc.
How to Check Qualities of Good Dedicated Developers?
The skills set is the mainstay of a dedicated developer team. Both, soft skills and hard skills need to be checked independently from each other.
Hard skills vary from project to project as per the requirement of the project, the technology stack the client is looking to employ for the product and much more. However, soft skills remain constant.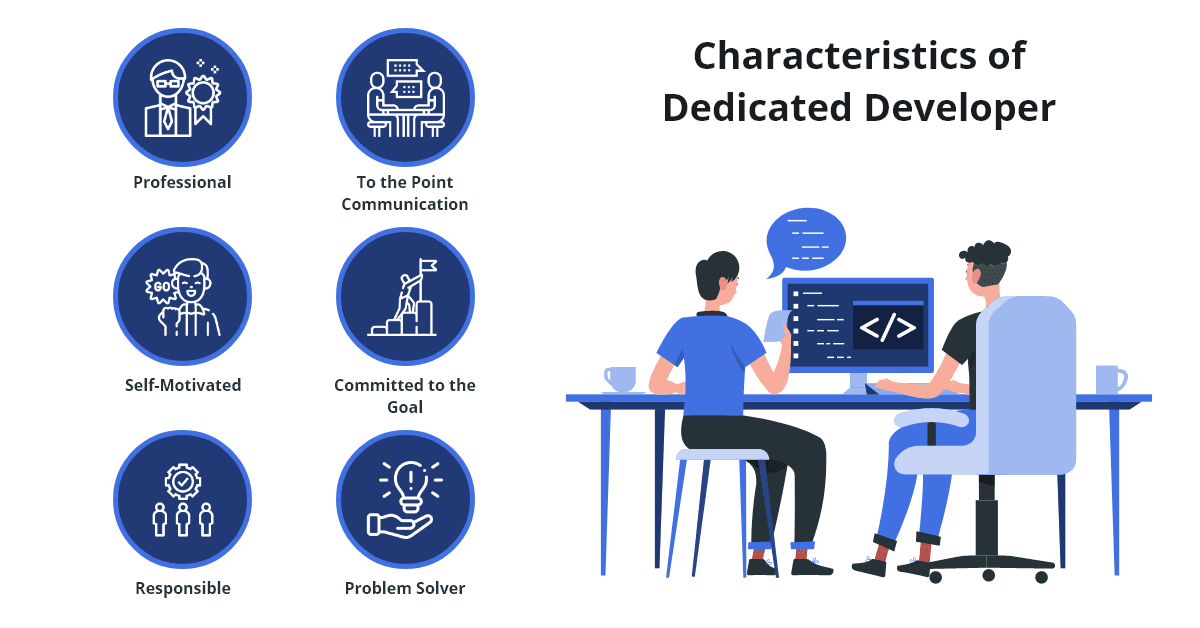 1. Professional
There is no iota of doubt that the developer you hire should have top-notch programming skills. Developers must possess a certain level of knowledge in the technologies they work with. Along with that the developer needs to understand the importance of innovation and be able to spare some time for bringing in innovation in the project. 
2. Self-Motivated
A team is a group of people who are confident about their abilities and are able to inspire confidence in others as well. Self-motivation is tough as there will be no manager to control them hence it is important to hire a team that is self-disciplined to shoulder the responsibility of a project and deliver it successfully.
3. Responsible
Whether the team is web app developers or mobile app developers, they would be responsible for the development workflow. Also, they need to be dedicated to their project timelines and work schedules.
4. To the Point Communication
Communication is one of the keys to success. There are two broad categories of communication i.e. communication within the team and communication with clients. It is the responsibility of each developer to communicate within the team in order to learn and grow. Client communication needs to be precise as they are the stakeholders, and clients prefer not to indulge in discussions that aren't related to the project.
5. Committed to the Goal
When more than two individuals collaborate on the same project, everyone has their own ideas regarding setting up objectives and targets for the project delivery. Before beginning the project, the Project Manager must set up the guidelines and timelines of project delivery and ensure that everyone understands what they are striving for.
6. Problem Solver
One of the key qualities you need to look for while hiring developers is their ability to solve problems, swiftly and correctly. A dedicated team of developers which is able to resolve issues without seeking the help of the Project Manager is an ideal team to have.
Business Model of Hiring Dedicated Developers
Pricing models are the priority of every business. An agreement is signed between the client and the service provider which includes methods, time and functionalities. Before signing the agreement clients make sure that which business model they are selecting.

Next, is the call of the product owner, which business model to choose? Selecting the right strategy will lead your business to success. Here we have added the detailing of all three business models that will help you to decide the best pricing model.
1. Hire Dedicated Developers
Hiring a dedicated developer is the most effective business model. Here you can pick your own dedicated developer to get benefit from cost, flexibility and quality. You can control your team and with that, you can easily keep yourself updated with the project status. You can hire dedicated developers on an hourly, weekly and monthly basis to get quality product development. Maximize your team's potential with top-notch IT Staff Augmentation services that bring in specialized talent to accomplish your business goals efficiently.
2. Time & Material Business Model
There are various benefits in the time & material business model. Dedicated developers work on an hourly basis and they usually follow time & material business plans. Let us see a few of the benefits of the t&m business model:
Flexible budget
Work with your selected group of developers
No hurdles in work to progress
Saves the time of dedicated developer
3. Fixed Cost Business Model
Fixed cost is popular among businesses due to its comfortable dealing and by giving attention to Time and Money. This business model is preferred by the client when developing an application is known and when the client is well prepared with its internal features for the particular application.
Benefits of Hire Dedicated Developers
1. Overall Control
If you hire a dedicated developer team, they will take complete responsibility for the overall project. You have to guide the team and they will do the task assigned by you, also they will strive to complete the project before the deadline.
2. Improvement in Project Output
It is the responsibility of a project manager to look after the team hired by him. In this scenario, you'll be in charge of defining each team member's schedule, work progress and performance output.
Achieving project outcomes is easier if you have hired an in-house team, they are committed to their project while working with freelance developers may lose direction and remote developers have a clear structure from day one for keeping the project on track.
3. Focusing on Business
For successful product development, a critical aspect is hiring a dedicated development team. An experienced development team will be able to easily perform complex tasks without the need for you to get involved. This way, a dedicated developer team also helps in better utilization of your time.
4. Flexibility
Hiring a dedicated developer offers you flexibility in every aspect. Every developer has their own skills they know when to speed up or slow down the project. it is also cost-effective as the client doesn't have to pay high wages for an experienced freelancer.
How to Interview Dedicated Developers?
You can choose the vendor company that fits best to the description of the project & is able to provide you with a list of resources they will deploy for successful project completion. You can also contact the chosen vendor by using the request forms on their site.
Now it's time to take interview with the developers who wish to hire. Below are the ways through which you can contact your potential dedicated developers.
1. Phone Calls
For an interview whether it is for a dedicated developer or fixed cost developer, you have to contact the company representative. You should call them and ask about their experience, and projects from the portfolio provided by the respective freelancer and also know about their hourly charges. Such calls take about 20-30 minutes to gather first impressions.
2. Check the skills
Once you have found an experienced and Managed IT company to deliver your project, you can ask them to gather a team for you and you can take an interview of each candidate individually. With this, you can check the hardcore skill of the candidate by sending a detailed technical questionnaire.
3. Soft skills
Soft skills are mandatory for every candidate. Please note that proficient communication and team play is a must for a dedicated developer.
How Much Cost to Hire Dedicated Developers?
We offer flexibility in pricing and scalability when you hire dedicated developers. We assign a dedicated lead for your team of developers as a single point of contact. We have a qualified and trained team of dedicated designers and programmers that strive to deliver the best solution for your business at an honest price.
US-based Developers: $70 – $130 for an hour.
Eastern Europe-based Developers: $50-$120 for an hour.
India-based Developers: $25-$50 for an hour.
We have the best working models for you as well, You can hire experienced developers/designers from our company, who will directly work on your projects remotely and report to you on a daily basis. Our monthly rate starts from (Mid to senior-level experience) $2800 to $3200.

Conclusion
In 2020, outsourcing services growth reached nearly $93 billion. By this, we can predict that 2023 will be a year in which we will see a massive demand for dedicated developers. Whether you are an owner of a small company or large-scale enterprise you can definitely benefit from the services of a dedicated developer.
OneClick is the leading software company with 09+ years of experience, providing the service of hiring dedicated developers. Connect directly with our experts and get an estimate for your project/product.
FAQs
1. What is a dedicated developer?
A dedicated developer is a software development company which is full-time engaged in development services and provides an assigned developer to complete the project with quality and speed.
2. How will you get to know that your development team is dedicated?
This is a task for you, you should analyze the hiring process cautiously, and also keep a watch on the product management developers they follow that includes what tools they are using and how they communicate with you.
3. What are the advantages of hiring dedicated developers?
There are various advantages to hiring dedicated developers. Some of them are listed below.
a. Takes the control of your project
b. Quality assurance
c. Skilled and experienced developers
d. Fixed cost
e. Various developers working with you in your in-house team