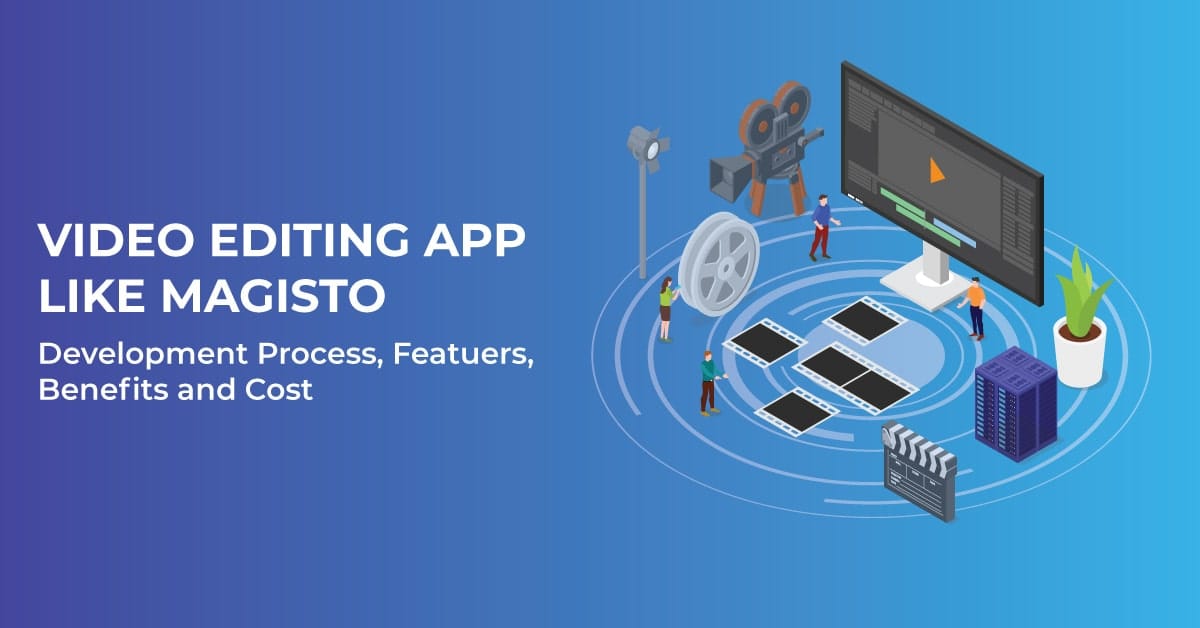 Introduction of Video Editing App Development
By definition, a video editing app consists of selecting filmed images, cutting out several sequences, and connecting them to make a single video.
You can add one or more videos, still images, titles, music, sound effects, voiceover, etc. With smartphones, there are more and more free and easy-to-use video recording and editing apps.
With the increase in the quality of video capture on smartphones, these are replacing cameras, sometimes even at professional levels.
Once the clips are filmed, popular video editing apps in 2023 will make them more attractive and allow users to collect as many likes as possible on social networks or to promote professional activity.
This is the reason such apps are an attraction for users across the world. Hence, a lot of businesses are considering investing in video editing app development like Magisto.

Types of Video Recording and Video Editing App Development
1. Video Recording Apps
2. Video Editing Apps
3. Video Recording & Editing Apps

Video Creation & Sharing App Development Cost
Video recording and editing apps can be monetized in several ways. Surveys suggest that the mobile video editing market is projected to cross $25 billion by 2021.
This just means that there is additional scope for investing in the development of these apps.
In fact, launched publicly in 2011, Magisto had already claimed 5 million users by 2013.
Coming back to the cost estimate of Video Editing App, businesses who invest in these apps can expect monetization through multiple channels.
In-app purchases are one of the highest sources of ROI for most apps. Resale of application or providing a platform for smaller businesses on your app can be another way of monetizing your video editing app.
With digital marketing ruling the world, display ads are another source of revenue for video editing apps like Magisto.
Factors that Affect the Video Creation & Sharing App Development Cost
If you have an idea to create popular video recording and editing apps like Magisto or Tiktok, it's time to begin strategizing and planning.
One of the common concerns of most businesses is the cost estimate of Video Editing Apps. Now if you are outsourcing the Video Recording and Video Editing App Development to an external organization, the costs are primarily dependent on: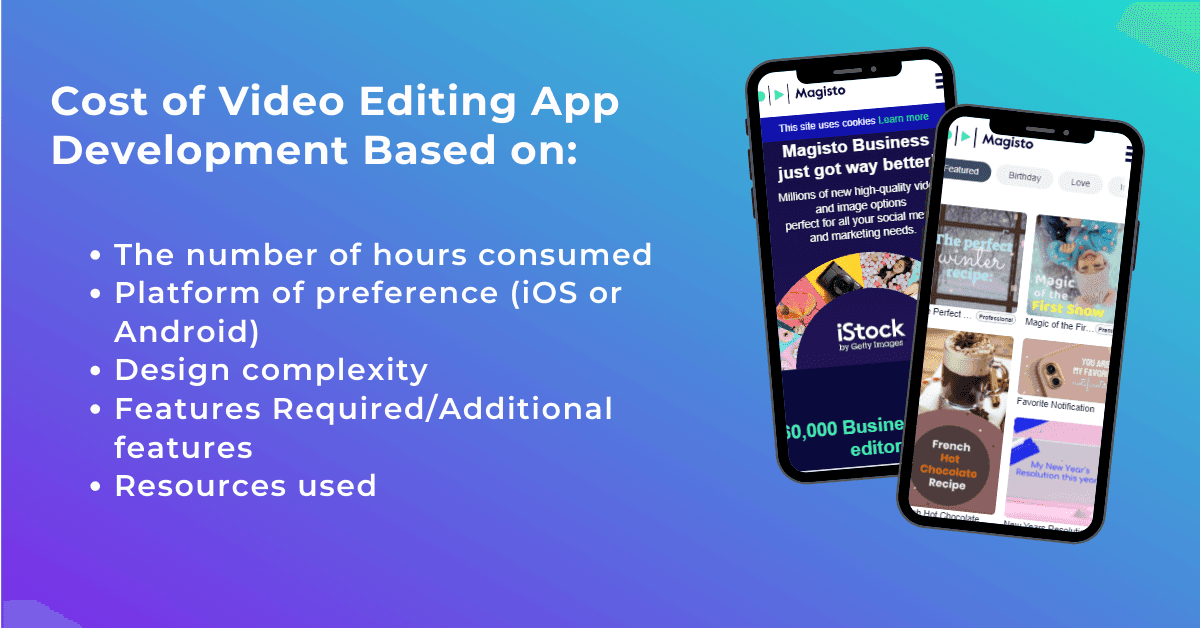 Top Features Video Editing Application
A. Basic Features of Video Editing Application
With our Video Recording and Video Editing App Development services, we take you on a fully guided journey to the HD generation of your video.
Add title banners, synths, keywords, photo/video illustration shots to your films and interviews or directly create motion design videos to liven up and energize your messages.
A feature-loaded video editing app can provide you with thousands of templates, graphic styles, and scenarios enriched regularly depending on the type of video your users want to create.
Hire our developers to make your own templates or animations!
The image below enlists the essential functions in both the user and the admin panel required when you create a video editing app like Magisto. Take a look.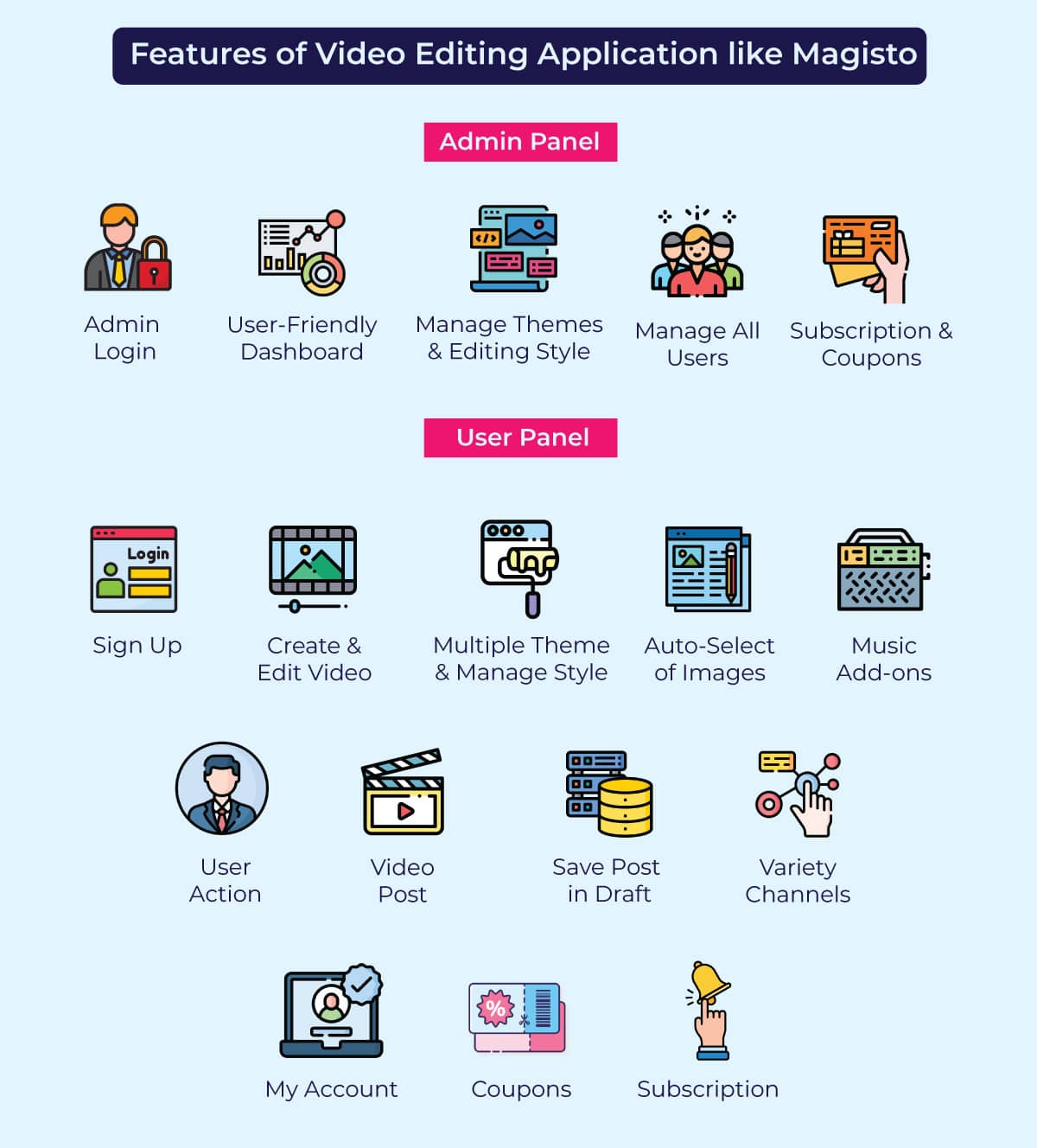 B. Advanced Features of Video Editing Application
1. Storyboard: This allows you to have all the elements you need to create an online storyboard while providing you with the support you may need. The app offers predefined and adaptable scenarios
2. Video capture: Capture and pre-edit all your video rushes with this smartphone app and switch them to the platform with one click to complete your video editing.
3. Motion design: Bring your messages to life and bring dynamism to your content with motion design video.
4. Royalty-free music: Add a large repository of royalty-free music to bring videos to life.
5. Media library: Contextualize videos with millions of visuals, videos, pictograms, and illustrations.
6. Voice over: Some videos require narration. This feature offers several possibilities to add the most suitable voiceover to your video.
7. Interactivity: Easily integrate a clickable screen to generate interaction with your audience that you can measure.
8. Sharing: Once your video is edited completely, share it directly from the platform on various social channels.
Resources Required for Video Editing App Development
Project Manager
App developers (Frontend and Backend)
UI/UX designers
QA Testers
Usually, the approximate Video Creation & Sharing Video Editing App cost can be around $25,000 for the basic features and functionalities.
Once you upgrade or move to advanced features or if you wish to develop individual apps for both Android and iOS, the cost is expected to rise up to $45,000-$70,000.

To Conclude
With over 8 years of experience, our clients consider us as the top video editing app development company in USA and India.
Our experts project managers and developers have worked with SMEs and enterprises to provide unparalleled interfaces and seamless apps in all our projects.
Contact us for a no-obligation quote that matches your app development requirement and a demo of our apps.