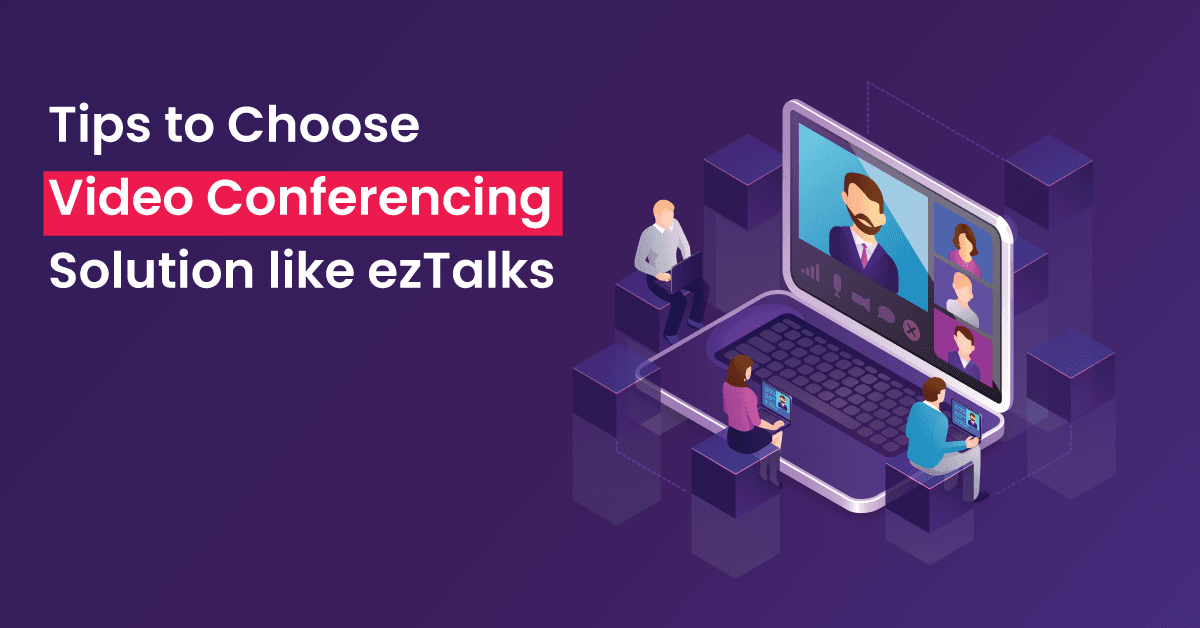 Introduction of Video Conferencing
Choosing the right video conferencing solution like ezTalks can be more complicated than it sounds. How do you determine the most suitable system and platform for your organization, among the plethora of solutions available on the market today?
The adoption of video conferencing software development is booming. Small and large companies are now measuring the benefits in terms of flexibility and productivity, especially in the context of increased teleworking. According to reports, 87% of teleworkers feel more connected to their peers and to the processes of their organization when they use video conferencing tools.
Well used, video conferencing equipment is indeed a powerful tool for collaboration, to the point of gradually becoming an essential factor of productivity and competitiveness. You still have to choose the right tool from the multitude of platforms available on the market today.

6 Things to Consider When Choosing Video Conferencing Solution
Here are 6 questions to ask yourself to select the video conferencing software solution that best suits your needs and your constraints.
1. Number of Participants Required
The choice of a video conferencing software development solution depends first of all on the use that you will make of it, the number of people who will be likely to use it, and the circumstances of its use. The equipment needed is not the same for a webinar with several hundred participants, a meeting between ten employees, or individual interviews.
It is also important to take into consideration the location of the different stakeholders, and the video conferencing equipment, individual or collective, that this will involve.
2. What are Your Requirements in Terms of Quality and Resolution?
In a videoconferencing context, the question of image and sound quality is obviously fundamental. If you plan to interact, for example, with customers or partners, it is essential to ensure a clear and crisp picture, and impeccable transmission quality, which might require HD or 4K equipment. If you plan to use video conferencing only for internal meetings, you might have fewer requirements.
Whatever your needs, it is worth checking which video conferencing solution meets them the best way.
3. What Additional Features will You Need?
Having high added value features can be fundamental for the quality and efficiency of your video conferencing meetings:
Screen and document sharing
Live note-taking
Public and private discussion windows
Recording options
Automatic meeting
These additional features can make a difference and bring more clarity and interactivity.
Again, the best video conference features offered by different providers, or the conditions under which they offer them, may vary and should be considered to make sure you make the right choice.
4. Is the Use of More Advanced Options Relevant?
In terms of functionalities, video conference software development companies are now offering increasingly innovative solutions, in particular by integrating artificial intelligence and virtual assistants. Certain tools thus make it possible to automatically adjust the camera to the speaker who is speaking, or even to transcribe the entire conversation automatically and/or in real-time.
While this type of option promotes particularly immersive experiences and thus actively contributes to the effectiveness of a video conference meeting, and therefore to the concentration and productivity of employees, their relevance and usefulness obviously depend on the context of each organization.
5. What Level of Security should the Solution Guarantee You?
Most video conferencing solutions offer some level of data encryption. But depending on the nature of your business, the sensitivity of the information you are likely to share in a meeting, and your general data protection needs, you may have more or less stringent security requirements.
Are video streams encrypted to prevent malicious intrusion? Do you have control over access to meetings? Under what conditions can these meetings be recorded, saved, and shared? These are all things to keep in mind when evaluating a video conferencing software and solution.
6. Is the Solution Easy to Install and Use?
A video conferencing solution like ezTalks is only effective if it is correctly adopted and used by your employees. Hence the importance, on the one hand of its compatibility with your existing systems (in particular, with the various operating systems used by your employees), on the other hand of its ease of handling.
The easier and more intuitive it is to organize and access a meeting, the more likely your employees will be to use it. The more complex and time-consuming to install, configure, and set up, the lower the adoption rate.
Choosing the right video conferencing solution can be more complicated than it sounds. The market is teeming with tools which, although they appear to be in all respects similar, in reality, cater for different purposes and contexts. Clearly identifying your needs and constraints, and anticipating the use you will make of your video conferencing solution, will help you make the best choice.

7. Get Support from the Best Video Conferencing Solution Provider
Engaging with a top video conference software development company can help you select the solution best suited to the needs and practices of the company and its employees. Beyond the qualification of the project, you will have to take into account the short, medium and long-term use in order to choose the most relevant video conferencing solution and the development time required for it. The choice of video conferencing solution goes hand in hand with that of the expertise of the service provider.
As a leading software development company in the USA, we offer different video conferencing solutions and are experts in collaborative solutions with a real consultancy and support approach. Contact us for a FREE demo of the project and a no-obligation quote.