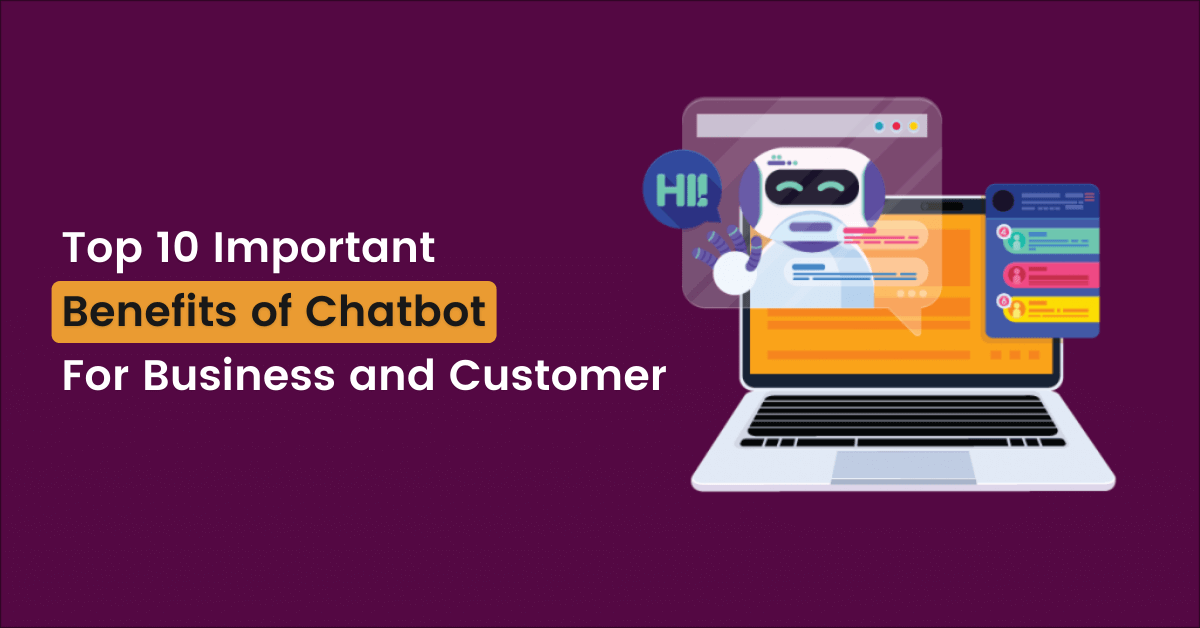 Introduction
Are you interested in hiring chatbot development companies and wondering why it is so popular with e-merchants and online businesses at the moment? In this article, we will present 10 benefits of a chatbot for business and customer, whether you are an e-merchant or have a more extensive website.
A chatbot is a digital conversational assistant, sometimes learning (via AI), often programmed, which automatically collects customer requests and needs in order to provide in return almost instant answers to users seeking information and/or product recommendations.
There are many types of chatbots app solutions for different industries but the following are the three major types:
Pre-sales chatbots
Sales chatbots
After-sales chatbots

Benefits of Chatbot for Business and Customer
Whether their aim is to help customers access the information they seek more quickly, whether they act as intermediaries qualifying customer requests or whether they act as a real digital advisor to recommend products according to needs; chatbots have a thousand and one reasons to appeal to eCommerce businesses and online business owners. Here are good reasons why you must invest in chatbot development:
1. A Better User Experience
By virtue of its instantaneity, its availability, and its unlimited knowledge base (provided it has been properly programmed and supplied), the chatbot promotes a better user experience before sales, sales, and after-sales.
Capable of answering the slightest customer question, the slightest doubt, or even a request for a product recommendation, the chatbot is above all intended to serve Internet users and make their purchasing journey more fluid.
2. Increased Customer Satisfaction
Customers get frustrated due to lag in response times on eCommerce portals and other service websites. With the help of chatbots, customers receive instant assistance in real-time. With the best AI chatbot platform development, you can even offer customized answers and better recommendations for queries.
3. Requests In Real-Time
Limited human resources and limited office hours are some of the reasons for longer response times in classic customer service. For chatbots, whether there are one or a thousand different requests in real-time, they will always be as responsive and able to provide a quick response to the customer.
4. Optimizing The Profitability
Processing customer information requests, whether pre-sales or post-sales, takes human time. However, human resources are one of the keys to the profitability of e-commerce sites. The lower the human resources required to operate a site, the more profitable it can be.
The benefits of a chatbot, by making it possible to limit the overall time spent processing customer requests and returns, is thus an interesting provider of profitability for eCommerce sites.
5. Many Possible Use Cases
Decrease the return rate, optimize cross-selling on complex products, decongest customer service, decrease customer waiting time, decrease cart abandonment rate, and automate product advice, there can be several case studies for chatbot development.
6. 24-Hour Service and Access To Information
Online commerce or eCommerce is synonymous with 24-hour sales and services. Chatbots make this possible. Customers can benefit from round-the-clock service as well as purchasing assistance too.
7. Chatbots Are Popular With Internet Users
According to a Hubspot study, more than half of respondents (57%) appreciate chatbots for their immediacy and their ability to transmit information. According to this same study, 47% were already, ready to finalize a transaction initiated by a bot.
This just means that with each passing year, automation in customer service will keep increasing and hence chatbot development will be more popular.
8. Automatic Qualification Of Customer Requests
With a well-configured chatbot will help you qualify customer requests without clogging your customer service. Although the chatbot can often not respond to 100% of customer requests, with a good pre-qualification, the remaining work will be easier, and the time spent processing the request, more optimized.
9. Better Customer Knowledge
The benefits of chatbots also include the heavy amount of data they can aggregate and collect. This data, when analyzed correctly can help e-merchants better understand what their customers are looking for and above all understand what they can still optimize on their site to streamline the shopping experience. This also helps them limit the need of customers to seek external help, whether it comes from a chatbot or a human.
10. Long-Term Productivity Gain
In the same spirit as the profitability gain, the benefits of chatbots allow e-commerce sites an undeniable gain in productivity. The human resources previously allocated exclusively to after-sales service are thus both more efficient but also more able to perform tasks with higher added value, which cannot be replaced by a chatbot.

Conclusion
Chatbots can be easily deployed on your websites, apps, and social media handles. Interactive chatbots powered by AI can help you stay a step ahead of your competitors. If you have an existing portal and want to integrate chatbots or have a new app idea for chatbot development, contact our team of experts for a FREE demo and no-obligation quote.