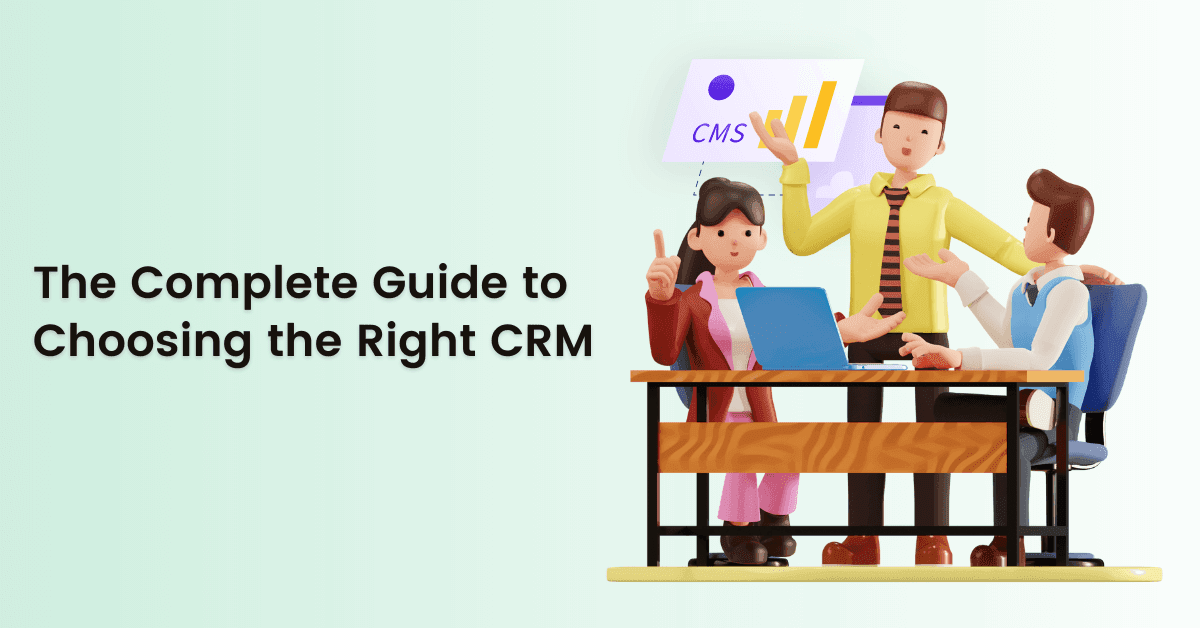 Customer relationship (CRM) software is a tool that records, analyzes, and optimizes the interactions between your company and your customers or prospects.
The heart of CRM software for SMEs is the database that manages all of your contacts – prospects, customers, and partners.
It structures and centralizes all customer data, in particular the history of all actions and exchanges between your employees and your contacts.
By capitalizing on its data and analyzing it, the Customer Relationship (CRM) software brings efficiency gains in terms of prospecting, and loyalty and allows better management by the sales department.
It also saves time by automating certain repetitive tasks (reminders, publishing quotes, generating contracts, sending emails, reporting, etc.).
Now that you know the CRM software advantages for your business, let's understand how you can select the best tool.

8 Tips for Choosing the Right CRM
A customer relationship management tool should in particular enable small and medium-sized companies to centralize and analyze customer data in order to increase customer satisfaction and retain them.
Let's explore the selection criteria to guide you in your choice of CRM software for small businesses:
1. Identify Your Needs
To choose the right CRM tool, it is important to know the needs of your company and to realize a real specification aimed at identifying the essential basic functionalities.
If you have the means to develop your own software, prioritize the essential basic functions that it must have and which will be truly beneficial to your business.
The geolocation function or the edition of invoices may not be necessary for the use you are going to make of your software.
No need to purchase software that is too heavy and too complicated, which risks scaring your employees.
2. Opt for an Ergonomic Interface
Getting started should be easy and the interface should be practical and pleasant. Nothing is worse than working on software that is dreary and requires a lot of manipulation.
You must take into account that the users of the software will spend a lot of time on it and choose the right CRM tool that will be ergonomic.
Many may abandon the use of the software if they find it unattractive and unwieldy.
3. Check the Sync and Data Transmission
Pay close attention to the synchronization capability and data transmission offered by the software.
It is embarrassing not to have the right information when you are in the presence of a customer.
Documents must be updated automatically and constantly so that all employees have the same level of information.
The right version of a contract or an invoice must always be available to the salesperson who is faced with a demanding customer.
4. Assess the Software's Ability to Scale
If the customer relationship (CRM) management software you have just chosen does not have the features and ability to scale, this may penalize you in the months or years to come.
It is important that you have some leeway so that you can adapt to the features. In use, you will discover that your software is missing a function or on the contrary, that one of them is never or very little used.
It is important that you can readjust the settings and functions of your CRM software so that it continues to meet your expectations.
5. Study Accessibility and the Media Used
Offline or fully online? How will your employees need to use the software? Ask yourself the question of accessibility in order to be able to optimize the actions carried out with the software.
Also, see if it is accessible on a tablet or a smartphone because the sales representatives of your company will appreciate being able to have access to all the information wherever they are.
On the move in a company, in the heart of a construction site, or in a store, it is essential that everyone can find the data they need at any time.
6. Secure your Exchanges and Data
Take advice from suppliers so that they can guarantee the maximum security of your data and the exchanges that you can establish with your customers.
Knowing that one of your files or that the contacts entrusted to you by your customers have been hacked is a real blow.
Do not neglect this aspect in particular if your collaborators connect to unsecured WiFi.
7. Budget for your Software Purchase
Whether you choose to purchase software locally or decide to pay for a monthly subscription, you must estimate the cost of your software over the length of time you will be using it.
Do not see that as an attractive price of a month's subscription, but try to see if it remains attractive if you subscribe for a whole year.
Also, weigh the costs with features and ROI. Sometimes a customized CRM Software solution proves to be more beneficial than a third-party tool.
8. Consider the type of your Business and the type of Customer Base
B2B or B2C company? SME or large accounts? The software you choose will not necessarily match a similar business.
Don't rely on the advice of an entrepreneur friend if the type of clientele and the type of structure are not exactly the same.

To Conclude
The current trend is largely in favor of software in SaaS mode, whether for VSEs, SMEs, or large companies because they are more practical, more flexible, and less expensive.
Streamline your employee management with our efficient app. Simplify scheduling, time tracking, payroll, and more. Try it now!
As a leading CRM solution provider, OneClick offers you customized applications that match your current requirements and can be scaled for future needs.
Contact us for a no-obligation quote for your Customer Relationship (CRM) Software.