UI/Ux Design
10 Unique Web Design Trends You Should Not Miss in 2023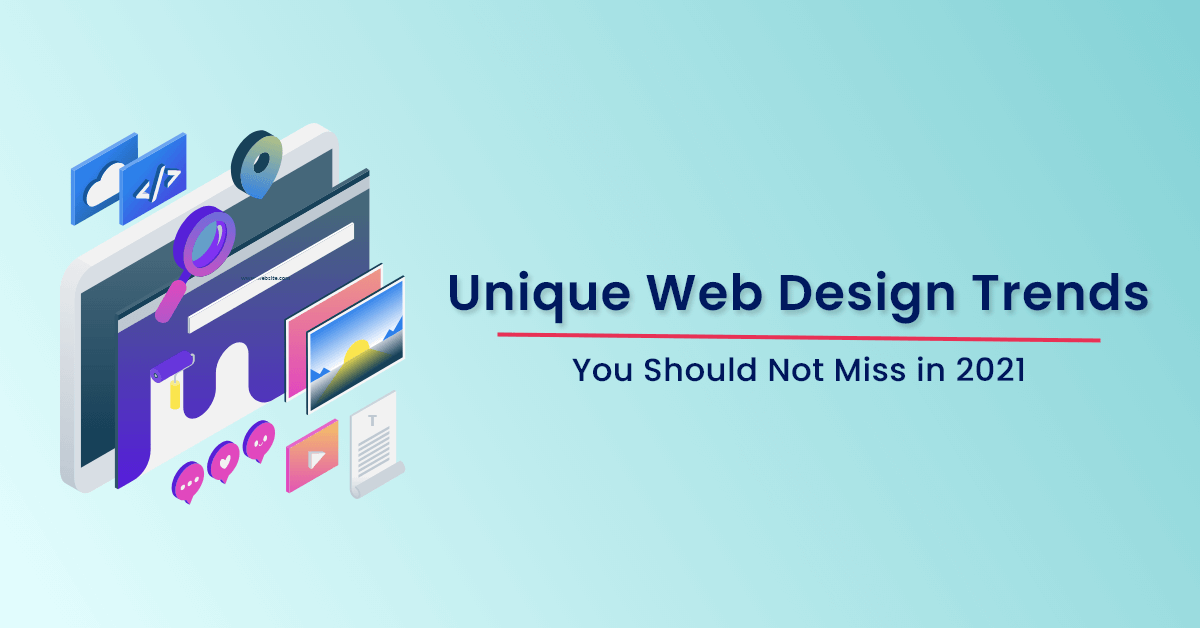 "Make it simple, but significant"
Well, we have to step our foot in 2023, as we all know the most creative industry is "Web Designing". It is constantly changing every single day and it comes with new concepts and creativity in the industry.
It is important to keep an eye on web designing trends as you are not only offering an updated design but also giving a reason to your potential customer on why they should select your company for designing service.
You might be thinking about how to find the latest web design trends? Which are the top web design trends in 2023?
Well, all your searches end here. We have mentioned the best 10 unique web design trends in this blog.
Top 10 Unique Web Design Trends for 2023
1. Ingredient for Design = Videos
Videos are always on demand in web design. In any website, the impact of videos is more than images. If you add promotional videos to your website or you add your brand video in a third-party website then it is the best way to involve your audience. Videos are playing a vital role in website designing. In a 10 second video, the whole product or service can explain to attract customers.
The research shows that videos have more power as websites that include videos get 79% web traffic. Globally internet video traffic has reached 127.8 Exabytes in 2020.
2. Fonts – Out of Dated
Old songs have been given a title of "Mashup" with new songs, Old fashion has given a title of "fusion" with new trends, so why not include Retro fonts in our website.
Fonts which are considered as out of date have turned out to become cool fonts in 2023. If you see in the Spotify Carnival promotion, there is a combination of traditional fonts and modern fonts which give them a bit of a cool impression.
Websites that use traditional fonts haven't performed well in snatching the attention of customers. Website developers have started to figure out the retro font's mixture of old and new fonts.
3. Asymmetric Layout
Learning is a never-ending process. While learning web designing the important thing you need to learn is the website layout. Your website layout will help the users to decide whether to choose your company or not.
The layout presents different advantages and the results are more dynamic and daring. The symmetric layout gives you more freedom of design. There is a misconception that an asymmetric website layout design will discourage you, in fact, every website has its individual balance and layout.
4. 3D Visuals
There is a thin line between virtual reality and reality. 3D high-quality visuals have come a long way from New York Times Square to website design.
Website designers are exploring every 3D element, from animation to illustrations every element is explored. 3D visuals have a realistic feel with shadows, music and effects. It basically adds a sense of uniqueness to any webpage.

5. Shapes Formation
We have studied geometric shapes in schools but never thought that shapes can be added to the website. Geometric shapes were introduced in website designing in 2019 and it took place in 2023.
The layout with shapes will keep your website clean and give a bold look. There is no specific system while arranging the shapes. Organic shapes are everything but that does not include straight lines. Shapes have amazing breakup segments without any angles or lines. However, they can be perfectly utilized in the background like Android utilizes circles.
6. Dark Mode with Pastel Colours
Nowadays, we spend hours on the internet by looking at the screen and we wish to have something new with each passing day. So there is no surprise that in 2023 there will be no change in the designing industry. However, dark mode with pastel colours in website designing has taken place.
There are some reasons why dark mode is trending:
It works as a battery saver

It gives your website a cool and attractive appearance

Your eyes will not get stress while using a dark mode
7. Animation
Animations are permanent citizens in the website designing industry. And that's a good thing as the possibilities of website animations keep getting better.
Animated lines or designs give your website an eye catchy effect to the visitors and make a striking impression. It helps you to grab the visitor's attraction exactly where you want it to be. That's the reason that animation has been a popular feature of website design for the past many years.
8. Vector Images
Unique things are always welcome in 2023. And adding unique graphics to your website is always the best option. Inclusive graphics doesn't mean sacrificing quality and loading more time, but in fact, it is often a challenging task in website designing.
There are numerous vector images available on the internet which are customizable too. You will see the presence of vector images is not only in 2023 but also in 2023.
9. Audio
Offering audio in a web design is like an integral part of the website design which removes accessibility barriers for those visual impairments. This will also benefit those who prefer to listen to long paragraph text on a website.
The trend of audio is not for days or months, it is for years. As we follow the trend in social media channels the same we will follow in websites. The whole audio system will be developed in AI-based just like chatbots, there will be no humans to read the long chunk text.ch
10. Scrolling
The changes in scrolling have already transformed its way. This trend is going to stand out in 2023, with vertical and horizontal scrolling. This scroll animation will also be known as scroll telling.
This is the reason websites are getting more accessible and engaging. These transformations will not only help users to get a more engaging experience but will also gather the basics to advance information from the websites.

Final Thoughts
From the above describe unique web design trends you might have understood how important it is to adopt the designing trend in 2023, by using these trends you can make your website user-centric. Once your customer will find your web design attractive, elegant and relevant they will never hesitate in performing an action and turn into paying customers.
If you are looking to adopt the trend of website designing or want to develop the website then you are in the right place. OneClick IT Consultancy is the leading website designing company with 9 years of experience. We follow trends with technology.
To learn more about the website designing cost with any of the above-mentioned trends you can connect with our team of experts.