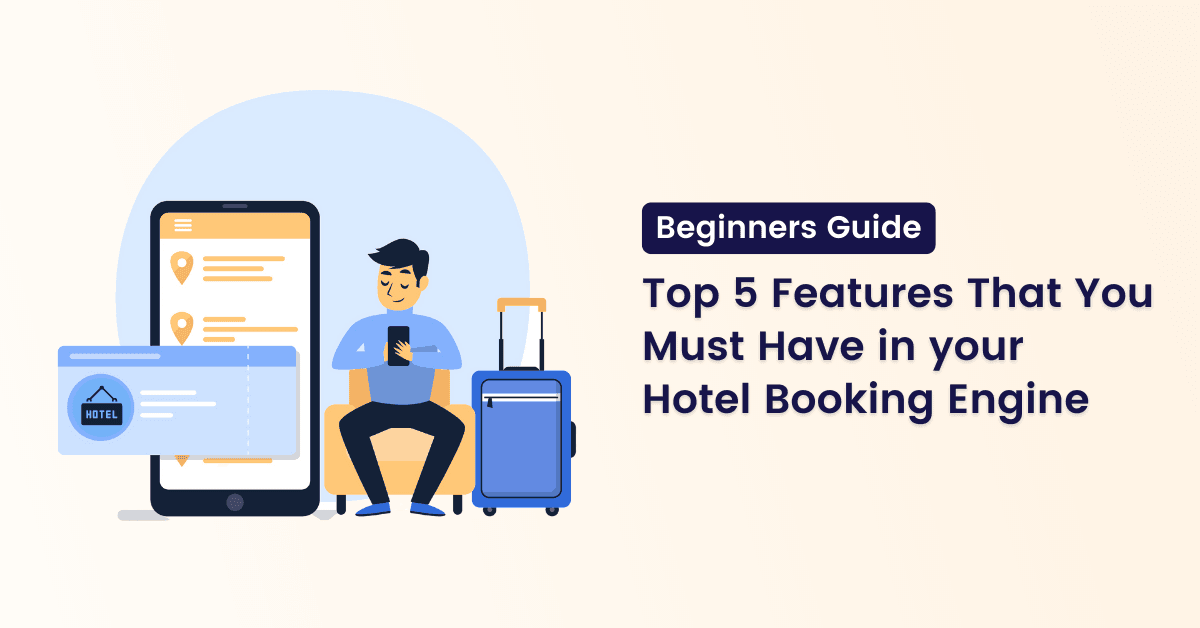 Introduction
Hotel booking engines have come a long way over the past decade as they continue to evolve with the changing landscape of the hospitality industry. With more choices than ever before, hotels and travel agencies need to stand out amongst the growing competition. This guide will highlight the top 5 features of a hotel booking engine to ensure both the efficiency of your employees and customer satisfaction with your product or service.
What is Hotel Booking Engine?
A hotel booking engine is a program used by hotels to allow clients to book rooms from their website. Hotel owners, managers, and marketing departments can keep track of reservations made via an online reservation system. A great, easy-to-use product will save time and effort for everyone involved (clients and employees). Most major online travel agencies, or OTAs, use a third-party product to power their site.
Hotel booking engines are websites or applications used by hotels to connect with potential customers. A hotel booking engine typically has an interface designed for guests to book rooms at a rate they feel is fair and comfortable. With a user-friendly interface, customers can make reservations without having to call and speak with a member of staff.

Growth of Hotel Booking Engine
Revenue in the Travel & Tourism market is projected to reach US$128.40bn in 2022.
Revenue is expected to show an annual growth rate (CAGR 2022-2026) of 9.81%, resulting in a projected market volume of US$186.70bn by 2026.
The market's largest segment is Hotels with a projected market volume of US$78.22bn in 2022.
In the Hotels, the number of users is expected to amount to 159.3m users by 2026.
User penetration is 44.3% in 2022 and is expected to hit 55.8% by 2026.
The average revenue per user (ARPU) is expected to amount to US$0.86k.
In the Travel & Tourism market, 70% of total revenue will be generated through online sales by 2026.
In global comparison, most revenue will be generated in the United States (US$128.40bn in 2022).
The market size of the hotel and motel sector in the United States was valued at approximately 93.07 billion U.S. dollars, down from the previous year's total of 210.74 billion U.S. dollars.
Advanced Features to Integrate into Hotel Booking Engine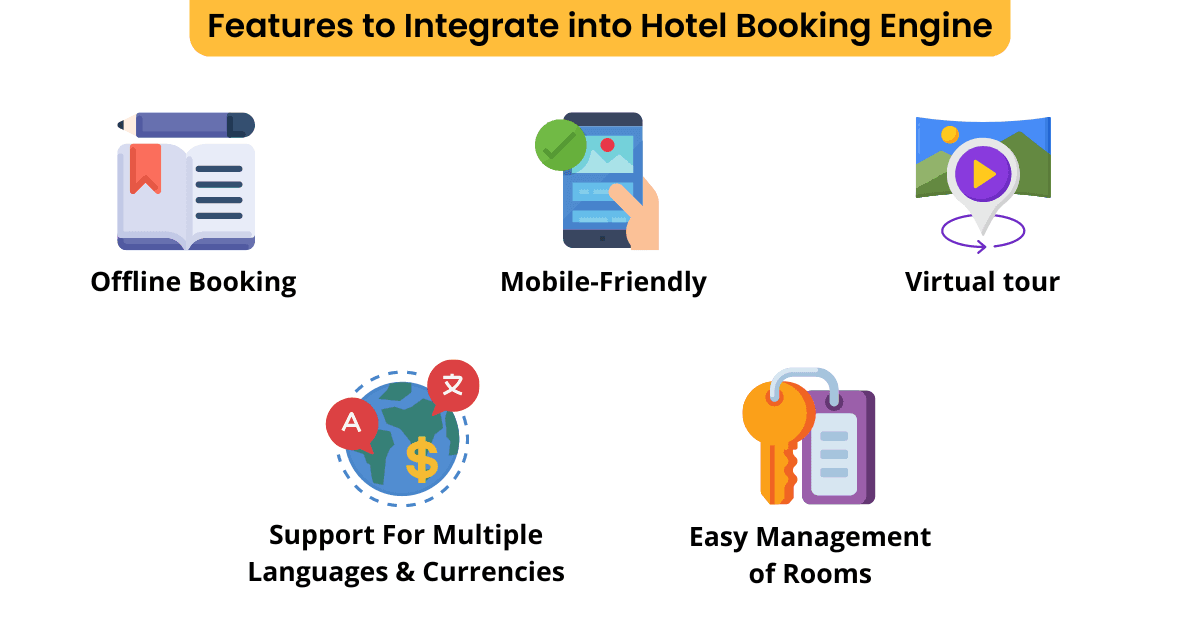 1. Offline Booking
Offline booking is the new trend in hotel booking apps and websites. In the travel industry, travelers don't have the connectivity to the internet all time, sometimes they lost a high internet connection. In that case, they should have an access to connect with your platform that streamlines the booking process and much more.
2. Mobile-Friendly
Today rather they spending hours on desktops users prefer Smartphones. As they are easy to carry and access from anywhere and at any time. Users prefer to browse the services on mobile devices. It is important that your solution is mobile friendly and users should not face any hassle in accessing the functionalities. Undoubtedly, it helps to increase the conversion rates.
3. Support For Multiple Languages & Currencies
The hotel booking software integrate multiple Languages & currency support that allows users from all over the world to easily leverage the benefits of the different features of hotel booking engine. 
All users are not proficient in the English language leads to miscommunication or loss of interest, With Multiple Languages & Currencies, hotel owners can exclude the language barrier challenge and the same with currency, allowing users to pay in their native currency. It helps them to understand the quotation in a better way and avoid payment deposit hassle.
4. Easy Management of Rooms
Depending on how many rooms are available for rent, a hotel's management may be flexible about how guests pay for their room and when. Generally, though, a check-in date will correspond with a check-out date. This means that if you book a room but want to check out earlier than expected, there might be an extra charge for leaving early.
5. Virtual tour of the Room
Virtual tours are a great way to let customers preview their accommodations before they check-in. With virtual tours, hotels can offer more than just a description and some photos—they can give potential guests a 360-degree view of their rooms. It's important that when creating these tours, hotel owners use only high-quality images. Guests will be looking closely at these images and they'll notice pixelation or blurred areas instantly. Additionally, when building virtual tours, it's important to keep them short (less than 5 minutes) so that guests don't get bored and leave.
It helps to grab the attention of the property's best features and highlight amenities like free Wi-Fi, flat-screen TVs, and balconies that customers may not have realized were available when they booked their stay. Not only will virtual tours increase customer satisfaction, but they can also lead to higher customer loyalty.
Top Core Benefits of Hotel Booking Engine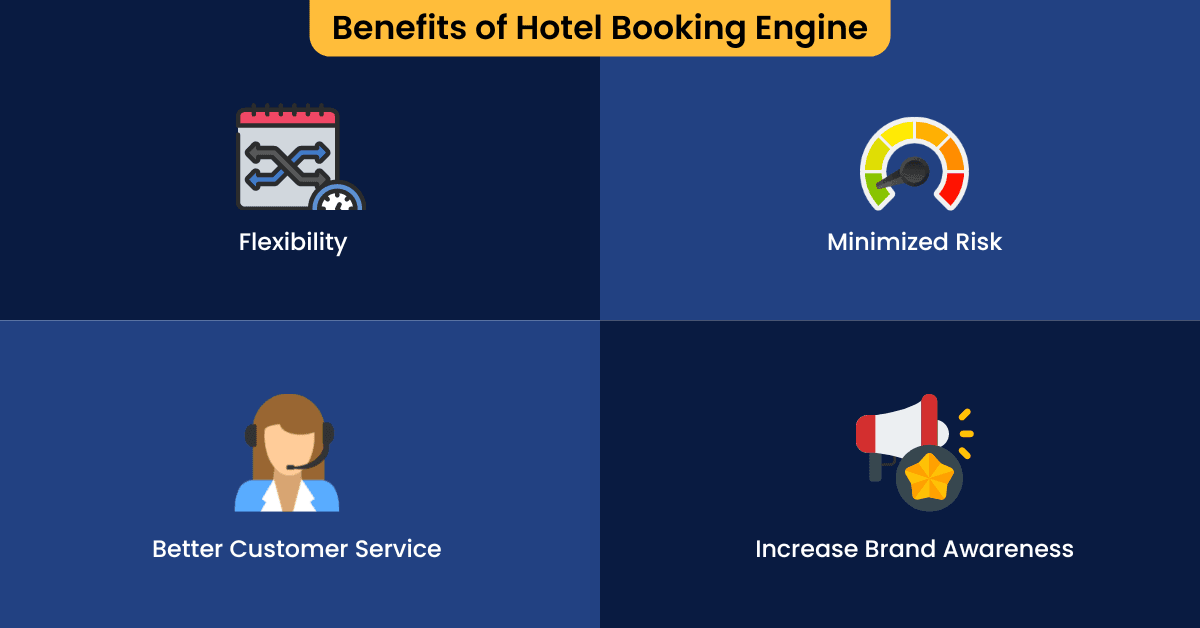 Hotel booking engines can help hotels save big on distribution costs. Traditional travel agencies often charge commissions, so these savings can be funneled back into your operations. Distribution is an expensive part of doing business, so anything you can do to reduce that expense will end up helping your bottom line. And if you're creating your platform for reservations instead of relying on third-party travel agents and agencies, it could save you even more money. Below are the major benefits
1. Flexibility
Hotel booking engines offer more flexibility for your guest's choices. Whether you have one or 100 hotels on your platform, search filters can help them find exactly what customers are looking for.
And if they have special requests, like a late check-out or certain room accommodations, you can handle those details directly within your system to make sure they have everything they need during their stay. Hotel engines make it easier to accommodate requests without disrupting your usual operations.
2. Minimized Risk
Booking engines allow hotels to show availability, instead of only taking bookings through their website. When a guest finds your room is unavailable, it increases your risk that they will go somewhere else. Using an engine can minimize your risk by making you appear more available and friendly to guests. It also helps to maintain long-term relationships with your clients that streamline the sales process and increase conversion rates.
3. Better Customer Service
If your web-based software can offer 24/7 customer service, then you'll be better equipped to deal with any problems that might arise. This can reduce instances of unhappy customers -who might not even realize they're leaving disappointed if your website is down during their visit. Customers who need assistance at 2 AM on a Saturday will be able to get it through an online chat or voice call.
4. Increase Brand Awareness
The hotel booking reservation system helps you to increase your brand awareness across the world. With the high performance and functional hotel booking solutions, owners can introduce the services to international clients. Hence, it helps to exclude all the communication and geographical barriers. It opens the opportunities for the business and reaches limitless potential clients not only in specific regions but across the globe.
Cost to Develop Hotel Booking Engine
The cost of the hotel reservation system depends on your project idea. There is no estimated cost defined, it is fully based on the solution that you want to launch in the market. Moreover, the different factors have to consider that include the design, development, features of hotel booking engine, and technologies you opt for the hotel management development system. Apart from this, the hiring model and the team you partner with.

Why Choose us for your Hotel Reservation System?
We are well-known in the tourism sector for designing cutting-edge information systems that can streamline your business's complex processes, allowing you to focus on delivering an outstanding guest experience. As a result, not only do we dramatically increase your operational efficiency and bottom-line profitability; but we also assist you with building and maintaining a loyal clientele because when travelers remember their trip as one that exceeded expectations – they won't hesitate to book again with your organization or recommend it to friends and family.
Being a top-level travel & hospitality software development company, we develop highly customized hotel booking solutions that help the travel and hospitality industry to automate travel business operations. This in turn helps businesses provide their customers with a unique experience, which in turn helps organizations build their brand value and increase their customer base. We act as your trusted partner every step of the way helping you with high-quality customer service available 24×7.