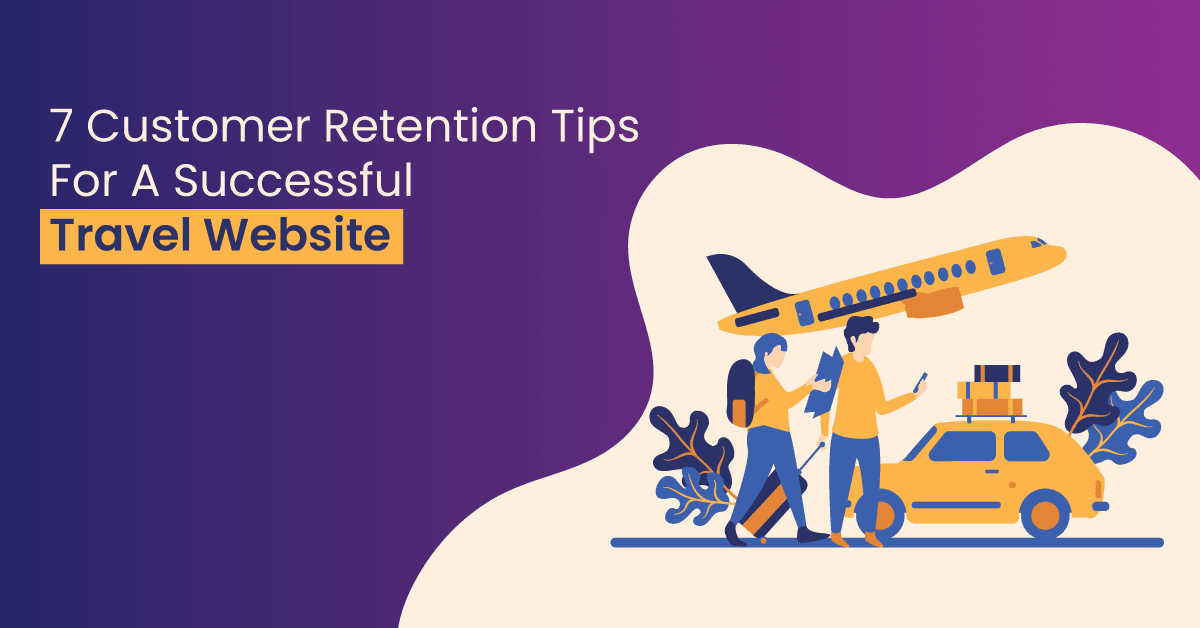 The tourism industry is facing a historic crisis. It means that travel businesses are having sleepless nights and trying every trick up their sleeve to recover from the slowdown. While it is tough to stay positive in this scenario, the only option is to put the best travel website strategy in place and gear up for the post-lockdown phase. It would also be blasphemy if travel websites don't utilize this time to retain their customer base.
Enriching the travel website features is often put on the backburner when the demand is high. It is time to focus on it. This blog highlights how you can plan a travel website strategy and add features that are missing to enhance the customer experience.
Improve Customer Service Through Chatbots
To satisfy customers, it is important to listen to them. Excellent customer service is, thus, one of the key travel website features. It is, therefore, important to devote a significant budget to it and to revalue this function. Customer service can be integrated with chatbots and video conferencing for enhancing the function.
The traffic on your website is still high, mostly for cancellations or rescheduling. Instead of those automated audio responses that only add to customer frustration, why not use the power of video conferencing to send a message. Chatbots integrated with machine learning (ML) or artificial intelligence (AI) will go a long way in retaining customers. Chatbot development may be a one-time investment but it will help you even after the COVID crisis ends. Because you will be receiving a lot of calls and queries then.

Leverage the Power of AR/VR
So what if travelers are unable to step out of their homes. Bring the destinations to their screen through your travel website. Every individual prefers to know the destination before they visit it. Offer 3D and 4D visuals of the hotel rooms, destination, cruise, or the coach they will be traveling in. Once customers get addicted to your website, they will spread the word.
Augmented Reality (AR) helps strengthen research experiences by providing engaging and interactive information. Thanks to innovative mobile applications, these enriched experiences can be extended to travelers, which facilitates their search and enables them to gain confidence.
In the Tourism industry, virtual reality now makes it possible to visualize a destination, a hotel room, or an airplane seat before booking. Researchers emphasize that the interaction relationship between the tourist/cultural place and its visitor contributes to making the experience richer. Thus, virtual and augmented reality gives the visitor the opportunity to experience a site or to be seduced by a destination before going there.
Private Sales
"Take advantage of our exclusive Private Sales! Products at 50% off just for you!"
By reading this, your customer will probably feel privileged. And that's the goal! A loyal customer has a high value, and they must be made to feel it. Thank them for their loyalty. Show them how important it is by offering discounts that aren't available to everyone.
It is a virtuous circle that you create with your customers. You offer them private sales with discounts, they will be even more satisfied and spread the word. It is also beneficial for you because you promote repeat purchases. It's a win-win!
Up-Sell & Cross-Sell
Cross-sell is a technique that consists of offering buyers a set of complementary products. This allows you to boost your sales, but you still have to use it correctly, starting from real customer expectations.
Up-sell, on the contrary, is a technique that consists of proposing a product or service slightly superior and more expensive than that in which the prospect is interested.
For the travel sector, cross-selling is particularly effective. This technique makes it possible to offer customers the additional services they will need on-site, such as renting a car or ski equipment. It is also possible to improve the user experience by using the up-sell to allow the customer to choose his place or his menu for example.
CRM to Develop Clients
Customer relationship management (CRM) is a helpful tool available to travel websites to manage their relationships with customers. This makes it possible to establish relationships of trust, which quickly becomes a source of loyalty. According to the type of CRM tool you use, you will be able to take advantage of certain functionalities which will allow a personalized option to develop your clients. It helps in:
The CRM offers a very interesting flow of information allowing to have visibility on different marketing actions and

travel website strategy

.

By automating the sales department, it can offer an effective tool for the sales force.

The CRM offers this listening functionality which allows the company to be aware of all complaints or questions and to take charge of them.
It is therefore strongly advised to develop a CRM solution if we want a successful travel website.
Focus on Promotional Activities
You can, for example, organize a contest to make a buzz around you. Try to maximize the participants' interest so that they can talk about it to others (future customers). Do not be stingy on the rewards, this kind of action brings with it, a lot of customers curious to discover you. Also, associate rewards that benefit you in the long run.
For example, ask customers to share their best travel stories to win a hotel stay. This improves their chances of booking flights and activities through your website. Also, this will help spread word of mouth about your brand.
Needless to say, you will have good content for your digital marketing strategy to connect with new customers. Use tools like Email Marketing, Social Media, and ads to get customers talking about your travel website.
Make Your Customers Express Their Satisfaction
Customer complaints are common; testimonials – not so much. However, it is important to stimulate customers to promote word of mouth. Testimonials or feedback is one of the best travel website features.
Ask for a testimonial through emailers or push notifications. If they find it difficult to express themselves, you can set up a small reward system, a gift for those who will leave a note. It's always quite effective! Plus, the reward points will be used to book trips on your website. A win-win again!

To Conclude
By following all of these tips, you should be able to grow your customer base even when the economy is slowing down. Since it is cheaper to retain a customer than to acquire a new one, implementing loyalty techniques in your travel website strategy is essential.
Keep in mind that the travel and tourism sector will bounce back post this crisis. The best thing to do, therefore, is to closely follow new trends and new demands from consumers. Be in step with your time so as not to lose precious resources!
If you have any new ideas from the list of top travel website development features, let's discuss them with us. At OneClick IT Solutions, we have nearly a decade of experience in using cutting-edge technology for the best travel site development. Whether it is AI, VR/AR, or chatbots, we can help you integrate all these features so that your business has a competitive edge.
Connect with us to know more about our customized and white-label B2B travel portal development solutions. Also, Unlock the potential of your travel business with our custom portal development services. Tailor-made solutions for seamless travel experiences.