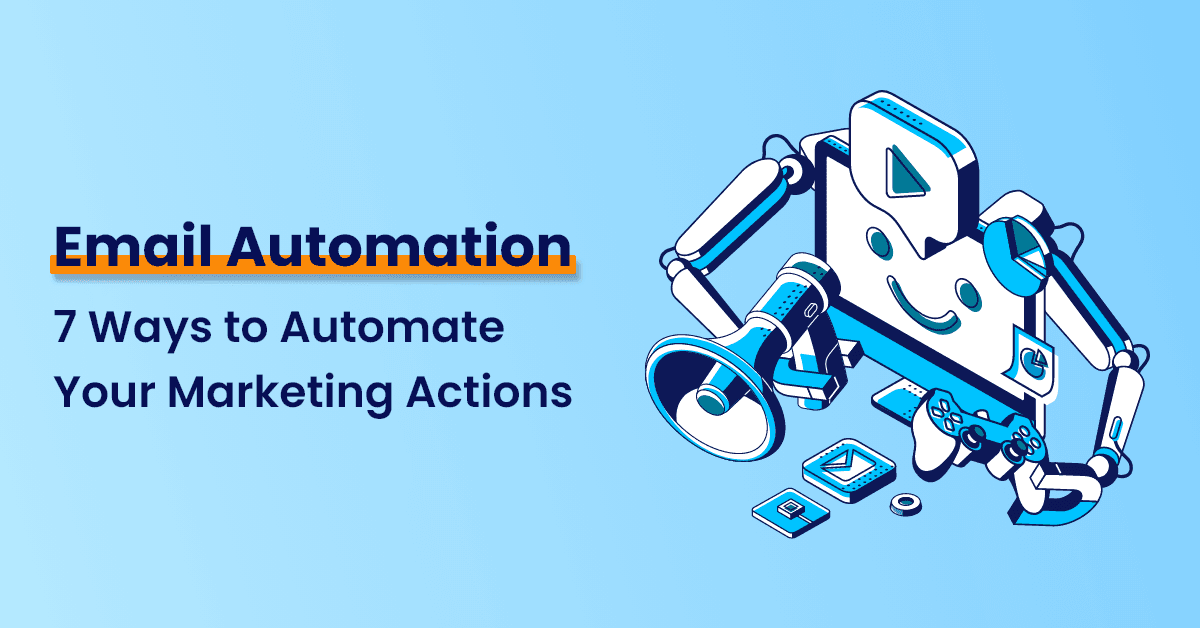 Overview of Email Automation
Email automation has become a very present trend in corporate marketing strategies in recent years. Marketing automation is the act of automating certain marketing actions or campaigns. It can be implemented in several marketing strategies on social networks as well as in emailing and even in lead generation.
The implementation of automation allows attracting customers without having to do repetitive manual tasks. In this article, we will develop marketing automation in terms of emailing and social networks.
7 Email Automation Ways to Automate Your Marketing Actions
1. Capture Emails Using Registration Forms
Registration forms help you collect the names and email addresses of interested customers. The regular flow of new contacts that arrives through this form will give you an authentic list of email addresses from which you can send emails.
Your efforts to build your email list should be ongoing, and a signup form is an easy way to collect it with little effort on your part. Then export this data to a CSV file or create automation.
You can do this by using a third-party service to create registration forms that work as pop-ups, sidebars, or cursors on your site.

2. Automate Welcome Emails
With a registration form in place, one of the first marketing elements that you will want to automate is your welcome email. Since each new contact receives a welcome email, it makes sense to automate it.
If you use a tool like Mailchimp to collect your emails, your contacts should, in theory, be added directly to your contact list. Once the list is enriched, you can access your account, create a welcome email and automate it.
However, make sure that the automation setup is sent within a short time after registration so that the customer keeps your brand in mind. This will increase your activation rate.
The welcome email should highlight the benefits of receiving notifications from your business and include links that redirect customers to your website/app.
3. Send a Series of Event Reminders
Let's say you have an upcoming event or a big promotion. You can use automation to configure a series of emails that remind your audience of the D-date.
For example, when a SaaS company is hosting a webinar, the marketing team must configure three emails to automatically send reminders to customers in order to have a high participation rate.
The first email thanks for the registration for the webinar, the second is a reminder of the date and time of the event 2 days before and the third is an email reminding the event 1 hour before.
As a result, participants will never lose sight of your event and you will maximize your chances of having people. These three emails can be created in advance and sent over a selected period. All emails should include links to your website where customers can find more information.
4. Reward Loyal Customers without Wasting Time
Segment your email list with your most loyal customers and develop an automated email campaign that aims to reward them. Consider writing a thank you email to your regular customers for their loyalty and offering something in return.
It could be a 10% discount coupon, a voucher for a free service, the chance to be the first to try a new product, a discounted delivery, or another type of gift. You can configure this email to be sent every two months for six months to encourage your loyal customers to keep buying.
You can, of course, give free rein to your imagination to reward them at best. Email automation, thus, helps you in re-marketing.
5. Encourage Active Customers to Buy Again
You can also automate a series of emails to encourage recent buyers to buy again.
If a customer has made a purchase or signed up for service in the past 2-3 weeks, put them in their own group and get ready to create a series of automate your marketing actions specifically for them.
For example, in the first email, you can thank them for the purchase and highlight the complementary products you have that match their tastes. The second email could offer a promotion on a similar product or announce the arrival of a new product. The possibilities are limitless if you have email automation software or tools.
6. Reactivate Old Customers
Just like encouraging new customers to buy again, you should also think about ways to re-engage inactive customers. Take a look at your email list and view the names of customers who haven't bought anything in the past 6 to 8 months.
Create a series of emails that are designed to convince them to buy one of your products. The first email can simply say "We miss you" and include a special offer. The second email, which you should send a few days later, may contain a survey asking why the customer went astray.
The survey results can also offer valuable information that you can use to keep your customers in the future as it is very difficult to re-convince a disappointed customer.
7. Automate Messages on Social Networks
With what you've learned before, automating your social networks will be a breeze!
If your business uses more than a social platform (which we recommend), you can use a social media management tool to automate the process.
Social media management tools allow you to schedule messages in advance, which greatly reduces the number of times you need to log in.
With automation tools, you can spend an hour a week and schedule messages for the entire week to come, without worrying about social media.

To Conclude
For entrepreneurs short of time, automation is an option that will avoid gaps in your calendar, these tools allow you to have certain regularity. After all, you don't want your customers to forget your products and services and choose other competitors.
Email automation and automate marketing actions are a powerful strategy whether you are a time-strapped entrepreneur. However, not everything can or should be planned in advance.
For example, when breaking news is relevant to your industry, you may want to create tailored social media posts. Remember that, email automation and automate your marketing actions is another lever that you can keep on your dashboard and use as needed in a global strategy.
If you are worried about the ROI from third-party automation tools, why not develop it in-house? At OneClick IT Consultancy, we have developed our own automation tools to streamline our Email marketing efforts. We have helped our clients leverage this tool to improve ROI and stay ahead of their competitors too.
Do you have a similar idea? Let's meet virtually and discuss. Connect with our team and we'll call you back.