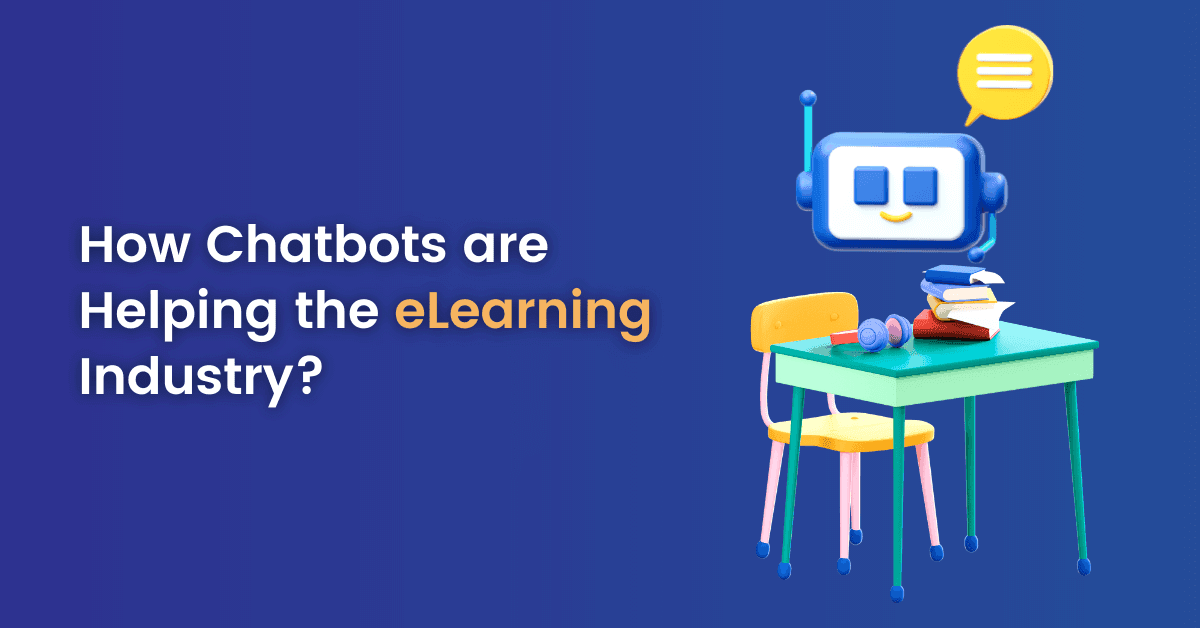 Introduction
People are evolving and so is the use of technology. Technology now plays a very active role in our lives. One of the most widely used technologies, Chatbot which was first developed in 1950, is being used daily by us.
For example, Siri, Google Assistant, Cortana, or Alexa.
Until now chatbots were only used in eCommerce, Banking and Finance, Healthcare, and Real Estate industries. But did you know that chatbots can be used in the Education industry as well?
Yes, Duolingo's chatbot is a great example of how bots can be used to create interacting learning experiences.
The use of chatbots can prove to be very beneficial in today's situation where schools and colleges are forced to shut down resulting in a tremendous increase in online activities. Institutes are teaching and monitoring students' performance online.
With an unsure future ahead of schools, universities, and institutes, more learning tools and chatbots will be required to carry on the learning process. We can say that chatbots' next level use is for eLearning (Online learning).

Benefits that Chatbots Hold for eLearning:
1. Learning Guide
Chatbots can be a learner's guide, guiding a learner like students to complete their projects, homework, assignments, and keep them engaged with the learning platform.
Chatbots can guide a learner throughout their learning process. It can be trained for specific subjects like a Mathematics bot, Science bot, or even a Coding bot.
Chatbot uses technologies like Artificial Intelligence, Machine learning to analyze users' data, pattern understanding, and provide better results to each learner.
A chatbot can provide better response capacity than in one-to-one learning.
2. Time Saver
Chatbots can definitely save time for a learner by providing quick answers to questions or their queries. Learners' will not be afraid of asking questions.
A chatbot can become their friendly guide which will not only provide effective but also accurate solutions quickly.
On the other hand, it will also save the time of a tutor by not answering the most commonly asked questions.
3. Social Learning
The chatbot can encourage social learning by assigning group tasks or projects to students just like teachers do in class.
A chatbot can group students based on similar interests or performance levels which today's tutors miss out.
Another use of chatbots is that they can ask learners to take a testing challenge or module completion challenge with their friends which will keep them engaged and motivated.
4. Assessments
Chatbots can also be used to evaluate the exams or tests and provide grades for multiple-choice question pattern-type exams.
But did you know that chatbots will also be able to assess descriptive questions which include essays, long answers, etc. with the advances made in Machine learning algorithms
5. Feedback Collector
It's also possible to use chatbots for collecting feedback for online courses or projects held by institutes.
They have the capability to analyze and get more meaningful responses from learners as they can respond to answers in different ways.
6. Support
Lastly, chatbots are widely used to provide support services to learners. They can guide learners through the platform features, functions, or services and make them more comfortable with the platform.
They can help accept tuition payment fees, assist in filling certain forms or applications, and even schedule meetings with teachers, administrators when human interference is required.

Conclusion
Chatbots will be the most novel solution provider in today's eLearning world. Who knows when eLearning will become the new normal in the lives of learners and tutors?
Chatbots will help bridge the gap between the learner and tutor. Not only that, they will become the new greeter of students for online admissions in Universities and colleges.
Artificial Intelligence and Machine learning algorithms are changing the way we work and live. With AI and ML charged chatbots, you can change the learning process and make your Website or Application distinctive, customer-focused, and a little advanced.
Using a chatbot for eLearning will save your time, improve customer experience, and modernize your current teaching model.
OneClick IT Consultancy is experienced in chatbot development in India and across the USA. We have helped businesses implement their innovative ideas and drive them towards success.
Connect with us to develop your own e-learning chatbot.