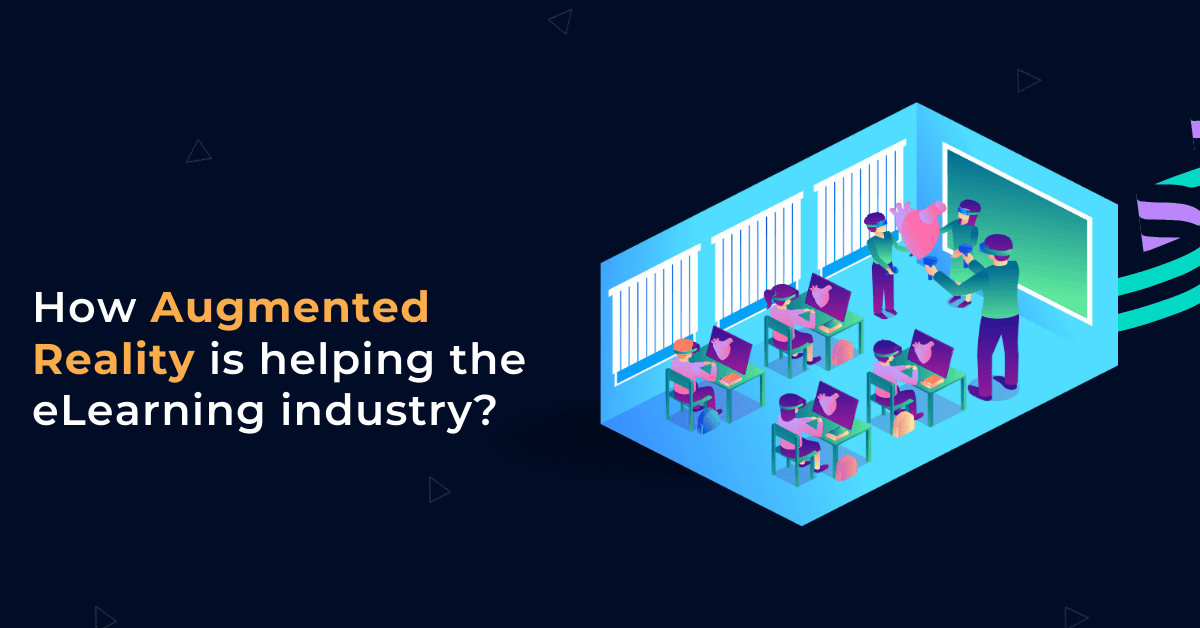 Augmented Reality combines modern technology with real-world environments to deliver a fully immersive eLearning experience. In this article, we've outlined 7 augmented reality in education activities that can make a difference in the eLearning industry.
Augmented reality is often confused with virtual reality. In fact, virtual reality allows the user to be transported to another world, while augmented reality mixes technology with the real world. Our perception of reality is altered to let technology correct small flaws by creating an immersive real-time eLearning experience. Every aspect of the eLearning environment becomes more flexible to accommodate individual needs rather than general.

Here 7 Ways Augmented Reality is Helping the Education Industry
1. Real Simulations with Interactive Objects
The real simulations are immersive in nature when properly performed. But you can make them even more challenging by adding clickable items. Realistic environments and situations are the basis of any eLearning activity. So, add real images, sounds, and processes to it.
At first glance, learners will think this is a simple demo or a traditional tutorial. But they will quickly understand that this is not the case once the first interactive elements appear on the screen. They will be able to perform drag and drop tasks, combine different elements, and use them to complete certain tasks.
2. Real-Time eLearning Scenarios
Augmented reality is a powerful tool and can be indispensable when placed in the right hands. Doctors can perform complex procedures without endangering the lives of their patients. In addition, machine operators can learn to master new equipment in a healthy environment. In fact, virtually all sectors involving risks can benefit from the scenarios of augmented reality. Even better, if these scenarios play out in real-time, learners can really feel the pressure that comes with it.
Augmented reality makes it possible to reproduce all aspects of a real situation. This allows employees to gain experience without compromising their safety or that of others. Each decision taken has a different outcome and allows them to discover the consequences of their actions.
3. Exciting Stories Featuring the Online Learner
Storytelling is one of the most emotionally captivating tools we have in our possession. eLearning professionals should try to involve the online learner in the story they imagine. Try to strengthen the emotional side by putting your online learners at the center of the story.
Augmented reality books are already being used to immerse readers in a fictional environment. So you can use this concept for your online learners. This technology uses webcams and images from digital projection detectors to immerse learners in the story.
4. Stimulating and Entertaining Serious Games
Augmented reality and games go hand in hand. In fact, many are discovering augmented reality through gaming applications. The Pokémon Go Craze app is a good illustration of this. Users hunt fictional creatures in the real world, which have been integrated through the app. They can even take a picture of themselves with their favorite monster.
This approach can be used to create immersive and challenging serious games. Instead of fictitious monsters, employees can interact with customers or objects that they typically encounter in their workplace. Incorporate geolocation features to invite them to a virtual hunt; by integrating clickable elements.
5. Augmented Reality Apps that Present Statistics and Facts
Augmented reality technologies are already common these days. You can scan a special augmented reality code or animate an object to learn more about it. For example, a chemistry textbook can move readers to a virtual lab where they can run experiments. At the same time, they learn more about compounds and chemical reactions. You can also incorporate links to augmented reality resources into your eLearning courses.
These links can reveal interesting facts, statistics, and ideas for your learners to explore when they want. You can even create an augmented reality resource list that contains microlearning content. Learners are able to use the list as a medium at their convenience, as augmented reality activities are not long and are easily accessible.
6. 3D Models
One of the most innovative uses of augmented reality in eLearning is 3D. In the past, online learners were able to see static images, diagrams, and tables on their screens. Augmented reality activities give them the ability to view objects from all angles. They can even interact with highlighted areas to learn more about individual components.
For example, you can have a clickable 3D board of manufacturing equipment to show the main functions and characteristics of each part. Operators are able to familiarize themselves with the equipment and learn how to use it through their mobile devices. The same principles apply to any complicated process. For example, a model that illustrates photosynthesis at the molecular level.
7. Collaborative Projects Around the World
Augmented reality in education is not limited to asynchronous applications. In fact, it allows learners around the world to interact with each other through a virtual environment, thus enabling two possible applications. First, employees can attend a live eLearning event that includes augmented reality activities and environments, such as 3D diagrams and clickable items.
Thus, they will not be distracted and will be interested in online discussions. The second application is the Online Groups Project. Geographical location no longer matters as learners can share ideas in a virtual environment.

To Conclude
One of the best advantages of augmented reality in educationis that it promotes practical applications in a dynamic virtual environment. Online learners can use it alone or with others to understand the different concepts to be learned. Use these 7 augmented reality activities in your eLearning app course to provide a rich and exciting learning experience.
If you are looking to develop an eLearning app and integrate Augmented Reality in Education, connect with our team. As one of the leading mobile app development companies in USA, OneClick has developed intuitive and cutting-edge applications for different industries. Our BLE and AR-based apps have helped clients across the globe scale their businesses to new heights. Let's Connect with us!