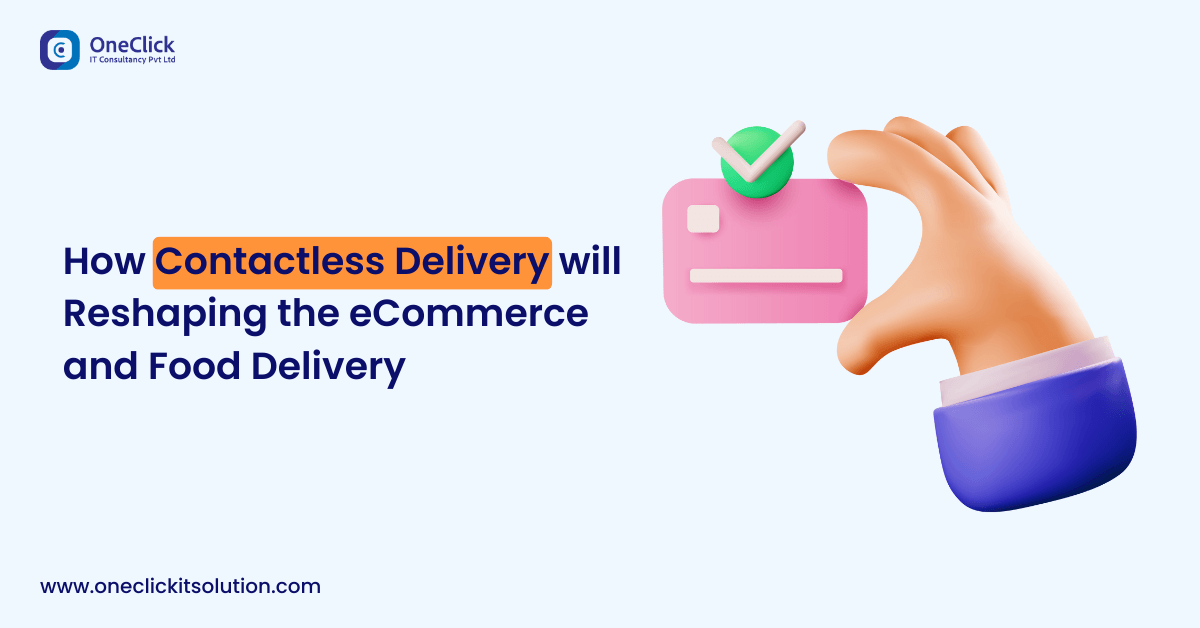 The coronavirus crisis is forcing us to rethink delivery processes in order to limit the spread of the virus. Innovative solutions from food delivery platform, cashless delivery services, contactless food delivery have emerged and are tested. They will perhaps be soon the new norm, with the changing scenario.
The term contactless delivery became widespread, resulting in digital innovation. Many organizations have launched applications for contactless delivery. Thanks to this solution, the customer uses his own smartphone to scan a QR code that the delivery man hands him. He then scans the barcode of the package and signs with his finger on his own phone to confirm delivery.
The choice of contactless food delivery method can be left to the recipient. Some delivery players have adapted their terminals so that the delivery person can take a picture of the package delivered to the recipient's door. The photo then acts as a signature. A deployed alternative consists in having the recipient sign on the label of the parcel, and not on the terminal. The delivery person then takes a photo of the signed label to document the delivery. Without asking for a signature, some carriers require that a photo ID card be presented to the delivery person.
In other cases of Ecommerce contactless delivery app development, the recipient can indicate to the delivery person a specific place to drop off the package at home (for example in front of his door or on his garden table). This choice implies eliminating all contact between people. Via an app, it is sometimes possible for the recipient to send a photo of the exact drop-off location desired. Finally, it may be proposed to print and complete a permanent or single parcel drop-off authorization form, and leave it signed within reach of the delivery person so that he can retrieve it. The geolocation of the delivery person can also constitute proof of delivery of the package.
Contactless Delivery Apps – Case Studies
An alternative imagined for contactless food delivery consists in using autonomous delivery methods, therefore without possible contact with a delivery person.
For instance, drones were thus used to transport medical equipment to Wuhan, between the logistics sites of JD.com and the hospital. JD.com has also deployed drone delivery to remote areas near Xi'an, or near Lake Hubei. This last operation, organizing the delivery of basic necessities, ensured contactless deliveries in 20 minutes compared to at least 6 hours by road or river.
Several Beijing hospitals are equipped with autonomous robots that allow patients to be served in their rooms, thus eliminating all contact between patients and nursing staff. The robots are systematically disinfected between each patient. Contactless food delivery was also deployed with robots and autonomous vehicles. JD.com, for example, tested delivery by an autonomous vehicle in the Haidian district of Beijing. In order to limit the exposure of personnel in Wuhan, at the heart of the epidemic, the Chinese giant has deployed several intelligent delivery vehicles, piloted 1,200 km away from Beijing. Empty streets during confinement were an ideal opportunity to implement these tests.
Another way to limit contact between delivery people and consumers is to use automatic collection lockers. These can be used by online delivery services, food delivery platforms, or any other such platforms.
This is why the Singapore government plans to develop a network of 1000 automatic collection points for all logisticians and eCommerce platforms. At the same time, automatic lockers increase the efficiency of delivery. A delivery person can deliver up to 250 packages per day in automatic collection lockers, which is 4 times more than home delivery. When the workforce is reduced or activity suddenly increases, this solution becomes strategic.
In order to avoid delivery refusals requiring a signature from the recipient, businesses like JD.com has deployed several deposit boxes in closed residential complexes. As soon as the package is deposited there, a bar code is sent to the recipient via a mobile application. The customer can then recover his parcel at any time. This Ecommerce contactless delivery application leaves the possibility to volunteer residents to collect packages for people who cannot leave their accommodation.
To Conclude:
Contactless delivery has, therefore, already become the norm during the current crisis and the fields of application seem to be very wide.
A pandemic is also, beyond the difficulties and dramas, an opportunity to develop and test new technologies. Will the coronavirus pandemic herald a lasting change in delivery practices? These examples show that the technologies were put in place in a particularly short time to provide immediate operational solutions. Feedback on these contactless food delivery apps will enable the impact of these to be measured, not only in terms of health but also in terms of quality.
For eCommerce and food businesses, contactless delivery app development is a solution worth investing in. Several case studies mentioned above have exhibited its worth. Moreover, these offer a competitive advantage to your business. Are you looking to explore such mobile app development solutions? Contact our team of experts for a demo of contactless delivery apps and understand how they can benefit your business.