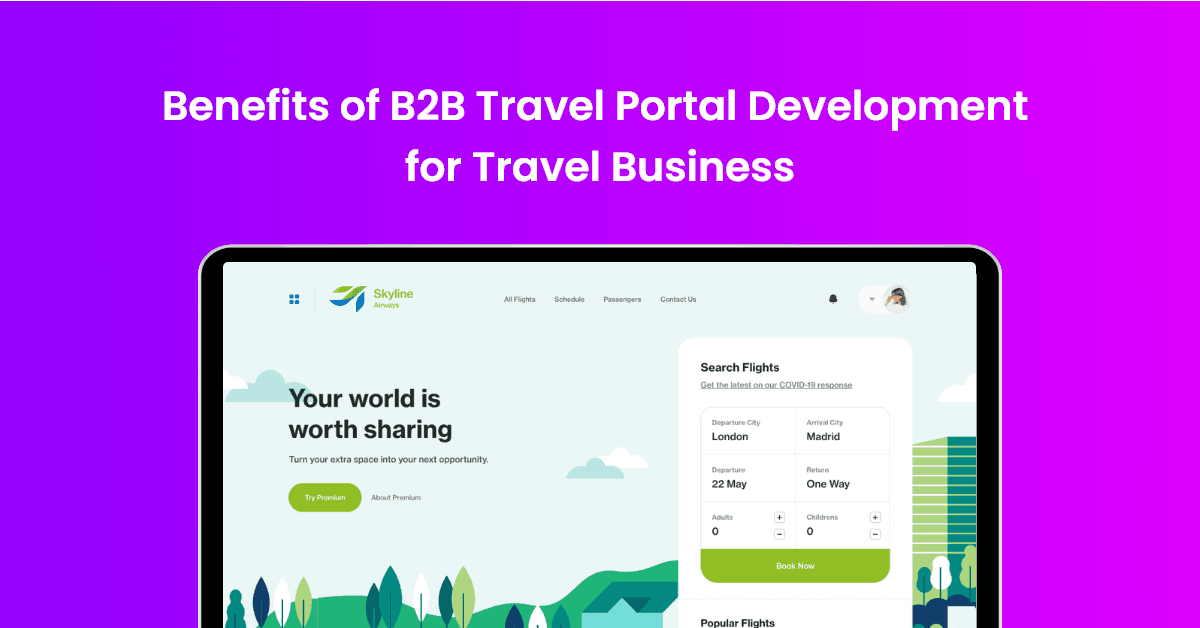 Introduction of B2B Travel Portal Development
Everything is now an online game, from flight or train bookings to where to stay, and travelers these days are reliant on the internet to plan their travel, and even the most basic of their plans are based on the insights provided by B2B travel portal.
These days, b2b travel software cover a wide range of arrangements, including flights, hotels, rooms, car rental services, additional services, and much more.
You can alleviate these concerns with a single click and a travel portal.
OneClick creates an online B2B Travel Agency platform to improve the ability of Tour Operators, Consolidators, and Travel Agents to distribute movement or accommodation items productively to various sub-specialists.
The concept of making business easier by providing a B2b Travel Portal is no longer a luxury, but the core necessity of a company.
OneClick believes that a complete travel booking portal, a hotel booking system, online rental cars, or transfer services can help you build your business by building a travel portal with the B2B White Label.
All travel agencies are able to access the b2b travel software at any time, and they do not need to waste time collaborating and working with global hospitality providers.
The B2B solutions for the subagents have been made very profitable because they can easily reserve travel products at a much cheap rate from the agents.
In addition, these products are available at many affordable rates for their customers.

Benefits of B2B Travel Portal Development
1. Automatic Booking and Confirmation
The B2B travel portals can save research and confirmation time simultaneously.Every hotel reservation or car rental usually takes time and paperwork. However, automation of the configuration takes a couple of minutes to resolve the problem. Simultaneously, travel portals often feature a 24/7 online assistant. Tour operators need not wait for the publishing of information about the place they will book.You can also manage your booking changes instantly with the new b2b travel software.
The system will also adapt the reservations for the hotel and provide better options when you change on the fly.
2. Cost-Efficient
Finding the most cost-effective way for clients to travel is the best way to interact with them.
The cost is determined by a variety of criteria, and changing the dates or the type of window view in the hotel room can result in a price reduction of up to double.
The capacity to manage a journey in real-time and construct several variants results in a cost-effective business solution.
When users obtain the best deal on a travel tour package, the agency wins.
3. Reduced Cost of Maintenance
It is too hasty for the customer to visit a travel agency and wait for the travel agent to show them your full package of routes with which you can request them.
In the age of smartphones, where everything is at your fingertips, you have just a few clicks for the warning and visiting.
4. Partnership with a Worldwide Travel Service Provider
Connections with world leaders in the industry are also beneficial to b2b travel software.
The platform is already integrated with the most important GDS systems and offers you an opportunity for international service providers to find better travel packages.
Cooperation with world-famous travel sites is a trustworthy credit for your company.
The B2B Platform brings your customers closer to traveling partners in various countries and allows you to offer more varied travel options.
5. Booking Administration
B2B's travel website is flexible and supports agencies and agencies to reserve the best hotels or tickets within minutes.
All possible options, better dates, and comfortable client flying stops are analyzed in those platforms.
It helps your business to grow if you allow your partners to manage the booking process online.
All the time zones your sub-agents need – log in and password you provide – can book, pay, or communicate with your customers 24 hours a day from different time zones.
6. Support for Customers
A two-way conversation with a customer is one of the most critical communication skills.
It means not only providing travel information but answering questions and finding better options on request. To ensure a high level of client support, travel apps are designed.
The customers have access to the website in real-time and can see any travel planning decisions.
For b2b travel software business, it is an essential option as it helps build reciprocal relationships with clients and other organizations.
7. Amendments can Easily be Made
It is difficult to make any changes or modifications in the booking system, but this is achieved by using travel portals that make it easy to make changes without offline problems.
8. Advance Self-Convert Currency
Automatically convert transactions from currency set for your account to local currency for deals in different geographies.
9. Better Safety with Flexibility
Not only will better safety be provided for you. This, however, also gives users, suppliers,s and agents much better flexibility to activate and deactivate their business.
10. Brand Image
It is possible for a business unit to become a brand with a well-developed travel portal in place.
Whether it's a portal like 'booking.com, expedia.com, makemytrip.com, or airbnb.com, over the years they've evolved into a brand, and strong online support and coherence in the preservation of their plan to become their top brand is the common key to their success.
Many are involved in the production of a brand; from a multitude of deals to fabulous customer support and personalized services.
To become a trusted brand name in the field, travel agents simply need to use these resources to their advantage.
11. Manage the Language of Account
Set your entire organization's account language or make changes based on your preferences to your individual user account.
To personalize your mobile app to speak your language, choose from 10+ languages.
12. Your Travel Website on Your Choice Brand/Domain Name
Corporations who want to link to their audience via a professional website can genuinely benefit from web development services on white labels.
White labeling is mainly branding. The advantages of consistently exposing end users to the brand on your website are highly desirable for you as a web development agency.

Conclusion
The future of the travel industry is not only based on the pandemic, it also depends on the failure to implement digital trends. OneClick is best b2b travel travel portal in india and USA.
A B2B travel portal based on innovative b2b travel software has been made possible. It needs flexibility, adaptability, and integration with global platforms.
In reserving hotels, flies, car rental, or planning, the customers and companies expect rapid and effective decisions.The travel portal providing access to millions of databases worldwide can be implemented.