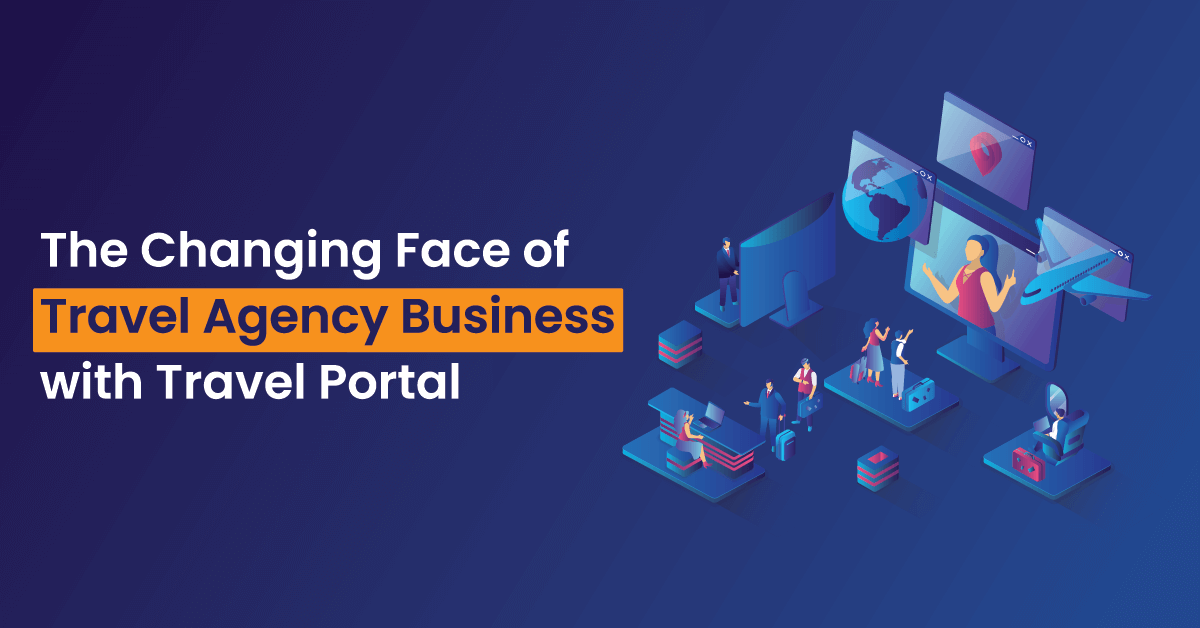 Why Travel Agency Business Choosing Online Travel Portal?
Since the turn of the century, consumers all over the world have been shifting from duty to experience. The travel business has exploded in popularity, with life experiences emerging as the newest kind of social currency. While this shift has its strong roots in trends spread by wealthy people with sufficient disposable income, technological proliferation has no small role to play. A survey conducted by Airbnb in the USA, the UK and China showed that most millennia prioritized travel over a home, car, or debt payment. The travel agency business, which was formerly responsible for booking tickets and accommodations, has been practically annihilated by online travel agents (OTAs). Commissions and service fees continue to provide a significant portion of earnings.
However, the source of these commissions has shifted over time. When airlines stopped paying huge fees in the 1990s, travel agents began to rely heavily on profits from add-on services like hotels and transportation. At the moment, travel brokers rely on two types of travellers to make money. A significant majority of corporate business travellers still purchase their tickets through partner agencies. With the rise in international vacationing, holiday packages and custom itinerary planning services have exploded in popularity among consumers.
The decrease in commissions is generally offset by an increase in the size and value of such bookings. This, however, is not a long-term solution.
A number of new online itinerary planning firms have already made a name for themselves, and many online travel agencies now provide holiday packages on their websites. Larger competitors are continuously purchasing smaller and specialist OTAs to boost market share in the travel agency business, which is currently in a consolidation phase. The travel agent's future is dependent on innovation.
Personalized Travel Experiences
For millennials, value is one of the most crucial motivators. This generation is notorious for spending a substantial amount of time reading reviews online, comparing packages, and arranging itineraries because they are connected 24 hours a day. They are more likely to base their decision on a recommendation from a buddy or a complete stranger than on a sponsored ad.
This generation is always on the lookout for ways to avoid generic travel experiences.
So, whether on a work or leisure trip, they are continually exploring outside the confines of ordinary routines, whether it's substituting a restaurant dinner for a truly local culinary experience or taking a different method of transportation than an Uber just to get a glimpse of everyday life.
As a growing number of Generation X and Y travellers, as well as millennials, abandon packaged tours in favor of bespoke journeys with itineraries that suit their different interests and hobbies, travel companies must think beyond the box.
The bulk of these visitors, on the other hand, want to have their locations pre-screened for quality before they arrive in order to ensure they get their money's worth.
For example, Quintess Beyond and NextGreatPlace are renowned for hands-on experiences and places after thorough inspection, in order to ensure the perfect time for their consumers.

Consulting of Travel Agency Business
Travel agents have access to tens of thousands of data points that a typical passenger does not. They gain a unique perspective on travel as a result of this. With the ability to analyze hundreds, if not millions, of airline and travel-related data, the agent can present travellers with unique insights.
For example, one app-based company tells its users about the average wait period at each of Walt Disney World's many attractions. This information is then used by the startup to optimize the timetable for its users.
As a travel agent, you may charge your clients for advice on related topics. Such data-driven insights could assist tourists in determining the best travel plan for their trip, as well as spots to avoid and the best hotel to stay at while on vacation. For a travel consultant, there are two obstacles to overcome.
To begin with, the majority of agents serve travellers traveling out of their city to other areas of the country or the world. An agent is unlikely to be able to keep track of information from all over the world. Second, travel agencies have thousands of local data points that are useless to the majority of their outbound clients. Many modern travel agencies are outfitted with technological systems that can aggregate information from around the world.
This allows the agent to advise clients about specific destinations or travel plans.
TA alliances, moreover, are proven to be one of the most effective ways to keep the sector viable.
An increasing number of travel agencies are collaborating with colleagues from other countries to share and service their clients. For example, a Chicago-based agency might collaborate with agents in Mexico City, Tokyo, or Beijing.
Cheap domestic trains and flights are typically unavailable or unknown to agents from other parts of the world in these destinations. As a result, it may be more beneficial to have a local partner book for you.
Data sharing is another facet of this collaboration. Consolidated data points from hundreds of travel agents may be able to assist each of these organizations in gaining important insights that will aid agents in their counseling.
Networking Through B2B Travel Portal
l You'll need to form a network with other travel agencies from different nations. You might employ an outsourcing company to assist you with this. B2B Travel Portal would allow you to share real-time information with your colleagues in the travel industry.
When you collaborate with a local partner, you can provide tailored services to your clients. You and your fellow travel agents can pool data to gain valuable insights and increase earnings. Customers may now easily access mobile apps and make their travel reservations. As a travel agent, you must be proactive and take the initiative. You can also use technology to your benefit.
To construct a new platform, hire a company that specializes in travel portal development in India & USA. Provide travellers with the most up-to-date and value-added services. The travel agency business is currently expanding, but it will face competition from online travel agencies (OTAs) and start-ups. If you are not proactive, the edge may be lost.
The Number of Mobile Travel Retailers is Increasing
Millennials have 75 percent more travel apps on their smartphones than their non-millennial peers, who have only 47 percent. It's easy to see why: Cleartrip reports that mobile accounts for 53% of its traffic, and 70% of its clients use their phones as their only means of transacting. In Europe, too, mobile travel bookings are skyrocketing.
To impress their customers, travel agencies should ensure a smartphone-first design while also incorporating innovative smartphone strategies to stay connected during the journey, cross-sell, and work on post-travel engagement initiatives, as micro-moments drive travellers to search, upload photos, chat, and carry out other travel-related transactions through their smartphones.
Adding Value in Travel Portal Development
The business model of the travel agent has been to select and focus on channels that have not been disrupted by new technology over the last three decades.
When airline commissions vanished, agents shifted their focus to taxi and hotel bookings, and when both businesses were impacted, they turned to package tours.
This, however, is unlikely to endure long.

Reinventing your model and creating value is one of the best ways to survive the upheaval.
The normal traveller has a variety of challenges, like selecting the correct hotel, connecting to the internet in a foreign country, currency conversion, arriving at a tourist attraction during the wrong/busiest season, and so on.
While online startups exist to handle each of these difficulties, the average traveller does not realize the need for these services until it is too late.
Our company specializes in providing comprehensive startup consulting services aimed at equipping new businesses with the knowledge, strategies, and tools necessary to achieve successful market entry and sustainable growth.
In contrast, a travel agency business can provide all of these services under one roof.
Clients that purchase a trip package that includes all of these value-added services are more likely to keep and develop their business.
TAs may also consider increasing their offerings to include unusual and undiscovered holiday places that are not currently available.
The goal is to generate value that a traveller can't receive from standard OTAs and then sell it.
The issue here, though, is that if anything has commercial potential, competitors will swoop in.
As a result, adding new value to your service must be a continual activity.
Creating Online Travel Marketplaces
The possibility of a travel marketplace in an e-commerce-driven world is not implausible. Players in the travel industry are already developing their own marketplace systems for OTAs, airlines, hotels, and other travel-related businesses.
This structure is projected to modify transaction patterns, posing a threat to vendors' current business models, because the marketplace owner will have exclusive control over every consumer profile.
Other developments in payment options via Social Media Platforms and voice-assisted bookings via devices such as Amazon Echo, on the other hand, will soon prove to be an alternative transaction medium.
Travel Technology is the way of Future
The travel agency business is unlikely to disappear anytime soon. However, agents that do not keep up with new technology risk losing their clients. The future of the travel agency industry is based on offering value that technology alone cannot provide. Over the coming decade, consulting services and value addition are projected to expand in popularity.