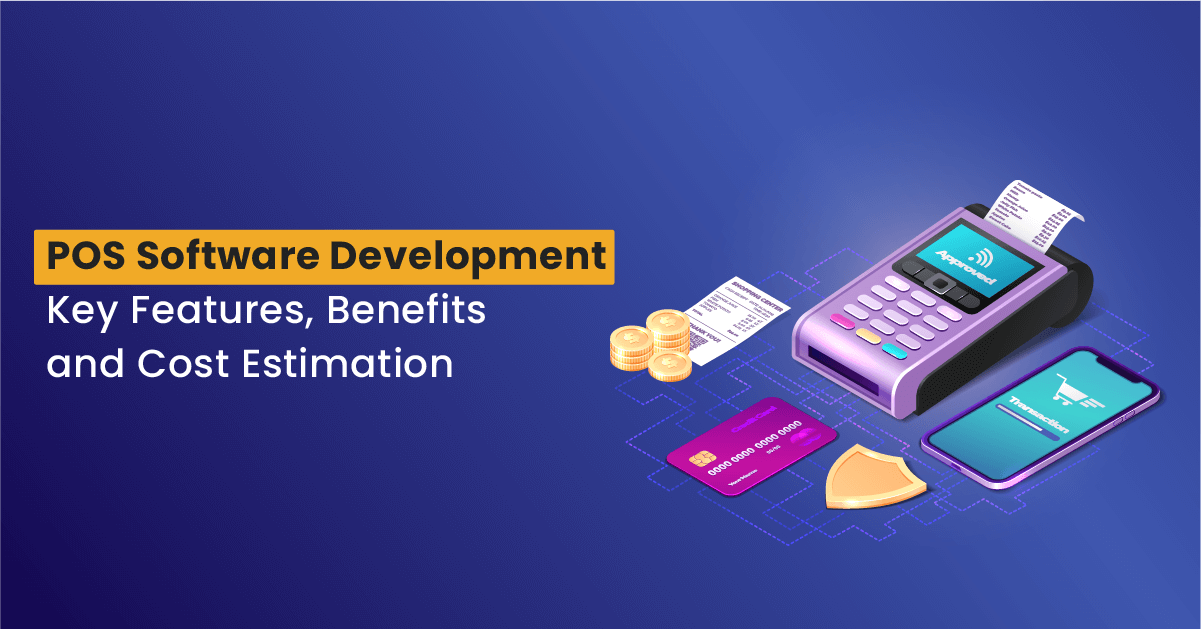 Overview of POS Software Development
Are you running your retail business? Then you must need good Retail POS (Point of Sale) software.
Without any doubt, it is the heart of every payment transaction and when we think of a good Retail POS system, it is not much more than just processing customer purchases, handling payments, and recording sales quickly.
In fact, a good POS system allows you to do much more than that by best utilizing new and available technologies, like inventory & customer management, empowering your staff, tracking your sales, identifying & awarding loyal customers, and getting the pricing right.
These are the few things that a good Retail POS system will do for you and it's necessary for your business.
An electronics POS system is a preferable choice for business retailers, shopping malls, and big companies all over the world.
Electronic POS terminals and devices continue to be used in departmental stores, shopping malls, and myriads of sales points – mobile POS solutions have emerged as a futuristic alternative.
With the growing popularity of e-commerce and doorstep delivery and payment services, mobile POS solutions are emerging technology for most people.
How Does POS Software Help Improve Customer Service?
Nowadays, businesses are having a big competition to make their customers happy.
For this, using technological means is necessary and mobile POS software is one of the best solutions available nowadays.
These mobile apps allow companies to use mobile and hybrid devices to accept payments made through cards and update customer records.
The employees can use such mobile POS devices at various places including setups like shopping malls and large stores and perform sales operations seamlessly without hassles.
POS systems will use other software and hardware devices like printers, barcode scanners, etc to make complete solutions to the customer.

Benefits to Develop POS Software for Your Business
Reduced costly inventory overheads.

Reduces time spent on back-office & inventory functions

Saves the time for salesforce

Speeds up checkout lines

Easy and automated accounting tasks & report generation

Provides a good relationship with your customers offering timely inventory information

Customers' records can be used to process direct marketing campaigns

Increases traffic in your store

Higher customer service level
Factors You Need to Consider for POS Application Development
Agile software development is a collaborative and iterative approach to software development that emphasizes flexibility, customer satisfaction, and continuous improvement. Before making the decision of creating a mobile POS system you should consider the below factors as per your need and analyze them carefully.
Scalability
Your mobile POS solution or application for your venture should be flexible enough.
With the growth of business and revenue, you may need more devices over the years.
So, having a mobile app with support for several devices is a good idea.
Most of the software used in lots of businesses is relying on cloud-based software and this cloud-based software is flexible as opposed to OS-specific POS software but you need to depend on internet connectivity and an internet outage will mean no operation.
Device Support
Different companies have different IT infrastructures at their place.
In some company setups, Windows-based PCs and the LAN are used whereas, in other places, Mac or Linux-based setups and different networking setups may be used.
The POS mobile application you get should be compatible with the existing IT setup in your company.
Security Protocols
While using POS devices and apps is convenient for both a business and its customers, overlooking security protocols is necessary for your business.
In POS software, no matter which device it is used, it should be compatible with all the latest encryption protocols and online security.
These devices are used to process transaction data of hundreds of customers daily and a lack of security can lead to severe consequences.
Speed and Ease of Usage
In various business establishments and for doorstep delivery mobile POS software is used a lot so your app needs to be speedy and provide a simple user interface.
Otherwise, staff and the customers will have difficulty using it. Imagine a laggy POS system used in big shopping malls and each customer waiting for several minutes before processing transactions will downgrade the productivity and worst customer experience.
Updates
Updates are the most important aspect of your POS software.
Your app should receive time-to-time updates with security patches, enhance app stability, and new features of course.

How Much Cost to Develop POS Software?
Depending on your requirement and the hardware you use, the overall cost of creating POS software can vary from $1500 to $10000.
We recommended you go with the hardware that is value for money and comes with hardware service and support.
Also, the Investment you are adding to create the software solution matters the most.
The cost of developing POS software depends on your needs and the features you are adding to it.
If you have any idea about creating POS software for you or your business and need assistance with your project, please feel free to contact us anytime.
Our sales team will contact you shortly as soon as we get your requirement.