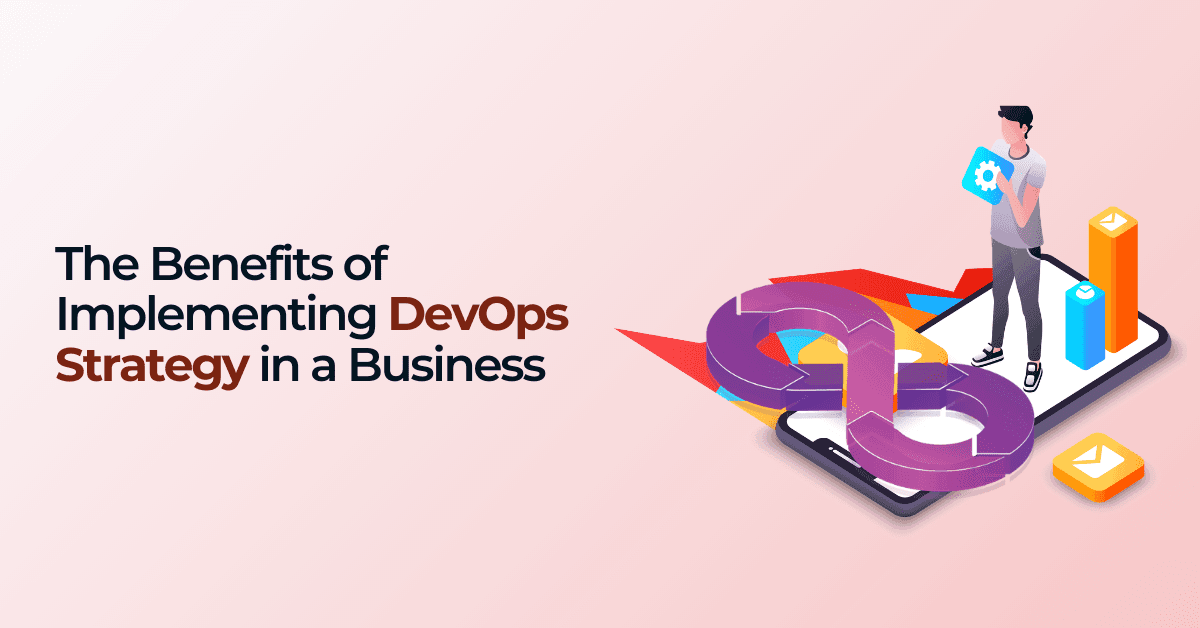 Over the past few years, the demand for DevOps services has grown more and more in enterprises as many companies still do not know what the business value of DevOps is and what benefits DevOps strategy can bring to their business.
And it is for this reason that we are going to explain the benefits of implementing a DevOps strategy for you in detail.
What is DevOps?
As the name suggests, DevOps is an abbreviation of two words: "Development" and "Operations".
It is a corporate culture that emphasizes methodology and technological innovation aimed at organizing your workflows to achieve ever-increasing speed and profitability of operations and generate more value for your customers.
How Does DevOps Benefits for Business?
DevOps helps companies save time and money, increase software lifecycle predictability, create a corporate culture around innovation, and maintain high motivation levels.

Other benefits of the DevOps software development process include:
1. Save More Time and Money
By implementing a DevOps strategy, businesses can deploy new processes, systems, and applications much faster using DevOps strategies.
Deploying DevOps will bring in an agile business strategy and make your business operations more efficient.
Along with the reduced cycle time that is spent, the cost of creating the product is also reduced.
2. Have a Better Customer Experience
The proper functioning of a business is based on a good customer experience.
By improving the customer experience of your business, you will promote loyalty, customer lifetime value, profits, and shorten the sales cycle.
A global study by CA Technologies found that adopters of the DevOps methodology experience up to 52% customer satisfaction.
This study says that by adopting and implementing the DevOps strategy and methodology, you will have satisfied customers for your services by answering their questions and dealing with their complaints faster.
3. Much Faster Production and Delivery
It sometimes happens to companies to have delays in their productions and delays in the delivery of the product or to deliver products that do not correspond to the requests of the customer.
And to eliminate all these problems, adopting the DevOps methodology will allow you to streamline processes and automate most of its activities.
By embracing the DevOps culture, one can manufacture and deliver products at a much faster rate.
This is one of the biggest DevOps benefits for businesses.
4. Have More Time for Innovation
By implementing a DevOps strategy, the company will have more time to focus on product and service innovation.
After implementing DevOps, your business will streamline processes and improve efficiency.
This leaves much more time for brainstorming and the development of new ideas in the work program.
The more time your business has to innovate and improve, the more your business will grow and be successful.
5. The Collaboration
DevOps removes the barrier that exists between different teams as well as departments in a company.
Teamwork ensures good understanding and productivity in a company.
The more closely the teams cooperate, the easier they are to manage. It also brings in the agile business strategy.
Improved collaboration condenses disruption, saves time and money, and accelerates business growth.
6. Digital Transformation
Nowadays digital transformation is fast approaching and that is why more and more companies are opting for digitalization.
DevOps can be a good solution for companies that want to be in the digital age while being competitive.
7. Detect Problems
The rapid resolution of problems during production will allow for much faster delivery of the product.
The longer it takes to resolve a problem, the more money is taken from your business' coffers.
By implementing the DevOps development process, businesses can resolve issues much faster while reducing the time spent on them as well as the cost of production.

Conclusion
After analyzing the above benefits, we find that the DevOps benefits for business are enormous.
It provides businesses with a way to adapt to changing consumer demands and thus massively affects the company's ability to influence customer satisfaction while removing the barrier that exists between the different departments of a company.
Implementing a DevOps strategy in your business requires a DevOps engineer who oversees the resolution of issues that may arise at any stage of the system upgrade or operation.
Are you looking for experienced experts? Contact us for any queries and requirements related to the DevOps process.