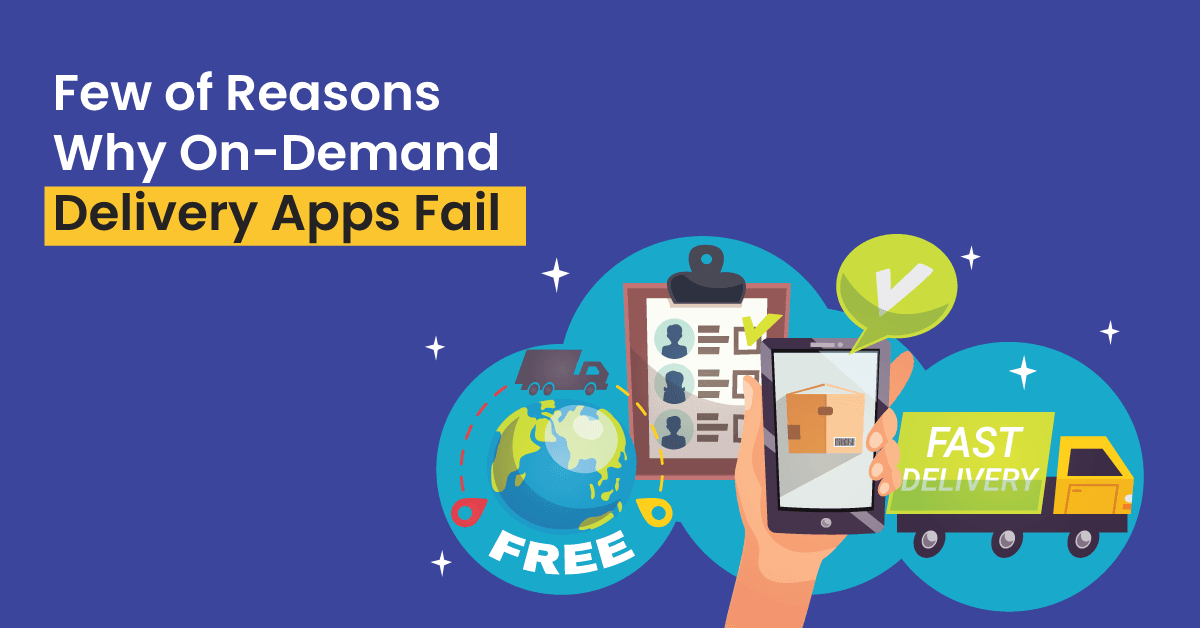 Several new on-demand delivery apps are released every day on the App Store and Google Play Store, but most of them do not reach the expected level of success. Are these the factors that determine success or problems in the on-demand delivery apps business?
Whether a start-up or enterprise, no one is immune to failure. Sometimes, despite the investment, effort, and skill of the team, a project fails. One of the first questions to ask yourself is what is the reason for this failure.
The causes of on-demand delivery apps failure are multiple and can occur throughout the project, starting with the definition of the project and its launch until its delivery, going through all the different stages.
Here are 7 Common Causes Why On-Demand Delivery Apps Fail?
1. Failure to Clearly Define and Analyze Your Target Audience and Market
An idea for an application cannot simply be thought of. While the most trending on-demand solutions of 2021 seem straightforward at first glance, these apps are the result of much more research and planning than one can imagine.
Is there a business opportunity for the type of on-demand delivery apps you want to develop?

What is the problem you want to solve?

What does your competition look like?

How many people could benefit from your app?

Are you making someone's life easier?

How are you going to solve their problems and exceed their expectations far beyond what the competition offers?

Do you offer a unique experience?

Is the idea sufficiently well-defined to be implemented?
During the initial planning and discovery phase of an on-demand delivery apps development project, you should identify key product demographics and create app user personas. The user persona is a digital marketing strategy in which we imagine a semi-fictional representation of the ideal user of the product. The more detailed the user personas, the better. Demographics, behavior patterns, motivations, and goals are just a few of the things to include in your user personas.
If you build an on-demand delivery apps without doing the research, defining the target audience, and strategizing for the use cases and features that will appeal to that audience, you risk creating a product that you think people will need. when in reality they don't need it.

2. Ignore Platforms and Their Peculiarities
Android and iOS (along with other platforms) both have well-designed and intuitive interface guidelines, but each works in different ways and offers slightly different features that appeal to different groups of users.
By looking at your users' device choice, you can already gain useful knowledge from statistical data alone. It is well known that iOS users generally have a higher income and higher education level than Android users. Knowing this should influence your decisions about the product monetization strategy. If your monetization strategy relies primarily on in-app purchases, then iOS may be a smart choice; however, if you plan to monetize through click-throughs, an Android version might make more sense.
If you ignore these platform-specific nuances, it could seriously affect the user experience and satisfaction of your on-demand delivery apps.
Choosing the right platform for your app depends on the type of content you intend to create, how users consume that content, and your overall business goals. It's about analyzing your target market and basic user demographics in order to choose the option that best matches your business interests and those of your customers.
When developing for multiple platforms, it is essential to be aware of the differences between platforms. According to the latest statistics – the average user will decide in less than a minute whether your app is worth using or not.
3. Underestimated Schedule
Underestimating the time it takes to complete your project can have more serious consequences than just missing the deadline on the schedule. You will exceed your estimated budget because you will have to pay for the additional time carried out by your collaborators and the other actors of the project. Delayed project delivery can also cause the company to miss important markets.
4. Not Sufficiently Testing the App Before Launch
Although it is very rare for an on-demand delivery apps or software solution to be launched without a minor bug, investing in quality assurance (QA) testing before launch can ensure that there are no major issues and help in customer retention and maintaining the bounce rate.
If an app isn't tested properly, bugs and frustrating errors will spoil the user experience. A single crash is more than enough to demotivate most users from reusing an app. In fact, some of the most common negative reviews on the App Store have to do with apps crashing and having bugs for no apparent reason. In the modern, ever-changing on-demand delivery app market, users have incredibly high expectations for features and performance. It doesn't take long for users to leave their reviews and pass judgment on the products they download.
5. Do Not Optimize the User Experience (UX)
Your application should be intuitive and easy to learn and use. If a user is struggling to perform or understand the basic functions of your on-demand delivery apps, there is no chance that your app will be liked by new customers.
Here are some common examples of poor user experience in an app:
Too long recording time (connection)

Application performance issues (delays or bugs)

Long loading times

Too many advertisements

Features that are difficult to access
Successful and trending on-demand solution 2021 all have one thing in common: they are useful to users and continue to find new and fun ways to do it. If a user is to use an app every day, the product must be useful and provide great value. To create a great user experience, you need to practice your design thinking and understand in detail the lives, interests, and needs of the target population.
At first glance, UX seems simple, but it encompasses much more than just knowing what a user thinks about a product or service.
It is about understanding the larger context in which users interact with a business and its services. A successful UX design creates solutions that meet the needs of the customer, the users, and that work within the limits of the chosen platforms.
6. Poorly Executed Launch
The strategy you deploy when launching your on-demand delivery application will have a major impact on the acquisition and retention of new users. You can't just download an app from the App Store and expect overnight success. Behind every successful launch are extensive research, marketing strategies, and advertising efforts. To improve your chances of success, we recommend that you partner up or consult with the best On-Demand app development company to make sure every step is done and executed correctly and on time.
Making a good first impression in the first few days before launch is key to achieving high download and user retention rates. This is a critical time when you need to focus on showcasing the on-demand delivery apps to potential customers in order to optimize the onboarding process. If you don't quickly impress your new users, they may lose interest.
If the launch seems like your only chance (a one-time event), remember that it's not really a one-time event. There is always a lot of room for improvement, which makes launching the mobile app a cyclical process that needs to be re-evaluated as the market evolves and user demands change. Newly launched on-demand delivery apps need to be updated and relaunched and released regularly to maintain user interest through new updates and features.
7. Lack of an Appropriate Monetization Strategy
The best-known on-demand delivery service apps are not only popular with users, but also financially successful. To achieve this goal, it is necessary to think through and plan a monetization strategy from the early stages of planning the app idea.
Often, monetization is not taken into account when developing an application. However, the chosen monetization method can determine the functionality of the application, the methods of its distribution, and further development. Several strategies can be used:
Make a free version and a paid version of the application

Earn money on subscriptions or on purchases within the application

Charge fees for access to additional functions

Place announcements, etc.
Another strategy that is increasingly popular among small businesses is in-app selling when your business is not the app itself, but the goods you distribute.
We generally recommend that companies who want to develop their own on-demand delivery app select one or two of these monetization models and follow them carefully after launch. Complement the end product with new features and constant updates to keep your customers interested and constantly attract new users.

To Conclude
This list of why on-demand delivery apps fail is not exhaustive, there are other causes too. Sometimes failure is caused by the combination of several causes. It's up to you to identify what happened and learn from it for your future projects.
The success of a project is a perfect combination of competent people, efficient methods, and efficient tools. Outsourcing your project to an experienced on-demand app development company can help you leverage their expertise.
As a leading On-Demand App Solution Company for USA, we have helped many start-ups and established retail chains to develop highly functional delivery service apps. Contact our team for a demo of our apps and to know the cost for developing it.